Instant pot rice pudding is an easy and hassle-free recipe for this classic rice dessert. Raisins and star anise are added for extra flavor.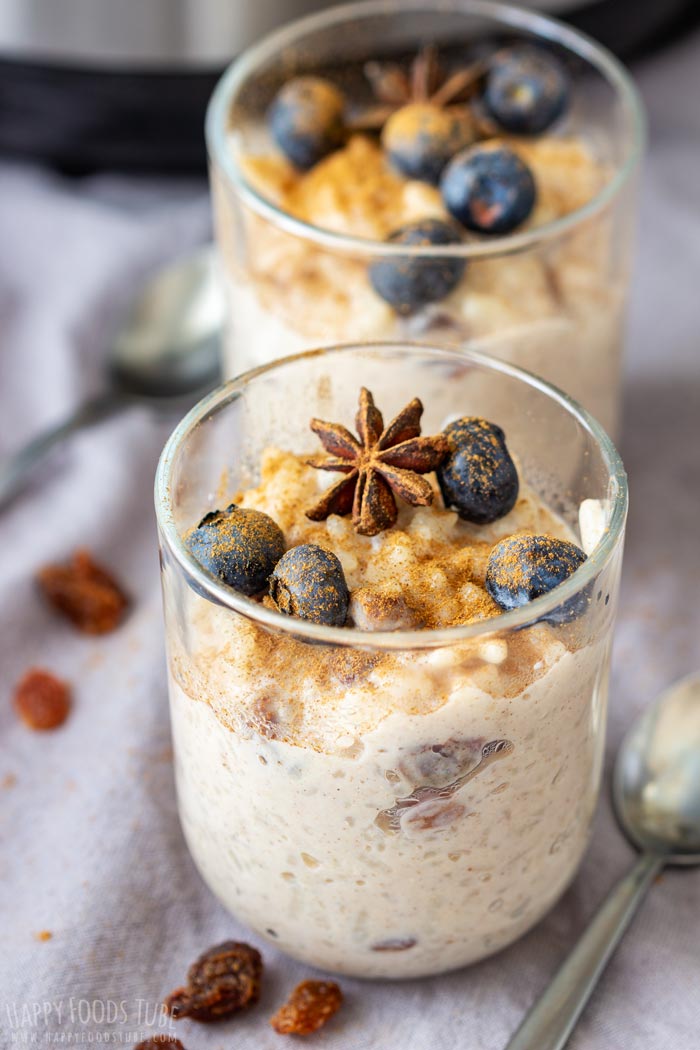 Pressure cooker rice pudding is a great dessert to make when you are stuck for time or need to make something quick!
It's one of the Instant Pot drop-and-go recipes where you literally throw everything in, stir, close the lid, set the time and let the pot do its magic!
Another quick pressure cooker recipe is Instant Pot Baked Apples. This dessert is also ready in no time, especially in comparison with the oven version.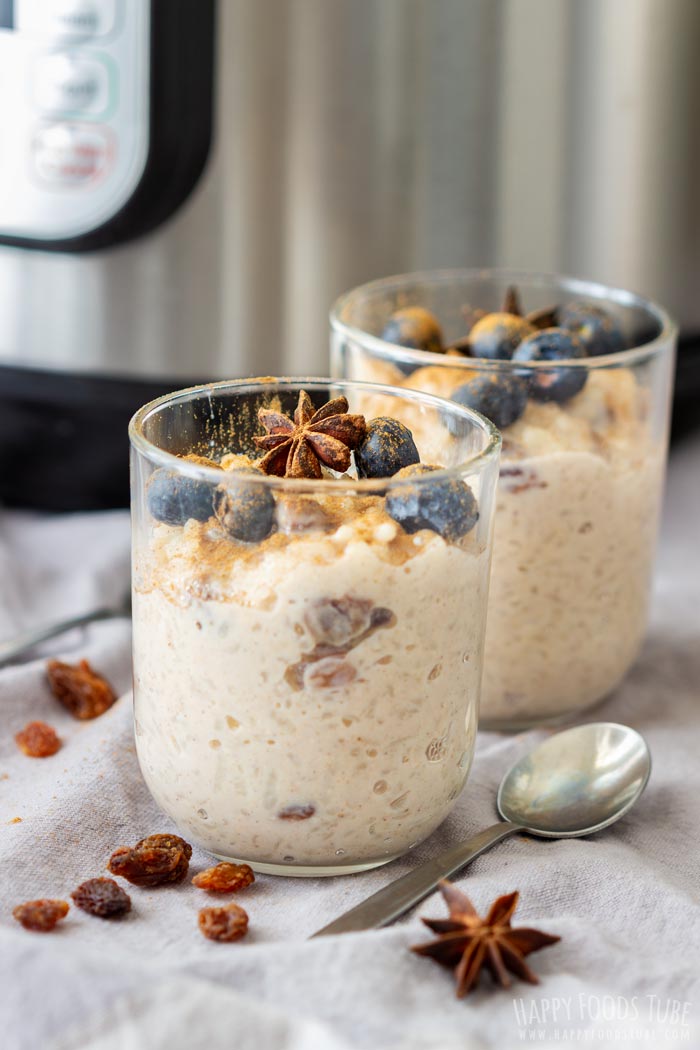 What is the best rice to use for rice pudding?
Medium-grain or short-grain rice is the best as it absorbs the liquid better and is perfect for this Instant Pot rice pudding recipe. So you can use sushi rice, risotto rice, or paella rice (these can be also used to make Instant Pot Chicken Risotto).
If you have long-grain rice on hand and looking for ways to use it, try making Instant Pot Stuffed Pepper Soup. This soup is perfect for cold winter days!
Do you eat rice pudding cold or hot?
I'd say it depends on what you are used to and/or what you like. You can eat it either warm or cold.
Note: This Instant Pot rice pudding will thicken a lot when chilled so if you like eating it cold, I would suggest adding more liquid when making it.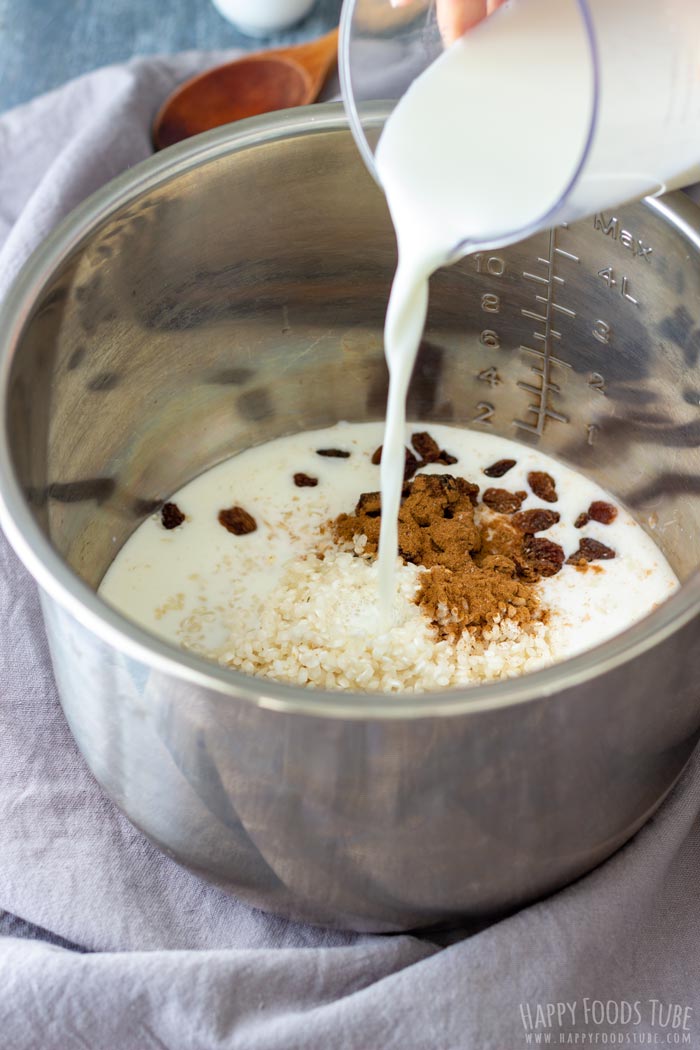 How to make rice pudding in instant pot
Place all the ingredients except for the butter into the inner pot of your Instant Pot and stir. I like using a whisk to break any cinnamon lumps that tend to form on the surface of the milk.
Then close the lid. Make sure it is locked. Cook it on MANUAL (which is pressure cooking) on high pressure.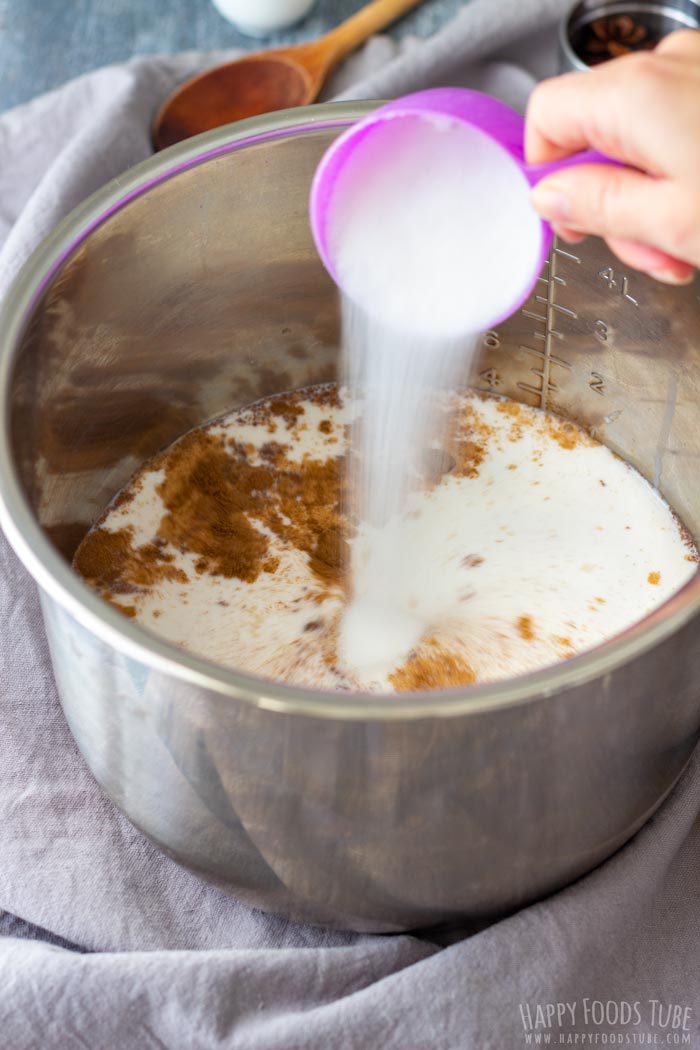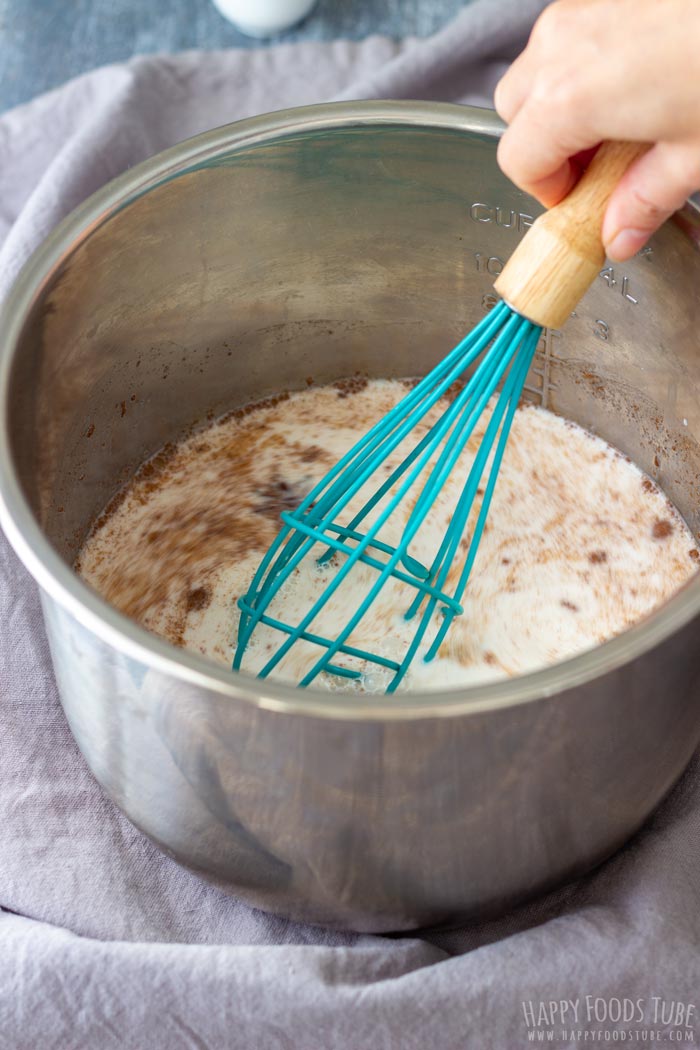 Once done and you have released the pressure (you can also wait until it drops naturally – it shouldn't take long when using the amounts stated in the recipe), stir the butter in and you are done!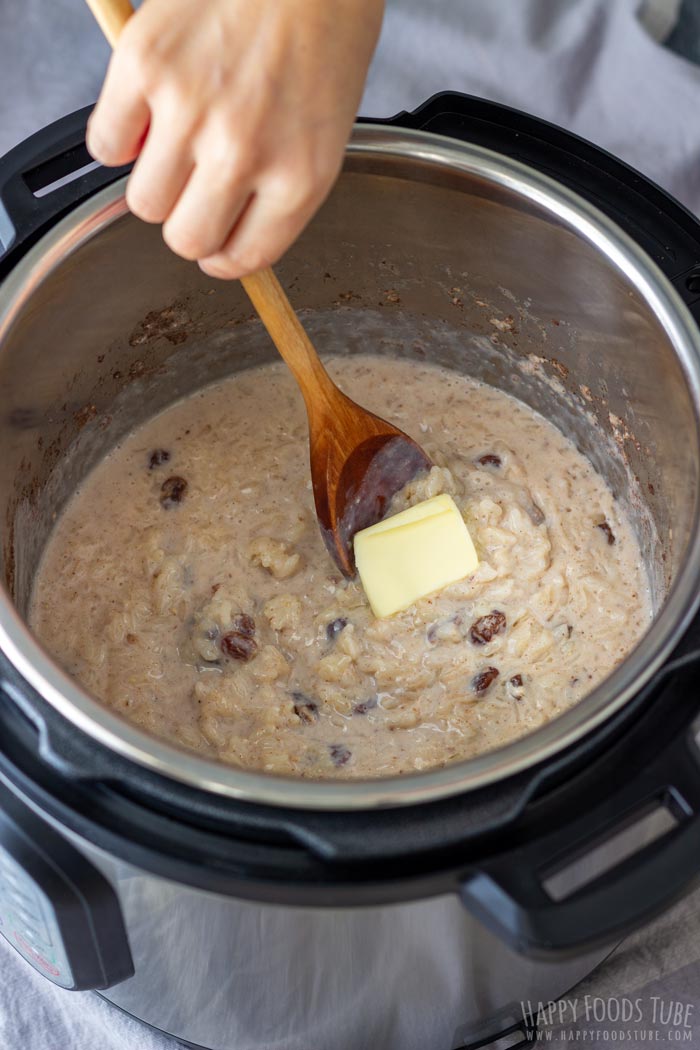 Tips for making Instant Pot rice pudding
Toppings – there are endless options when it comes to toppings and it is entirely up to you what you like. You don't need to use any and you and your guests will still enjoy this simple dessert. Berries, compote, chocolate shavings, ….
For a richer taste, you can use 3 cups of milk instead of a combination of milk and water.
The amount of sugar you add is entirely up to you. If you are trying to reduce your sugar intake, add about half of the amount that is stated in this Instant Pot rice pudding recipe and taste it at the very end. If not sweet enough, you can either use your favorite fruits or honey/maple syrup to add the extra sweetness.
This Instant Pot rice pudding is a basic recipe and can be adjusted to your needs and liking.
The active cooking time can be somewhere between 3-6 minutes depending on how you like your rice pudding. If you like the rice a little crunchy, then try cooking it for 3 minutes.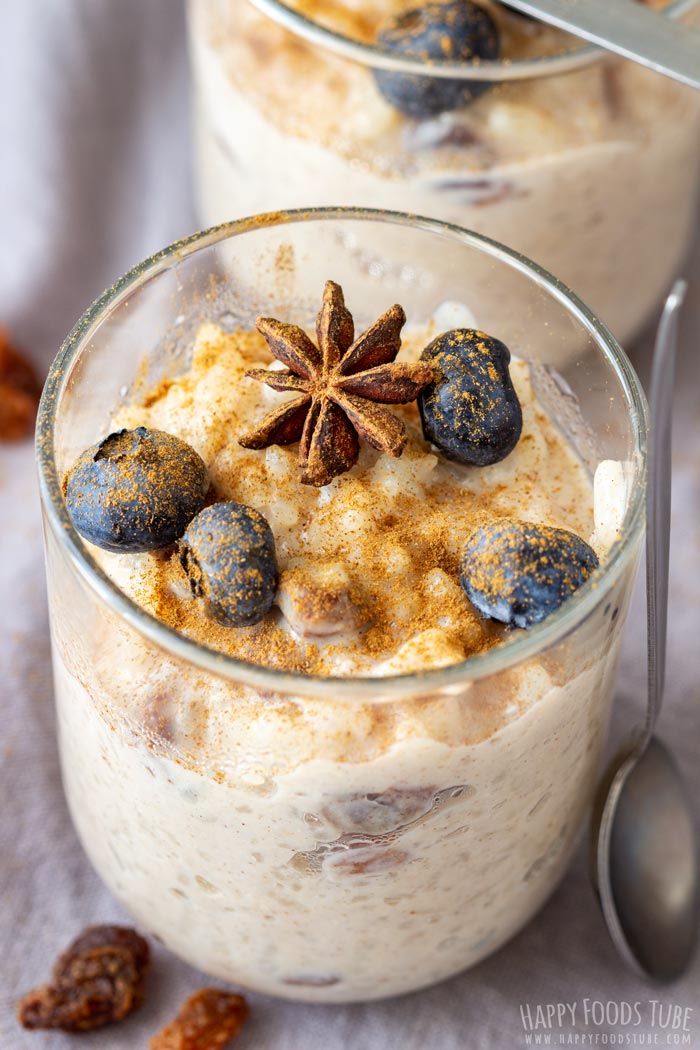 Want to see how to make Instant Pot Rice Pudding? Watch the video!
Instant Pot Rice Pudding
Instant pot rice pudding is an easy and hassle-free recipe for this classic rice dessert. Raisins and star anise are added for extra flavor.
Ingredients
1

cup

uncooked rice

(see note 1)

2

cups

milk

1

cup

water

½

cup

granulated sugar

1

star anise

(optional)

1

teaspoon

ground cinnamon

½

cup

raisins

salt

(a pinch)

1

tablespoon

unsalted butter
Instructions
In the inner pot of your instant pot pressure cooker combine the rice, milk, water, sugar, anise, cinnamon, raisins and salt.

Mix well – make sure there are no large lumps of cinnamon.

Close the lid and lock it into its position. Press MANUAL (pressure cooking) and adjust the time to 5 minutes.

When the cooking cycle is finished, wait about 7 minutes before releasing the pressure manually.

When the pin has dropped, open the lid and give it a good mix. Now stir in the butter. Taste it and add more sweetener, if needed.
Notes
Rice – The best is to use short-grain rice or medium-grain rice. Any risotto rice (e.g. Arborio), paella rice or sushi rice will work just fine.
You can reduce the amount of raisins to ¼ cup or increase if you prefer more. They can also be omitted but I recommend using them.
You can adjust the amount of sugar to your liking.
The rice pudding may appear liquidy at first but will thicken once cooled.
This recipe was developed for a 6-quart/6-liter instant pot pressure cooker. If you use a different brand or size, the recipe may turn out differently.
The overall time does not include the time needed for the pot to come to its pressure (count with at least 10 minutes) nor the time that you wait for the pot to decrease its pressure (add extra 7-10 minutes).
This is a basic recipe that can be easily adjusted to your liking. If you like your rice harder, you can cook it for 3 minutes only, if softer than what I made, then cook it for 8-10.
Nutrition Facts
Instant Pot Rice Pudding
Amount per Serving
% Daily Value*
* Percent Daily Values are based on a 2000 calorie diet.
** As an Amazon Associate I earn from qualifying purchases.
LEAVE A COMMENT
RELATED POSTS