This is a small batch loquat jam recipe, perfect for the fridge or freezer. No added pectin, low in sugar and no water-bath needed. A simple refrigerator jam with unique fruit.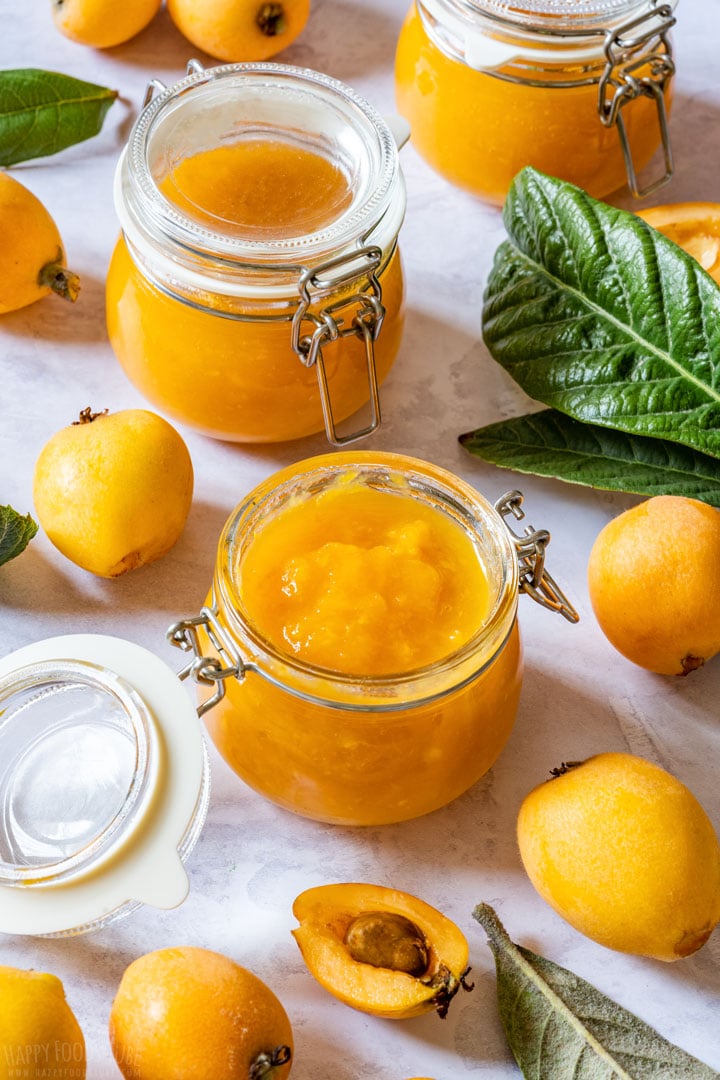 Detailed notes on how to make loquat jam to your liking as well as FAQ's and useful tips can be found below. If you are new to jam making, you will find some good information here.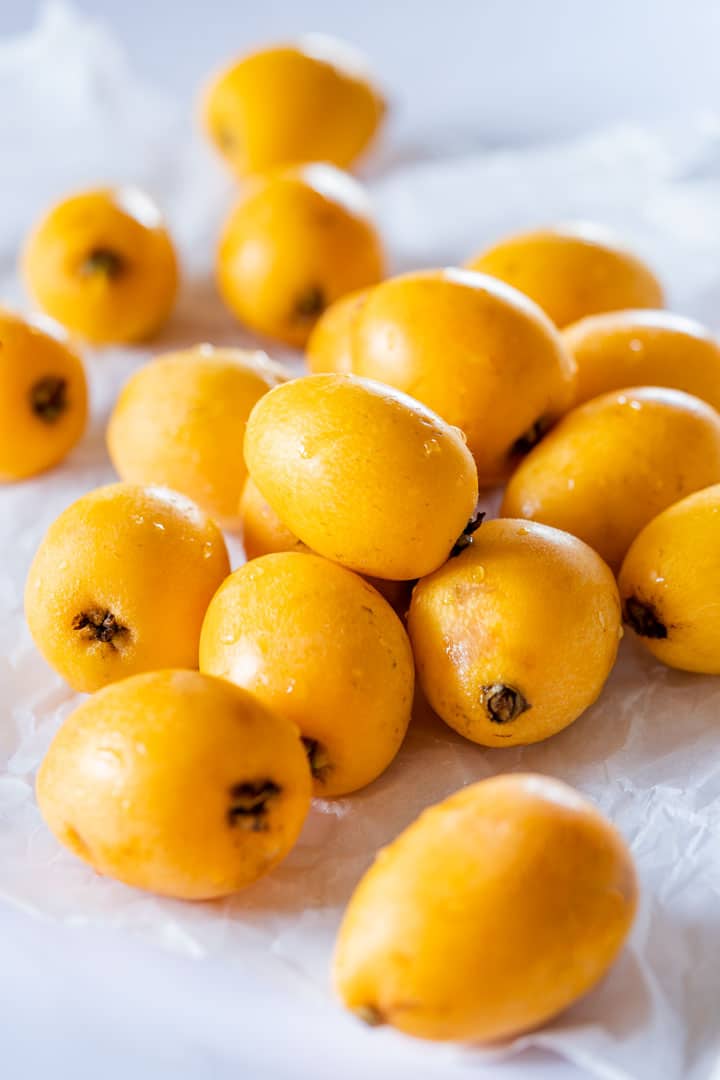 What is loquat and what do you do with it?
Loquat is a fruit from a tree known also as nispero or Japanese plum/medlar. It can be enjoyed fresh, preserved (jams, jelly, or chutney), poached, or in baking (tarts, pies).
Some countries make liquors out of it (Spain – Crema de Nispero).
When ripe, it has golden orange color and is soft to touch. It tastes sweet but at the same time slightly sour.
To many, loquat jam tastes similar to apricot jam.
Does loquat fruit contain pectin?
Yes, it does. In fact, loquat is rich in pectin which means there is no need to add any when making jam out of this fruit.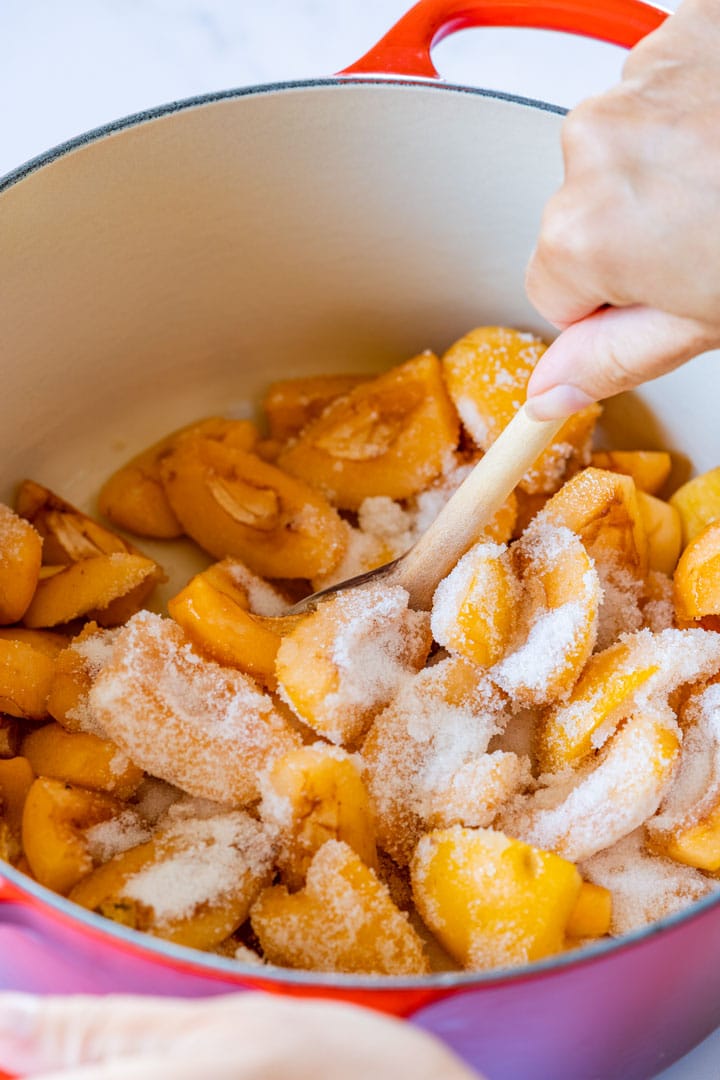 Expert tips for making the best loquat jam
Skins contain a lot of pectin so leave them on.
Puree until the jam reaches your preferred texture – either with chunks or smooth. When you puree the mixture well, the skins will not be noticeable at all.
The saucer test will help you see the thickness of the jam – place it in the fridge or freezer before you start making jam. To test it, spoon jam onto the chilled saucer and place it back in the fridge/freezer for a while. If it is set to your liking, you are done. If not, cook for longer.
The sweetness of loquat jam will depend on the sweetness of the fruit and one's preference. You can add more sugar if the fruit is on the sour side or less, if too sweet.
Keep the jars warm until the moment you are ready to fill them with jam. That way you will prevent any possible breaking.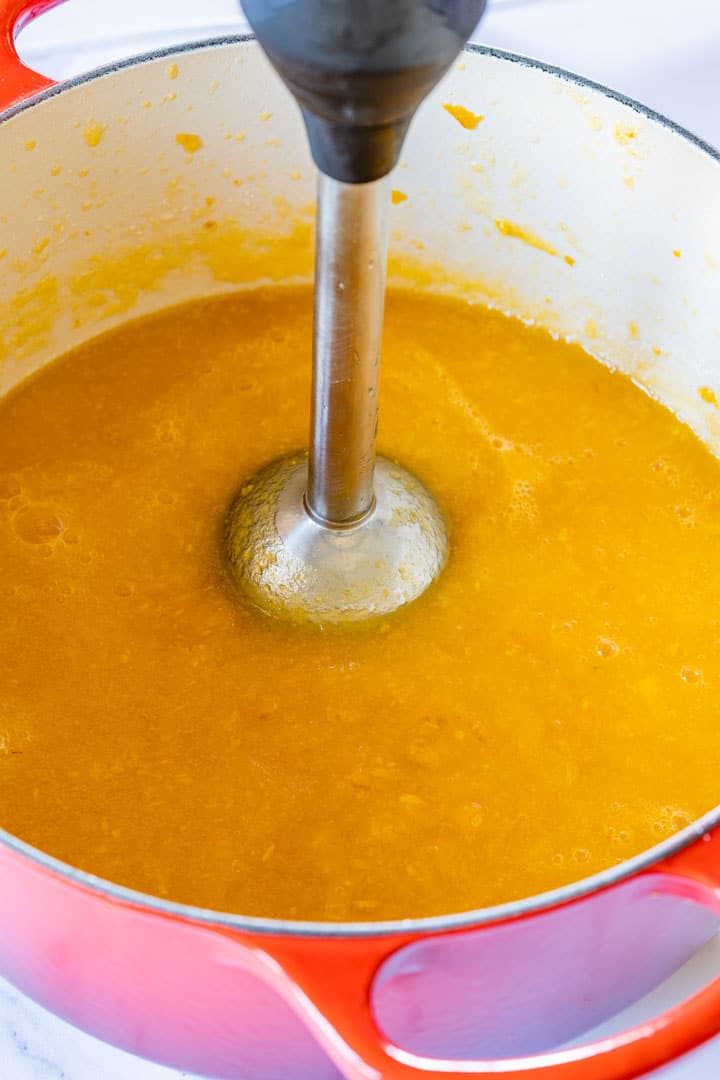 How to store jam?
Low sugar loquat jam can be kept in the fridge (an unopened jar should last for up to 3-4 weeks) or in the freezer (use freezer-friendly containers and don't over-fill. Leave enough room for the jam to expand).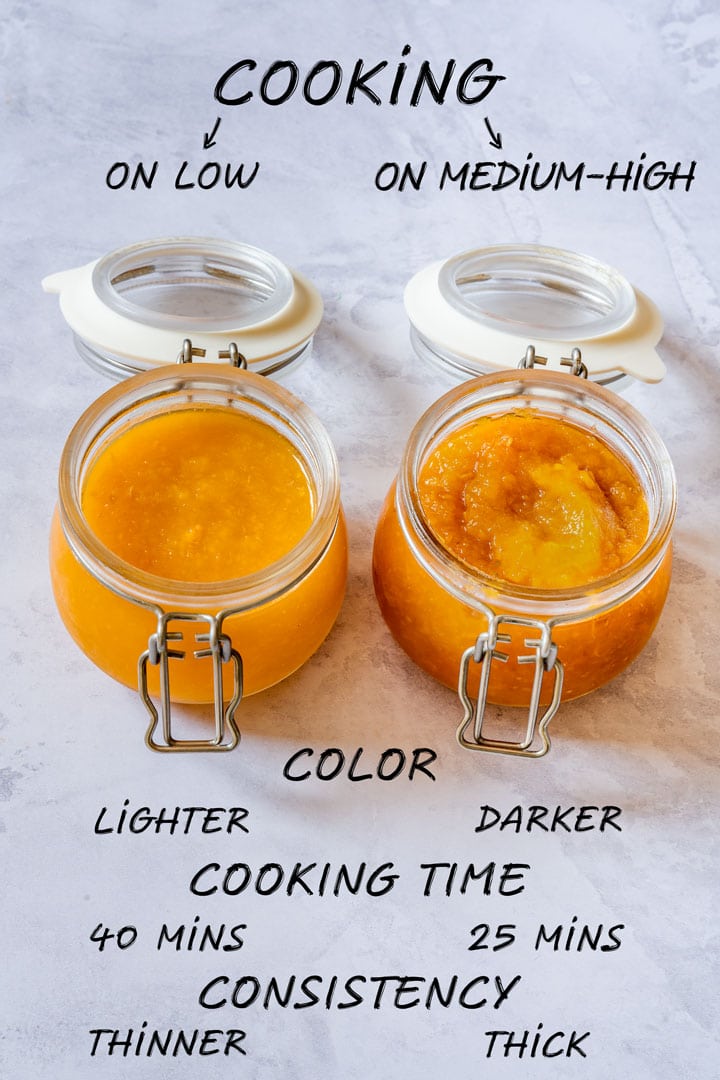 Cooking loquat jam – important:
Making loquat jam is easy. However, there are some things that are important especially when making jams for the first time.
The consistency and cooking time of any jam will depend on the way it is being cooked.
With low flame (heat) it will take longer, but you might not need to stir so much as the jam will not be sticking to the pot so much. It will also affect its color (paler) and to a certain level, it can affect its taste.
Medium to high heat will result in a jam that will be ready faster, its color will be darker and it will more likely taste sweeter. It will need frequent stirring to avoid burning.
Loquat Jam Frequently Asked Questions:
How to prepare jars for canning?
Wash them with a dish soap and rinse well or put them in a dishwasher.
Is sterilizing jars necessary?
The food preservation guide for canning says that if you are going to water-bath the jars filled with jam for 10 minutes, you don't have to.
However, I always sterilize both the jars and lids in a pot of boiling water for 10 minutes, just to be on the safe side and I recommend you do the same.
My jam is too runny. What should I do?
If the loquat jam has a thin consistency, cook it for longer. This can be due to fact that the fruit is over-ripe (contains less pectin that helps thicken the jam) or it has not reached the right temperature for setting.
How do I know the jam is ready?
Use a chilled saucer to check for consistency. Or, check with a food thermometer. It should reach (220 Fahrenheit/105 Celsius for sea level).
That being said, with refrigerator jam, you can experiment and cook it to your liking. It's a small batch jam recipe after all!
More jam recipes:
Check out our video for how to make loquat jam:
Loquat Jam
This is a small batch loquat jam recipe, perfect for the fridge or freezer. No added pectin, low in sugar and no water-bath needed. A simple refrigerator jam with unique fruit.
Servings:
3
jars (5-ounce/150-milliliters each), see note 4
Ingredients
2

pounds

fresh loquat fruit

, see note 1 (900 grams)

1

cup

granulated sugar

, see note 2

½

lemon

, juice only, see note 3
Instructions
Prepare loquat fruit for cooking: Rinse the fruits. Cut off the top and bottom. Half each fruit, remove the stones and the thick skin that covered the stones (see photos if not sure). Cut each half again. Place them in a pot. Add sugar and lemon juice and stir. Set aside.

Prepare jars for canning: Sterilize any jars and lids you are going to use (always sterilize more than you think you will need – just in case). Insert them in a large pot of boiling water and boil for 10 minutes. Place them onto a clean kitchen towel to dry or keep them warm in the oven if this is done too early.

Cooking jam: Cook on medium-high until the fruits soften, about 15 minutes. Puree and cook until the consistency of jam is to your liking (about 5-10 minutes more, see note), stirring regularly.

Ladle hot jam in warm glass jars, leaving at least ½-inch (1.5-centimeter) headspace. Seal with lids and let them cool down completely before transferring to the fridge.
Notes
Larger fruits will yield more flesh than smaller ones so you may get slightly more jam.
Sugar – either granulated, superfine (caster), or brown sugar can be used. The sweetness of your jam will depend on the sweetness of the fruits as well as the cooking method! See note 5.
Lemon juice can be added to taste.
The number of jars you get out of this recipe may be different. This will depend on the jam's consistency (e.g.: a thicker jam = less jars, a thinner jam = more jars). For that reason, I recommend sterilizing more.
Cooking time will vary. This depends on a few factors – the heat (the higher the heat, the quicker the jam will be ready), the ripeness of fruit (under-ripe fruit will take slightly shorter as it contains more pectin) as well as altitude you live in. Detailed information about the cooking process is under the section "Cooking loquat jam – Important". The difference can be even 20 minutes.
Store in the fridge (up to 3-4 weeks) or freezer (up to 6 months)
Nutrition Facts
Loquat Jam
Amount per Serving
% Daily Value*
* Percent Daily Values are based on a 2000 calorie diet.
** As an Amazon Associate I earn from qualifying purchases.
LEAVE A COMMENT