This is a quick recipe that uses leftover turkey meat. Red pesto, Parmesan and chili flakes make this leftover turkey pasta a tasty lunch or dinner!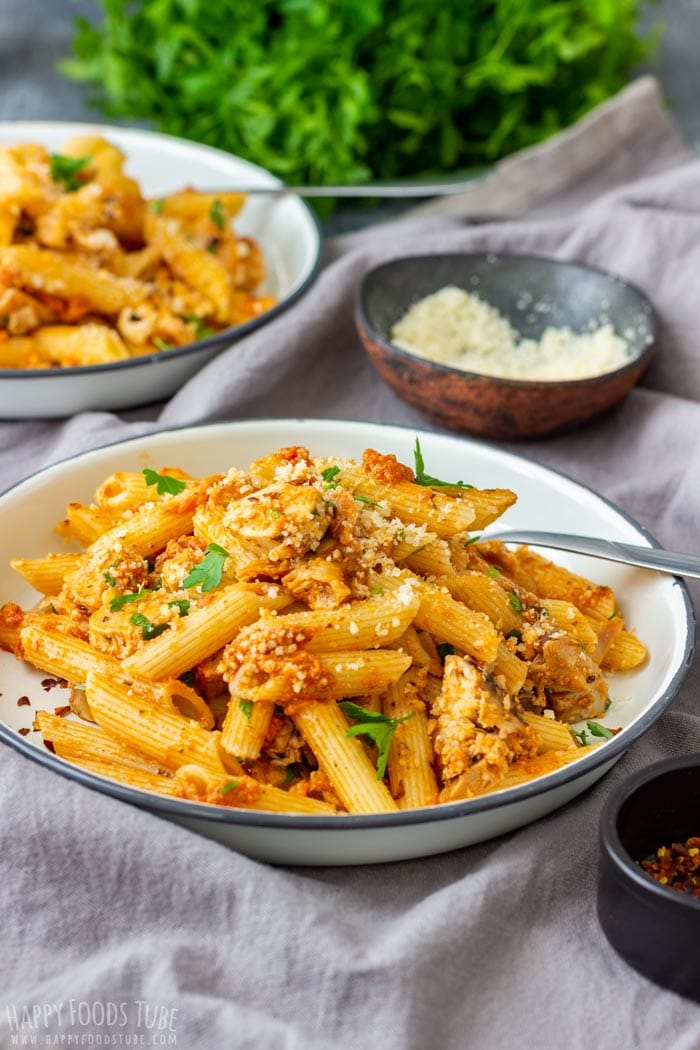 It's perfect for those who don't have time to prepare pies or casseroles. Those who like quick and easy dishes.
This leftover turkey pasta recipe uses red pesto as the key ingredient. It gives this dish its flavor and when topped with Parmesan cheese it is hard to resist.
I also like using chili flakes to add spiciness to this easy leftover turkey pasta but this is completely optional.
In case you have a lot of leftover turkey on hand I have some more ideas for you:
They all are easy to make recipes that anyone can do!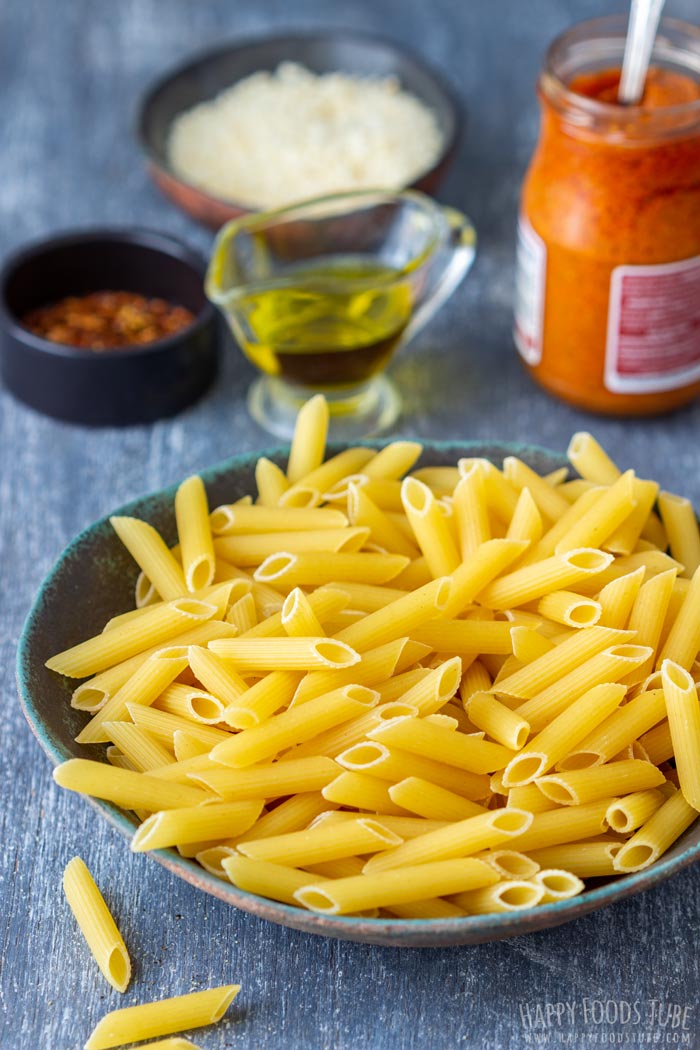 How to make leftover turkey pasta
Boil the pasta first. I used penne but if you prefer other type (shape) of pasta, then go ahead and use it.
I like to make the sauce about 7 minutes before the pasta is ready. You can make it afterwards, just keep the pasta covered with a lid, so it does not go cold.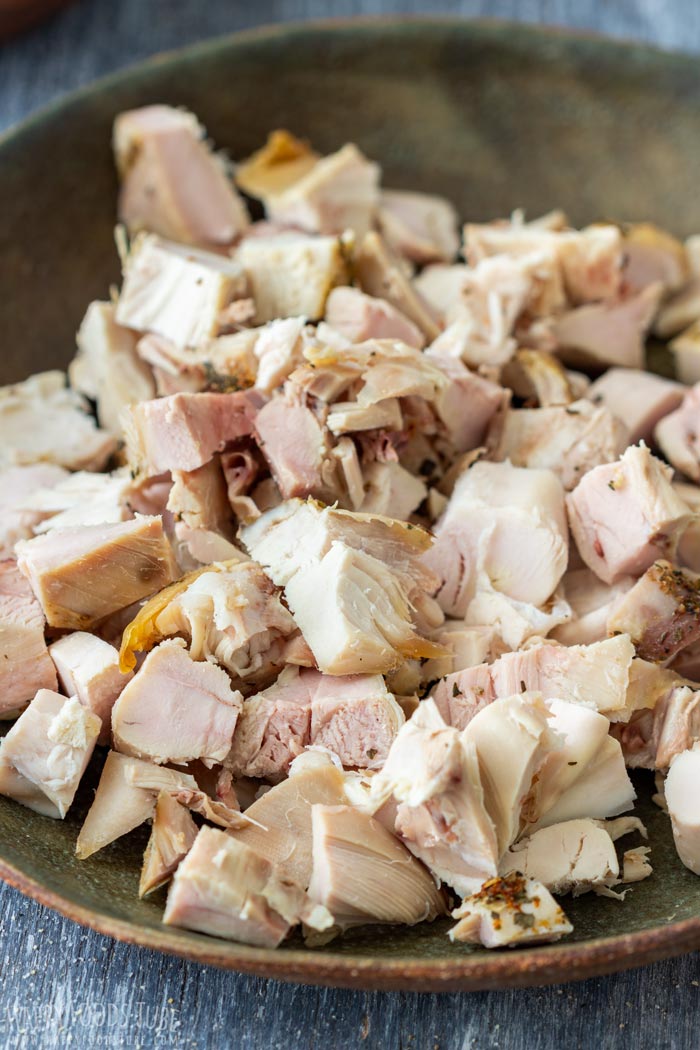 To make it, heat olive oil in a large skillet/frying pan and add the turkey. I cut it into small pieces because that is what I like. You can cut it into chunks, if you prefer.
Now fry the meat for about 5 minutes or until browned a bit. Then add the pesto mixed with water. Cook this for about a minute or until it is heated through.
Mix it with pasta, sprinkle with Parmesan and chili flakes and you are ready to serve!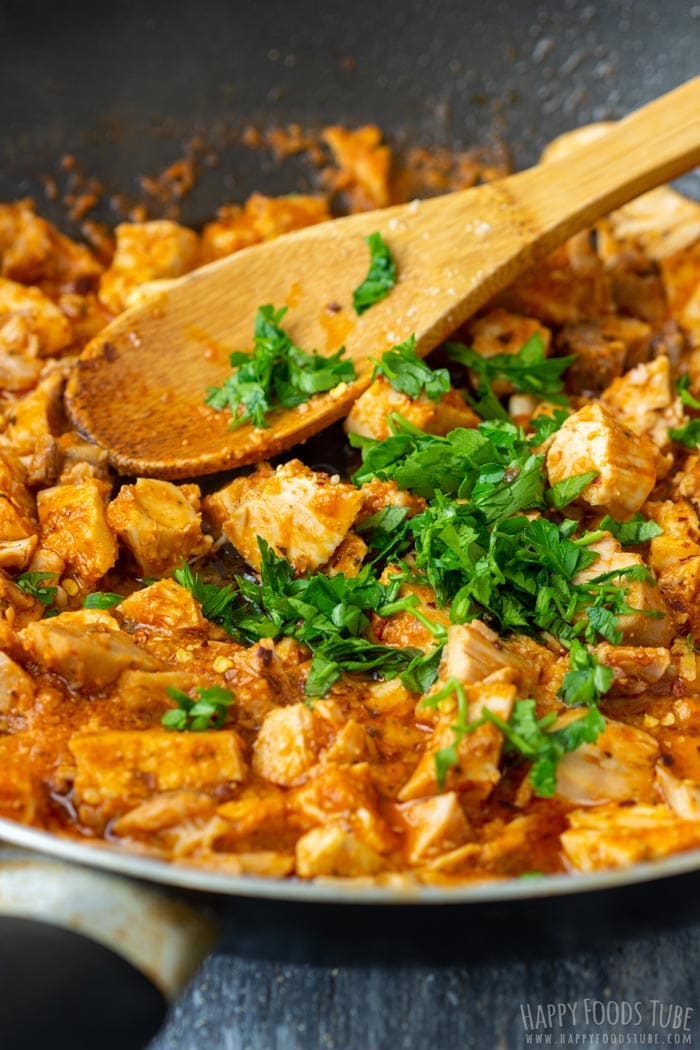 Tips for making leftover turkey pasta
This recipe can be easily adjusted to your liking. I only used a third cup of red pesto for 2 portions. I found it enough but if you like to taste more sauce, you go ahead and add more. The same goes for Parmesan and turkey meat.
Try green pesto instead of red. If you have time make your own! Parsley Pesto or Arugula Pesto are both delicious.
The overall cooking time will depend on the time needed to boil the pasta you have chosen. Some may only take 5 minutes while other may take as long as 15 minutes to cook.
If you want to use fresh pasta instead of dry, just note that you will probably need to increase the amount that is stated in the recipe as fresh pasta has different weight.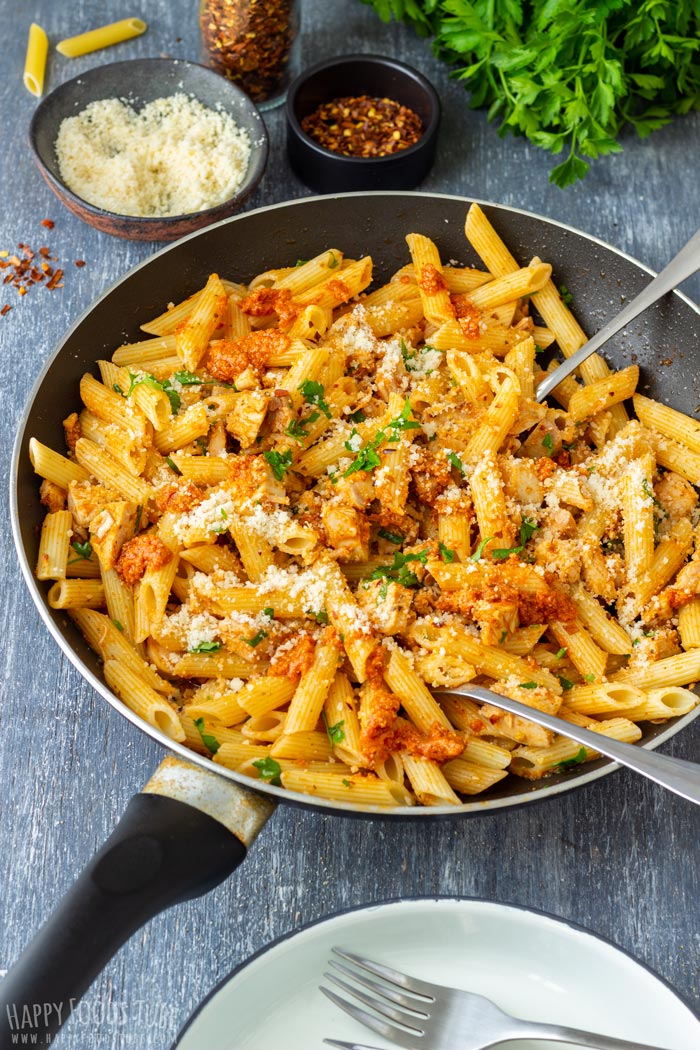 Leftover Turkey Pasta
This is a quick recipe that uses leftover turkey meat. Red pesto, parmesan and chili flakes make this leftover turkey pasta a tasty lunch or dinner!
Servings:
2
Portions (Main)
Ingredients
5

ounces

Penne Pasta

(140 grams), See note 1

Salt

2

tablespoons

Extra Virgin Olive Oil

1.5

cup

Leftover Turkey Meat

, chopped (180 grams)

½

cup

Red Pesto

(120 grams)

⅓

cup

Parmesan Cheese

, finely grated (35 grams)

Chili Flakes

, optional
Instructions
Cook pasta in salted water according to package instructions.

In a skillet/frying pan heat the oil, add turkey meat and roast this on high heat for about 5 minutes, stirring occasionally. Mix ½ cup of pesto with ½ cup of water (you can use the pasta water) and add this to the skillet. Stir until he meat is covered in the sauce and cook for a minute or two.

Pour over pasta and give everything a good mix. Serve with Parmesan and chili flakes.

Enjoy!
Notes
Use any pasta you have on hand – spaghetti, tagliatelle, farfalle, ….
Extra virgin olive oil can be substituted with regular cooking olive oil, sunflower or vegetable oil.
The amount of turkey, cheese and pesto can be also adjusted to your liking.
The cooking time may vary, this will depend on the pasta you use so follow package instructions.
Green pesto can be substituted for red pesto.
Five ounces of uncooked pasta is a healthy serving size for 2 people (when eaten as a main). If you want to increase this amount, then increase also the amount of pesto you use.
Nutrition Facts
Leftover Turkey Pasta
Amount per Serving
% Daily Value*
* Percent Daily Values are based on a 2000 calorie diet.
** As an Amazon Associate I earn from qualifying purchases.
LEAVE A COMMENT
RELATED POSTS