Thanksgiving side dishes are equally important as roast turkey when planning a Thanksgiving dinner. Impress your guests with new recipe ideas and choose from a selection of make-ahead sides, easy salads and potato side dishes.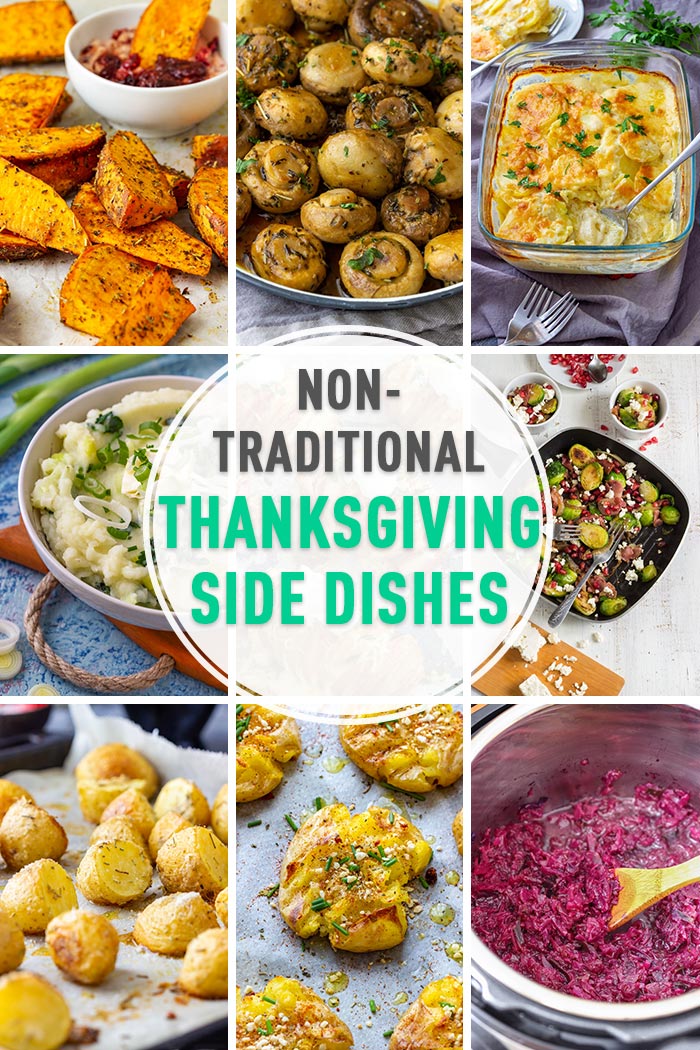 If you are looking for traditional Thanksgiving side dishes like stuffing, plain mashed potatoes or sweet potato casserole, you won't find them here.
What you will find are mostly non-traditional thanksgiving sides for all kind of diners from meat-eaters, potato lovers, vegans or those who like to add some healthy meals to Thanksgiving feast.
Herbed Mushrooms with White Wine – Mushrooms sautéed in buttery white wine sauce and seasoned with garlic and Italian seasoning can be served as a side or appetizer.
Oven Roasted Sweet Potato Wedges is another recipe that can be enjoyed as a side or appetizer. These sweet potato wedges are easy to make and ready on your table in 30 minutes from start to finish!
Rosemary Parmesan Roasted Potatoes are one of the side dishes that become everyone's favorite once you try them. This recipe can be easily doubled and is ready in 30 minutes!
Instant Pot Braised Red Cabbage goes so well with turkey (or pork or duck or sausages). It only needs 5 minutes under pressure and can be easily made ahead and reheated when needed.
If you are looking for easy make-ahead Thanksgiving side dishes, this Creamy Potato and Ham Salad is it. In fact, it always tastes better the following day so it's the perfect side dish for Thanksgiving!
Creamy Potatoes Au Gratin is a rich potato side that is perfect for any occasion. You can easily make them a day ahead.
Garlic Smashed Potatoes are one of my favorite side dishes. If you like potatoes, you will fall in love with this easy side dish recipe. It only takes 10 minutes to prep and is also suitable for vegans!
Forget about boring boiled or steamed Brussels sprouts and make Roasted Brussels Sprouts with Prosciutto instead! If you are after Thanksgiving side dishes that can be cooked on a stove, this is it. Ready in 25 minutes from start to finish!
Creamy Irish Colcannon is a classic Irish potato side dish. Combine creamy mashed potatoes with sautéed kale and leeks, top with chopped spring onions and a knob of butter and serve!
If you are looking for Thanksgiving side dish ideas that are not potato-based, make this Wedge Salad. It's simple, yet delicious. And if you are stuck for time, use store-bought dressing and ready-cooked pancetta or bacon.
Creamy Orzo Pasta Salad is a quick and flavorful side dish. Its preparation only takes about 17 minutes in total.
Bacon Red Bean Salad might not be one of the classic Thanksgiving side dishes but it's worth giving a try. Again, it's a quick recipe but can be also made ahead.
Healthy Thanksgiving side dishes don't have to be boring and tasteless! This colorful Roasted Butternut Squash Salad is a healthy and light alternative to Potato Salad or other mayo-based side dishes. It's also suitable for vegans.
RELATED POSTS