This traditional Irish barmbrack tea cake is a perfect afternoon treat. Dried fruit and spices make it extra delicious, also it is yeast-free recipe.
Barmbrack (bairín breac in Irish) or Barnbrack can be found in every single shop in Ireland around Halloween. While you can make it at home into any shape you like, Irish barmbrack is usually sold in flattened rounds.
This great sweet treat is widely enjoyed toasted and topped with butter. Oh, and don't forget a cup of tea!
Guys, this barmbrack tea cake is a very simple version of the traditional Irish barmbrack cake. There is no kneading, no yeasts – it's an easy tea cake that tastes delicious.
Actually, it is hard to say whether it is a cake or bread. I've heard people calling it bread, cake, Irish fruit cake or a tea cake.
First I thought that it's called tea cake because it is mostly enjoyed with a cup of tea! Oops! Apparently, it is because you use tea as one of the ingredients. So there! That's why it is called a tea cake. I suppose that the easiest way of calling this sweet bread is Irish barmbrack or simply a barmbrack.
I think the coolest name of all of them is Irish tea brack! What do you think? I like it most.
There are other easy quick breads that are worth mentioning here:
All of these above mentioned breads are perfect for beginner bakers as there is no kneading or proving required.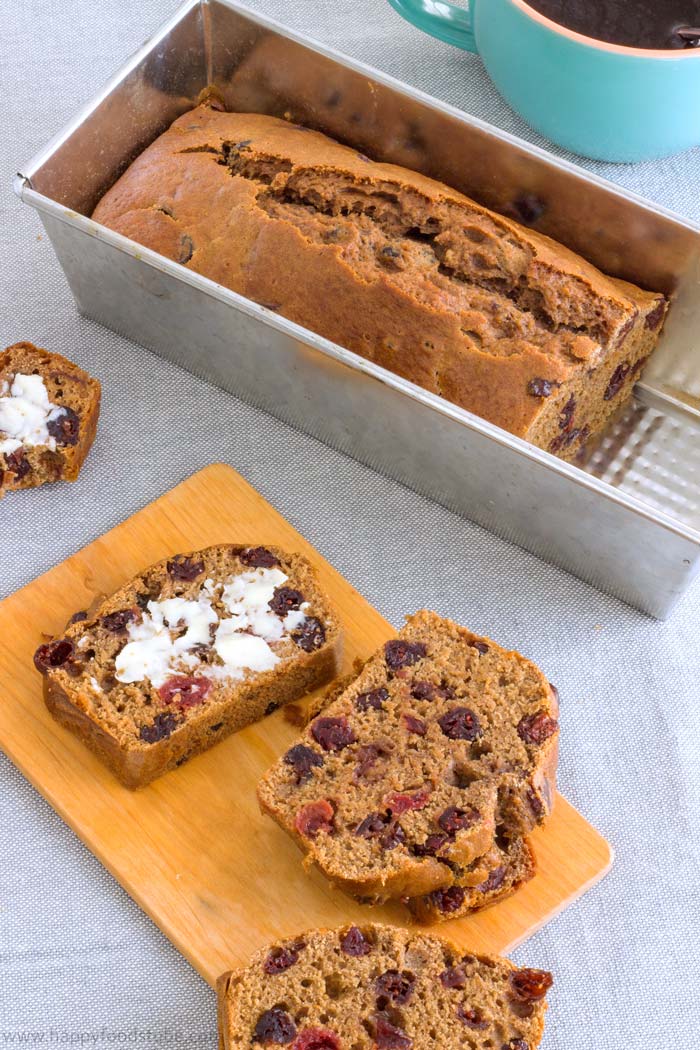 Irish barmbrack tea cake and fortune telling
Now the fun part about barmbrack cake was that according to Irish tradition, each loaf contained various objects baked into the bread. Each object had a certain meaning (e.g. if a person found a pea in the bread they would not marry that year. A coin represented good fortune, etc.).
Nowadays you might find a ring in each barmbrack, if you were lucky, that is. Finding a ring meant getting married within a year!
So if you ever find yourself in Ireland (15 reasons to visit Ireland) around Halloween and buy the barmbrack, be sure to look for the ring!
How to make Irish barmbrack
I have seen many recipes for this deliciousness but wasn't sure which way to go. Some recipes call for yeast (I believe those are the old fashioned Irish recipes) and some don't. So I chose not to use yeast.
I know some of you are not comfortable working with yeast and that is why I went for this Irish tea brack recipe. It is simple and pretty straightforward which I like!
This recipe was adapted from the FOOD website. I liked the fact that there is no yeast in it as I was looking for an easy barmbrack recipe.
For this Irish barmbrack tea cake recipe, you need only 10 minutes of your time for the prep and about an hour in the oven!
I know the baking time is quite long but it is passive time during which you don't need to do anything. Just set an alarm and check if it's ready 60 minutes later! During this time you are totally free! Free to do anything you want to or need to!
Irish barmbrack tea cake recipe preparation:
Divide the preparation into 2 days.
Day 1: Make a strong cup of black tea. Let it cool down. Pour it over raisins. Keep in your fridge overnight. Done!
Day 2: In a mixing bowl combine all the ingredients. Don't forget to add the raisins and tea as well! Mix well. Pour into a loaf tin and bake!
It can't get any simpler than this! And guess what? It is worth waiting for the 60 long minutes because you will be rewarded with a perfect barmbrack loaf!
By the way, feel free to mix raisins with other dried fruit. I used raisins to which I added a handful of mixed dried berries simply because they needed to be used.
Want to see how to make Irish barmbrack? Watch the video!
Irish Barmbrack Tea Cake
This traditional Irish barmbrack tea cake is a perfect afternoon treat. Dried fruit and spices make it extra delicious, also it is yeast-free recipe.
Servings:
12
Slices (1 Loaf)
Ingredients
1⅓

cup

raisins

(250 grams)

1¼

cup

black tea

, cold & strong (300 ml)

2

cups

all-purpose flour

, heaped (300 grams)

¾

cup

brown sugar

(150 grams)

4

teaspoons

baking powder

1

egg

(medium)

1

teaspoon

cinnamon
Instructions
Throw the raisins in a bowl and pour the tea over. Place the bowl in the fridge and let the raisins soak overnight.
The following day:
Preheat the oven to 355°F/180°C.

Combine all the ingredients in a mixing bowl including the raisins & tea (Note: some raisins may absorb more liquid than others so you might end up needing to add more tea. To be ready, have some extra cold tea ready on hand).

Line a loaf tin with baking paper and pour the mixture over.

Transfer to the oven and bake for 1 hour or until baked throughout.

Enjoy with butter and/or jam as well as a cup of your favorite tea/coffee!
Nutrition Facts
Irish Barmbrack Tea Cake
Amount per Serving
% Daily Value*
* Percent Daily Values are based on a 2000 calorie diet.
** As an Amazon Associate I earn from qualifying purchases.
LEAVE A COMMENT
Related posts