This roasted butternut squash salad with quinoa and pomegranate is packed with vitamins, minerals and antioxidants! It is a perfect fall salad!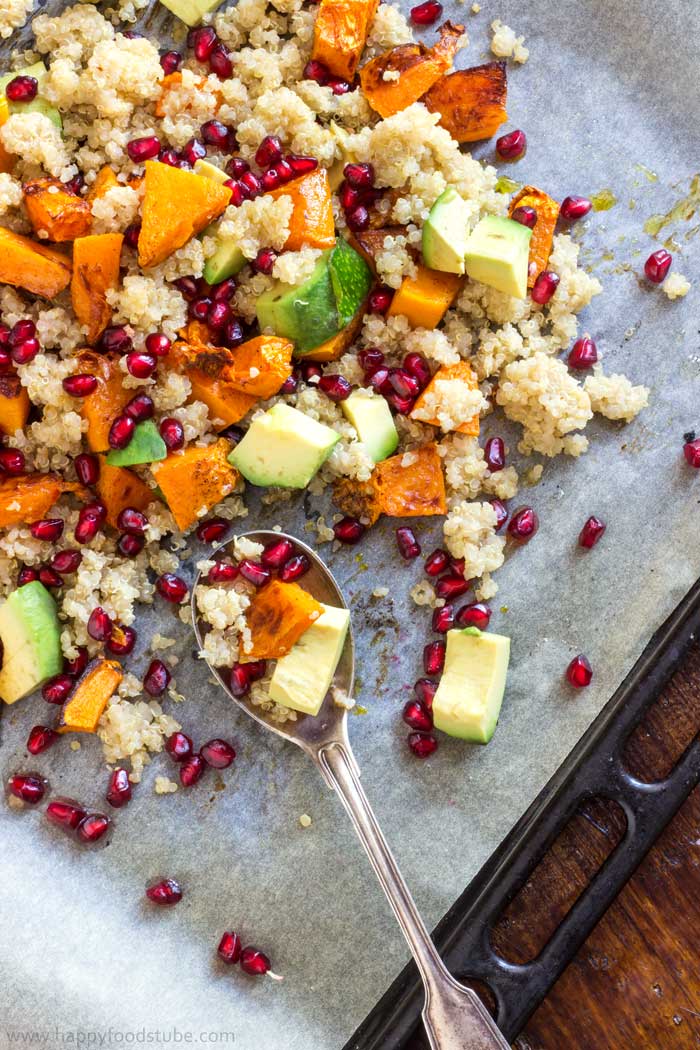 I love salads. Mostly I make salads with lots of greens and tomatoes! Actually, I like tomatoes everywhere not only in salads! But this salad is different. First it is a warm salad and second there are no tomatoes in it at all! Not even one!
Now it contains roasted butternut squash pieces, avocado, pomegranate and quinoa. All these goodies are tossed around and drizzled with a lemon juice or honey dressing. The juice and dressing are optional but they make this salad even better. To keep the salad warm as long as possible I serve it on a baking tray which I used for roasting the squash. You don't have to serve it warm, a cold version of this salad is also delicious but we like to eat warm meals more often during fall & winter.
So what do you think about all these ingredients? They are super healthy and combine together give you an amazing and super easy dish! A super easy dish with tasty title: Roasted Butternut Squash Salad with Quinoa & Pomegranate!
Let's talk about the ingredients so:
Butternut squash is a classic fall ingredient that tastes amazing. I like its sweetness and texture as well as its color.
Avocado is one of my favorite vegetables and I can't get enough of it. Its buttery texture & nutty flavor makes it a great ingredient not only in salads but also in baking. It's also packed with antioxidants, potassium and other goodies that make it a perfect choice for a healthy diet.
If you are after some new avocado recipes, then have a look at these ones: Avocado Hummus, simple open Sandwich with Avocado and Bacon or a Sourdough Bread with Avocado Spread.
Pomegranate is another superfood rich in fiber, antioxidants, vitamins and potassium. I like its dark red color and its sweet taste. It works great in this salad!
Quinoa is a superfood that originated in South America. The best thing about it is that it's gluten free! Yes, it's gluten free, it's high in protein and minerals. It is also a good source of B-vitamins and vitamin E. Quinoa rocks and once you know how to prepare it you are in for a treat!
And now guess what else is good about this roasted butternut squash salad? Well, it's also vegetarian, vegan and gluten free! Those of you who don't eat honey (I know some vegans don't) you can simply omit this ingredient. Or leave out the entire dressing.
It also is a pretty healthy gluten free salad recipe so if you are looking for a gluten free recipe inspiration then you might wanna check it out!
By the way, this butternut squash fall salad can be enjoyed as an appetizer, main or a side!
Roasted Butternut Squash Salad with Quinoa
This roasted butternut squash salad with quinoa and pomegranate is packed with vitamins, minerals and antioxidants! It is a perfect fall salad.
Ingredients
1

Large

Pomegranate

2.2

pounds

Butternut Squash

(1 kg)

1

cup

Quinoa

, rinsed

2

Medium

Avocados

1

teaspoon

Salt

+ some extra

1

tablespoon

Extra Virgin Olive Oil

1/2

Lemon

(optional)
For the Dressing (optional):
Instructions
Rinse and cut the squash into bite size cubes. Get rid of the skin by trimming off each cube or peel it beforehand.

Transfer the squash onto a baking tray lined with baking paper. Season with salt and pepper. Drizzle some olive oil over (about a tablespoon).

Bake in a preheated oven at 400°F/200°C for 30-35 minutes or until soft throughout. 15 minutes into baking, open the oven and toss the squash pieces around (use a fork or spatula).

Meanwhile: Rinse quinoa and transfer it in a small/medium sauce pan. Cook according to the package information (I use 1 part quinoa, 3 parts water).

Deseed the pomegranate and dice avocados (first cut in half, remove the stone, scoop out the flesh and dice).

Prepare the honey dressing (optional) by mixing 4 teaspoons of honey with 4 teaspoons of freshly squeezed lemon juice and 3-4 teaspoons extra virgin olive oil.

Once the squash is cooked throughout and has nice brown color, take it out from the oven.

Transfer onto a serving plate/bowl or serve on a baking tray (this way the salad stays warm for longer). Throw in pomegranate seeds, quinoa & diced avocado.

Squeeze half a lemon over (optional) or drizzle with honey dressing (optional).

Serve as a starter, main or a side dish.
Notes
Some shops might sell butternut squash peeled and sliced. If you buy this one, then you can reduce the amount of squash. (I suppose you can reduce it by 7 ounces/200 grams).
Nutrition Facts
Roasted Butternut Squash Salad with Quinoa
Amount per Serving
% Daily Value*
* Percent Daily Values are based on a 2000 calorie diet.
** As an Amazon Associate I earn from qualifying purchases.
LEAVE A COMMENT
RELATED POSTS