This delicious roasted butternut squash salad recipe combines the perfect blend of flavors and textures for a healthy and satisfying meal. Perfect for the fall season!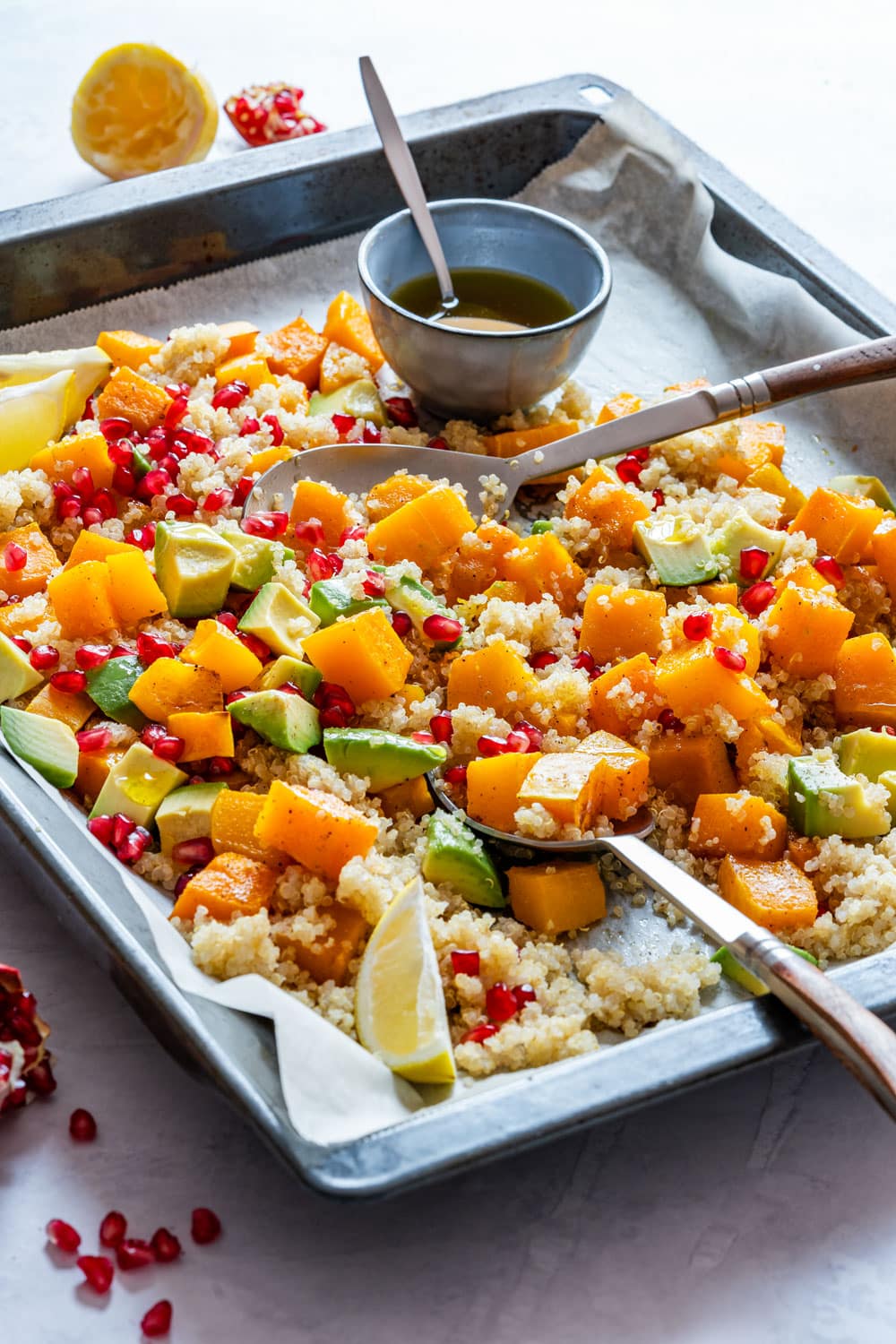 Is it suitable for my diet?
This warm salad is naturally gluten-free, vegetarian as well as vegan (If you eat honey. If not, then omit the dressing). It does not contain any nuts, nor dairy products. It is also low in sodium and has no refined sugar added.
Plus, it is a great meal option for those who follow the Mediterranean diet.
It is without a doubt one of the fall salad recipes you will fall in love with.
Serve it as a main, side or appetizer and enjoy it warm or cold!
How to make roasted butternut squash salad
Tools:
Baking tray with edge/sheet pan – a casserole dish will also work just fine.
Baking parchment paper – optional, but recommended for an easy cleanup.
Chopping board & knife – make sure the knife is sharp.
Spatula – or a wooden spoon or anything to mix the squash when roasting.
Serving bowl – or a large plate (optional, see "useful tips" section).
Glass, jar & spoon – or anything to prepare the salad dressing.
Ingredients:
Main: Butternut squash, quinoa, pomegranate, avocados.
Seasoning: Salt, black pepper, extra virgin olive oil.
Other: Lemon, honey.
Process:
Note: The detailed method can be found in the recipe card at the bottom of this post.
Roast diced squash with a simple salt, pepper seasoning and a drizzle of olive oil until ready.
Cook quinoa and prep the pomegranate, avocado and honey dressing. When the butternut squash is ready, mix all the ingredients together and serve!
What to serve with this salad?
Pork tenderloin wrapped in bacon or cast iron pork chops are delicious options. I also like air fryer chicken thighs or any other protein dinner you like.
Useful tips
Look for ready-to-eat avocados – They should be soft to touch and usually have almost black color when ready (this is not always the rule, but it helps make a choice).
Getting the seeds out of pomegranate can be challenging and quite messy. I use a simple method how to deseed a pomegranate and it always works. Try it too.
There are 3 kinds of quinoa available in stores. Red, white and black. Sometimes you can also buy a combination of those. Use anything you like or is available at your local supermarket.
Serve this roasted butternut squash salad in the same tray/pan that you roasted it in. That way it will stay warmer for longer!
You can also add fresh arugula to the salad. Or feta cheese.
Frequently asked questions:
What vegetables go well with butternut squash?
Parsnips, carrots and beets. All these can be roasted and enjoyed as a side with meats of your choice!
Do you peel butternut squash before you use it?
You don't need to if you are planning on eating its skin as well. If not, I suggest doing so to shorten the cooking time.
Can I make this salad with a different squash?
Yes, you can. If you have some other variety on hand, go ahead and use it.
What are 3 ways you can eat butternut squash?
This fall vegetable is delicious roasted or in salads. It can be easily turned into a soup and another tasty version is stuffing it with various fillings and roasting in the oven.
More fall recipes:
Roasted Butternut Squash Salad
This delicious roasted butternut squash salad recipe combines the perfect blend of flavors and textures for a healthy and satisfying meal. Perfect for the fall season!
Servings:
4
(main) or 8 (side)
Ingredients
Salad:
5

cups

butternut squash

(cubes), see note 1

1

teaspoon

salt

+ some extra

black pepper

, to taste

1

tablespoon

extra virgin olive oil

, see note 3

1

cup

quinoa

(200 grams), see note 4

2

avocados

(medium), see note 5

½

lemon

(optional)
Instructions
Preheat oven to 400 Fahrenheit (200 Celsius).

Meanwhile: Peel and cut the squash into bite-size cubes. Transfer onto a baking sheet lined with baking parchment (optional). Season with salt, pepper and olive oil. Toss around well.

Roast in the oven at 400 Fahrenheit (200 Celsius) for 30 minutes or until done.

Meanwhile: Rinse the quinoa and cook it following package instructions. Seed the pomegranate and dice avocados. To stop the avocados from turning brown, drizzle some lemon juice over.

Make the dressing by combining olive oil, lemon juice and honey in a jar. Shake/stir well.

When the squash is ready, take it out. Add quinoa, pomegranate and avocado. Add dressing and stir everything well.
Notes
You will need about 2 pounds (1 kilo) of whole butternut squash or 21 ounces (600 grams) of squash without its skin.
To save time you can buy ready peeled squash (check if your local supermarket carries it).
I don't recommend substituting olive oil with another kind.
Use any quinoa you like or can buy (red, white or black).
Make sure to pick ripe avocados!
You will need about ½ small lemon. Also, you can use the other half to drizzle over avocado, so it does not turn brown.
I like to add about ½ teaspoon of salt in the water so that the quinoa will not taste bland.
Nutrition Facts
Roasted Butternut Squash Salad
Amount per Serving
% Daily Value*
* Percent Daily Values are based on a 2000 calorie diet.
** As an Amazon Associate I earn from qualifying purchases.
LEAVE A COMMENT
Related Posts