Irish brown soda bread. Yeast-free dough, 5-minute preparation & no kneading skills required make it a perfect bread for beginner bakers or busy families!
Soda bread (Irish: arán sóide) is a traditional Irish bread. Flour, baking soda and salt are mixed with buttermilk or sour milk and formed into a loaf which is marked with a cross or cut into quarters. This dough doesn't use yeast but bicarbonate of soda (baking soda) which is the rising agent here.

It is a perfect choice for those who want to try and make homemade bread but are put off by the long process that needs to be followed for yeast based breads. This brown soda bread is quick to make and tastes amazing!
I personally love it lightly toasted with butter and Homemade Strawberry Jam or I would eat it with some creamy soup like this Creamy Zucchini Soup.
Whenever I make brown soda bread it brings back memories from one of our road trips. On this trip we made a stop in a small village called Blennerville. The main landmark of this village is a windmill. You get to go inside this windmill and climb the stairs up to see how the mill worked. There is also a small exhibition dedicated to the Great Famine (Irish Potato Famine) as Blennerville was the main port of emigration between years 1845-1848.
But what I loved most about this place was a room – a kitchen that looked like one of those ones that you would have found in any Irish home in the old days. There were lots of bowls, pots and pans as well as information about soda bread making. I think it's interesting to see a bit of history behind things that are pretty ordinary and we don't think about them much. So I am adding some old pictures from our trip to Blennerville as well as photos of traditional soda bread making.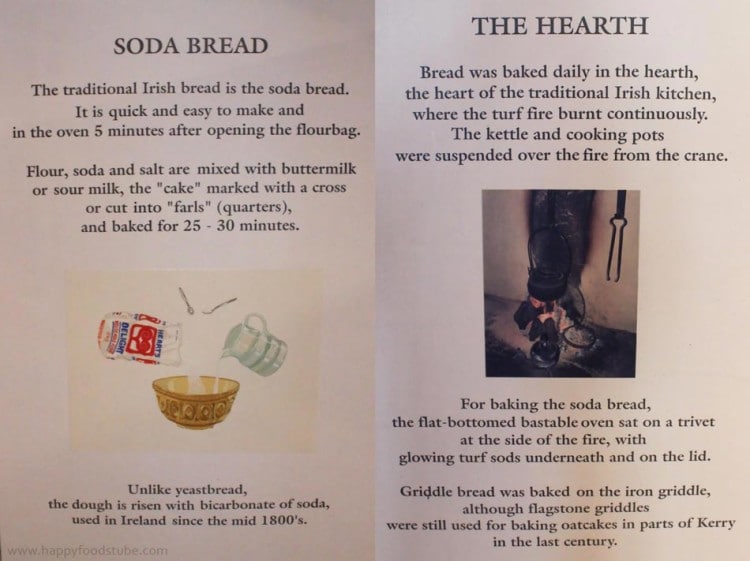 How to make Irish brown soda bread:
You will need 6 simple ingredients to make this soda bread. Wholemeal and plain flour, salt, baking soda, buttermilk and an egg. Mix them together. This dough does not require any special kneading like other breads do. The kneading is more like a shaping of the dough and anyone can do it. It only takes a minute or two.
Baking takes 30 minutes and no "oven-sitting" is required so you have time to get other things sorted while this soda bread is in the oven.
I am using kefir instead of buttermilk in this recipe as I haven't been able to find buttermilk here in Spain. If you use buttermilk, then I suggest using 400ml and if kefir then 500ml as kefir is pretty thick. You can use less kefir and thin it with some milk if you prefer.
Looking for more Irish Recipes? Check out this Irish Barmbrack. It is a Halloween classic in Ireland but can be enjoyed throughout the year.
Want to see how to make Irish Brown Soda Bread? Watch the video!
FOLLOW HAPPY FOODS TUBE FOR ALL THE LATEST RECIPES AND UPDATES:
PINTEREST | FACEBOOK | INSTAGRAM
Irish Brown Soda Bread
Yeast-free dough, 5-minute preparation & no kneading skills required make it a perfect bread for beginner bakers or busy families.
Instructions
Combine both types of flour with baking soda and salt in a large bowl. Add the buttermilk (or kefir – if the kefir is too thick, use less and mix it with milk) and using a wooden spoon mix until you get nice dough.

Transfer onto a floured surface and form into a loaf (do not knead– the less you work the dough the better). Using both hands make moves like if you wanted to lift the dough, then tuck it under and at the same time turn it in clockwise/anticlockwise direction. Repeat several times. This will shape the dough into a nice round loaf.

Place the dough onto a baking tray lined with baking paper and mark a cross using a knife (you can also cut it into quarters, if you prefer smaller loaves).

Brush with egg wash and place in a preheated oven. Bake at 200°C/400°F for 30 minutes or until ready (if you knock on the bottom of the bread and you hear a hollow sound you know it's ready).

Let it cool down on a wire rack before serving. Serve with anything you like!
Notes
You can also bake the bread in a loaf thin. This way you will get nice shape and more crust (which is soo yummy).
Nutrition Facts
Irish Brown Soda Bread
Amount Per Serving (100 g)
Calories 253
Calories from Fat 21
% Daily Value*
Fat 2.3g4%
Cholesterol 5mg2%
Sodium 501mg22%
Potassium 217mg6%
Carbohydrates 49g16%
Protein 8g16%
Vitamin A 82.5IU2%
Calcium 69mg7%
Iron 2.2mg12%
* Percent Daily Values are based on a 2000 calorie diet.
** Happy Foods Tube is a participant in the Amazon Services LLC Associates Program, an affiliate advertising program designed to provide a means for sites to earn advertising fees by advertising and links to Amazon.com.
LEAVE A COMMENT
RELATED POSTS