Homemade lemon curd is great in desserts, on a slice of toast or as a pancake topping! Follow this easy & fast recipe to get creamy, sweet & sour perfect.
Lemon curd is something you don't normally find in central Europe where I come from. My first interaction with lemon curd was in Ireland and I liked it from the beginning. First I thought it was something like lemon marmalade. Well, after tasting it I quickly realized that this could not be compared to marmalade. It was way tastier than I would have expected. Its creamy texture, citrusy flavor yet pleasantly sweet taste goes well with lots of desserts and is perfect on a slice of toast.
After leaving Ireland for Spain I also had to leave lemon curd behind. And it was then when I started thinking about making a homemade one. It had taken me a good while though I must admit. I don't even know why!
But then one day I got super excited again when I saw this delicious Homemade Lemon Curd recipe made by Allie from Baking a Moment. She made it look so easy and I figured it was the right time to give the recipe a go! And I did! And it tasted amazing! Better than the store-bought lemon curd! Way better!
Right away I made these delicious Chocolate Caramel Dessert Cups using my homemade lemon curd as one of the layers. My mouth is watering when thinking about them! I have made lemon curd several times since and every time I am in the process of making it, I can't stop myself from tasting it over and over again while it is cooling down. It's soo good! I keep opening the fridge, lifting the cling film and digging my spoon in. Can't resist!
This time making it I changed Allie's recipe a bit. As I did not have any use for egg whites I simply used whole eggs instead (she uses the combination of whole eggs with egg yolks).
It worked really well. I also reduced the amount of eggs by one. This gives me exactly one jar full of homemade lemoncurd which is plenty to keep the two of us going for a while.
The changes to butter and sugar were not huge. I just reduced them slightly. If you like to taste more lemon-y flavor, you can add more lemon juice as well. However, I suggest you make the first batch following this recipe and only then adjust to your liking. That's the way I do it.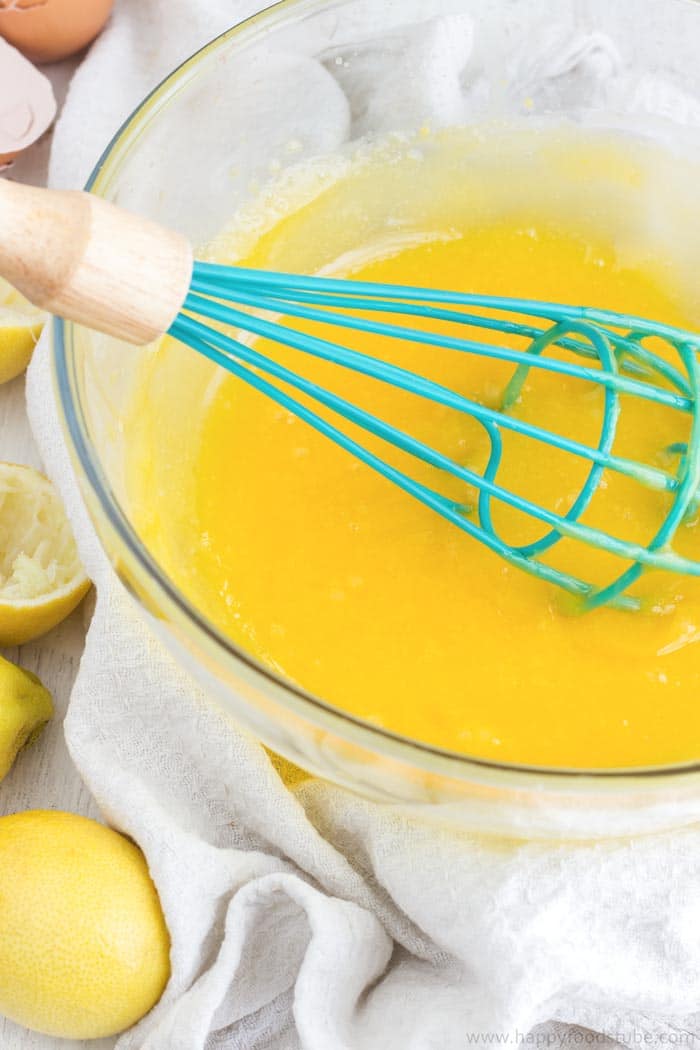 Homemade lemon curd recipe:
Believe it or not but making homemade lemon curd can't get any easier than this! It only takes 15 minutes! Once you have tried it yourself you will never go back to the store-bought one!
Preparation:
It takes only about 4-5 minutes of your time which is great, isn't it? 5 eggs go in a large bowl (heatproof) followed by freshly squeezed lemon juice + sugar. Whisk together.
Cooking:
Once you placed the bowl over a double boiler, throw in the butter. Now all you have to do is keep stirring until it is done! It only takes 10-15 minutes to cook it! Literally no longer than this! Also it thickens as it cools down so the best moment to turn off the heat is when the curd is of the consistency of yogurt (that's what Allie says and I follow her advice).
Cooling:
Cover the curd (not the bowl) with cling film and let it cool a bit before transferring to the fridge. Once it is cooled completely you can enjoy it with anything you like.
For some more ideas where to use homemade lemon curd have a look at my Lemon Curd Thumbprint Cookies. If you like pancakes then check out these German Pancakes with lemon curd – you will love them!
Guys, you have to try making it at home! You will love it! It's soo good it's hard to put into words!
Homemade Lemon Curd
Homemade lemon curd is great in desserts, on a slice of toast or as a pancake topping! Follow this easy & fast recipe to get creamy, sweet & sour perfect.
Servings:
1
Jar (400g/14oz)
Ingredients
5

Medium Eggs

3.5

oz

Unsalted Butter

(100g)

6

tablespoons

Lemon Juice

, Freshly Squeezed (90ml)

2.8

oz

Caster Sugar

(80g)
Instructions
In a medium mixing bowl whisk the eggs, freshly squeezed lemon juice and sugar until combined.

Place the bowl over a pot of simmering water. Throw in the butter and whisk constantly until it has thickened. This will take about 10 minutes (on low-medium heat).

Cover the surface of the curd with cling film, let it cool down a bit before transferring to the fridge. Once chilled completely, pour/spoon into a glass jar and cover with a lid. Keep in the fridge.
Notes
The curd will continue to thicken in the fridge so once it has yogurt-like consistency remove it from the heat (see Step 2).
Nutrition Facts
Homemade Lemon Curd
Amount per Serving
% Daily Value*
* Percent Daily Values are based on a 2000 calorie diet.
** As an Amazon Associate I earn from qualifying purchases.
LEAVE A COMMENT
RELATED POSTS