This Easy Lemon Lavender Loaf is refreshing citrus bread full of goodness! Top it with candied lemon slices or sugar glaze and enjoy with a cup of coffee.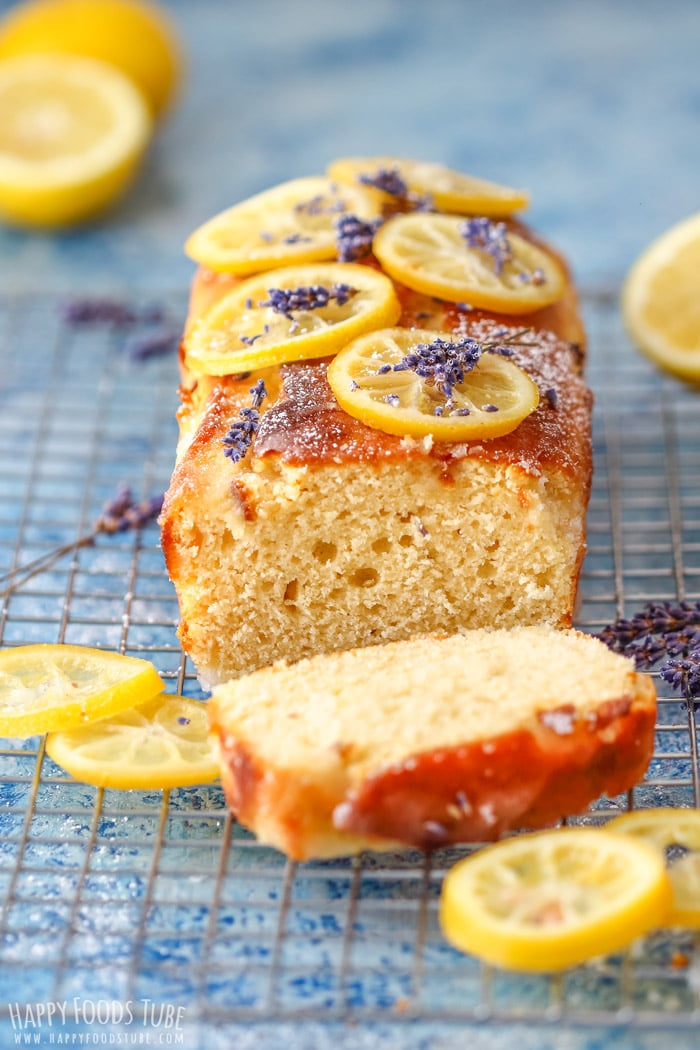 Guys, do you use citrus fruit in baking a lot? Or do you prefer Chocolate Desserts? I personally love citrus flavored sweet treats.
Homemade Lemon Tart is my favorite citrus dessert. Mini Chocolate Caramel Cups with Lemon Curd are also high on my list. They are so refreshing and perfect for spring!
Now to make this lemon lavender loaf I used my recipe for Orange Loaf Cake. I decided to add lavender because lavender goes so well with lemon and garnished the bread with candied lemon slices.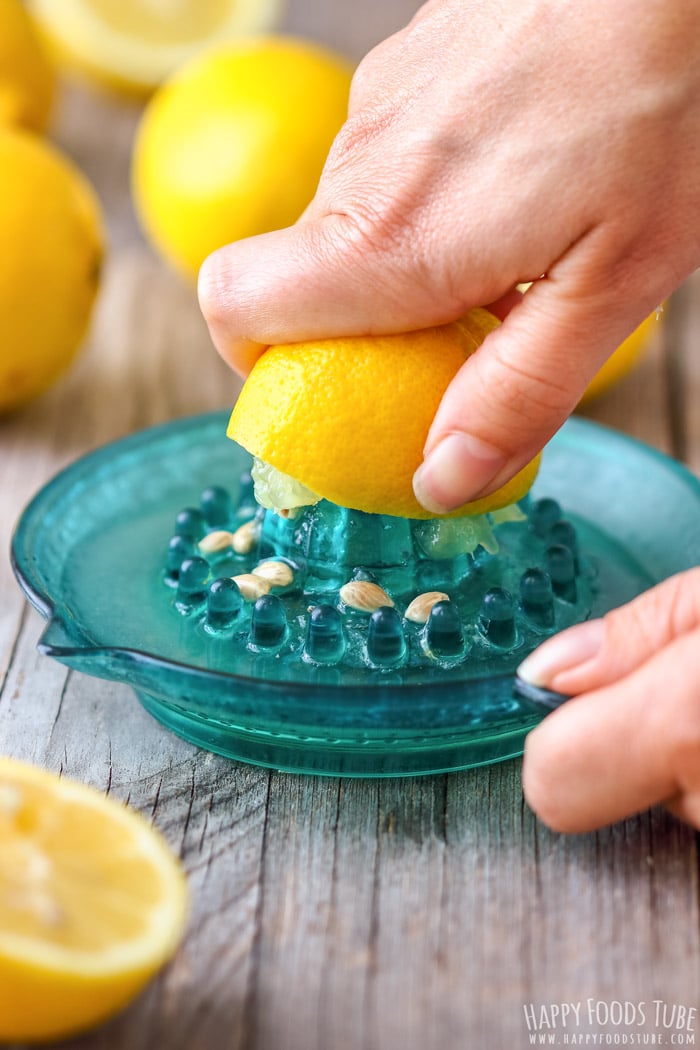 How to make lemon loaf with lavender
First turn on your oven. The preparation is pretty quick so you don't want to be waiting long with your bread sitting on the kitchen counter.
Second, melt the butter in a microwave (or stove top – whichever you prefer).
Now move onto juicing the lemons. You will need ½ cup freshly squeezed lemon juice for the lemon bread batter and an extra ¼ cup that you will pour over the loaf at a later stage.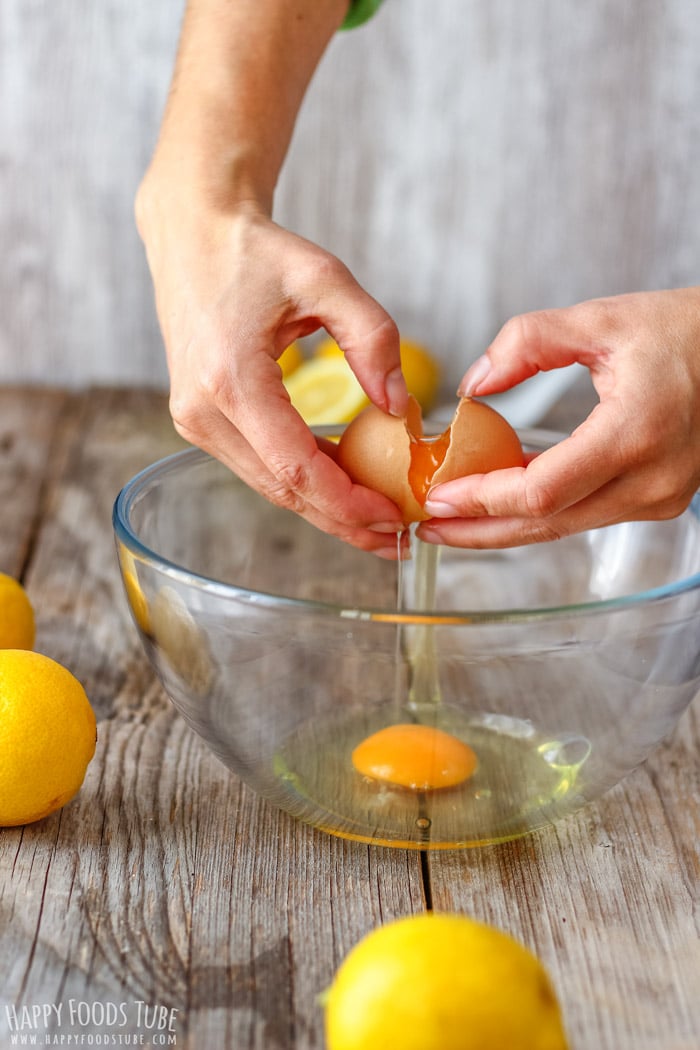 I used 5 small lemons but you might need more or less, depending on the size of your lemons and how juicy they are.
To make the batter for this easy lemon loaf with lavender, simply mix sugar and eggs until pale and smooth. This will take about 1-2 minutes (depending on how powerful your electric mixer is).
You can add lemon juice, melted butter and dried lavender flowers in. Mix this well before sifting in flour and baking powder. Give it a good mix again and pour it into a loaf tin that is lined with parchment paper. This lemon lavender loaf will fit perfectly into a 2-pound tin (10 x 4 inch/25 x 10 cm).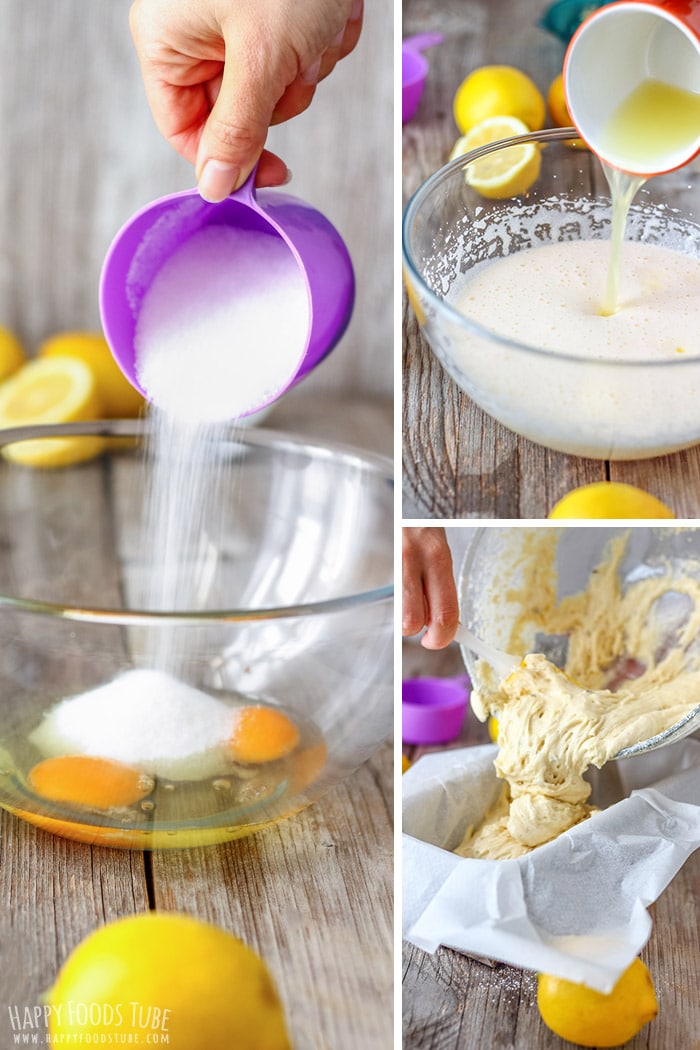 How to make candied lemon
Candied Lemon might not be to everyone's taste so you can completely skip this but if you are interested in making it, know it is very easy.
To make it you will need sugar, water, lemons and sauce pan or pot, preferably with wide bottom. Make sure to wash the lemon thoroughly and if you can, use organic or wax-free lemons. (If you are not sure what lemons you bought, I recommend having a look at this article: How to wash lemons).
Simmer the lemon slices in simple syrup for 20 minutes. When done, take each slice out and place it onto a plate covered with paper kitchen towel. The towel will suck in the excess liquid. You can also place the plate in your fridge if you want to speed up to cooling process.
These lemons are the perfect decoration not only for this lavender lemon loaf but also for various lemon flavored desserts. However, making them is completely optional.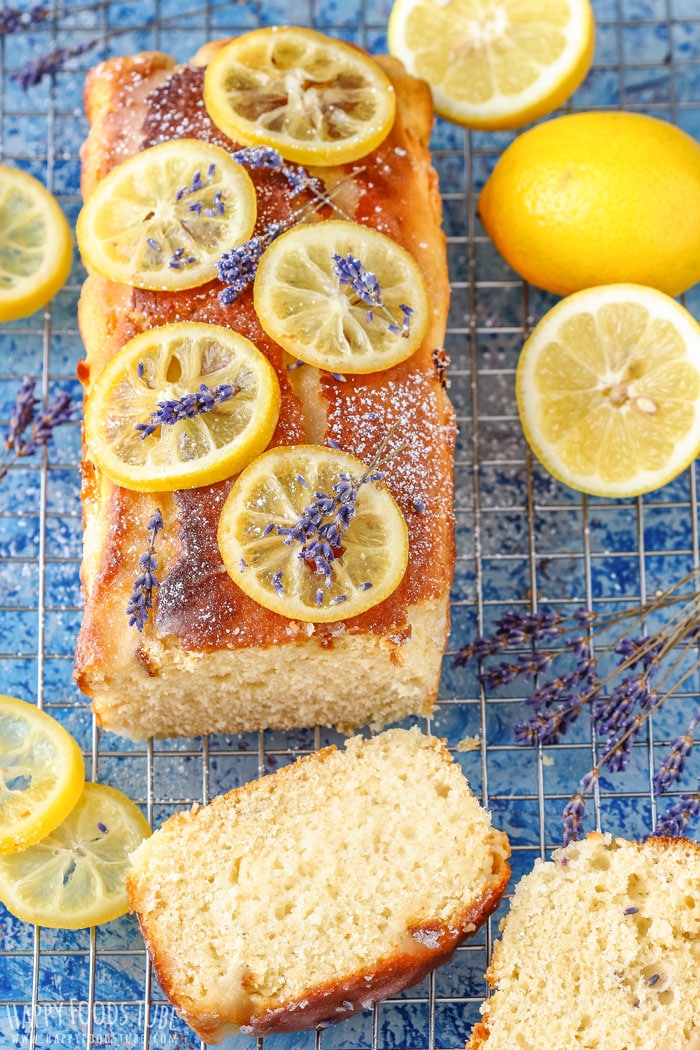 Good to know
All-purpose flour (US) = Plain flour (UK).
The amount of lavender used here gives this lemon lavender loaf a nice flavor but it is not overpowering. If you don't like lavender, you can completely omit it.
Candied lemon slices are also optional.
Sugar glaze can be also poured over.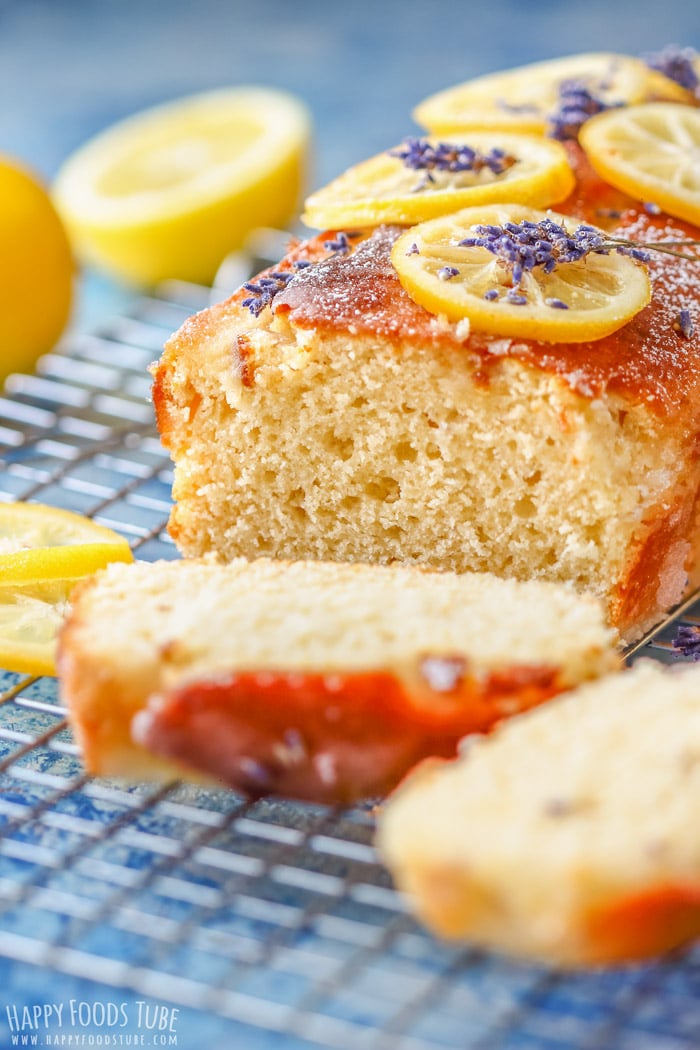 Guys, this lemon lavender quick bread is perfect for spring and it would also make a great present!
Easy Lemon Lavender Loaf
This Easy Lemon Lavender loaf is refreshing citrus bread full of goodness! Top it with candied lemon slices or sugar glaze and enjoy with a cup of coffee.
Servings:
12
Slices (1 Loaf)
Ingredients
Lemon juice:
¼

cup

Lemon Juice

, freshly squeezed (60 ml)

1

tablespoon

Sugar
Instructions
Lemon lavender loaf:
Whisk the eggs and sugar until pale and creamy. Add lemon juice, melted butter and lavender. Mix until combined.

Sift in the flour with baking powder and mix with a mixer until well combined. Pour the batter into a 2 pound loaf tin lined with baking paper.

Bake in a preheated oven at 360°F/180°C for 40-45 minutes or until an inserted skewer comes out clean.

Right after you take out the bread from the oven, pour over it the sweetened lemon juice. Let the bread cool down before slicing.

Optional: Arrange candied lemon slices on the loaf or on each slice.
Candied lemon:
In a wide-bottom sauce pan/pot heat the sugar and water until the sugar is melted. Thinly slice lemon and put in inside the pot. Simmer for 20 minutes. Place two paper kitchen towels onto a plate and transfer the slices onto the plate. Let them cool down. If you want to speed up the chilling process, place the plate in your fridge.
Notes
It is important to pour the sweetened lemon juice over the bread right after you take it out from the oven!
Candied lemon slices are completely optional.
All-purpose flour (US) = Plain flour (UK).
This bread fits perfectly into a 2-pound (900-grams) loaf tin.
Nutrition Facts
Easy Lemon Lavender Loaf
Amount Per Serving
Calories 260
Calories from Fat 54
% Daily Value*
Fat 6g9%
Cholesterol 41mg14%
Sodium 14mg1%
Potassium 178mg5%
Carbohydrates 49g16%
Protein 3g6%
Vitamin A 205IU4%
Vitamin C 15.4mg19%
Calcium 60mg6%
Iron 1.3mg7%
* Percent Daily Values are based on a 2000 calorie diet.
** As an Amazon Associate I earn from qualifying purchases.
LEAVE A COMMENT
RELATED POSTS