This is an easy Irish coffee recipe perfect for celebrating Saint Patrick's Day! This delicious creamy hot coffee cocktail is warming and the perfect ending to a long day watching the parade.
Forget about green beer and whip up some cocktails for Paddy's Day this year!
What is Irish coffee?
It's a coffee cocktail made with Irish whiskey.
Irish coffee recipe ingredients
Coffee – preferably freshly brewed black coffee, but if you don't like it or prefer instant coffee instead, go ahead and use what you like! By the way, the stronger the coffee the darker its color.
Irish whiskey – see notes below.
Brown sugar – feel free to substitute it with white sugar, if you like.
Heavy cream (double cream/whipping cream) – traditional Irish coffee recipe does not contain whipped cream like you would use to top a cake, pancakes, … Heavy cream is only lightly whipped so it increases its volume but is still runny.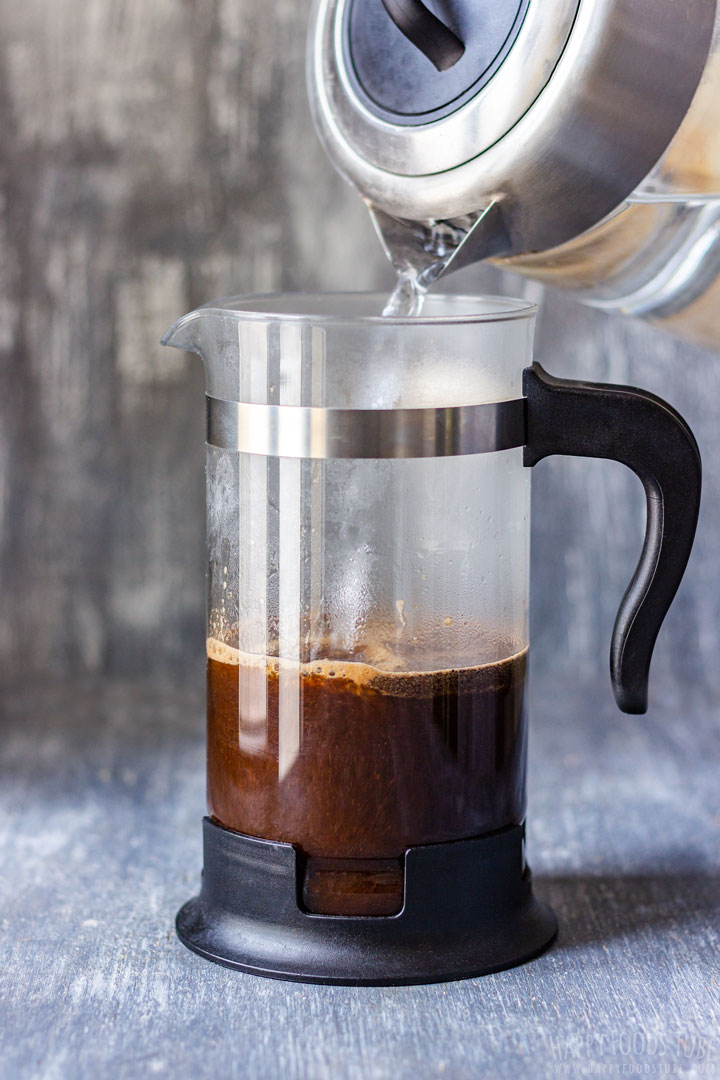 How to make Irish coffee?
Truth be told that you can make this hot alcoholic cocktail a few ways. Some heat coffee, sugar and whiskey in a sauce pan until the sugar dissolves, then pour in glasses and top with heavy cream.
We like to brew coffee in French Press (it's a great thing to own, even if you are not a huge coffee drinker. We love using it for brewing herbal tea from the herbs from my family's garden. We got ours from IKEA, but if you like to have something fancier looking, there are plenty of options for stainless steel French Press on Amazon).
Once your coffee is ready, pour 4 ounces (about ½ cup) to a glass and stir in sugar until dissolved. Then pour in whiskey and top it with lightly whipped heavy cream.
You can sprinkle some cinnamon or cocoa powder on top (this is completely unnecessary, but if you want to get extra creative and perhaps want to serve this on Saint Patrick's Day, instead of sprinkling all over the cream, use a tiny shamrock template).
Irish coffee drink is best served right away as it can get cold quite quickly.
Best whiskey for Irish coffee
When making this alcoholic hot coffee cocktail, it would be great to use whiskey that comes from Ireland, for the authenticity. Jameson, Tullamore Dew or Proper Twelve are only a few to name.
I recommend using your favorite brand, if you have one. If not, then maybe your friends have and can help you out.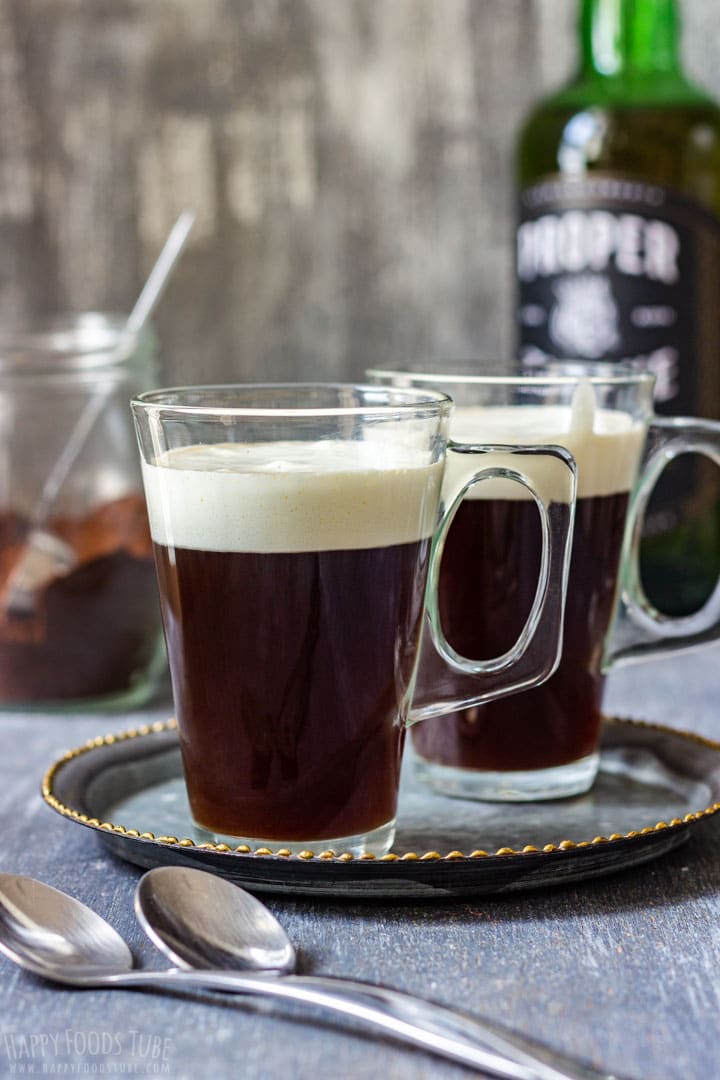 Glasses for Irish coffee
Now, you can buy Irish Coffee Glasses on Amazon. They usually hold somewhere between 8.5-10 ounces of liquid.
You can use other clear glasses instead (like I did) as long as they are heat-proof.
Irish coffee is a great cocktail for Saint Patrick's Day party and so is Baileys Hot Chocolate! And what about starting Paddy's Day day with Irish Breakfast, served with a few slices of toast or perhaps this Irish Soda Bread (no raisins)?
By the way, do know How St. Patrick's Day was made in America? It's an interesting read explaining a lot of facts about this Irish festival.
Irish Coffee
This delicious creamy hot coffee cocktail is warming and the perfect ending to a long day watching the parade.
Ingredients
4

ounce

Hot Freshly Brewed Coffee

(0.5 cup/120 milliliters)

1

teaspoon

brown Sugar

1

ounce

Irish Whiskey

1

ounce

Heavy Cream

, lightly whipped
Instructions
Pour the coffee into a heat-proof glass. Stir in sugar until dissolved. Add whiskey and top with lightly whipped heavy cream (see note 4).
Notes
Coffee – use any black coffee you like. Instant coffee can also be used as a substitute.
Brown sugar can be substituted with white sugar.
Irish Whiskey – use any brand you like. There are some suggestions or ideas in the post above this recipe card, but it all depends on everyone's taste as well as budget.
Heavy cream (double cream) cannot be substituted with half and half (or single cream). You want the cream to have a foamy consistency.
I used 8.5 ounce (250 milliliters) glasses so use any that hold 8.5-10 ounces liquid and are heat-proof.
This recipe can be easily doubled, tripled, …
Nutrition Facts
Irish Coffee
Amount per Serving
% Daily Value*
* Percent Daily Values are based on a 2000 calorie diet.
** As an Amazon Associate I earn from qualifying purchases.
LEAVE A COMMENT
RELATED POSTS