Spinach potato casserole is a simple dish that can be served as a main or side dish. You can divide the prep into 2 days and cook the potatoes night before, then just finish it off the following day.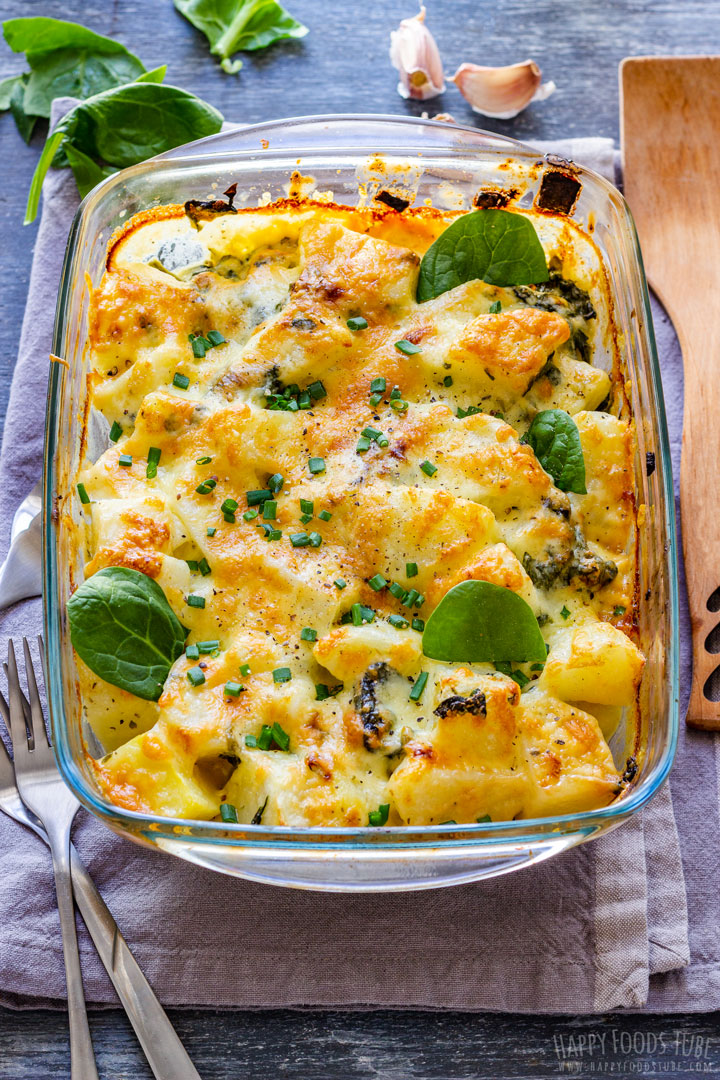 This spinach potato casserole recipe does not contain any eggs. Sour cream mixture is used to keep the potatoes moist and cheese on top adds an extra flavor to this simple dish.
It's a similar recipe to Potatoes Au Gratin so if you like those, you will enjoy this recipe for potato casserole with spinach as well!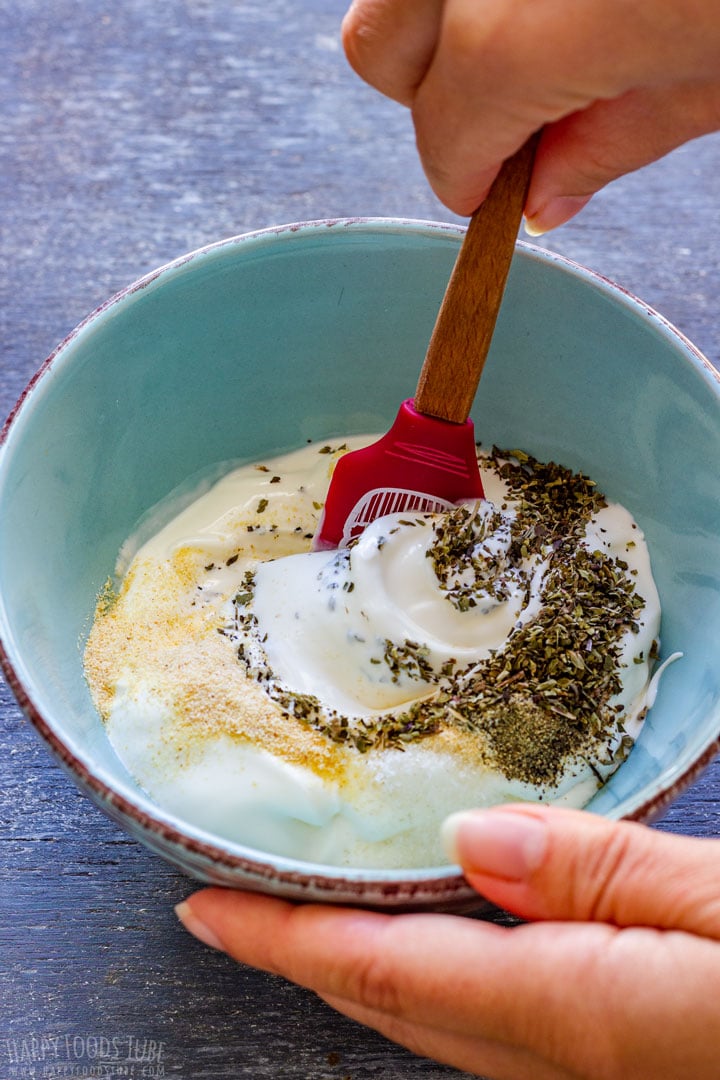 How to make spinach and potato casserole
Cook peeled and diced potatoes until they are almost ready. Drain off the water.
Meanwhile, you can sauté onion until translucent. Then, add spinach and sauté until wilted. You will have to do this in several stages, but it should take about 5 minutes altogether. At last, stir in minced garlic. When it releases its aroma, you can turn off the heat and move onto the next step.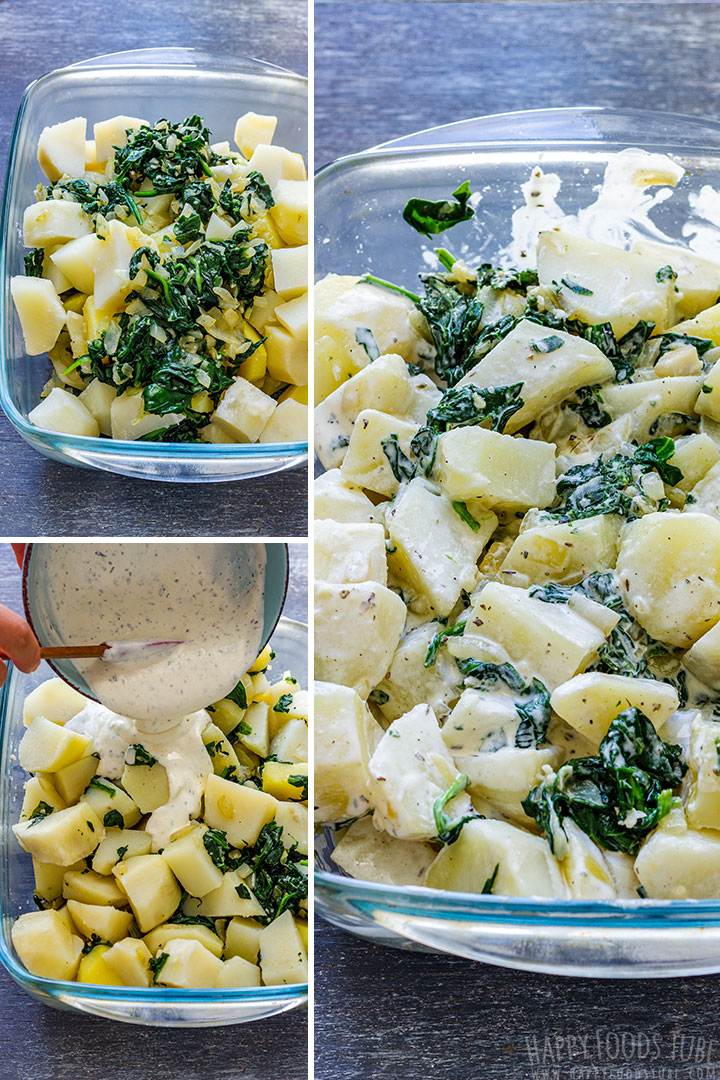 In a small bowl (soup bowl will do), combine sour cream, salt, pepper, garlic powder and oregano. Combine the potatoes, spinach with sour cream mixture and give everything a good stir. If you don't mix everything well, some areas will be under seasoned after this spinach and potato bake is ready.
Pour everything into an oven-proof dish – anything that can hold the load and bake until the cheese is nice golden brown and potatoes are soft. This should take about 25 minutes.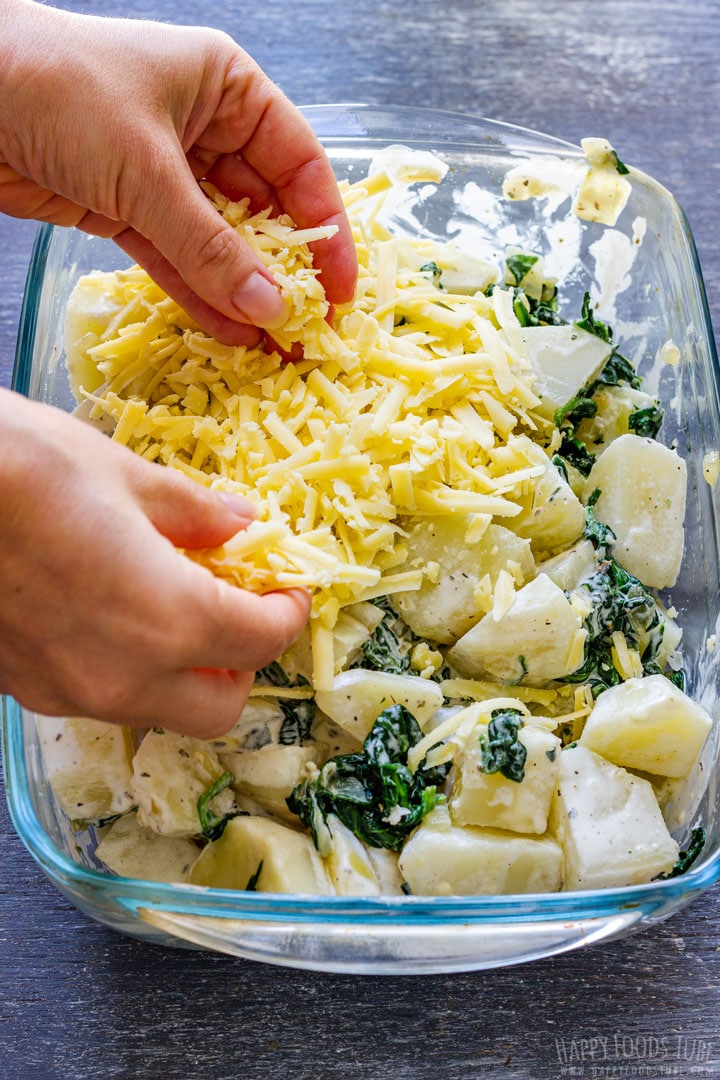 Tips for making the best potato spinach casserole
Don't forget to add salt to the water you cook potatoes in. Using well seasoned potatoes does make a world of difference.
You can add more than 8 cups of fresh spinach, if you like. I don't recommend using less than that though. This potato spinach casserole might turn out bland if you did so.
Either white or yellow onion works well here. You can omit it, if needed.
I like buying block cheese and grate it myself as I found that some shredded cheese does not melt well. You can use anything you like, preferably something you have already used before and like it (and know that will melt well). Cheese lovers! Feel free to add more!
The smaller the potatoes, the more flavorful this spinach potato casserole will turn out!
I used a 9×7 inch oven-proof dish for this potato casserole, but you can use a larger one (can also be shallower than mine), if that's what you have on hand. You will, however, need more cheese to top it with, but it will turn out even tastier!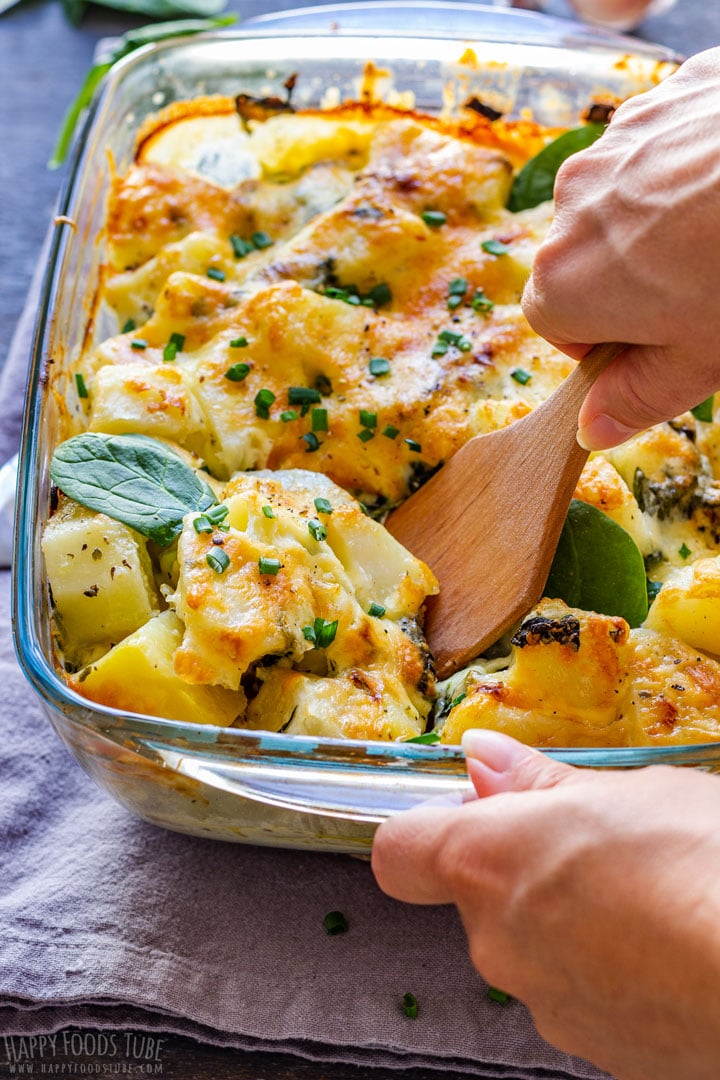 Other potato recipes:
If you have some leftover mashed potatoes on hand, why not turn them into one of these tasty potato dishes:
Or if casseroles are your family's favorite, but would like to try something different, I have a recipe for Tuna Pasta Casserole.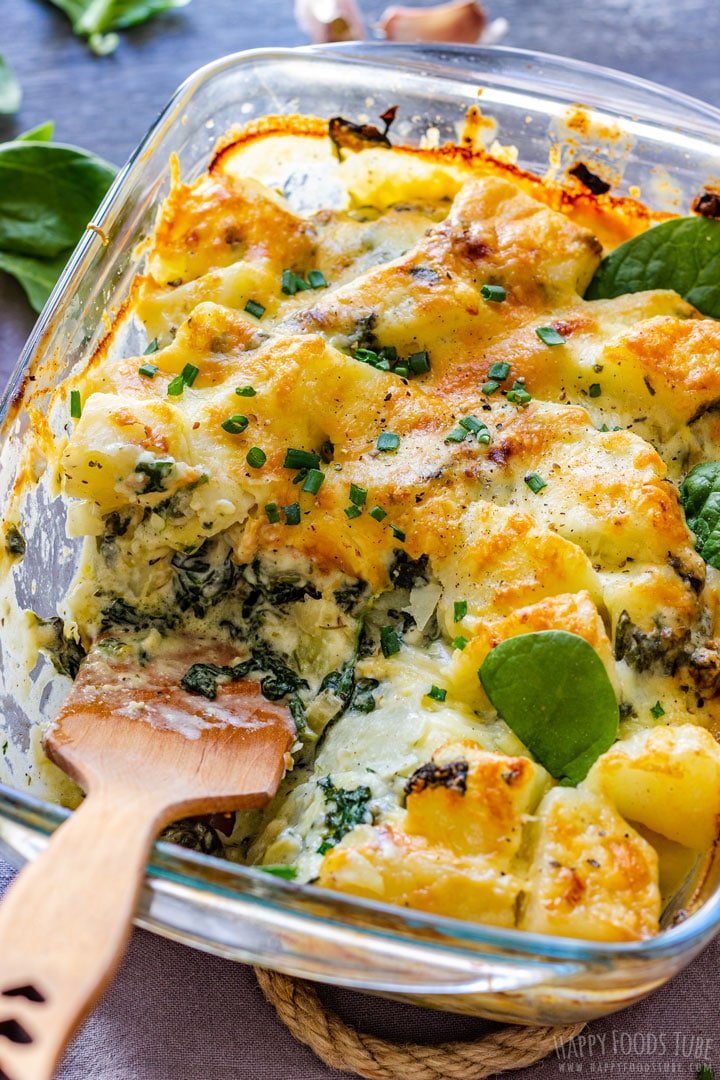 Spinach Potato Casserole
Spinach potato casserole is a simple dish that can be served as a main or side dish. You can divide the prep into 2 days and cook the potatoes night before, then just finish it off the following day.
Servings:
4
– 5 portions, as a side 6 portions
Ingredients
4

pounds

Potatoes

, peeled & diced (2 kilos)

2

tablespoon

Oil

, see note 1

1

Onion

, minced, see note 2

8

cups

Fresh Spinach Leaves

, see note 3

4

Garlic Cloves

, minced

7

ounces

Sour Cream

(200 grams), see note 4

½

teaspoon

Salt

¼

teaspoon

Black Pepper

(or less)

1

teaspoon

Dried Oregano

1

teaspoon

Garlic Powder

8

ounces

Cheddar Cheese

(240 grams), see note 5
Instructions
Preheat oven to 400° Fahrenheit (200° Celsius).

Transfer peeled and diced potatoes into a pot and pour water in. Use just enough water so they all are submerged. Add salt (I used 2 teaspoons per 3 cups of water). Cover with lid and bring to a boil. Then, reduce the heat to low and simmer until they are almost done (don't overcook).

Meanwhile: Heat oil in a large frying pan/skillet and add onion in. Sauté until translucent, about 4 minutes. Add fresh spinach in stages and sauté until all leaves are wilted. Now, stir in minced garlic and cook until it releases its aroma. Turn off the heat. In a small bowl, mix together sour cream, salt, black pepper, oregano and garlic powder until smooth.

Drain the water from potatoes and combine them with spinach and sour cream mixture (either in the pot or directly in an oven-proof dish). Pour the mixture in an oven-proof dish (see note 6) and cover with grated cheese.

Cook at 400° Fahrenheit (200° Celsius) until the cheese is golden brown and potatoes soft, about 25 minutes.

Enjoy!
Notes
You can use either olive oil or normal cooking oil (sunflower, vegetable).
I used 1 full cup of minced onion in this recipe.
1 cup of spinach, packed = about 1 ounce. You will need at least 8 ounces (240 grams) of fresh spinach for this recipe. If you use less, you will end up with a lot of potatoes and only a little spinach.
7 ounces of sour cream is about ¾ cup.
Cheddar can be substituted with other cheese, but I prefer using this one as it adds a ton of flavor. Also, some ready-shredded cheese don't melt well, for that reason I buy blocks of cheese and shred it myself.
I used a rectangular oven proof dish with the dimensions of 9 x 7 inch (23 x 18 cm). This dish is a 3 inch (7 cm) deep. You can also use an oven proof dish that is shallower than this but to hold the amount stated in this recipe it will have to be larger in size.
The prep may take longer than 10 minutes, but most of it is done while the potatoes are cooking so you don't waste any extra time doing it.
Nutrition Facts
Spinach Potato Casserole
Amount Per Serving
Calories 546
Calories from Fat 261
% Daily Value*
Fat 29g45%
Cholesterol 68mg23%
Sodium 622mg27%
Potassium 1916mg55%
Carbohydrates 52g17%
Protein 23g46%
Vitamin A 5203IU104%
Vitamin C 58mg70%
Calcium 543mg54%
Iron 14mg78%
* Percent Daily Values are based on a 2000 calorie diet.
** Happy Foods Tube is a participant in the Amazon Services LLC Associates Program, an affiliate advertising program designed to provide a means for sites to earn advertising fees by advertising and links to Amazon.com.
LEAVE A COMMENT
RELATED POSTS