This is an easy homemade Irish cream recipe that literally takes a couple of minutes to make. With only 6 ingredients you can make your version of Baileys at home!
Homemade Irish cream also makes the perfect gift for the Holidays. Simply pour the ready made liquor into pretty bottles, add a ribbon and label and you have the perfect edible gift!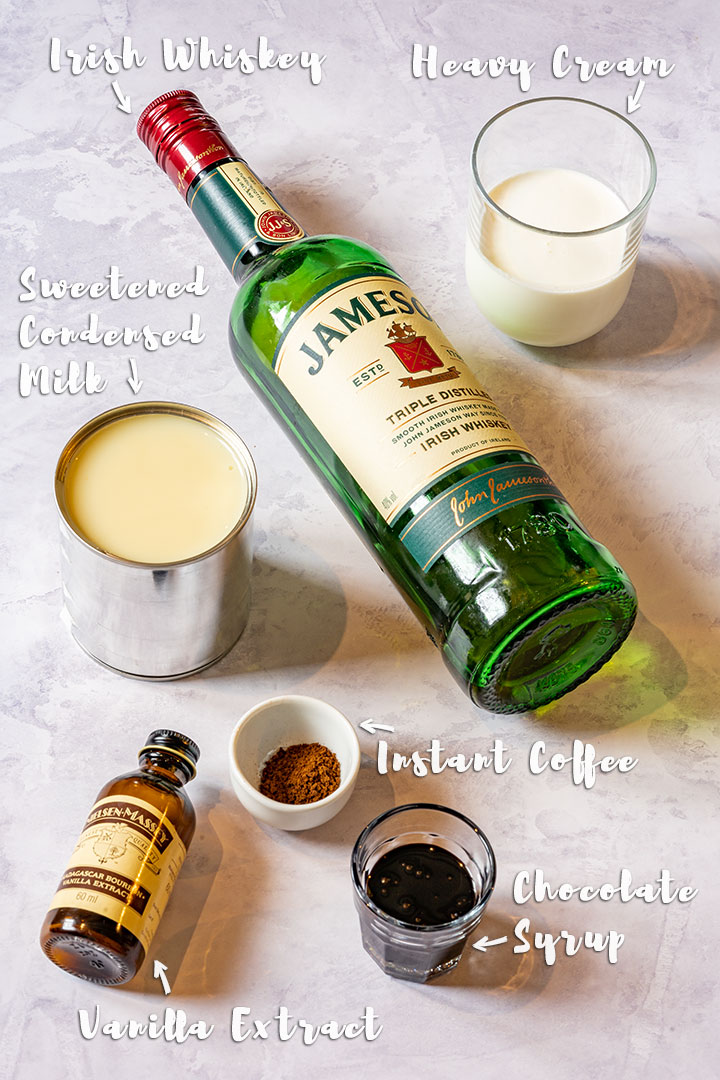 Irish cream ingredients:
Condensed milk – sweetened
Chocolate syrup
Heavy cream/Double cream
Irish Whiskey
Vanilla extract
Instant coffee
Tools you will need:
Blender
Small bowl/glass & small spoon
Measuring cups
Glass bottles
Funnel – for a clean pour (optional)
How long does homemade Irish cream last?
This homemade liquor should last up to 2 months when stored properly. However, we try to use it within a month.
It is important to store it in the fridge at all times as it does contain heavy cream (double cream). Now, also make sure to sterilize all the bottles/jars or anything you pour the Irish Cream into. Avoid using plastic bottles.
Baileys vs Homemade Irish Cream
After I made it for the first time I tested it with the original Baileys drink. I can say that the original was not as strong as my homemade version. The coffee taste was also subtle so I made a few adjustments.
I reduced the quantity of instant coffee as well as whiskey. I also tried to use less heavy cream but felt that my homemade Baileys turned a bit too thin to my liking (though it does thicken in the fridge slightly).
This version is what I felt tasted the closest to its original. Now that being said, you can easily adjust the ingredients to your liking!
Useful tips:
Blending all the ingredients takes literally seconds. Leaving the blender on for longer can churn the heavy cream.
Use room temperature ingredients!
A whisk and a bowl will work just as well so if you don't have a blender, you can still give it a go!
Shake before pouring!
We like to serve this in a shot glasses but you can use larger glasses and serve it over ice as well.
What whiskey should I use?
Using Jameson whiskey makes this more authentic to Baileys. Now that being said, you can use any whiskey you like or have on hand. Just keep in mind some are stronger, smoother than others which may affect the overall taste of this liquor.
Where can I use homemade Irish Cream?
Apart from sipping it as is, you can experiment with its uses. Here are some tasty ideas for you:
Can I substitute some of the ingredients?
Yes, you can. You can also adjust the quantities to your liking. Add more syrup, omit vanilla extract or try using almond extract instead, use less whiskey,… It is up to you what you prefer.
How many calories in Irish cream?
There are 152 calories in 1-ounce (30-milliliters) of this beverage.
Why not try other homemade liqueur recipes like these:
More Irish recipes:
Homemade Irish Cream
This is an easy homemade Irish cream recipe that literally takes a couple of minutes to make. With only 6 ingredients you can make your version of Baileys at home!
Servings:
3
cups (750 milliliters)
Ingredients
1

teaspoon

pure vanilla extract

1

teaspoon

instant coffee

, see note 1

1

can

sweetened condensed milk

(14-ounce/400 milliliters)

3

tablespoons

chocolate syrup

⅔

cup

heavy cream

, see note 2

1¼

cups

Irish Whiskey

, see note 3
Instructions
In a small bowl/glass, stir together vanilla extract and instant coffee until smooth.

To your blender, add condensed milk, chocolate syrup, heavy cream and the coffee mixture. On low speed, blend only for a few seconds, just so everything is well combined.

Pour in whiskey and blend (again literally only a few seconds – 5-10 should be plenty).

Pour into sterilized bottles, seal and store in the fridge.
Notes
 You can use less coffee granules for a milder coffee taste. I don't recommend using more. I used Nescafe instant coffee.
To make it lighter, you can decrease the cream to ½ cup or start with ½ cup, taste and add more if you like.
I used Jameson, but any Irish or other whiskey will do. To make the liqueur lighter, you can use 1 cup of whiskey instead of 1 and 1/4.
This recipe should fill at least 18 (1-ounce/30-milliliter) shot glasses. You can also serve it over ice in whiskey glasses.
Nutritional information is based on 1 shot.
Storage: Homemade Irish Cream should keep up to 2 months when stored properly in the fridge. Make sure to use fresh heavy cream (check the best before date) and sterilized bottles!
For more tips and serving ideas please read the post above this recipe card.
Nutrition Facts
Homemade Irish Cream
Amount per Serving
% Daily Value*
* Percent Daily Values are based on a 2000 calorie diet.
** As an Amazon Associate I earn from qualifying purchases.
LEAVE A COMMENT