This shortcrust pastry recipe is easy and quick. You only need 5 simple ingredients and 10 minutes to make it! Use it as a base for tarts, pies or quiches.
Making sweet pastry from scratch is easy but there are certain things that you should know before you make one at home. They will help you prepare the best pie crust for all sorts of tarts and pies.
If you would like to use it for savory quiches, you can do so by reducing or omitting sugar and substituting it with a pinch of salt.
What is shortcrust pastry?
It is a type of pie dough made with real butter and flour (in French: Pâte sucrée). It is flaky, buttery and makes the perfect base for desserts as well as savory pies.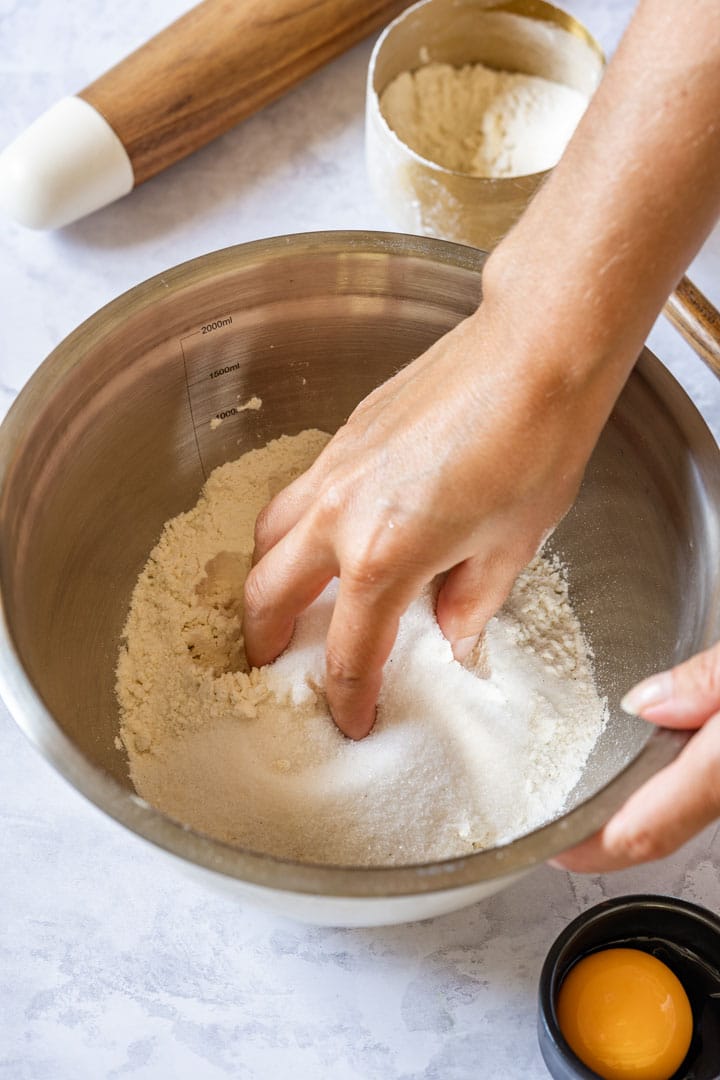 How to make shortcrust pastry?
Ingredients:
All-purpose flour
Unsalted butter – must be well chilled
Sugar
Egg yolk – optional
Water – also chilled for best results
Tools & kitchen gadgets needed:
Medium bowl
Rolling pin
Plastic wrap
Tart/pie pan
Aluminum foil
Pie weights (see below for options)
Quick overview of the recipe:
To a mixing bowl, add flour and sugar. Mix with your hand. Add the diced butter and rub it in with your fingertips, until crumb-like texture. Then it's time to work the egg yolk. Water will help the pastry come together but only a small amount should be added, in stages.
Once the pastry comes together, wrap it in plastic wrap, slightly flatten and refrigerate for at least 1 hour. Then, the pie crust dough is ready for rolling.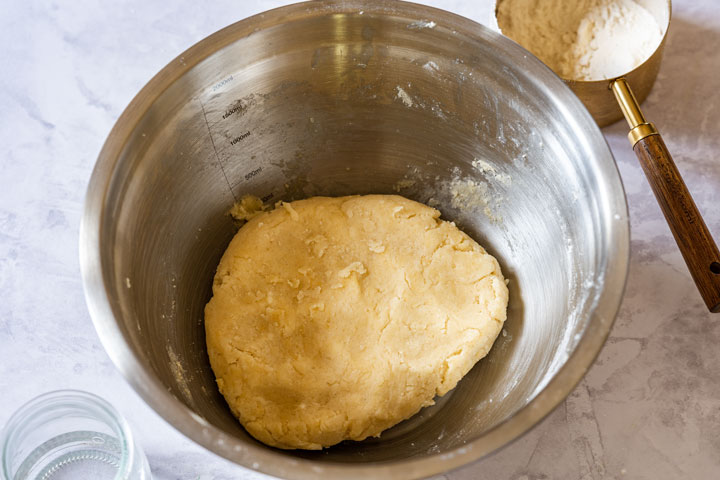 Shortcrust pastry frequently asked questions:
Why is my shortcrust pastry crumbly?
The pastry is too dry and needs more water (always add only a little at a time).
Can I substitute margarine for butter?
No. This pie crust recipe uses real butter. It contains a high level of fat which makes the pastry flaky and extra tasty. Margarine contains different fat levels and might not give you the same result.
How do you blind bake pastry without beads?
Use rice or beans as substitutes. I use re-use rice over and over again when making pie crust (Tip: store it in a container and label it so you know what it is for as it is not really usable for anything else afterward).
Why you need to chill your pastry?
The longer you chill it the more time the gluten has to relax. This is important as it reduces shrinking during cooking. Also, chilling will harden the pastry so it won't be too sticky when rolling it out.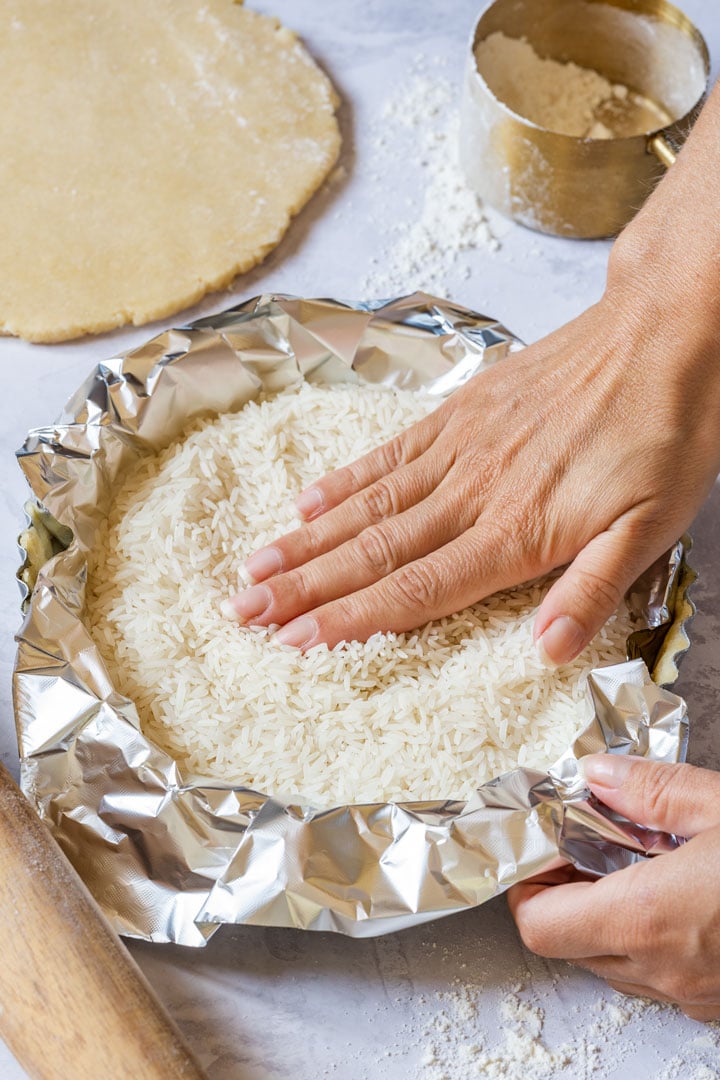 Expert tips
The longer you chill the pie crust before baking the better. I find that 30 minutes in the fridge is not a sufficient time. Count for at least 1 hour. Overnight is great also!
You can store homemade pie crust for up to 4-5 days in the fridge when wrapped in plastic wrap. Just note that it will change a few shades of nice yellow color when kept in the fridge for a longer period.
Take the pastry out from the fridge about 10-15 minutes before rolling it out.
This is plenty for 2 crusts when using an 8-inch (20-centimeter) tart/pie pan that is slightly over an inch (2.5-centimeters) deep.
Don't over-work your pastry: the less kneading the better!
There are various recipes for short crust pastry on the Internet. Some use eggs, while others don't. They can use a different flour to fat ratio and be sweetened or not. They can use a food processor or not. I prefer using hands but you can use the processor. Just make sure to pulse only a few times – you are after crumb-like texture first and after adding water and egg yolk, you should pulse only a few times and finish it off with your hands.
Egg yolk is optional! If you omit it, you might need slightly more water.
Note that cooking time will vary, depending on the thickness of the crust, your oven as well as the position of the pan on the rack (lower rack or middle are best).
Recipes for tarts you might like:
All of these use sweet butter-based pastry, some don't need rolling while others are very similar to this homemade pastry recipe.
Watch how to make shortcrust pastry:
Shortcrust Pastry
This shortcrust pastry recipe is easy and quick. You only need 5 simple ingredients and 10 minutes to make it! Use it as a base for tarts, pies or quiches.
Servings:
2
(8-inch) pie crusts, see note 3
Ingredients
2

cups

all-purpose flour

, spooned & leveled (280 grams)

3

tablespoons

granulated sugar

, see note 1 (40 grams)

1

stick

unsalted butter

, chilled, diced (110 grams)

1

egg yolk

, optional, see note 2

3

tablespoons

cold water
Instructions
In a medium bowl, mix together flour and sugar using your hand (see note 4). Throw in cold butter and using your fingers rub the butter into the flour until you get a crumb-like texture.

Add egg yolk and mix well with your hands. Add water, a little at a time, and start bringing the mixture together. Form a dough, but don't overwork it.

When ready, wrap it in plastic foil and flatten it slightly. Refrigerate for at least 1 hour.

Take out from the fridge 15 minutes before rolling.
Notes
Use fine granulated sugar (some might know it as Caster sugar or Superfine. It is not powdered sugar).
If you omit the egg, you might need to add an extra tablespoon of cold water.
This recipe makes 2 crusts that fit in an 8-inch (20-centimeter) wide and 1.25-inch (3.5-centimeter) deep tart/pie pan (I used one with a removable bottom). When filled with a filling, it will yield 4 good-sized portions or 6 smaller ones.
In my old video, I sifted flour but this step is not necessary here so I omitted it.
Make ahead: You can prepare short crust day or two in advance if needed. Simply keep it refrigerated. Take out 15 minutes before using. Note that the pastry will lose its bright yellow color by a few shades.
To avoid a soggy crust, bake blind (using weights) – more details in the post.
Nutrition Facts
Shortcrust Pastry
Amount per Serving
% Daily Value*
* Percent Daily Values are based on a 2000 calorie diet.
** As an Amazon Associate I earn from qualifying purchases.
LEAVE A COMMENT