These black bean tacos are healthy, quick and taste amazing. Perfect for camping, grilling or any outdoor entertaining, they are totally customizable and can be partially made ahead!
If you have any vegans in your family, simply serve cheese on side so they can enjoy these vegetarian tacos as well. And, for meat lovers, add any meat of your choice (below more ideas).
How to make black bean tacos
First, prep all the ingredients: Drain the beans, cut avocados, tomatoes and pepper into a desired shape (and size). I prefer to dice everything.
Remove kernels from the corn cob and pan fry them with little olive oil and salt until toasted.
Prepare salsa of your choice – I used a simple cilantro lime sauce, just to add it an extra flavor, but you can simply serve these separately and everyone can add a splash of lime and as much cilantro as they like.
Once all your prep is done, move onto making the taco shells (I make mine in the oven but you can pan-toast them or throw them on a grill or just serve them as is).
Expert tips
To save time, you can prep the veggies ahead of time and keep them in an airtight container in the fridge.
Or you can turn this into a taco bar so that everyone can fill their shells to their liking.
Use any veggies you like (add lettuce, onion, red cabbage,…).
Any tortillas will work – store-bought, homemade, flour, corn,…
If you are not sure how to remove kernels from corn, here are 3 ways how to do it.
Cheese – I used shredded mozzarella, but you can use what you have on hand or what you like.
Special diet information:
What does this black bean taco recipe contain?
Gluten: YES (Flour tortillas. Use corn-tortillas for gluten-free version!).
Added refined sugar: NO
Nuts: NO
Dairy: YES (cheese – this can be omitted)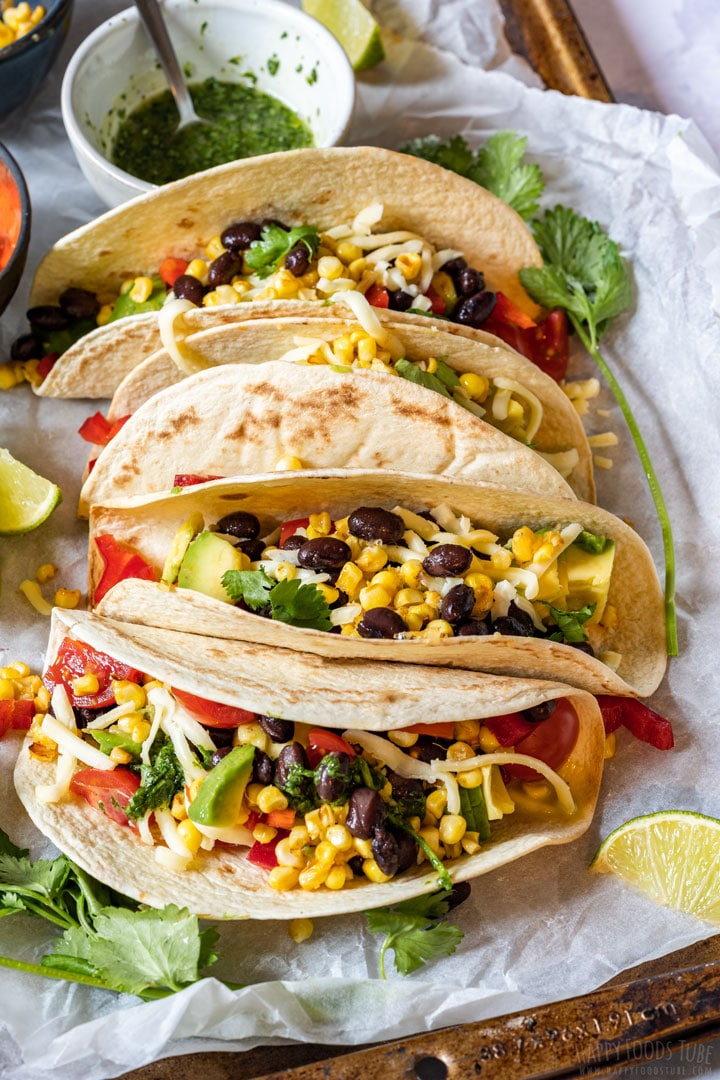 Black bean tacos frequently asked questions:
What to put in tacos?
Literally, you can use anything as a filling as long as you like it. In general, a combination of some kind of protein (fish, seafood, pork, beef, chicken, beans,…), fresh vegetables and salsa are used.
What goes with tacos?
The options are limitless, and it all depends on your preference. Here are a few ideas:
Guacamole
Salad
Salsas – including more choices might take some extra time to make but your diners will definitely appreciate it.
Grilled veggies – as an alternative filling or side.
How to make taco shells in the oven?
Take the top oven rack out from the oven. Then, pre-heat the oven to 350 Fahrenheit (180 Celsius).

Place the rack between 2 objects so you can arrange the tortillas and have them ready for later (I use a table and the back of a chair).

Drape each tortilla over 2 bars. Place tortillas right next to each other, that way they will hold their shape better. When the oven is hot, place the rack on top shelf and cook for only a few minutes (Keep an eye on them. They are quick!).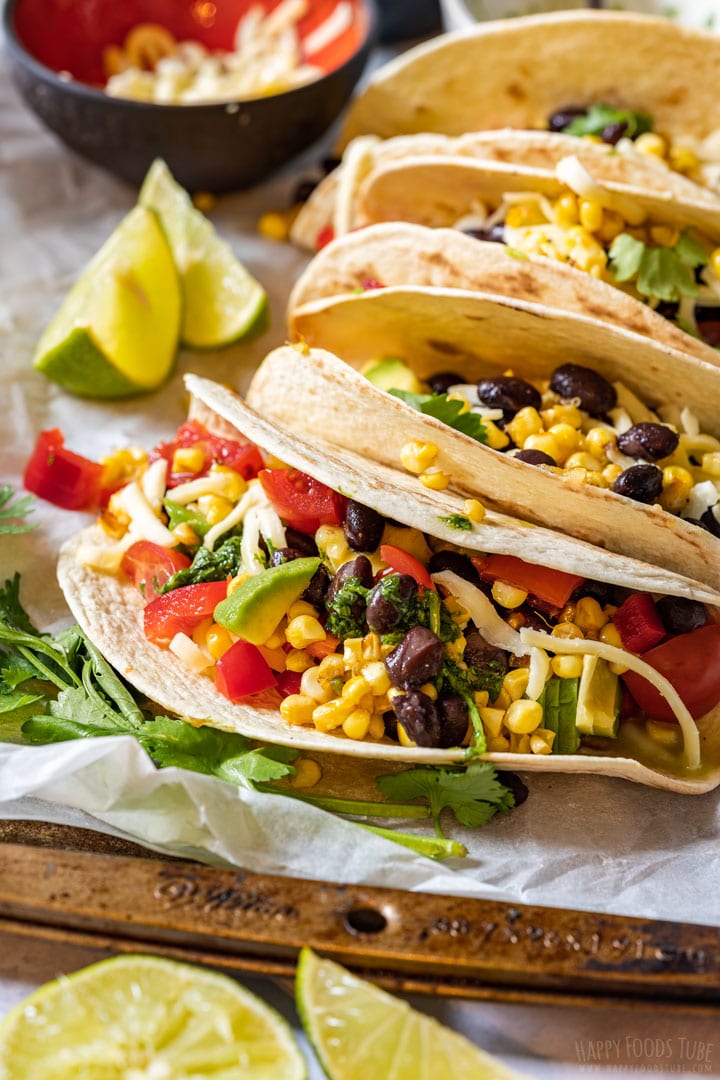 More taco recipes you might like to try:
Black Bean Tacos
These black bean tacos are healthy, quick and taste amazing. Perfect for camping, grilling or any outdoor entertaining, they are totally customizable and can be partially made ahead!
Servings:
8
tacos (4 portions)
Ingredients
For tacos:
8

flour tortillas

, see note 1

1

can

black beans

, see note 2 (14.5-ounce/400-milliliters)

2

avocados

, medium ripe, see note 3

12

cherry tomatoes

1

Italian pepper

, red or green, see note 4

2

corn on the cob

, husks and "hairs" removed

1

tablespoon

olive oil

salt

, a pinch

cheese

, of your choice (optional)
Instructions
For tacos: Remove the upper rack from the oven. Close the oven door and preheat the oven to 350 Fahrenheit (180 Celsius).

Place the rack between 2 objects (e.g. a table and chair) and drape each tortilla over 2 bars, making sure they are touching each other (this will help them hold their shape).

Prep the rest of the ingredients: Drain and rinse the beans. Cut avocado into slices (or dice), quarter each cherry tomato. Finely dice pepper. Place the veggies into separate bowls.

With a knife, remove the kernels from corn cobs. Heat olive oil in a frying pan/skillet and add the kernels in. Season with salt and toast (on low-medium heat), about 3 minutes, stirring from time to time. Now, you can add the beans to the skillet (either leave the kernels in or remove them), if you want to heat them up. I don't do it though. When ready, turn off the heat and transfer into a bowl.

For cilantro lime sauce: In a food processor, combine together all the ingredients. Alternatively, you can finely mince cilantro and combine everything in a small bowl.

For taco shells: When ready with the prep, place the oven rack with tortillas back in the oven (upper shelf) and cook for a few minutes, or until hardened to your liking. Keep an eye on them, they are ready fast. See note

To assemble tacos: Assemble the tacos in any order you like or serve the filling separately so that everyone can fill their own taco shells.

Enjoy!
Notes
Use 6-inch (15-centimeter) tortillas.
I love using a can of "GOYA black bean soup" which I drain and rinse with cold water. The beans have very nice flavor so they don't need any seasoning whatsoever. You can use regular black beans instead and add seasoning to your liking. There will be plenty of beans for up to 14 tacos.
To keep the sliced avocados from oxidizing (turning brown), drizzle them with lemon juice.
Bell peppers of any color are great substitutes.
This sauce is very thin (more like a dressing) and only a little is needed. It is completely optional. A little natural yogurt can also be stirred in to thicken it. Alternatively, you can use either cilantro & lime separately, or a sauce/salsa of your choice instead.
Some limes are juicier than others so once everything mixed together, taste the sauce and add more lime juice, if needed.
Nutrition Facts
Black Bean Tacos
Amount per Serving
% Daily Value*
* Percent Daily Values are based on a 2000 calorie diet.
** As an Amazon Associate I earn from qualifying purchases.
LEAVE A COMMENT