This easy strawberry coconut tart recipe uses simple ingredients that most of you have in your pantry. Completely made from scratch this homemade tart is the perfect treat not only for the weekend!
Baking a tart does not take long, but you can save time by prepping the tart crust ahead, if needed. The tart filling consists of strawberry jam and sweet coconut filling which can be whipped up in minutes.
For its easy assembling, this strawberry tart with coconut makes the perfect baking project for kids!
How to make strawberry coconut tart
The crust
It's a simple recipe that works and tastes delicious. Flour, butter and a bit of sugar is all you need to make it and it only takes 5 minutes to put together, so avoid buying store-bought pie crust!
Plus, you can make it in advance (I do this often) and store it in a cling film in the fridge for up to 2-3 days. Just remember it will need to sit for about 30 minutes at room temperature before you can work with it.
Also, there is no need for rolling the pastry. Simply fill the bottom and sides of the tin with the crust, little by little and you are done!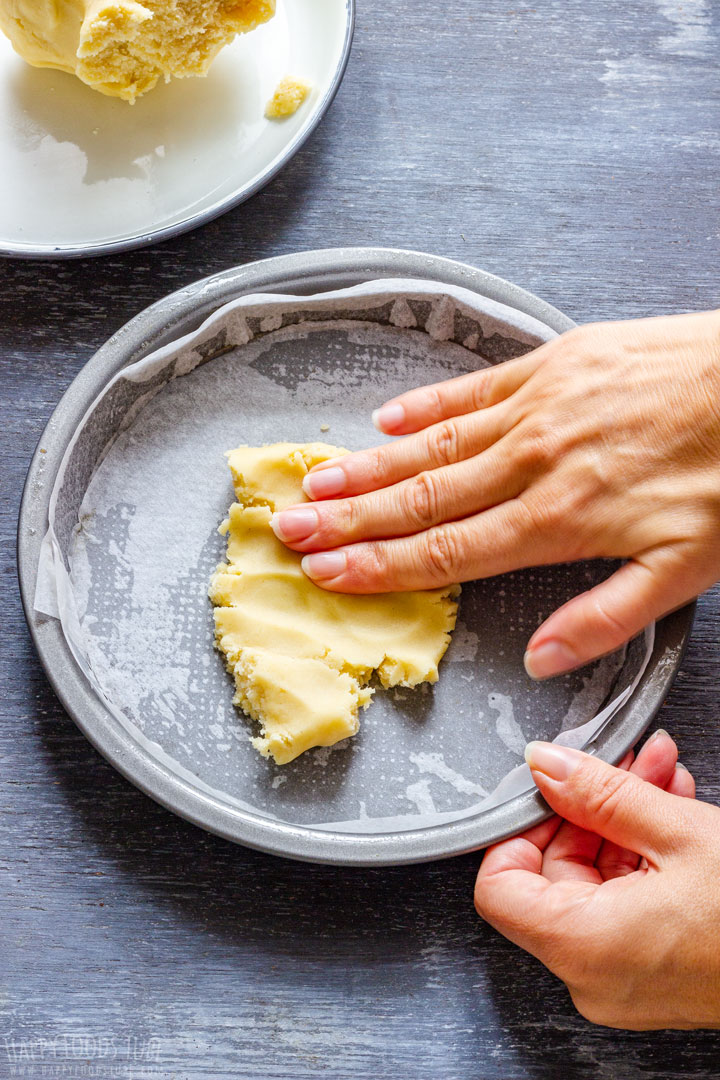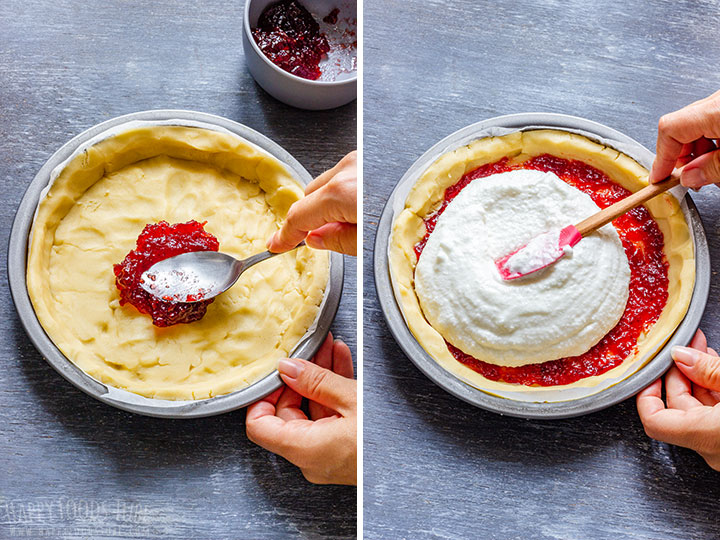 The filling
Jam is spread over the crust, followed by a thick coconut layer made by mixing whipped egg white with sugar and coconut.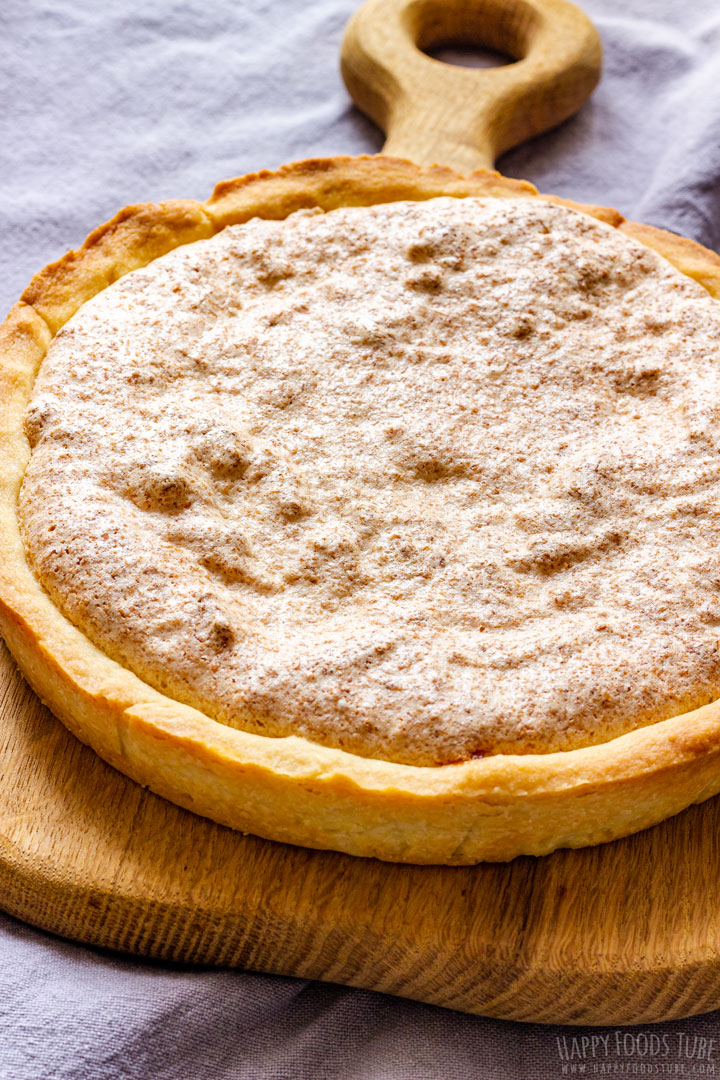 The tart pan
I used a 7-inch (18-centimeter) sandwich tin to make this strawberry tart with coconut. This tin is very shallow, but I find it perfect for making homemade tarts in it and they are always a hit at the table (some of my favorites are Lemon Tart as well as Pear Frangipane Tart).
It's also the perfect size if you are craving something sweet, but don't want to bake a large batch. You can get 4-6 slices out of it, depending on how you cut them, but they are quite rich, so you don't need a large slice.
You can also double the recipe and make it in 2 tins. You can bake them in the oven at the same time, which is great as you don't spend any extra time baking!
A tart pan will also work. If you have a large one, double the recipe!
Possible variations
Instead of Strawberry Jam, feel free to use other flavors (Raspberry jam, Mixed Berry Jam or Plum Jam work really well here).
This strawberry coconut tart is quite sweet so if you think you would prefer it less sweet, you can use 1/3 cup of powdered sugar instead of ½ cup. Note that by doing so the consistency of the coconut filling will change – it will be more dense and slightly dryer.
Homemade Strawberry Sauce is also a great substitution for jam. All you have to do is reduce it down more or stir in a cornstarch slurry (mix some cornstarch with water and slowly pour this into the sauce, stirring constantly) to make it thicker.
This is an old post that has been updated with a detailed instructions, tips and process photos for better understanding.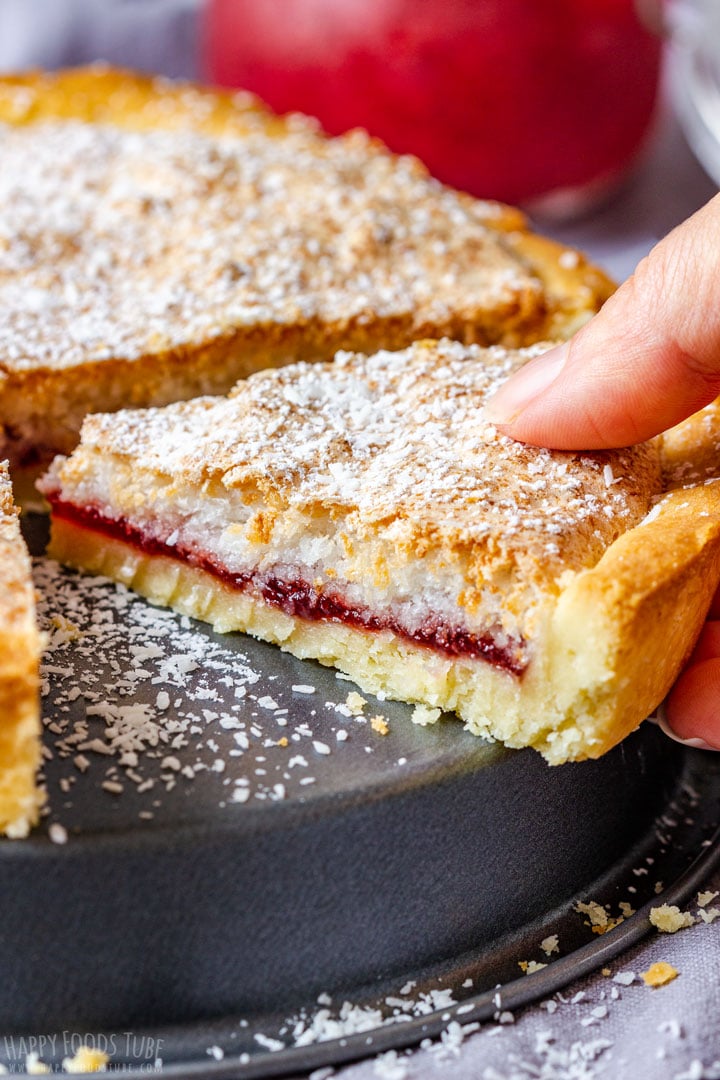 Strawberry Coconut Tart
This easy strawberry coconut tart recipe uses simple ingredients that most of you have in your pantry. Completely made from scratch this homemade tart is the perfect treat not only for the weekend!
Servings:
1
Tart (5-6 portions)
Ingredients
For the filling:
4

tablespoons

Strawberry Jam

, see note 4

1

Egg White

, from a large egg

1/2

cup

Powdered Sugar

, see note 5

2/3

cups

Unsweetened Desiccated Coconut
Instructions
In a mixing bowl, combine flour with powdered sugar. Add melted butter (make sure it's not hot). Using a wooden spoon mix everything together and then with your hand form a dough (it will be sticky at this stage). Wrap it in plastic wrap and chill for 30 minutes (see note 7).

When chilled, take it out and fill the bottom and sides of a 7-inch (18-centimeter) tart/pie pan with it. There is no rolling needed. Just take a piece of the pastry and press it down, piece by piece until you use up all of it. (Make sure to line the bottom as well as sides of the pan with baking parchment so you can easily remove it from the pan).

Spread jam over the crust and set aside.

Whip the egg white until soft peaks form. Add sifted sugar and beat until smooth. Finally, stir in the coconut. Pour this mixture over the jam and spread around evenly.

Bake in a preheated oven at 350° Fahrenheit (180° Celsius) for 25-30 minutes or until the top is nice brown and set and the bottom is cooked (you can place a clean kitchen towel over the tart and flip it carefully over to check if the bottom is cooked).

When ready, take it out and let it cool completely before serving.
Notes
All-purpose flour (US) = Plain flour (UK).
Powdered sugar (US) = Icing sugar (UK). Make sure to use measuring spoons, not soup spoons!
Don't use any butter substitutes! This recipe calls for real butter.
If you don't have strawberry jam on hand, raspberry, mixed berry or blueberry jam are great substitutions, or you can use other jam flavors, if you like.
You will need almost 9 ounces (250 grams) of pastry crust to fill a 7-inch (18-centimeter) sandwich tin/tart pan.
The level of sweetness will also depend on how sweet the jam you are using is. Also, make sure to use unsweetened shredded coconut. Those who want to have this tart less sweet can reduce the quantity of sugar to 1/3 cup and you can also use slightly less jam (or choose a low-sugar jam).
You can prepare the pastry a day or two ahead. If you do, you will need to take it out from the fridge about 30 minutes before you want to make the tart, so the pastry has time to soften.
More tips can be found in the post above this recipe card.
Nutrition Facts
Strawberry Coconut Tart
Amount per Serving
% Daily Value*
* Percent Daily Values are based on a 2000 calorie diet.
** As an Amazon Associate I earn from qualifying purchases.
LEAVE A COMMENT