This is an easy Italian minestrone soup recipe with a quick preparation. This recipe is perfect for meal prep and can be easily doubled if needed.
Minestrone soup is naturally vegetarian, vegan, dairy-free, gluten-free, plus it's very nutritious. It's the perfect soup for fall and winter.
It can be frozen in a freezer-friendly container so it's perfect for meal prep.
You can use seasonal vegetables, but this is how I like to make it and I rarely use other veggies. I tend to change the quantities of ingredients depending on how much of each I have on hand. So, feel free to do the same.
I am not sure if this is a traditional minestrone soup recipe, but I did learn it from an Italian so it must be pretty close!
In this post you will find useful tips, serving suggestions as well as a complete recipe card with how to make minestrone soup step-by-step instructions. I also have a pressure cooker minestrone recipe, if you like to use your instant pot.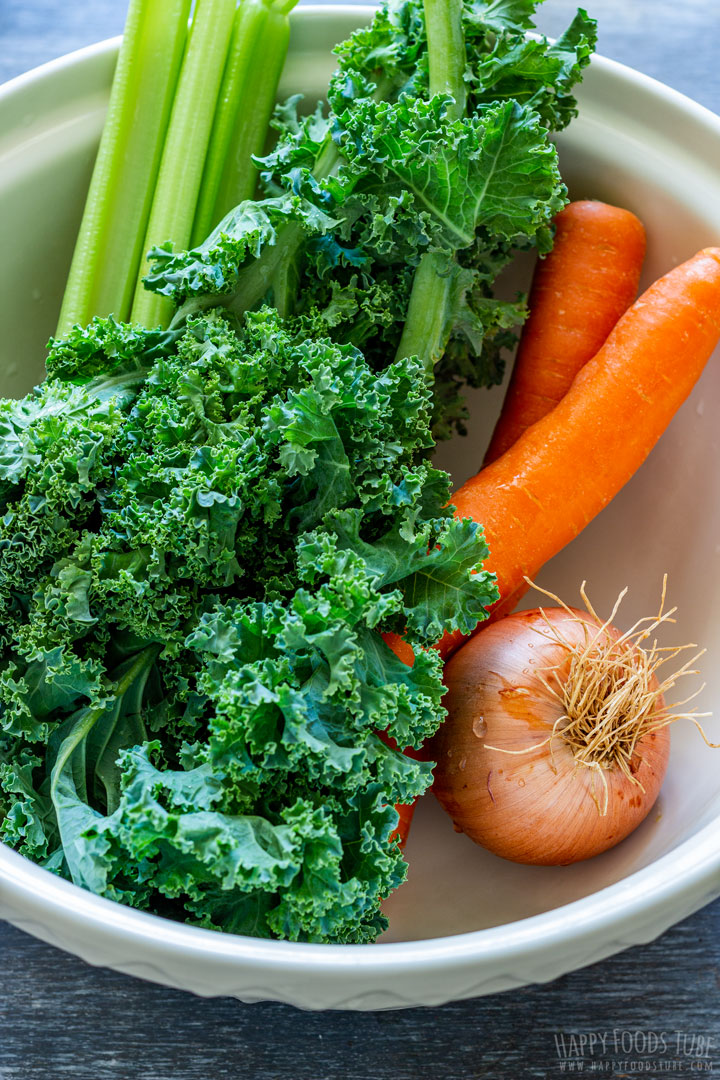 Minestrone soup ingredients
It may seem like there is a lot of things needed to make it, but it's so worth it! However, if you want, you can omit a few (like noodles, fresh basil and you could also use one type of canned tomatoes instead of 2 different).
Here is what you will need:
Olive oil, onion, carrots, celery, kale, canned tomatoes, salt, pepper, vegetable stock, white beans, pasta and basil.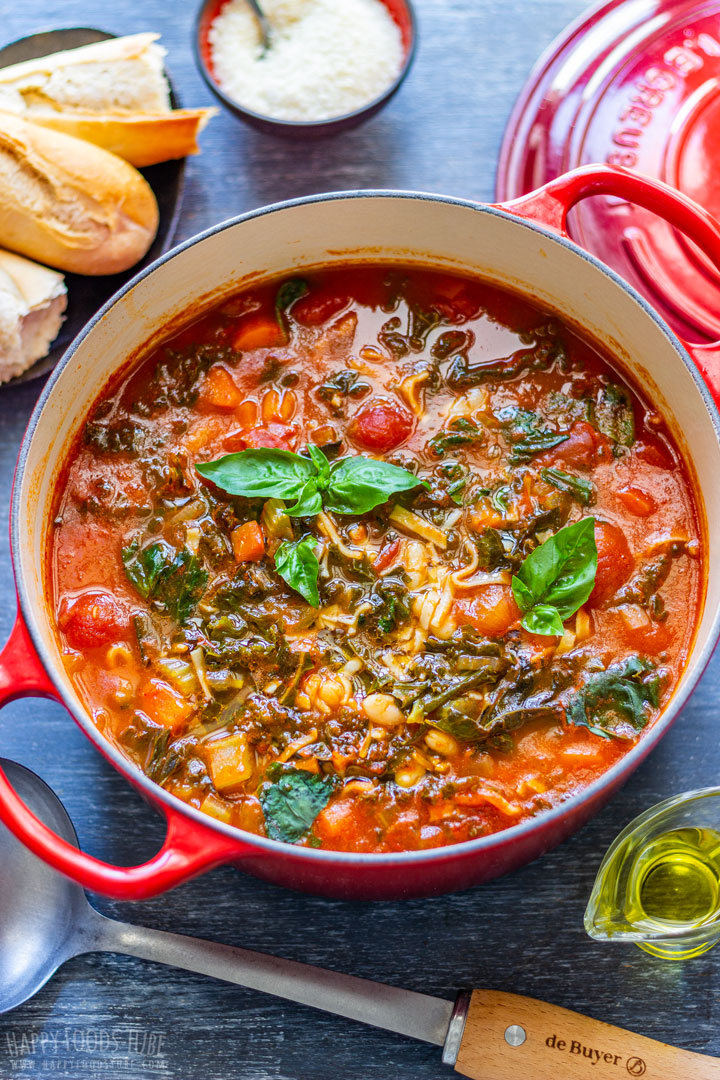 Serving suggestions
Here are a few ideas on what to serve with minestrone soup as well as some garnish and delicious toppings:
Fresh French baguette, toasts, artisan bread or dinner rolls go really well with this Italian soup
Parmesan – add so much flavor altogether with a drizzle of olive oil
Fresh basil for garnish
I like to serve this soup as a main and for that reason, I make it quite thick by using a lot of beans and adding some small-shaped pasta in. This time I had some homemade pasta on hand so I used it.
If you prefer serving this soup as a starter/entrée, then I would suggest you don't use any pasta.
Tips for making homemade minestrone soup
In my minestrone recipe, I stated the prep only takes 5 minutes. This is because most of the prep is done during the cooking process. Which means it saves you time. Also, there is not much of a prep needed to make it. If you did not follow my recipe instructions, you might need about 10 minutes altogether.
Overall cooking time will depend on your veggies and also on how soft you like them. Minestrone is best simmered on low for a longer period of time so count with about 45 minutes.
You will need a large pot for this soup. A 4.5-quart/4.5 liter is the smallest one to use to fit all the ingredients in.
I like using pre-packaged curly kale leaves because I know I will use up all of them and won't have any leftovers. You can substitute them with savoy cabbage if you like. Again, you will need about 4 cups, tightly packed.
This is an old recipe that has been recently updated with new photos and a ton of useful information to help you achieve the best result.
If you are looking for more healthy soup recipes, I have a few ideas for you:
I have more creamy soups on the blog so feel free to have a look at all of them. They are all made from scratch, using wholesome ingredients. Plus, if I can, I omit, reduce or substitute ingredients like heavy cream to make them as healthy as possible.
Minestrone Soup
This is an easy Italian minestrone soup recipe with a quick preparation. This recipe is perfect for meal prep and can be easily doubled if needed.
Ingredients
2

tablespoons

olive oil

, see note 1

1

medium

onion

, see note 2

2

large

carrots

, see note 3

3

large

celery sticks

, see note 4

4

cups

packed curly kale leaves

, see note 5

1

can

pureed tomatoes

(14 ounces/400 milliliters)

1

can

plum tomatoes

(14 ounces/400 milliliters)

1

teaspoon

salt

black pepper

, a generous pinch

4

cups

vegetable stock

(1 liter), see note 6

2

cups

cooked cannellini beans

, drained (14 ounces/400 grams drained)

A handful of small

pasta shapes

, optional

fresh basil leaves
Instructions
Pour olive oil in a large pot (at least 4.5-quart/4.5 liter) and heat it up on medium-high.

Mince onion and add it to the pot. Let it sauce while you dice the carrots and celery. Add these to the pot and sauté for a further 5 minutes, stirring from time to time. You might need to reduce the heat to medium-low.

Meanwhile, remove hard stems from kale leaves and roughly chop them. When ready, add them to the pot altogether with pureed/crushed tomatoes, plum tomatoes, salt, pepper, bay leaves and stock. Give everything a good mix.

Bring to a boil, cover with a lid and simmer on low for 35 minutes. Now, add drained beans and pasta (if using), fresh basil and cook for a further 10 minutes.

Taste it and add more seasoning if needed. Check if the veggies are cooked to your liking. If not, cook for longer.

Optional: drizzle some more olive oil over, sprinkle with parmesan and enjoy warm with fresh baguettes, artisan bread, toast or dinner rolls.
Notes
You can use either extra virgin or cooking olive oil.
One medium onion = about 1 cup minced.
Two large carrots = about 1 cup diced.
Three celery stick = 1 cup diced.
Kale will reduce significantly during cooking so don't be afraid to fill the pot with it.
If you are not vegan or vegetarian, you can also use chicken stock/broth or stock cubes.
This minestrone soup can be served as an entrée or main. If serving as entrée, you will more likely be able to serve 8 people easily.
More tips, serving suggestions and can be found in the post above this recipe card.
Nutrition Facts
Minestrone Soup
Amount per Serving
% Daily Value*
* Percent Daily Values are based on a 2000 calorie diet.
** As an Amazon Associate I earn from qualifying purchases.
LEAVE A COMMENT