An easy recipe for homemade chicken pot pie with puff pastry, frozen veggies and chicken leftovers. The prep takes 10 minutes which makes it the perfect weeknight dinner!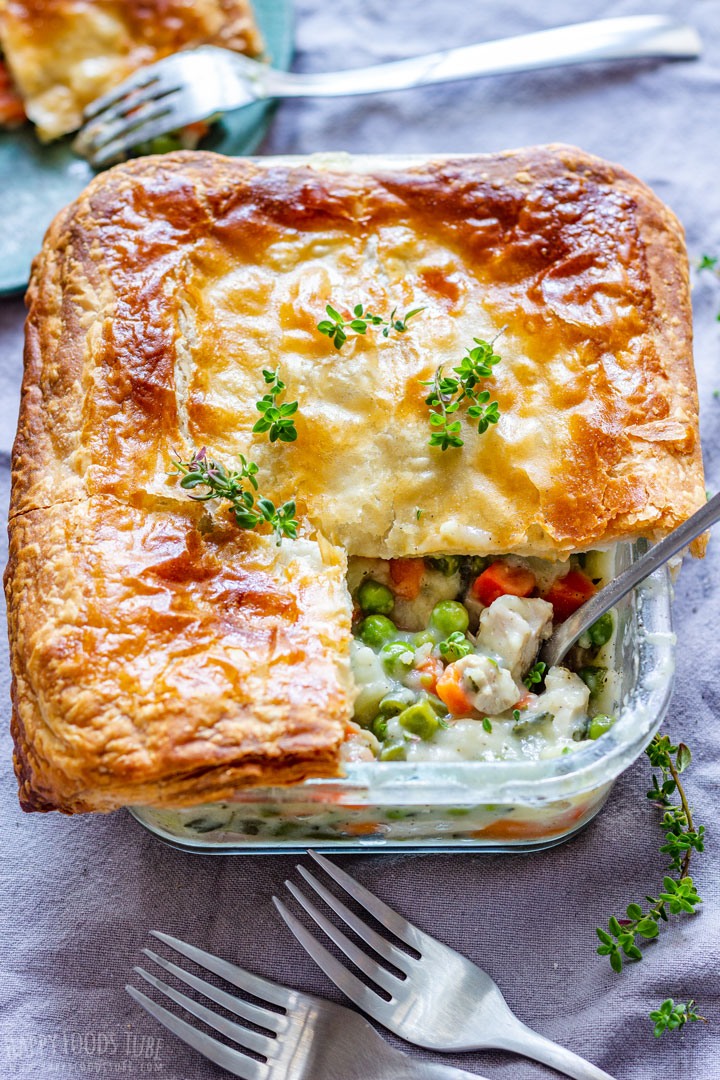 There is no long list of ingredients and no need to spend half a day in the kitchen prepping. This puff pastry chicken pot pie has a quick preparation and is ready on your table in about 45 minutes from start to finish!
This is a small batch chicken pot pie recipe that serves 2-3 people but can be easily doubled or tripled if needed. It is the easiest chicken pot pie you will ever make!
Flaky, buttery pastry is a delicious addition to this pie so if you have some in your freezer, make sure to try it.
This post includes lots of tips and possible substitutions as well as process photos for easy understanding.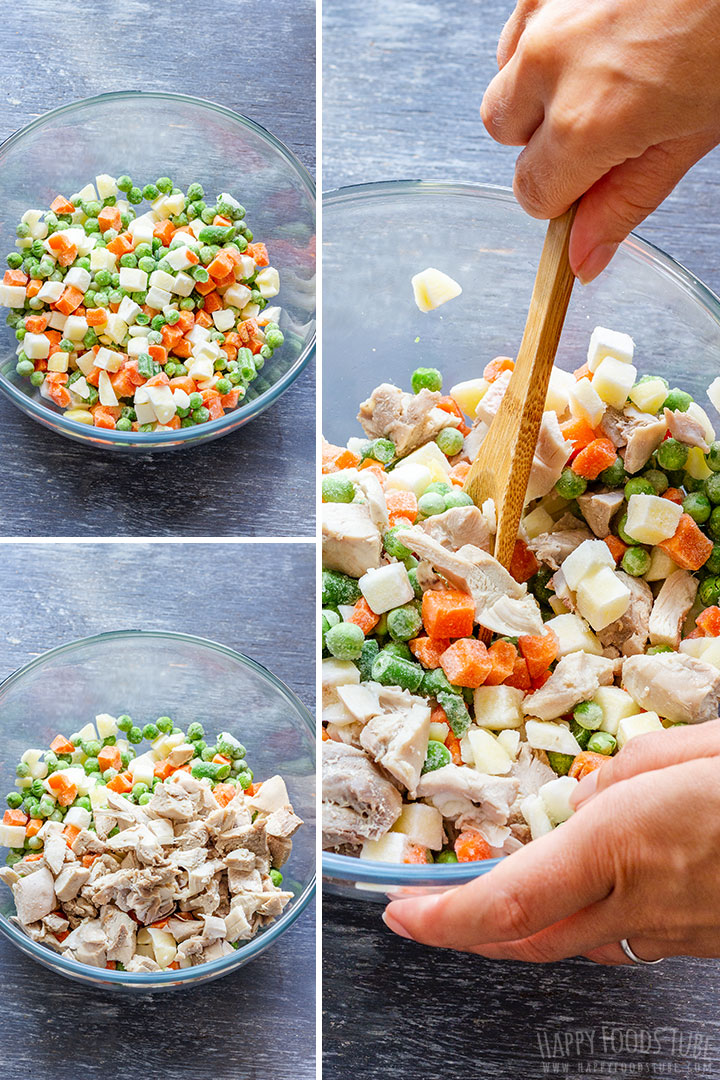 How to make puff pastry chicken pot pie recipe
First, preheat your oven as the prep is really quick and puff pastry should not be standing long at room temperature.
For the white sauce, melt butter in a saucepan. Stir in flour and cook for a minute or two before pouring in chicken stock while stirring constantly. Add salt, pepper and sage.
Bring to a boil and turn off the heat. The sauce is ready now. It should not be too thick nor too thin.
Get a large bowl and mix frozen vegetables with diced (or shredded) cooked chicken and the sauce. Transfer this mixture into an oven-proof dish and cover with puff pastry. Brush with egg wash and bake until ready.
See the tips below to achieve the best results.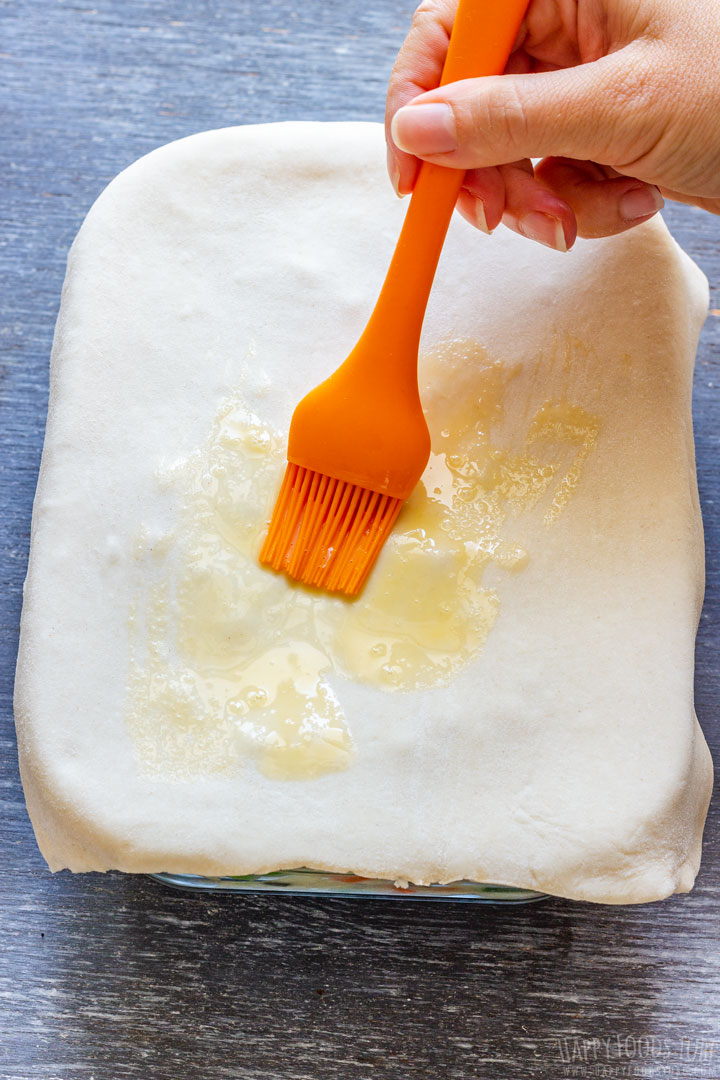 Tips for making the best chicken pot pie
Vegetables – there is no right or wrong when it comes to using veggies to make this puff pastry chicken pot pie. You can use frozen, fresh, a ready-mix or you can mix them yourself. I used frozen soup vegetable mix that also contains potatoes which makes this meal even more filling. Note: If you decide to use fresh veg, I recommend sauteing it for about 10 minutes prior to cooking.
Chicken – the best thing about this chicken pot pie recipe is the fact that you really can use what you have on hand. Rotisserie or leftover chicken, shredded or diced, thighs or breasts – it does not really matter as long as it is cooked (or you cook it beforehand). I like boneless chicken thighs that I slowly simmer in water (without seasoning) until they are ready.
Liquid – I am using low-sodium chicken stock to make the white sauce, but you can use anything you have on hand (turkey stock, vegetable stock, bullion cubes …). If using regular broth, just reduce the quantity of salt as you won't need as much. You might only need a pinch. If you like the sauce thinner, add more stock.
Dried sage is a flavorful herb, but can be substituted with dried thyme, even oregano would work. You could add a little bit more though (perhaps 1.5 tablespoons).
Make sure to use puff pastry on top only! If you used it on the bottom, it would not cook through.
Don't over-fill your casserole dish with the filling. If you do, it will over-flow which will start burning at the bottom of your oven.
This pot pie is best enjoyed right away!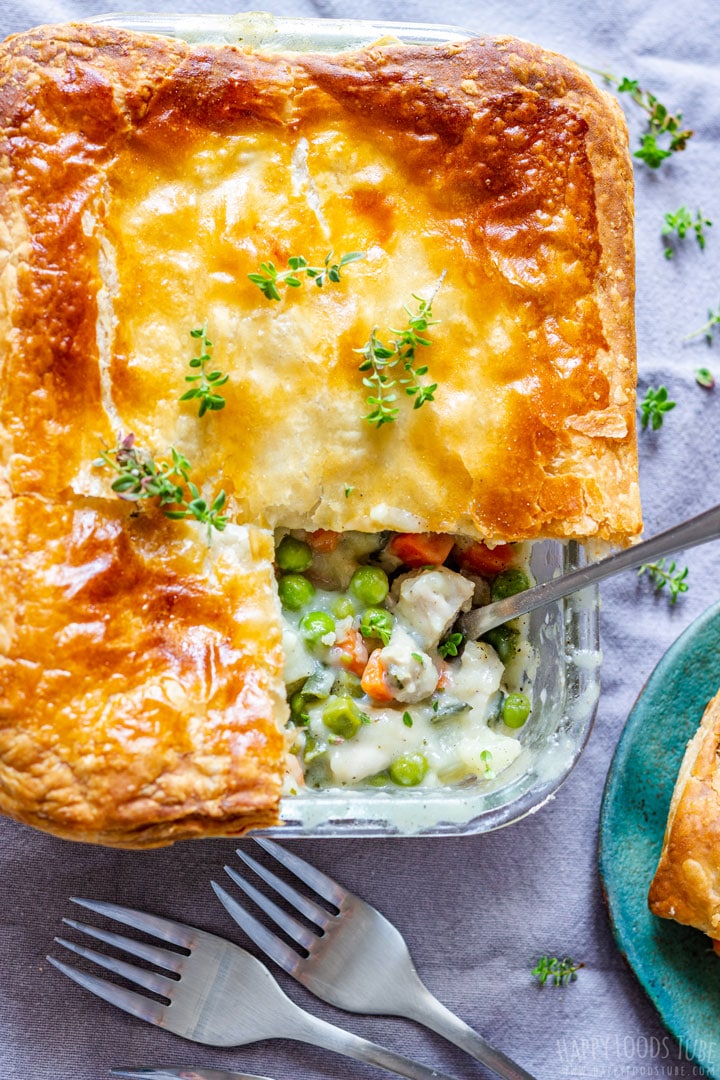 If you make this chicken pot pie for two people only, you will more likely end up with some leftover puff pastry. You can use it to make many delicious snacks like puff pastry breadsticks (they are ready in no time!), parmesan breadsticks, or mango chicken puffs (my favorite – also made with shredded chicken).
Or what about using it to make another delicious dinner like salmon in puff pastry?
I hope you give this puff pastry chicken pot pie recipe a go and if you do, please let me know in the comment section!
Puff Pastry Chicken Pot Pie
An easy recipe for homemade chicken pot pie with puff pastry, frozen veggies and chicken leftovers.
Ingredients
For the Sauce:
¼

cup

flour

(35 grams)

3

tablespoons

butter

2

cups

low-sodium chicken stock

, see note 1

1

tablespoon

dried sage

1

teaspoon

salt

¼

teaspoon

black pepper

, see note 2
For the Filling:
2.5

cups

frozen vegetable mix

, see note 3

1.5

cups

cooked chicken pieces

, diced, see note 4
For the Topping:
½

pound

puff pastry sheet

, thawed, see note 5

1

egg

, beaten (optional)
Instructions
Preheat oven to 400° Fahrenheit (200° Celsius).

Meanwhile, melt butter in a saucepan. Add flour and stir for 1-2 minutes before slowly adding chicken stock, while stirring constantly.

Once you see the sauce starts thickening, add sage, salt and pepper and bring to a boil while stirring. When ready, turn off the heat and set aside.

In a medium bowl, combine frozen vegetable mix, cooked chicken and the sauce. Mix well. Pour this mixture in an oven-proof dish (see note 8), cover with puff pastry, brush with egg wash (optional) and bake for 35 minutes or until the puff pastry is puffed and golden brown on top and the filling is bubbling away.

Enjoy!
Notes
I used low-sodium chicken stock, so I can control the amount of sodium in the recipe. You can use regular stock/broth (turkey or vegetable will work also) if you like, but you might need to reduce the quantity of salt. Please note that this depends on everyone's taste. Also, store-bought rotisserie chicken is usually seasoned (and so is your leftover chicken), so make sure, not over-season the dish.
Black pepper – use as much as you like. I've noticed lately that different brands have a different spiciness level, so I'd say to start with less rather than more and add more the next time you make it.
I like using vegetable soup mix as it had potatoes in it as they complete the meal. I found that they are a good addition to the veggies and chicken. You can use any vegetable mix you like. Or combine vegetables yourself – sweetcorn, garden peas,…
Chicken – you can use rotisserie chicken, leftover chicken, you can also cook (boil until cooked – time will vary depending on what parts of the chicken you use) chicken breast or boneless thighs and chop it (you will need about 1 pound) or you can saute the chicken pieces on a pan.
You will probably need less than ½ pound of puff pastry. This will depend on the size of your oven dish.
Please take the cooking time as a guide. The time will vary and will depend on your oven as well as on the puff pastry you are using. The pastry should be puffed and brown and the filling should be bubbling away.
This recipe can be easily doubled or tripled if needed. The chicken to veggies ratio can also be adjusted to your liking as long as you follow the total amount of cups. The sauce will thicken as it cools down.
To bake this chicken pot pie in I used a meal prep glass food container that is also oven-proof. It holds 30 ounces (880 milliliters) of liquid. Size: 8x6x3 inches (20x15x7 centimeters). You can also use a slightly larger ovenproof dish that is not so high.
The post above this recipe card contains more tips as well as leftover puff pastry recipe ideas.
Nutrition Facts
Puff Pastry Chicken Pot Pie
Amount per Serving
% Daily Value*
* Percent Daily Values are based on a 2000 calorie diet.
** As an Amazon Associate I earn from qualifying purchases.
LEAVE A COMMENT