Looking for easy soup recipes? Why not make jalapeño potato soup? This is a quick recipe, perfect not only for a meal prep, but also for weeknights.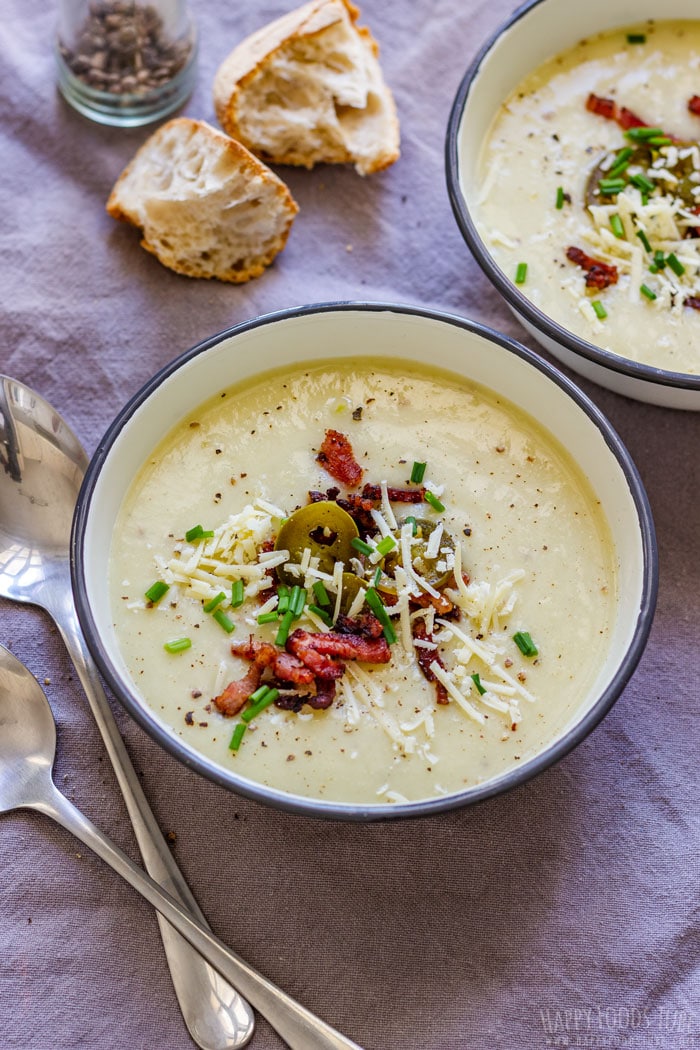 This jalapeño potato soup reheats well and lasts in the fridge for several days if stored properly. It can be easily doubled or tripled.
Adding cheddar makes this spicy potato cheese soup extra rich and tasty. And the best part is that you can add as much cheese as you like!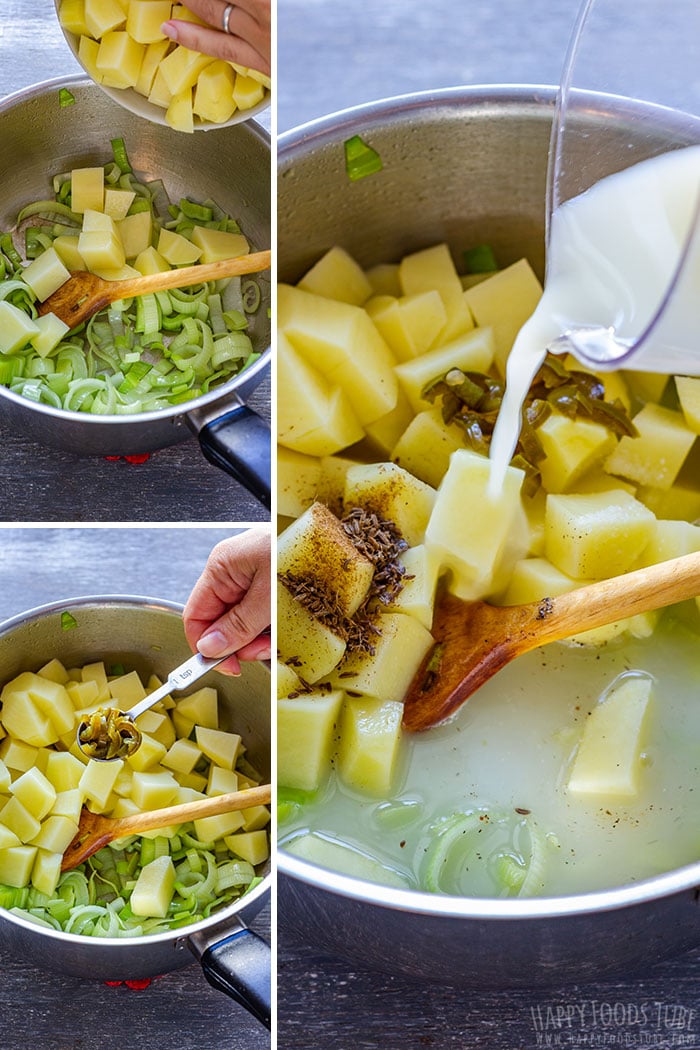 How to make potato soup with jalapeno and cheddar cheese
You start by sautéing chopped leek for about 5 minutes. Then you add potatoes, jalapenos, seasoning and stock and cook it covered until the potatoes are soft. Add cream, blend it and cook for a further 2 or 3 minutes.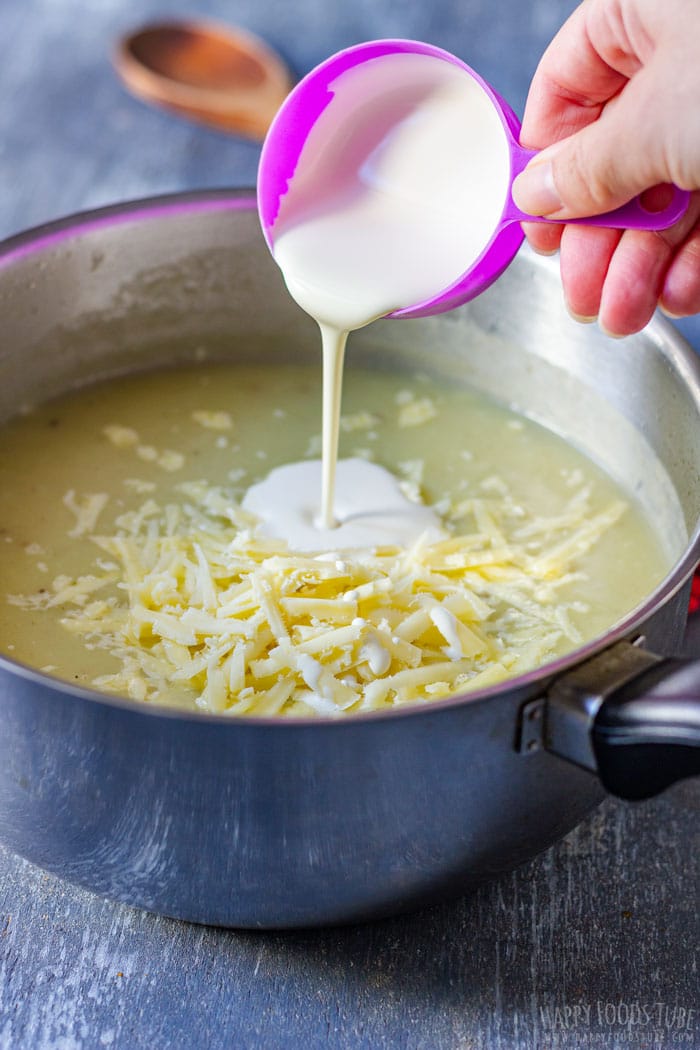 Taste it and add more seasoning if needed.
I recommend serving this soup with Potato Bread or dinner rolls. Rosemary Focaccia is also a tasty option.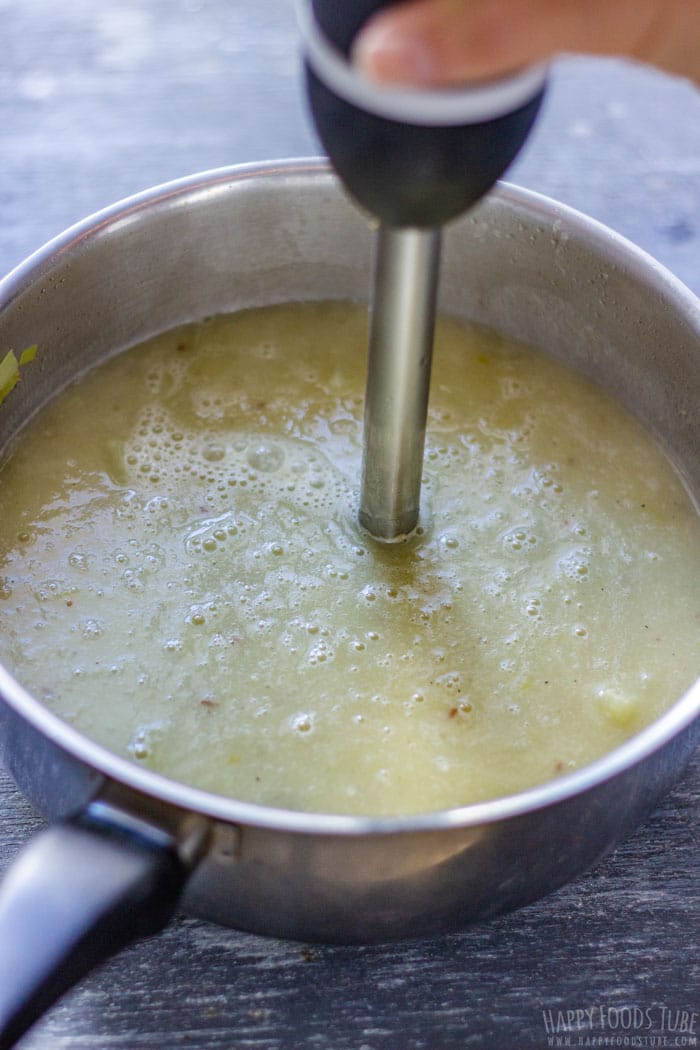 Optional topping ideas:
Fried pancetta or bacon
Fresh chives
Jalapenos
Extra cheddar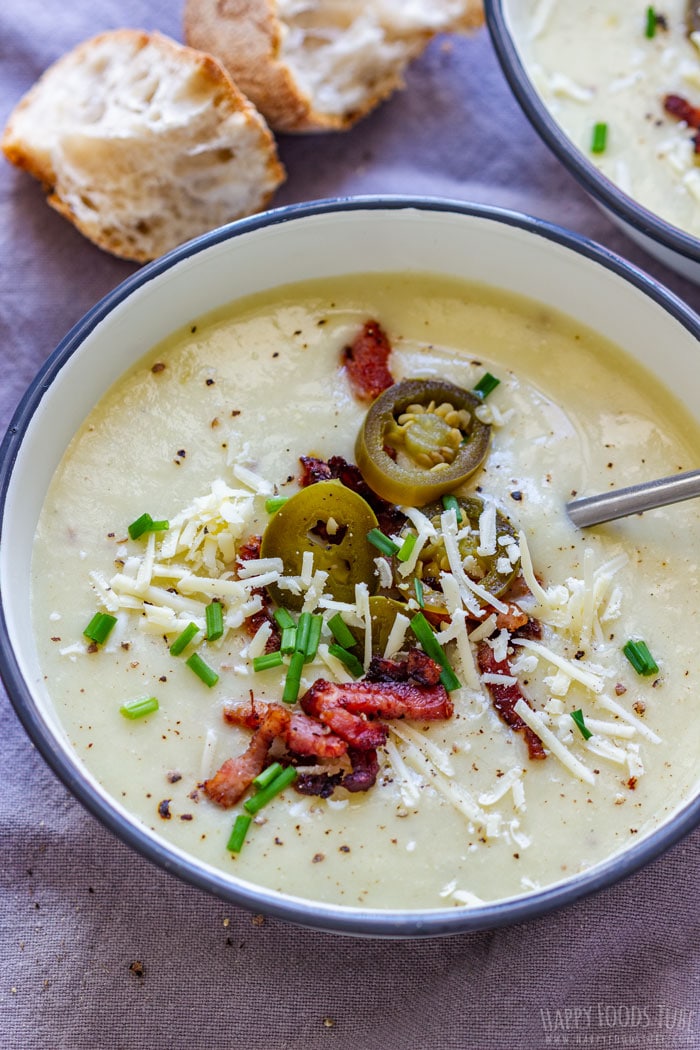 Tips for making the best jalapeno potato soup
In this recipe I prefer using butter (either salted or unsalted), but you can also use olive oil instead.
This soup will thicken more when cooled down completely.
If you want to speed up the cooking process, cut the potatoes into tiny pieces. They will cook faster. They should be ready in 10 minutes tops.
Use any stock you have on hand or you prefer. Either low-sodium or the normal one. Just note that you might need less salt when using the classic stock as it is usually quite salty on its own. For that reason, you might be better off seasoning the soup at the very end. Either chicken or vegetable will work well!
When making this spicy potato soup, I like to use the sliced jalapenos from a jar/can. You only need a little as the level of spiciness will increase during cooking.
To reduce the level of heat, you can serve the soup with sour cream or natural yogurt.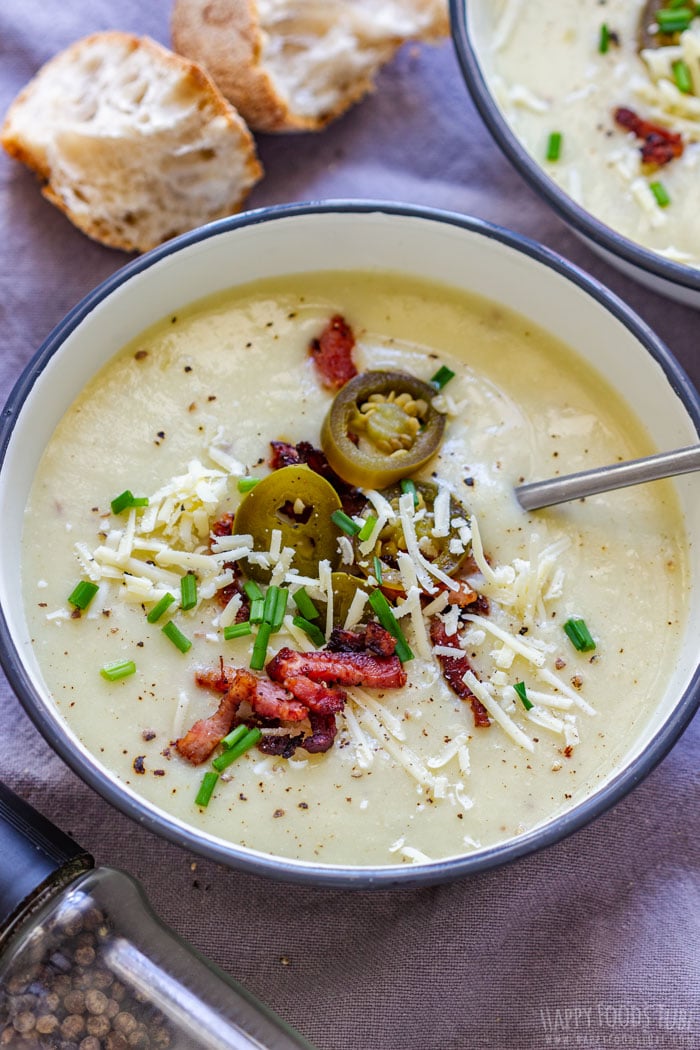 Looking for more easy soup recipes? I have quite a few on my blog. Here are the latest ones:
All these soup recipes as well as the rest of recipes on our blog are developed and tested several times in our kitchen. We always try to simplify the cooking process, so that all our readers will find it easy to understand, and more importantly will find confident giving a recipe a go, no matter what level of cook you are.
Enjoy!
Jalapeno Potato Soup
Looking for easy soup recipes? Why not make jalapeño potato soup? This is a quick recipe, perfect not only for a meal prep, but also for weeknights.
Ingredients
2

tablespoons

Butter

, see note 1

1

cup

Leek

, chopped (about 1 small leek)

2

pounds

Potatoes

, peeled & diced (1 kilo), see note 2

1

teaspoon

Jalapeno

, finely chopped, see note 3

1

teaspoon

Ground Caraway Seeds

3

cups

Low Sodium Stock

, see note 4

1

teaspoon

Salt

¼

teaspoon

black pepper

2

ounces

Cheddar Cheese

, see note 5 (60 grams)

¼

cup

Heavy Cream

, see note 6

½

cup

Fried Pancetta

/Bacon, optional
Instructions
In a pot, melt butter and add leeks. Sauté for about 5 minutes on medium heat, stirring occasionally.

When ready, increase the heat to high. Add diced potatoes, jalapenos, caraway seeds, salt, pepper and stock. Stir, cover with lid and bring to a boil. After, reduce the heat to low and simmer until the potatoes are cooked (about 10 minutes).

Finally, stir in cheddar and heavy cream. Cook for about 2-3 minutes before turning off the heat completely. Blend until smooth with immersion blender and taste. Add more seasoning, if needed.

Top with fried pancetta/bacon or cheese or jalapenos.

Best served warm with bread or dinner rolls.
Notes
You can use either salted or unsalted butter. Or use 2 tablespoons of olive oil as a substitution.
The smaller the potatoes the quicker their cooking time.
I used sliced jalapenos (those ones you buy in a jar or can) and I added 1 teaspoon (finely chopped) which was enough to give this soup a spicy kick, but not to be overwhelmingly hot. Note that the following day the flavors seem to blend more and you might notice that the soup tastes hotter. For this reason, be careful with how much jalapeno you use.
Stock – you can use either vegetable stock or chicken broth/stock.
You can add more cheese if you like or omit it completely.
Use either heavy cream (1/4 cup) or half and half (1/2 cup). I feel that this soup needs only a little cream, but you can use more heavy cream, if you wish.
This recipe makes about 4-5 portions, depending on the portion size.
Pro tip: If the soup turns out too spicy for you, you can reduce the heat by serving the soup with a dollop of natural yogurt/unsweetened Greek yogurt or sour cream on top or just serve it aside, so that those who find the soup spicy can help themselves.
Nutrition Facts
Jalapeno Potato Soup
Amount per Serving
% Daily Value*
* Percent Daily Values are based on a 2000 calorie diet.
** As an Amazon Associate I earn from qualifying purchases.
LEAVE A COMMENT
RELATED POSTS