Parmentier potatoes are a delicious potato side dish. Mini cubed potatoes are tossed in herbs and olive oil and roasted in the oven until crispy!
These are quicker and tastier than traditional roast potatoes as they are smaller in size, which means, they cook faster and more importantly you get more crispy areas.
This parmentier potatoes recipe post includes useful tips, serving suggestion ideas and more potato recipes.
How to make parmentier potatoes
First, par-boil the potatoes. Drain the water and transfer them into a large bowl. Add the rest of the ingredients – olive oil, salt, pepper, herbs and toss around until all the potatoes are coated evenly.
Spread them onto a baking tray or oven dish in one layer. Make sure to spray it with oil first so they don't stick to the tray.
Bake until nice crispy and golden brown around the edges.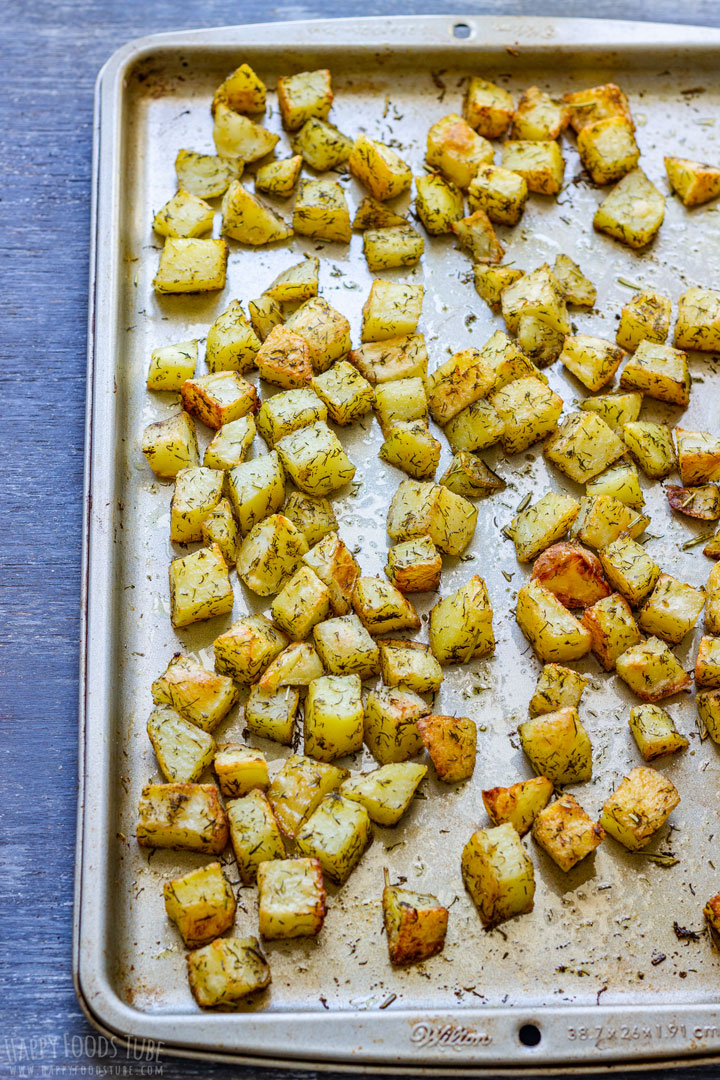 Serving suggestions
You can serve these oven roasted potatoes with all kinds of protein. Whether it is fish (Have you tried Honey Glazed Salmon?), beef (roast, steak, ….), pork or chicken (Chicken Thighs) or any grilled meats.
Add some steamed veggies (Instant Pot Broccoli is my favorite) and you have a complete meal!
Possible variations
Add more rosemary and (or) omit parsley
Use onion powder instead of garlic powder
Sprinkle some Parmesan over
Finely chop fresh chives or spring onions can be also sprinkled over the baked parmentier potatoes
Tips for making the best Parmentier potatoes
Par-boiling potatoes will speed up the whole cooking process, but if you prefer just throwing the potatoes in the oven without pre-cooking them, you can do so by all means.
Baking time may vary so it's good to keep an eye on them, especially when baking them for the first time. The overall time will depend on your oven as well as on the size and type of potatoes you use.
If you end up with some leftover roasted mini potatoes, you can use them the following morning for Breakfast Hash.
Make sure the potatoes are spread in one layer on the tray so they can roast evenly. Also over-filling your tray will slow down the cooking and can prevent them from turning crispy around the edges.
More potato side dishes:
Parmentier Potatoes
Parmentier potatoes are a delicious potato side dish. Mini cubed potatoes are tossed in herbs and olive oil and roasted in the oven until crispy!
Instructions
Preheat oven to 400° Fahrenheit (200° Celsius).

Cut the potatoes into small cubes, possibly similar looking and transfer them into a pot. Pour in just enough water so they are covered. Cover with a lid and bring to a boil. Leave them on for about 2 more minutes, then drain the liquid.

Transfer them into a bowl and add olive oil, salt, pepper, black pepper, parsley and rosemary, and toss until they are all covered evenly.

Spread them onto a baking tray in one layer and bake until they are nice golden brown and crispy on the edges, turning them over 20 minutes into roasting (Mine take about 35 minutes until nice and crispy).

Enjoy!
Notes
Use any potatoes you like or have on hand. Some say "roasting potatoes" on the bag and these are great for this recipe.
I used ½ teaspoon of salt for par-boiling the potatoes and ½ teaspoon for seasoning them.
Any leftover parmentier potatoes can be used to make a breakfast hash.
Parmentier potatoes are best enjoyed right away. They will soften in the fridge and while it's OK to eat them, some might not enjoy them as much.
More tips, serving suggestions and potato recipe ideas can be found in the post above this recipe card.
It's always better under-seasoning rather than over-seasoning your parmentier potatoes. If not salty enough, you can always sprinkle some salt over right before serving!
Nutrition Facts
Parmentier Potatoes
Amount per Serving
% Daily Value*
* Percent Daily Values are based on a 2000 calorie diet.
** As an Amazon Associate I earn from qualifying purchases.
LEAVE A COMMENT