These bite size quail egg and goat cheese pinchos bites are perfect for parties or family gatherings!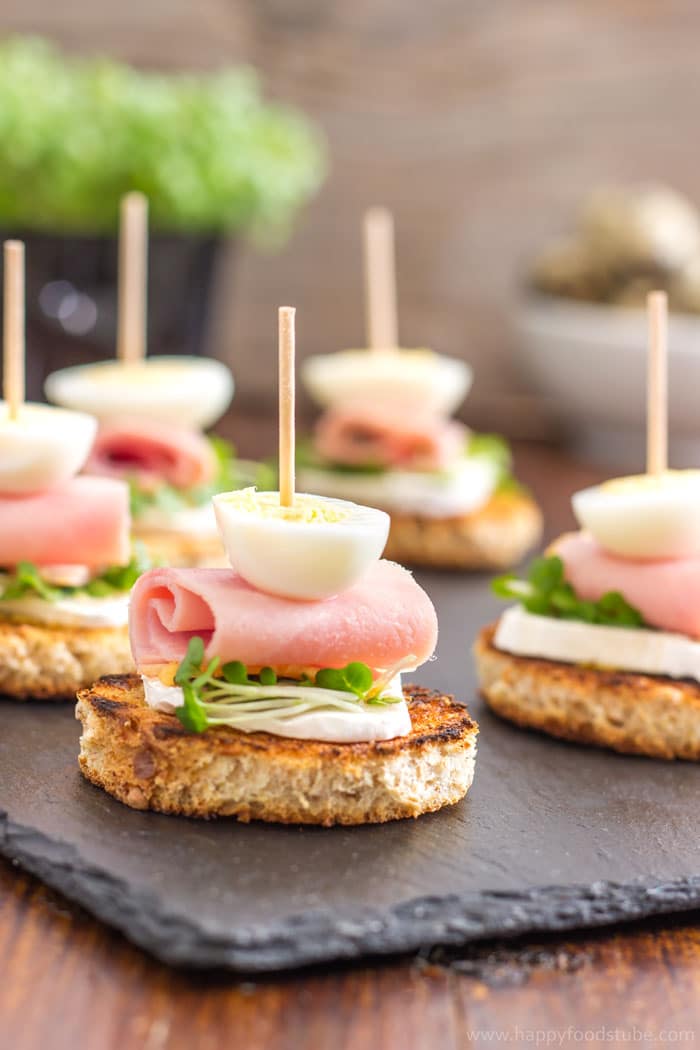 Do you ask what does the word "pinchos" mean?
A pincho is a small snack (like finger food) that can be found in bars and taverns all over Spain but are typical for northern Spain where they are called pintxos (Basque language) Originally, pincho/pintxo was a small slice of bread topped with various ingredients and secured with a toothpick. Nowadays it is not a rule that the pincho/pintxo has to have a slice of bread as its base.
The name "pincho" comes from a Spanish word pinchar which means to pierce – because the snacks were pierced with the toothpick.
The toothpicks also show the number of pinchos you have eaten. In some places all the pinchos have a set price, in others the price may vary and you can notice this when the toothpicks have different sizes or shapes.
So it works like this: you get to a bar, take a plate and put any pinchos you would like to eat onto the plate. You find a place to enjoy your pinchos/pintxos with some drinks and if you fancy some more pinchos/pintxos, then go and grab more.
When it's time to pay, a waiter comes and counts all the toothpicks that are left on your plate and brings the bill afterwards.
When we experienced this for the first time, it had taken us a while to figure out how they knew exactly how much to charge us! It's really a fun way to enjoy local snacks!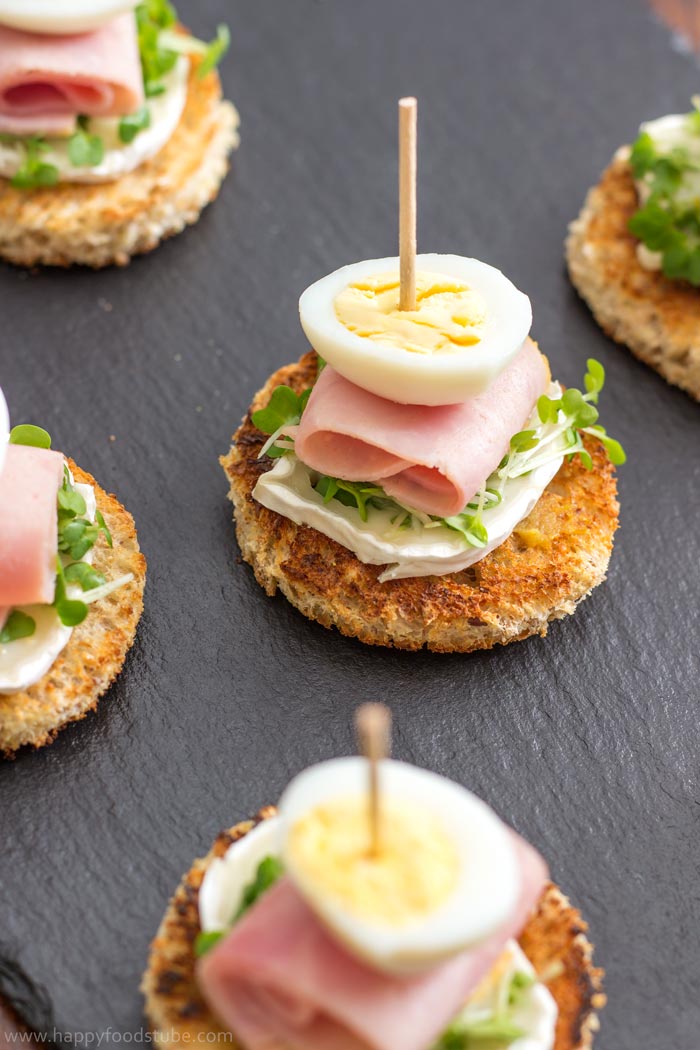 But let's get back to my quail egg and goat cheese pinchos bites:
The preparation is pretty simple and requires mostly cutting. If you want to get the most out of your bread, simply cut each slice in 4 instead of cutting out circles. The bread can also be toasted in a toaster if you want to save some time. Because the quail eggs are really tiny, they will need only about 3 minutes to cook.
You will need about 6 minutes to peel six quail eggs and if you haven't done it before, you might find it challenging. Start peeling them at the wider side. Alternatively, you can put them in a container half filled with water, close it tight and shake hard for 1-2 minutes. The shells will come off easier.
Pinchos rock and so do these quail egg and goat cheese pinchos bites! Hope you'll give them a try and if you do, let me know what you think!
Quail Egg and Goat Cheese Pinchos Bites
These bite size quail egg and goat cheese pinchos bites are perfect for parties or family gatherings!
Ingredients
6

Quail Eggs

Cooked Ham

Mustard

of Your Choice

Water Cress

1

Goat Cheese

3

Slices

Wholegrain Toast Bread
Instructions
Bring a small pot of water to the boil and carefully place the eggs in. Reduce the heat to medium and cook for maximum of 3 minutes. Drain the water and pour over some cold one to stop them from cooking.

Meanwhile: With a cookie cutter cut 2 circles out of each bread slice. Place them on a frying pan and dry fry until they turn brown. Once they are ready, place them on a serving plate/tray.

Peel the eggs and cut each in half.

With a knife, spread some of the mustard over each bread slice. Top with thinly sliced goat cheese and some watercress.

Cut the ham into thin strips, roll each strip into a barrel shape and put onto the watercress. Top with half of the egg (yolk side up) and secure with a toothpick.
Happy Cooking with Happy Foods Tube!
** As an Amazon Associate I earn from qualifying purchases.
LEAVE A COMMENT
RELATED POSTS