These spicy garlic angulas make a great appetizer or a snack! If you can get your hands on them, give them a go! If you are planning on visiting Spain, put them on your must-try list! Angulas are a traditional Basque dish but nowadays they can be enjoyed as tapas all over Spain.
Now I have to tell you a bit about angulas. Something I didn't know before.
It all started in the Basque Country (Northern Spain) where local fishermen have been fishing for angulas for centuries. Originally it was a common fisherman's dish up there. I guess if you were to eat this dish many years back, you would end up with a small terracotta dish (that's how I imagine it) full of baby eels. Some of them call them elvers.
These days because of high demand and overfishing the price for angulas are amazingly high. Apparently in 2008 you would pay as much as 1100USD (1000EUR) for a kilo/2.2 lb!
I am guessing that it was then when someone came up with an alternative. Instead of angulas they call it gulas now which basically has nothing to do with baby eels anymore apart from the fact that they look similar.
The gulas that you find in any supermarket in Spain are made of surimi. Surimi is a Japanese word for minced fish. So no baby eels (or elvers) anymore, just minced fished shaped into tiny strips. Unless you go to a restaurant where they serve the real deal and are willing to pay about a hundred euros for a plate (my guess only, maybe the prices have come down a bit since).
Now forgive me for calling this dish angulas if the tiny fish spaghetti on my picture are gulas but the google search thinks I made a typo when I write gulas in the search. It thinks I want to write goulash – the very popular Hungarian dish that is also called gulas in some other countries.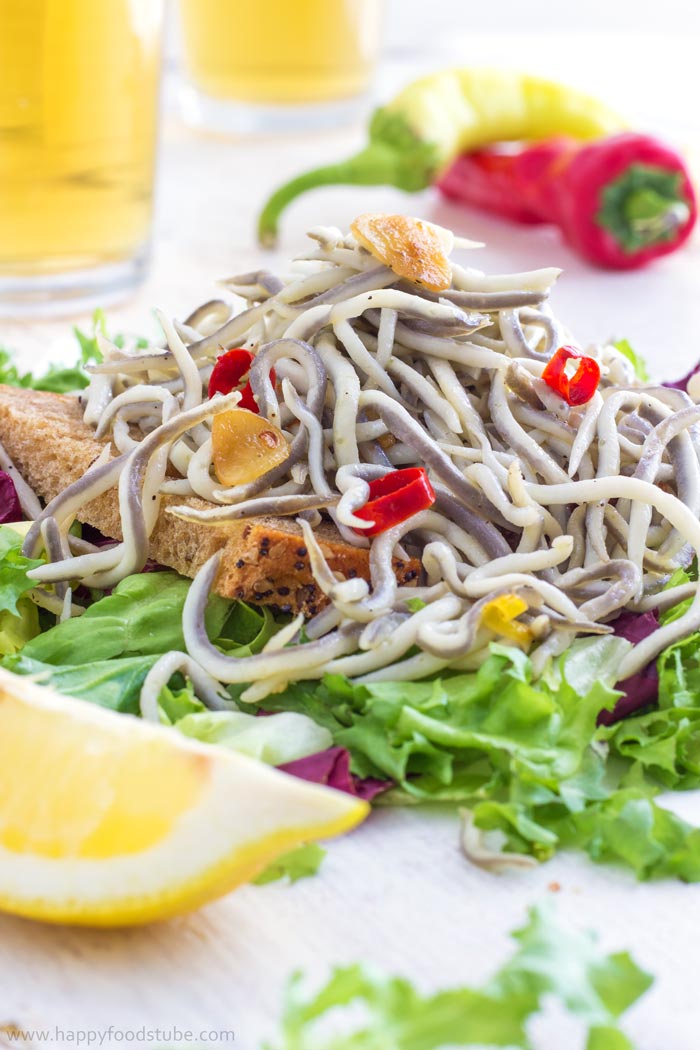 When we bought gulas for the first time we had no idea what they were. There was little information on the packaging apart from the brand and some very simple cooking instructions. We prepared them following the instructions and we enjoyed them. I simply put them on a slice of toasted bread.
We like them and buy them from time to time, especially when we are after a fast dinner/snack/lunch. They have light fishy taste and smooth texture.
If you ever get to Spain I highly recommend you try them! I have no idea what the real deal taste like but this tapas dish is one of those you have to try! Have them on a slice of bread, on their own, with other fish or as a part of salad!
The way we make spicy garlic angulas it is pretty simple. Garlic, fresh chili pepper and little olive oil! Everything goes in a pan altogether with (an)gulas. Fry them for about 4 minutes if you are after crispier texture. If not, then 2-3 minutes is enough.
Toast the bread. Spread with butter. Top with pan-fried gulas. Enjoy while warm.
OR
Spread salad leaves on a plate. Toast the bread. Spread with butter (optional). Slice the toast. Arrange on your plate. Top with gulas. Enjoy.
Other Spanish style recipes you might enjoy:
Spanish Tapas Spicy Garlic Angulas
These spicy garlic angulas make a great appetizer or a snack. Angulas are a traditional Basque dish but nowadays they can be enjoyed as tapas all over Spain.
Ingredients
5.3

ounces

Angulas

/ Gulas (150 grams)

1/2

Lemon

1-2

Fresh Chili Peppers

2

Garlic Cloves

1-2

tablespoons

extra virgin olive oil

A Bag of

Mixed Salad Leaves

Bread

of Your Choice, (optional)
Instructions
Wash and cut the chili peppers in half. Remove the seeds and membranes. Slice them thinly.

Peel the garlic and thinly slice or mince.

Heat the oil on a pan, throw in the garlic, chilies and angulas. Saute on a medium heat for 2-4 minutes, stirring occasionally. Squeeze over some lemon juice. Taste it! Add more juice if preferred.

Meanwhile: Toast the bread and slice it. Arrange salad leaves onto plates.

Top with angulas mix and toasted bread.
Nutrition Facts
Spanish Tapas Spicy Garlic Angulas
Amount per Serving
% Daily Value*
* Percent Daily Values are based on a 2000 calorie diet.
** As an Amazon Associate I earn from qualifying purchases.
LEAVE A COMMENT
RELATED POSTS