This Spanish octopus appetizer is a delicious and easy snack for any get together. Olives, cocktail onions, roasted red peppers and cooked octopus on cocktail sticks seasoned with herbs and olive oil.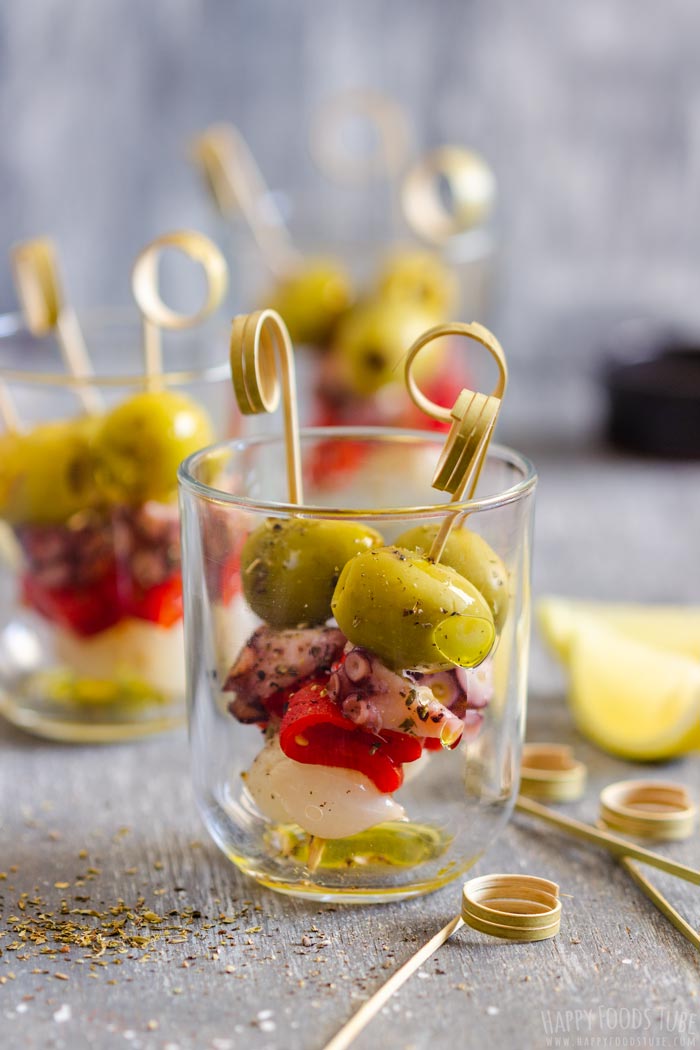 If you are looking for a fancy-looking yet easy octopus recipe, I recommend trying this Spanish-style Octopus Tapas (tapas = snack, finger food, appetizer).
This is a quick octopus appetizer recipe that requires no cooking whatsoever. I used boiled octopus to save me time and also to make sure that it will be tender and not chewy. You can, by all means, cook fresh or frozen octopus, if you have experience doing so. If not, I recommend buying the cooked one as it will save you a lot of time.
There are no special tools needed to make these octopus appetizers. All you need are cocktail sticks (toothpicks will not work here as they are way too short to hold all the items), a knife and chopping board.
In Spain, you can find these octopus tapas ready-made in some supermarkets so all you have to do is grab them and you can enjoy them right away. I prefer making my own as it is cheaper and I can season them to my liking.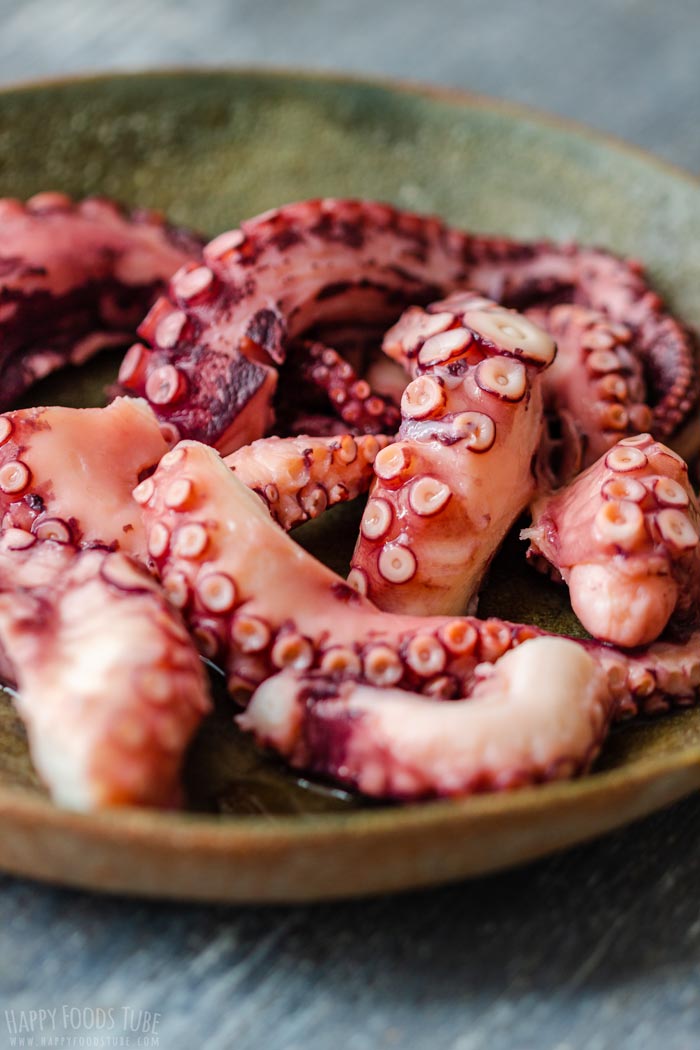 How to make Spanish octopus appetizers
Onto each cocktail stick, thread one olive, one cocktail onion, one slice of roasted red pepper and one piece of octopus.
To season them I used extra virgin olive oil, salt, dried oregano and black pepper. Please check the recipe card for a complete recipe.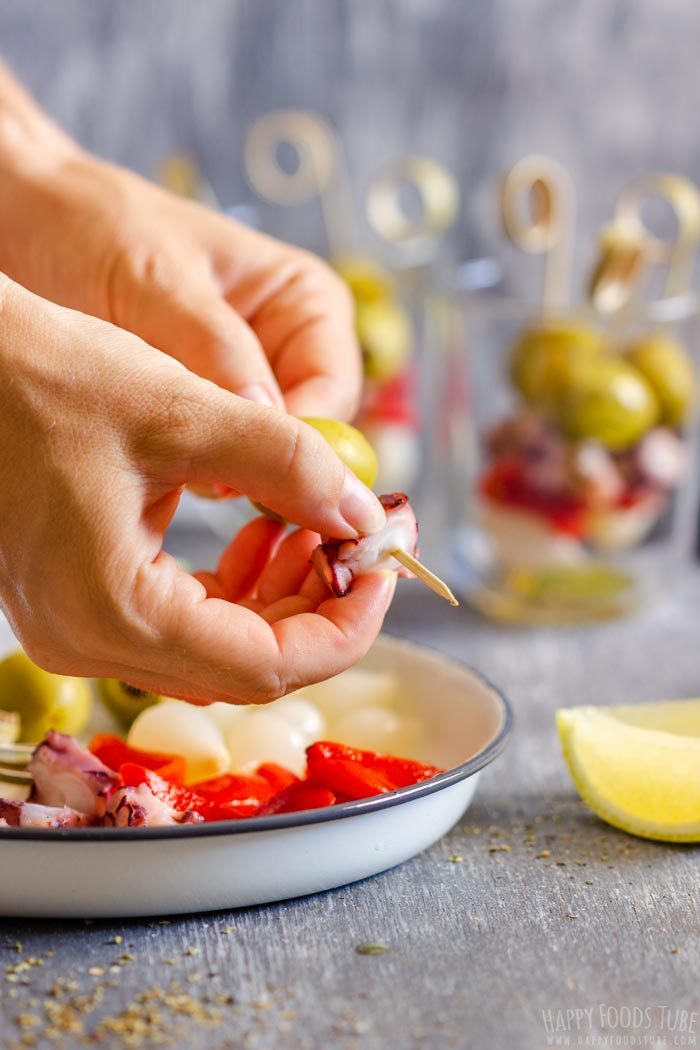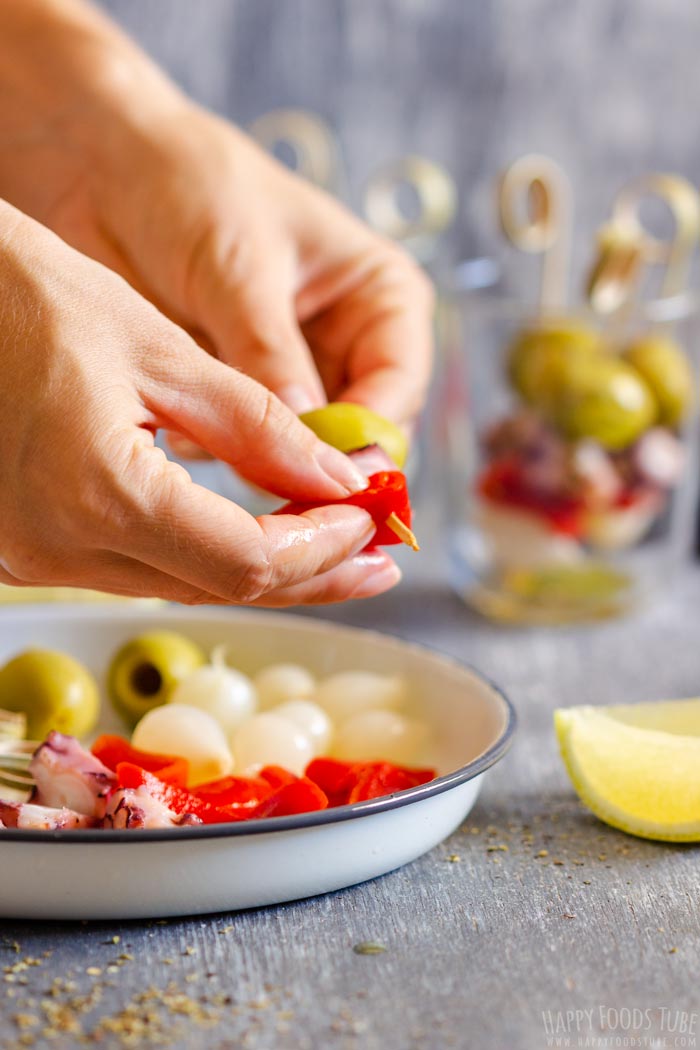 How to serve octopus appetizers?
I used glasses for serving and put 3 pieces into each glass. You can put all of them into a bowl or onto a serving plate/tray or anything you have on hand. Another fancy way of serving them is using individual mini cocktail glasses like I used to make Caprese Salad Bites.
Another tasty and easy octopus recipe is Marinated Baby Octopus.
Tips for making Spanish octopus appetizers
If you don't feel like buying all the ingredients, you can omit one of them (like the onions or roasted peppers). However, I love this flavor combo so I would recommend you give it a go.
A good alternative to cocktail onions are cocktail gherkins or just a few chunks of normal gherkins/dill pickles.
If you don't want to use cocktail sticks, you can just arrange all of them onto a plate. In that case I would use more oil and maybe serve sliced Fresh baguette with this. Or serve this as a part of Cheese Board or Mediterranean Antipasti Platter.
More easy appetizer ideas:
Spanish Octopus Appetizers
This Spanish octopus appetizer is a delicious and easy snack for any get together. Olives, cocktail onions, roasted red peppers and cooked octopus on cocktail sticks seasoned with herbs and olive oil.
Ingredients
For the bites:
12

Pitted Green Olives

, see note 1

12

Pickled Cocktail Onions

2-3

Cooked Octopus Legs

(½ lb/225g), see note 2

12

slices

Marinated Roasted Red Peppers

, see note 4
Instructions
Cut each tentacle into bite size pieces.

Onto a cocktail stick, thread 1 olive, 1 cocktail onion, 1 slice of roasted red pepper and 1 octopus chunk.

Repeat with the rest.

Serve them on a plate, serving tray, or in glasses. Once you have plated them, drizzle with olive oil, and season with oregano, black pepper and salt (optional).

Best served right away or within 2 hours.
Notes
Olives – I love using spicy olives to make these appetizers but you can use regular green olives. Or any olives you like. Just make sure they are pitted.
Octopus – you will only need a few cooked tentacles so if you find pre-packaged cooked tentacles, I recommend buying those instead of a whole cooked octopus. You will only need 2-3 pieces (depending on their size). There is no need to by a whole cooked octopus as you will not be using the head or the thins tips.
If you are trying to keep sodium levels down, omit the salt completely. Olives are salty enough so seasoning these appetizers with olive oil black pepper and oregano will work just fine!
I prefer buying whole roasted peppers and cutting them myself as the strips (that you can buy in some places) don't hold their shape so well, but you can try yourself. You will use only 2-3 whole peppers for 12 appetizers (depending on their size).
For more information and tips I recommend reading the full post.
If you are not serving them right away, keep them in the fridge. Best in an air-tight container.
Nutrition Facts
Spanish Octopus Appetizers
Amount per Serving
% Daily Value*
* Percent Daily Values are based on a 2000 calorie diet.
** As an Amazon Associate I earn from qualifying purchases.
LEAVE A COMMENT
RELATED POSTS