Roasted chestnuts in the oven are the ultimate winter snack. They are rich in minerals and high in vitamin C! Useful information on how to prepare chestnuts, how to peel chestnuts as well as how to roast them included.
Roasting chestnuts can be tricky when doing it for the first time. With these instructions and guides, you will be able to enjoy roasted chestnuts whenever they are in season.
Scoring chestnuts with a knife is important. Chestnuts expand during cooking so scoring prevents them from exploding. Any sharp knife will work but be careful and hold them tight when cutting.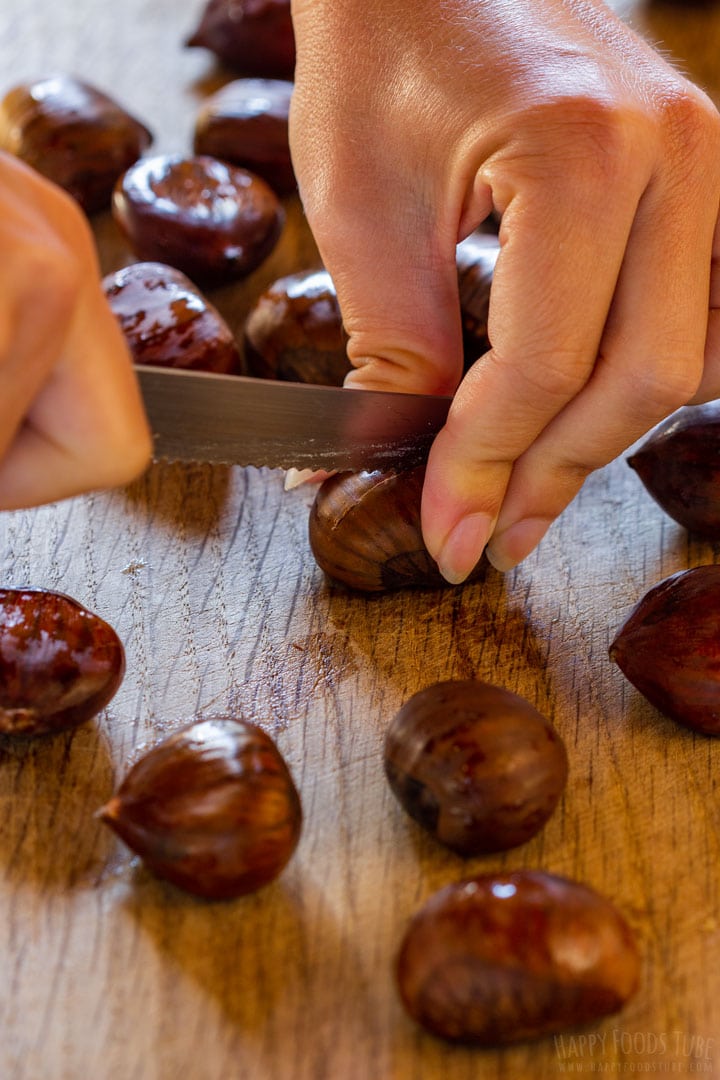 Chestnuts have an outer shell (the hard one) and under this shell is another layer – it looks like hairy skin. To be able to remove the shell as well as the skin easily here are a few steps to follow:
Score chestnuts well with a knife – the larger the area scored, the easier they are to peel (not deeper!).
Pre-cook chestnuts (or alternatively soak them in water for 1-2 hours).
Wrap them in a damp towel after you take them out from the oven
Peel chestnuts while still warm (although, if they are scored well, they should be easy to peel even when cold. Also, the larger the surface scored the better and the easier to remove the shell).
What kind of chestnuts to use for roasting?
As long as you buy them in your local supermarket or farmer's market, they should be edible. If not sure, always ask before buying.
If you like foraging but not sure what chestnut tree bears edible chestnuts and have no one to ask, avoid picking them. Horse chestnuts are similar to the edible ones but are highly poisonous!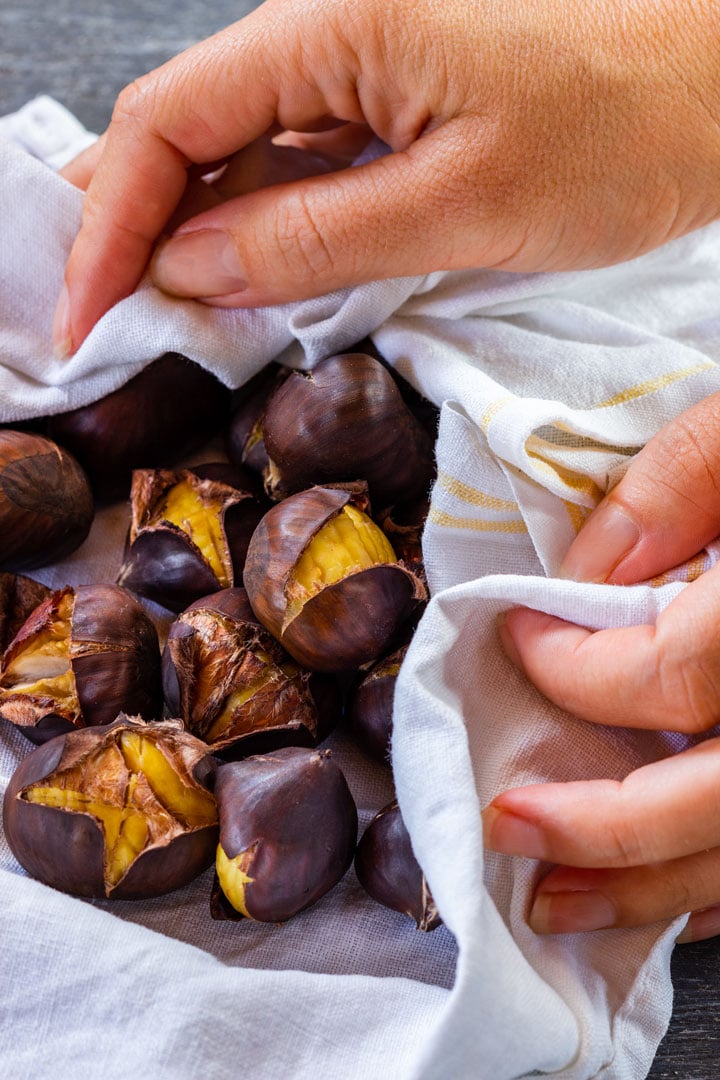 How to eat chestnuts?
The outer shell and inner skin have to be removed. Once done, you can enjoy warm chestnuts any way you like.
Serving suggestions:
They are delicious as is, especially when roasted, but here are some ideas for you:
With a dip – our favorite is blue cheese dip mixed with melted butter
Hot beverage – mulled wine or mulled cider are great choices.
Added to stuffing – throw a few roasted chestnuts the next time you make a Thanksgiving feast.
In salads
As a part of stuffing in meats – i.e. pork tenderloin.
Dried chestnuts can be milled into flour, which can be used in cakes, bread, or as a thickener in soups or stews.
How to roast chestnuts?
The simplest and best way to roast chestnuts is in the oven. It is a hassle-free method to prepare this tasty winter snack.
You can, however, also use a stovetop. Follow the same steps in the recipe card, but instead of cooking them in the oven, use a skillet/frying pan. It's good to shake them from time to time.
To roast chestnuts on a stove like a pro, you can buy a special pan with holes in it. These holes help with even cooking.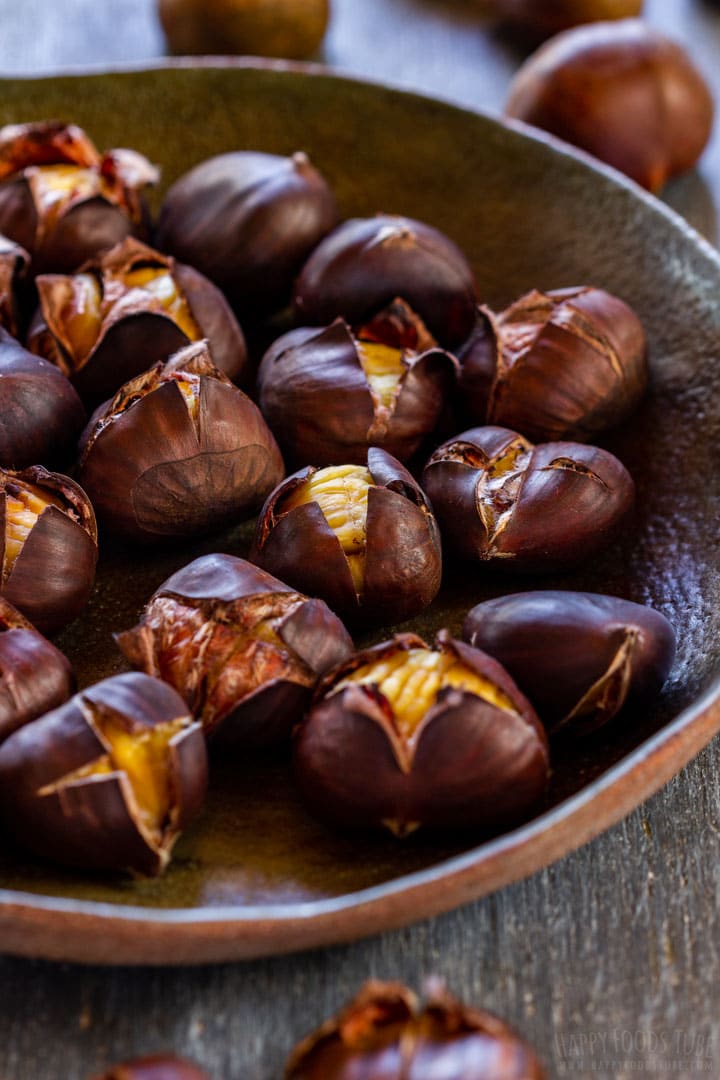 More easy snack recipes that are also good for you:
Roasted Chestnuts
Roasted chestnuts in the oven are the ultimate winter snack. They are rich in minerals and high in vitamin C! Useful information on how to prepare chestnuts, how to peel chestnuts as well as how to roast them included.
Ingredients
1

pound

chestnuts

(450 grams)

water

, see note 1
Instructions
Preheat oven to 400° Fahrenheit (200° Celsius).

With a sharp knife, cut/score a cross into each chestnut. Hold each chestnut well to prevent cutting yourself. You want to cut both the hard shell as well as the skin under. Also, the larger/longer the cut the easier they will be to peel.

Place them in a saucepan/pot and cover with water. Put them on a stove and bring to a boil. Once boiling, turn off the heat and drain the water.

Place chestnuts on a baking tray/sheet, the scored side up.

Bake in a preheated oven for 10 minutes. You can cook them longer if not sure but avoid over-cooking them as they will turn dry.

Wrap the hot roasted chestnuts in a damp kitchen towel and let them sit for about 10 minutes before peeling them (see note 6).
Notes
If your tap water is potable, then go ahead and use it. If not, use bottled water. You will need about 2-2.5 cups (500 ml) of water. Just enough to cover the chestnuts with water.
Discard any cracked chestnuts or those that are very soft to touch (before cooking).
Cooking time will vary, depending on your oven and the size of chestnuts you use.
This recipe can be easily doubled, tripled, halved…
Serving suggestions and more tips can be found in the post above this recipe card.
There always be some chestnuts that are impossible to peel, so don't worry about that. If you are not able to peel them, discard them.
Nutrition Facts
Roasted Chestnuts
Amount per Serving
% Daily Value*
* Percent Daily Values are based on a 2000 calorie diet.
** As an Amazon Associate I earn from qualifying purchases.
LEAVE A COMMENT