Indulge yourself in a cup of mulled mixed fruit cider with mandarins! This warm drink made with mixed fruit cider and rum is perfect for cold days!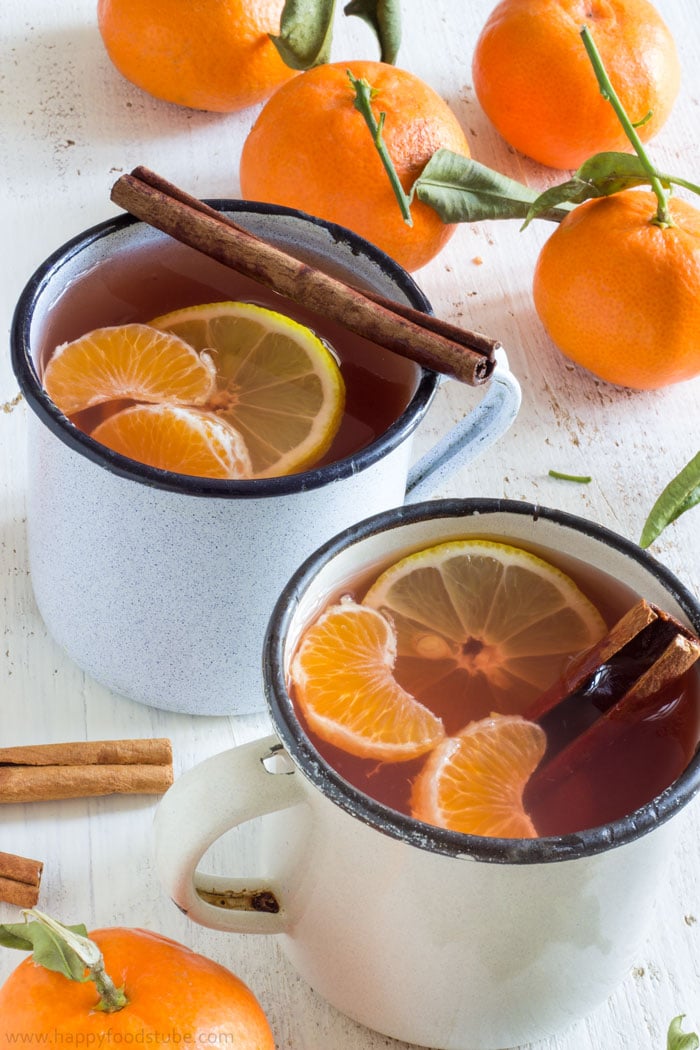 Bring back the Christmas feeling with this mulled mixed fruit cider with mandarins!
Today I decided to share with you this mulled mixed fruit cider with mandarins! You might be wondering why I am posting a mulled beverage in January when most of you are probably searching for healthy recipes.
Well, there are two reasons for that: First, we made this drink several times over the Christmas period and we loved it but I didn't get a chance to share it with you so I am doing it now!
Second, the weather is still pretty cold and apparently according to the weather forecast there is a chance of rain + snow next week! Now guys!!! We live in Spain!!!!!! I can't believe this and hope it's some kind of a mistake or something because really snow??? They promised us 320 days of sunshine! No rain and no snow were never mentioned at all!
So you see, I kind of feel like I need to keep my body warm and what better way than with a mug of mulled cider with rum in your hand, right?
Now please don't think that I only drink mulled cider with rum all the time, ok?
We drink mostly tea throughout the day – red, black, white, green, matcha, seaweed tea…you name it we drink it. But in the evenings, we like to go the extra mile and prepare something extra delicious and a bit different like this mixed fruit cider. Especially on a cold Saturday night!
By the way, we also make this Dulce de Leche Hot Chocolate or this Hot Chocolate Spiked with Rum (I know there is rum again, but you can totally omit it if you don't like it)! I don't know about you but I think mulled cider/wine and hot chocolate are the best winter drinks! They keep you warm and taste amazing!
But let's get back to business!
How to make this mulled mixed fruit cider?
Mulling spices are important here – cinnamon, cardamom, cloves. Then we have mandarins here which give this cider a festive feeling. Well, at least for me. We added a splash of lemon juice in it – coz we felt like it. Ginger is completely optional and if you don't like it, simply omit it.
Mixed fruit cider
We used Kopparberg mixed fruit cider for this recipe but I believe, this mulled cider will taste amazing with any cider (by the way, there is also a Kopparberg wildberries cider which tastes yummy).
Rum
We added dark rum to this easy mulled cider recipe. I think that white rum will do the trick as well. Speaking of rum, just so you know I am not a huge fan of rum/vodka and the like especially when drank on their own. However, the best rum I have ever tasted was a bottle we bought as a souvenir in Dominican Republic! The best… I have no idea what brand it was but that rum deserved a 5-star rating! So I highly recommend tasting some rum when over there and bringing some home as a souvenir. If you have any rum lovers among your friends they will appreciate it! Trust me!
Sugar
If you are like me and like drinks sweet (well, most of them anyways) then you will be adding some sugar in it. However, I highly recommend tasting this cider first and then adding sugar. Just to be on the safe side. It's always better to add more sugar later rather than having way too sweet a drink.
Why should you make this mixed fruit cider?
This is why:
Your house will smell amazing
You will feel like it was still Christmas (or maybe not)
Warm up your body
So that' all I wanted to say..ehm..write about this fruit cider. Give it a go! It's yummylicious!
Mulled Mixed Fruit Cider with Mandarins
Indulge yourself in a cup of mulled mixed fruit cider with mandarins! This warm drink made with mixed fruit cider and rum is perfect for cold days!
Ingredients
2

cans

Kopparberg Mixed Fruit Cider

(17fl oz/500ml, or Wildberries Flavor)

3.4

fl oz

Dark Rum

(100ml)

5

Cloves

2

Mandarins

Lemon Juice

from ½ Lemon

A Few Ginger Slices

optional

Sugar

optional
Instructions
Pour the cider in a large sauce pan. Add cardamom, mandarin segments, cloves, cinnamon stick, lemon juice and ginger slices (if using). Stir it and bring it to a boil. Reduce the heat to low and let it simmer for 5 minutes.

Turn off the heat and add rum. Stir and serve while hot.
Notes
You can discard the mandarins or serve it with them as well as with a slice of lemon. Add sugar if not sweet enough.
Nutrition Facts
Mulled Mixed Fruit Cider with Mandarins
Amount per Serving
% Daily Value*
* Percent Daily Values are based on a 2000 calorie diet.
** As an Amazon Associate I earn from qualifying purchases.
LEAVE A COMMENT
RELATED POSTS