Put this easy-to-make mulled wine recipe on your Holiday menu for this year! Infused with Christmas spices and citrus fruits, spiced wine is the perfect winter drink.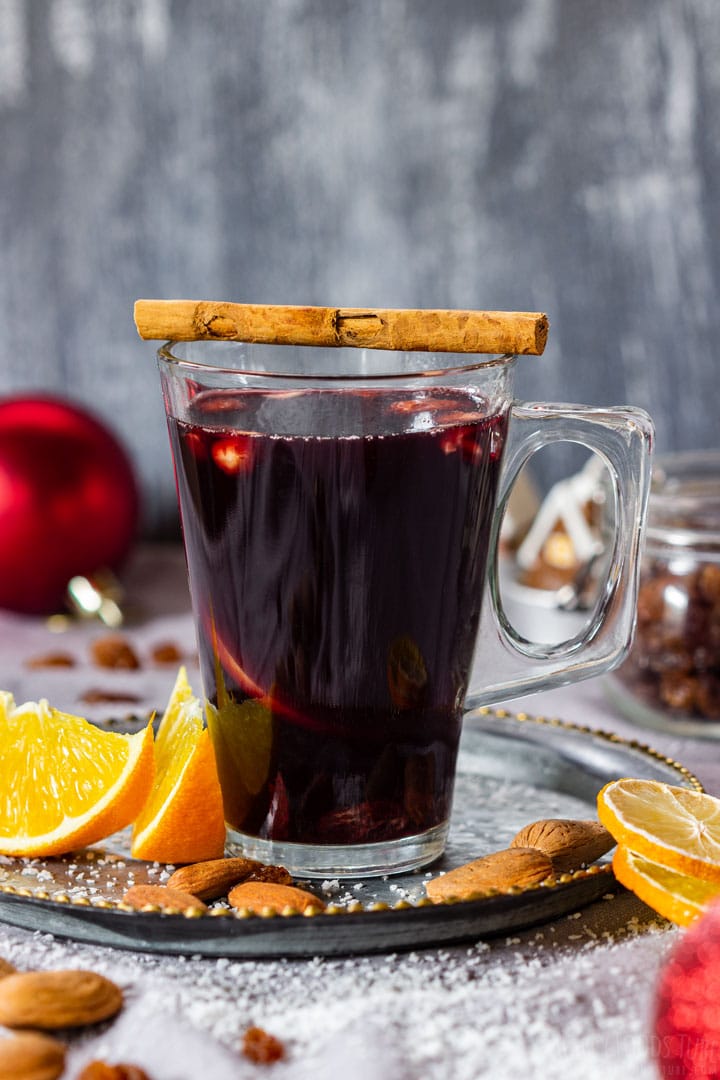 This is a simple recipe for mulled wine. This recipe can be easily doubled or tripled if needed (or to suit your needs).
Mulled wine (or glögg, glögi, glühwein, vin chaud, vin fiert) is part of most Christmas markets in Europe. It's the perfect beverage that heats your body during cold winter nights while browsing the hundreds of stalls, searching for Holiday gifts for your loved ones.
But you don't have to travel to enjoy this hot beverage!
Making mulled wine from scratch requires only a few ingredients and about 20 minutes of your time, so why not put it on your Christmas party menu for this year?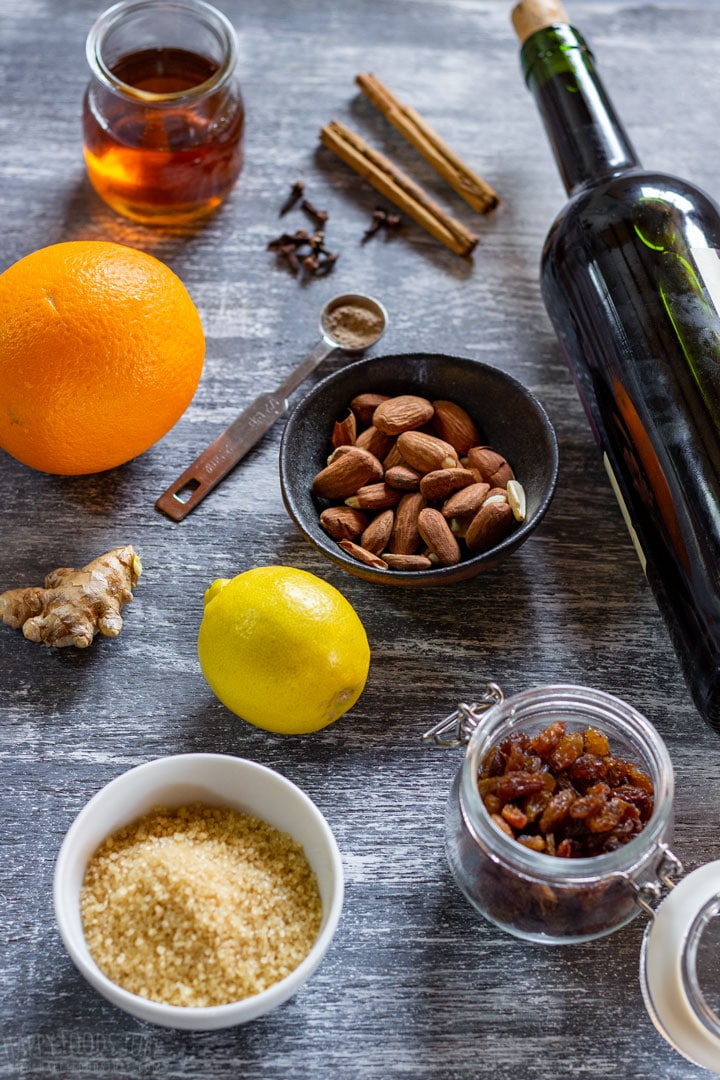 Mulled wine ingredients
Pantry: red wine, brown sugar, rum (optional), raisins and almonds (optional)
Spices: cinnamon sticks, cloves, cardamom powder, ginger (fresh)
Fruits: orange, lemon
What is the best wine for mulled wine?
Merlot, cabernet sauvignon, or shiraz are great choices. Now that being said, any cheap red wine will work (preferably dry) as the wine itself is mixed with other ingredients so its original flavor profile changes during simmering.
Plus, when you know you expect a large crowd, using a cheaper wine to make mulled wine is a better option.
How to serve mulled wine?
Drop some raisins and chopped almonds in a glass before pouring homemade mulled wine in and throw in a slice of orange or lemon. Cinnamon sticks, whole spices or orange peel are also often used as a garnish.
Heat-proof glasses or mugs will work great so use what you have on hand. Bear in mind that mugs are usually larger so you might get fewer servings (but larger portions).
When making mulled wine for a Christmas party, why not pair it with cheese board, bacon wrapped potatoes or other savory appetizers of your choice?
How to keep mulled wine warm?
The easiest way is to pour your ready mulled wine in a slow cooker and use the KEEP WARM function to make sure it won't get cold fast.
Thermos will also work great!
How long does mulled wine last?
If you end up with a leftover mulled wine, pour it in a jug/jar and close it with a lid. It stores well in the fridge for several days (3-4) and can be reheated on a stove or in a crockpot.
Pro tips
Use organic oranges and lemons, if possible. They are free from pesticides and are better for you. If not sure what citrus fruit you bought, let them sit in a hot water for about 10-15 minutes and then rinse well under running water.
Orange peels tend to be quite bitter and can affect the taste of mulled wine. If you don't like it, cut off the skin or peel them before you add them to the pot.
Star anise can also be added to mulling spices for an extra flavor.
Instead of cardamom powder, you can use pods as well (about 6-10 pieces).
Rum is completely optional and can be omitted or substituted with brandy, cognac, bourbon,…
Sugar is widely used to sweeten mulled wine. Either brown or white works well, but other sweeteners can also be used.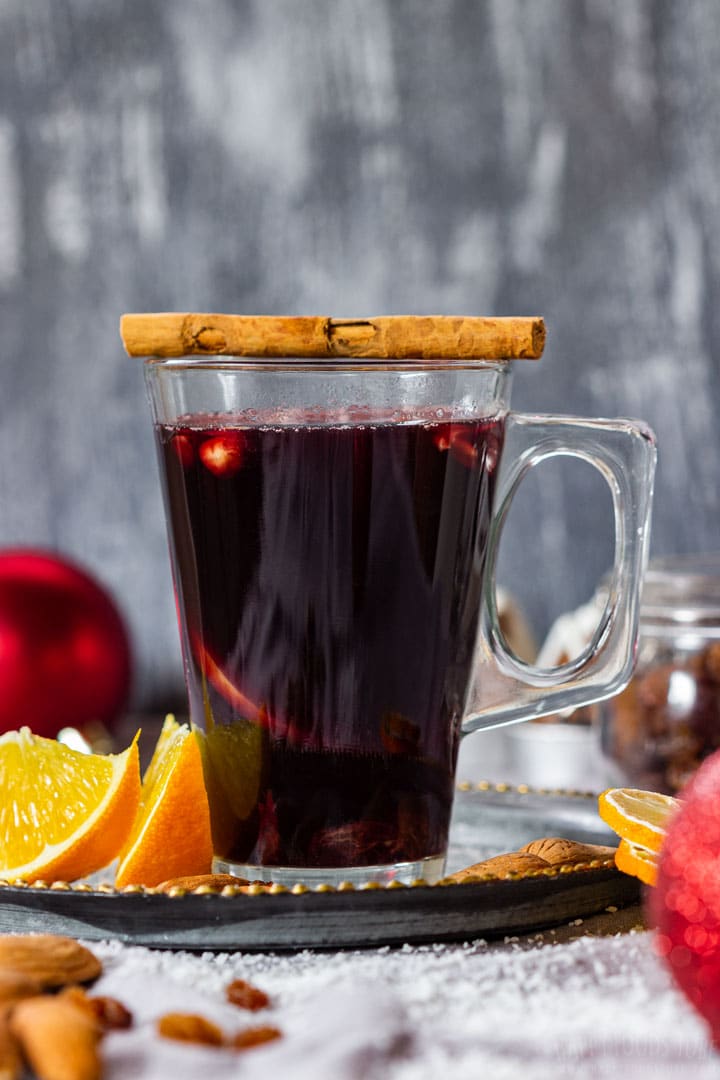 Here is are a few more Christmas drinks that you might like:
Want to see how to make mulled wine at home? Watch the video!
Mulled Wine
Put this easy-to-make mulled wine recipe on your Holiday menu for this year! Infused with Christmas spices and citrus fruits, spiced wine is the perfect winter drink.
Ingredients
1

bottle

red wine

(750 milliliters), see note 1

4

tablespoons

brown Sugar

, see note 2

10

cloves

½

teaspoon

cardamom powder

, see note 3

fresh ginger

, peeled & sliced (½ thumb, or to liking)

1

large orange

, zest, juice & slices, see note 4

1

lemon

, sliced
Optional:
3

ounces

dark rum

(90 milliliters)

almonds

, chopped, about a teaspoon per person

raisins

, about a teaspoon per person
Instructions
Pour wine into a pot (any will work that is holds at least 1-quart/1-liter of liquid). Add sugar, cinnamon sticks, cloves, cardamom powder, fresh ginger, 3-4 orange slices, orange zest and lemon slices. Squeeze in juice from the leftover orange half.

Bring to a boil, reduce the heat and simmer on low for 15 minutes (make sure it's not boiling otherwise you could end up with a non-alcoholic version).

Right before the end, pour in rum, if using.

Optional: Throw some almonds and raisins in each glass/mug and pour warm mulled wine in. Add a slice of orange/lemon or cinnamon stick as a garnish.

Enjoy!
Notes
I used merlot to make this mulled wine, but you can use any type of wine you like (cabernet sauvignon, shiraz,…).
Brown sugar can be substituted with white sugar. Add more if you like it sweeter (taste the mulled wine right before the end of simmering and if not sweet enough to your liking, use more sugar.
Instead of powder, you can use cardamom pods (about 6-10 of them).
You will need a zest from ½ orange. Use the same half to squeeze the juice in the pot and cut the other half into slices.
If in doubt or if you are looking for more tips, serving suggestions and other useful information, please read the full post above this recipe card.
This mulled wine recipe serves 8 with 3.5-oz (100-milliliters) being a serving size.
Nutrition Facts
Mulled Wine
Amount per Serving
% Daily Value*
* Percent Daily Values are based on a 2000 calorie diet.
** As an Amazon Associate I earn from qualifying purchases.
LEAVE A COMMENT