This is an easy rice paper sushi recipe with smoked salmon and fresh veggies. Nori sheets are substituted with rice paper wrappers, so if you don't like those seaweed sheets, this recipe is right for you!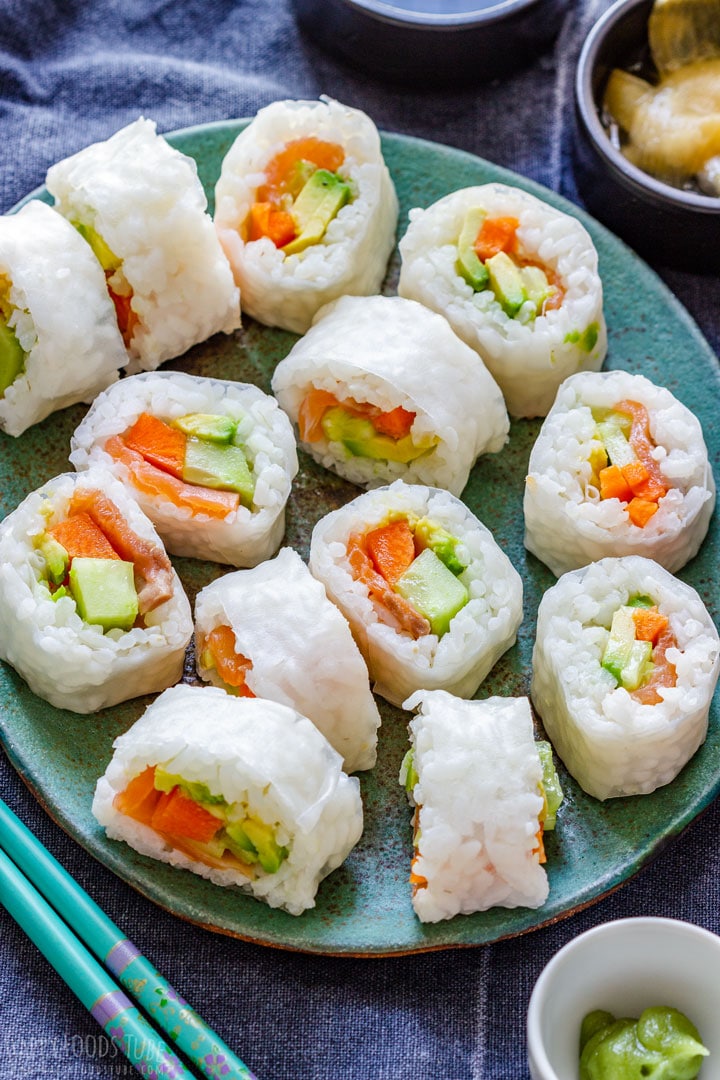 It's an easy salmon sushi with rice paper that can be served with pickled ginger, soy sauce and wasabi alongside a traditional Japanese sushi or on its own. You can add various fillings and make a large sushi platter for your family.
How to cook sushi rice?
I always follow the package instructions for best results.
Then, I add a mixture of vinegar (possibly rice vinegar, but if you don't have it, white wine vinegar will also do the trick – I use it often), sugar and water and mix everything well. You will need to cool the rice completely before you can work with it.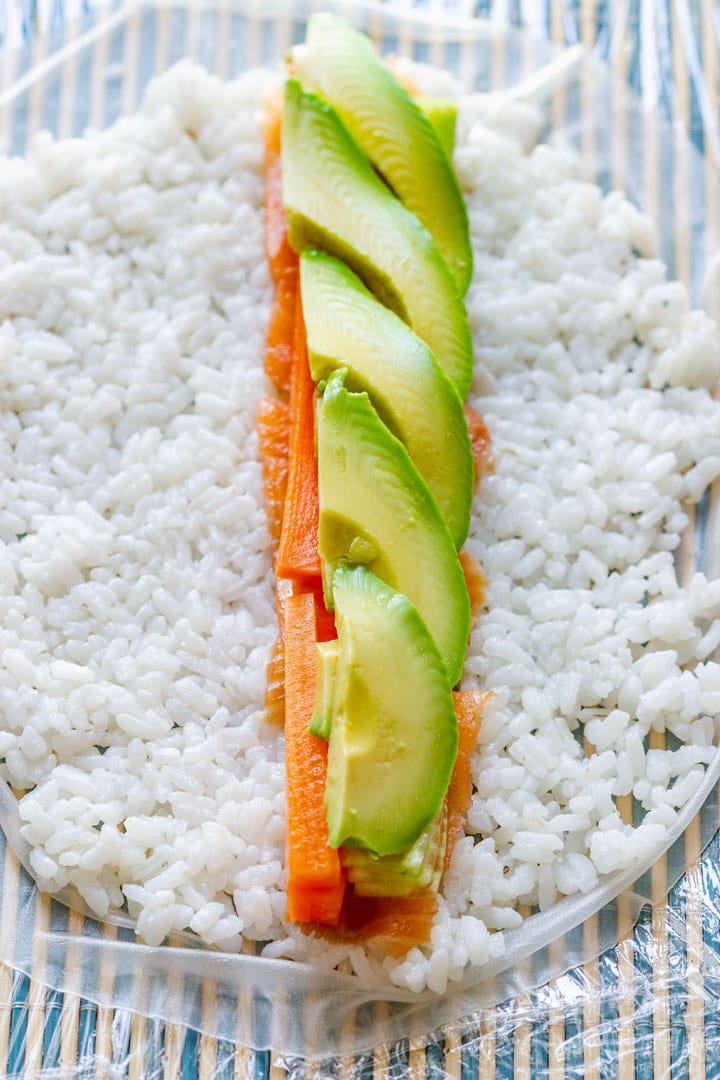 How to make sushi with rice paper?
While the rice is cooking (or cooling down), you can prep the fillings: Slice the cucumber and carrot into long matchsticks and slice avocado and salmon into strips. These are my favorite homemade sushi fillings, but you can omit some, if you don't like them (or substitute …).
When you have everything prepared and the rice is cold, re-hydrate rice wrappers. I use a large frying pan/skillet, but you can use anything really (a cooking pot or deep large plate). Just make sure it's wide enough so you can fit the rice paper in. Re-hydrating may take from a few seconds up to almost a minute. This will depend on how warm your water is.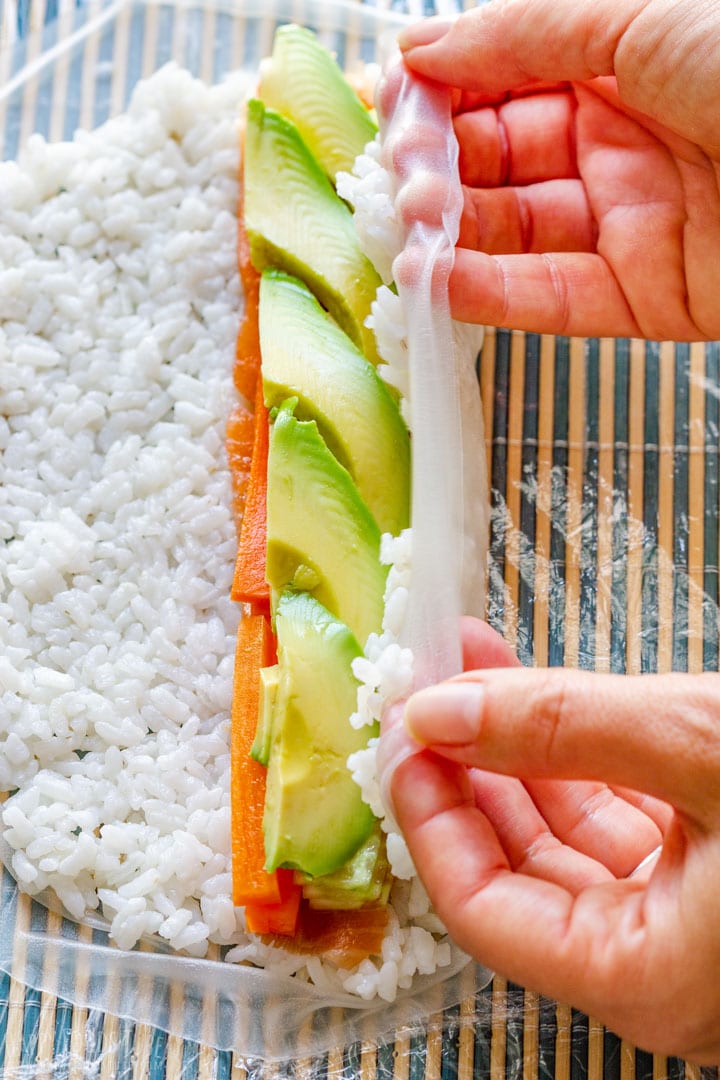 When ready, place the wrapper onto a clean worktop or use a sushi mat wrapped in plastic film. Cover it with a thin layer of rice. Then, add the fillings and roll by gently lifting the rice paper wrapper and folding it over the filling. Next, roll it tight but again gently. Note: You will not be rolling sushi with sushi mat. Use your hands only.
Don't worry, if the first homemade sushi roll with rice paper is not perfect. It's like making pancakes – the first one is never perfect.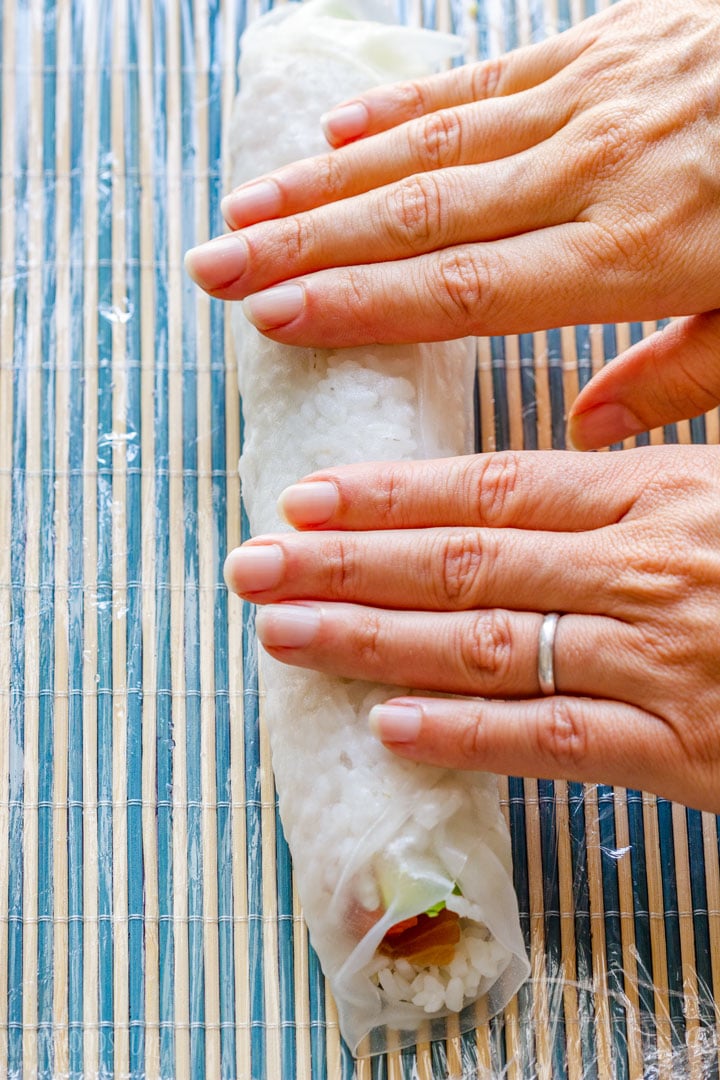 How to make sushi with nori sheets?
I also have a recipe for Homemade Sushi from scratch, so if you are interested in learning the classic way of making this Japanese meal I've got you covered. The post includes step by step photos for easy understanding.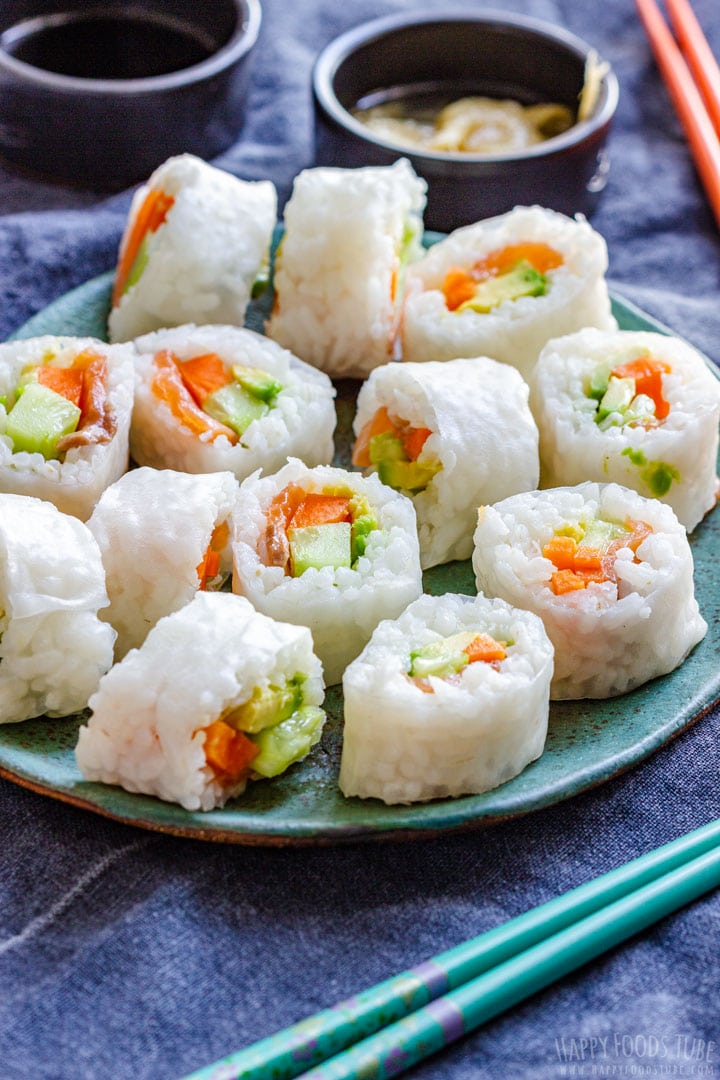 Possible variations
If you don't have smoked salmon, but you still want to try this sushi with rice paper, you can use crab-sticks or tuna (fresh one) instead, or omit the fish completely.
You can also add cream cheese (if you like), perhaps sprinkle some cayenne pepper on the rice or sesame seeds …
What about using tofu to make this a vegan sushi?
Also, don't panic if your first rice paper sushi doesn't come out perfect. You will learn as you go. The first sushi rolls are never perfect anyways!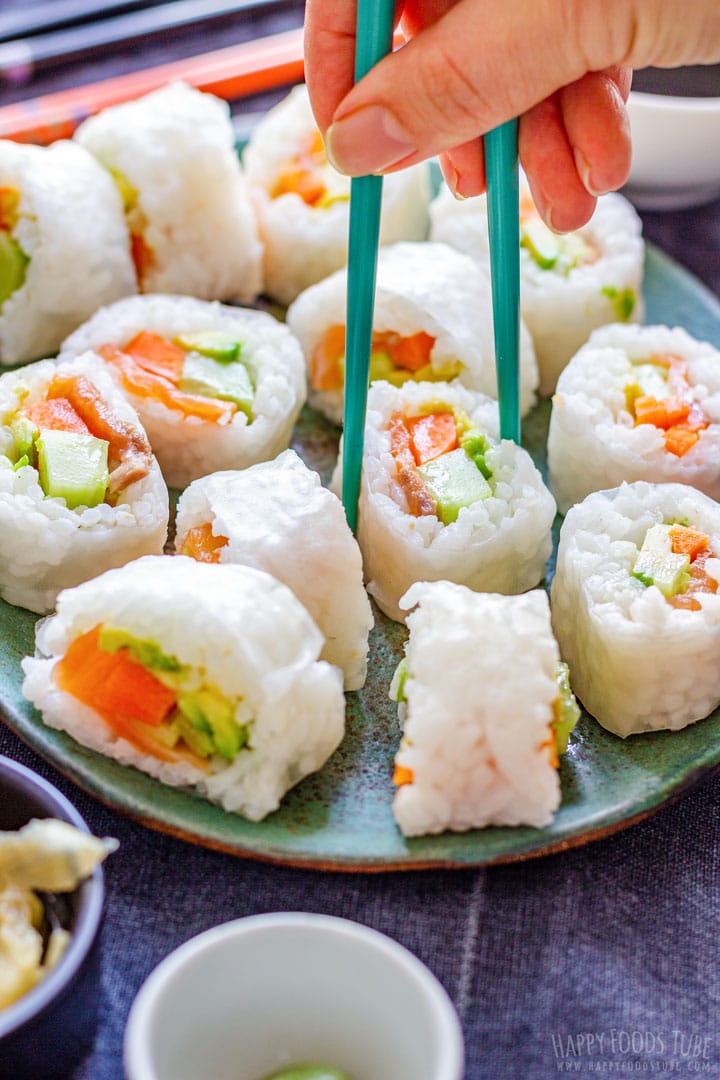 My favorite recipes using rice paper wrappers are Smoked Salmon Summer Rolls, Tofu Spring Rolls and Vegetarian Spring Rolls). All of them equally delicious, these simple lunch recipe ideas are pretty versatile and you can play with the ingredients, if you want to.
These days I mostly make recipes using pantry staples (like Tuna Burritos or this Potato Bacon Casserole) or try to be creative with any random food items we have on hand. And while searching through the cupboards I found some leftover rice paper wrappers and sushi rice, so I figured why not combine these two together.
If you do give this rice paper sushi recipe a go, please let me know in the comments section. I would love to hear what you think!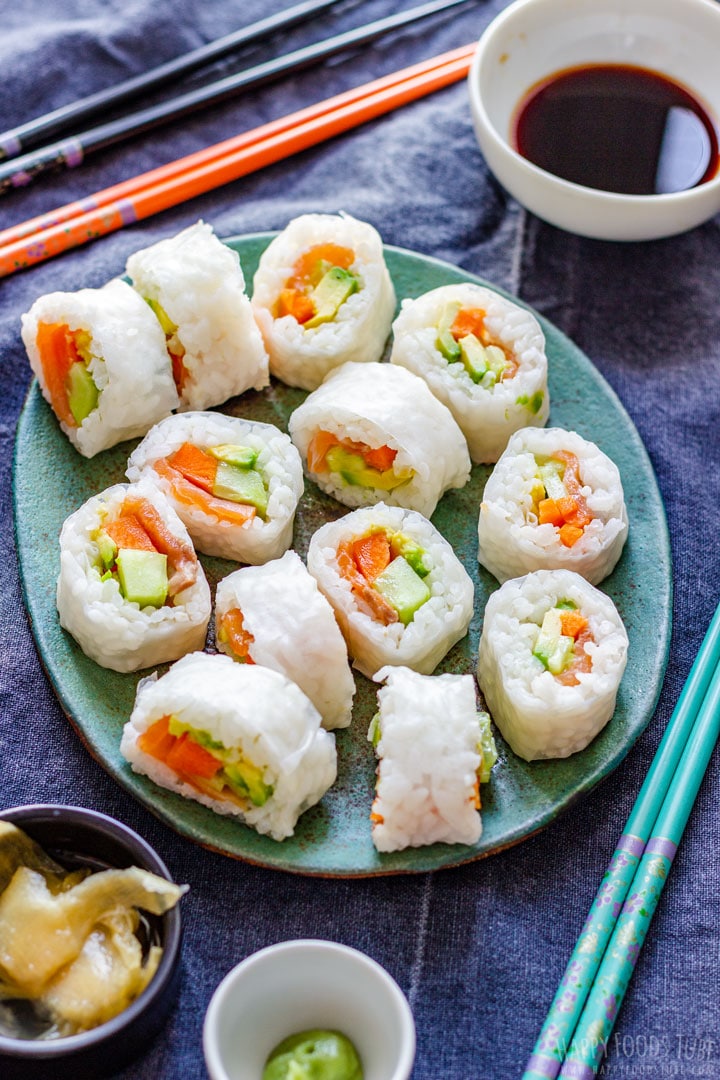 Rice Paper Sushi
This is an easy rice paper sushi recipe with smoked salmon and fresh veggies.
Servings:
24
Pieces (4 Rolls)
Ingredients
1

cup

Sushi Rice

, see note 1

1/8

cup

Rice Vinegar

(30 milliliters), see note 2

½

tablespoon

granulated sugar

½

teaspoon

Salt

1

Large

Ripe Avocado

3

ounces

Smoked Salmon

(90 grams)

½

English Cucumber

1

Large

Carrot

, peeled

4

Rice Paper Wrappers
Instructions
Cook rice according to package instructions. In a bowl (or mug), combine rice vinegar, sugar and salt and mix until sugar is dissolved. Pour over cooked rice and mix well. Let the rice cool down completely.

Meanwhile: Cut smoked salmon and avocado into strips, cucumber and carrot into thin matchsticks.

When the rice is cold, get a large skillet/frying pan and pour warm water in. Submerge one rice paper wrapper in the water and wait a few seconds until it is completely soft (rehydrated). Take it out carefully and place onto a clean worktop (or plastic foil covered sushi mat).

Cover the rice paper with a thin layer of rice and spread it around evenly, leaving the edges free from rice. Place the fillings in the center – first a layer of salmon, top this with half carrots, half cucumbers and finally avocado slices.

Lift the rice paper carefully and place it over the fillings. Roll gently but tight. Slice the sushi sausage into equally looking bites. Repeat until you have used all the rice papers.

Enjoy with soy sauce, wasabi and (or) pickled ginger!
Notes
If you don't have sushi rice, you can use other short-grain rice like arborio rice or even paella rice.
Rice vinegar can be substituted with white wine vinegar.
I used 8-inch (20 centimeters) rice paper wrappers.
You can store any leftover sushi in an airtight container in the fridge for several hours up to a day. You can also make the rolls in advance (3-4 hours) and cut them right before serving.
For more tips and variations as well as process photos, I recommend reading the post above this recipe.
Nutrition Facts
Rice Paper Sushi
Amount per Serving
% Daily Value*
* Percent Daily Values are based on a 2000 calorie diet.
** As an Amazon Associate I earn from qualifying purchases.
LEAVE A COMMENT