Kick off summer entertaining with this watermelon feta salad! This easy recipe is perfect for picnics, BBQ parties or any kind of outdoor entertaining. Enjoy on its own or with grilled meats.
This watermelon feta salad recipe can be easily turned into a tasty watermelon salsa. All you have to do is cut everything into small pieces instead of chunks and serve with some tortilla chips (like Oven Baked Tortilla Chips).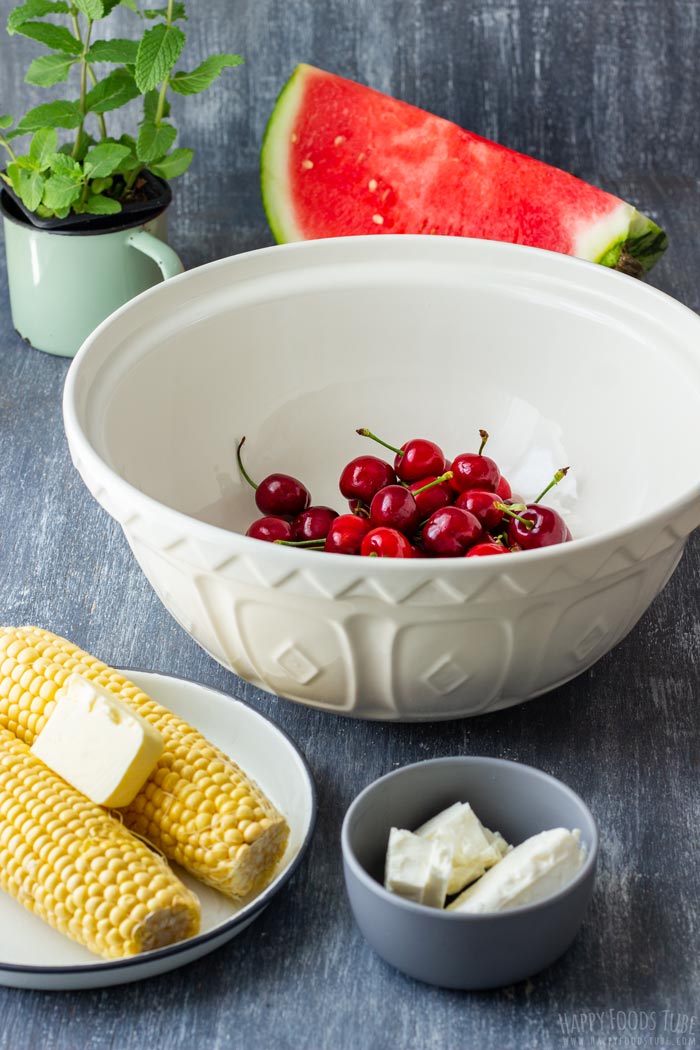 How to make watermelon feta salad
First start with the corn. You can either boil it and pan-roast it in butter or you can grill it. I pan-roasted mine.
While I was waiting for the corn to cook and cool down so I could actually handle it, I prepped the rest of the ingredients: I cut the watermelon into chunks and pitted cherries (I pit them by cutting each cherry around the pit and then taking it out. There are other ways to pit cherries without a pitter but I prefer using the knife).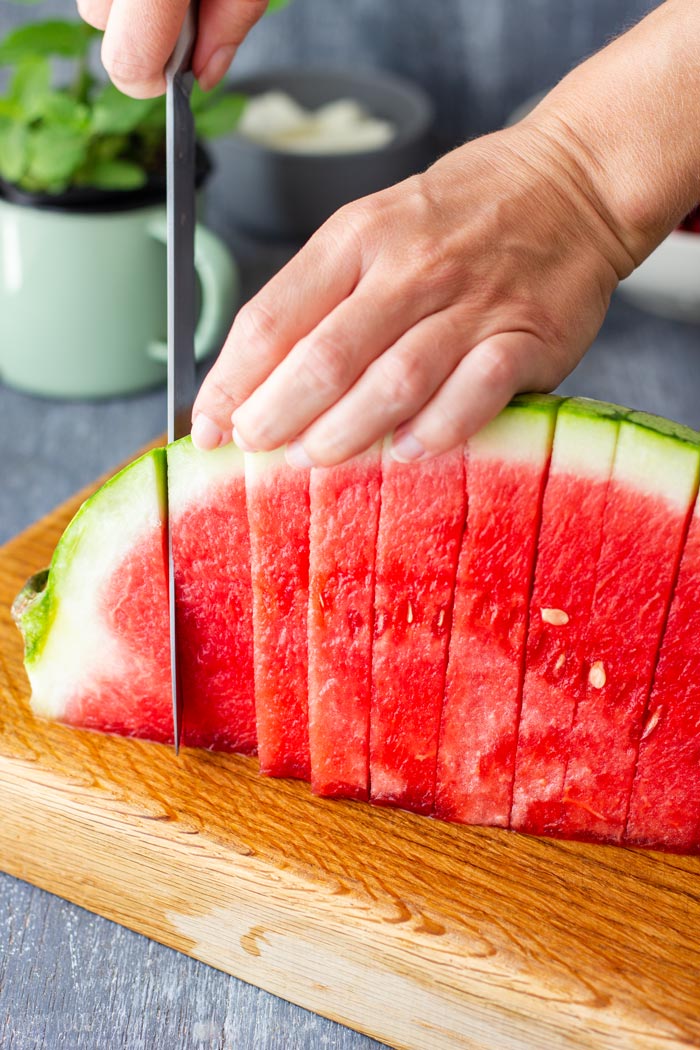 When the corn cobs cooled down, I cut off the kernels using a sharp knife. The kernels were then pan-roasted in butter, seasoned with salt and drizzled with freshly squeezed lemon juice.
Then, all you have to do is transfer all the ingredients into a bowl, give them a mix and finally add crumbled feta cheese and a few mint leaves.
How to pick a good watermelon
To enjoy this watermelon feta salad, you need fresh and ripe ingredients. However, buying a ripe watermelon can be tricky sometimes and while none of us wants to end up with over-ripe/under-ripe watermelon, we have all been there ….
So what to look for exactly?
The field spot – a.k.a. the brown / yellow / pale / white area. The darker the color the riper the watermelon (look for yellow-ish, brownish color).
The webbing – or the brown spots – the more the brown spots, the sweeter the fruit should be.
The tail/stem – dry = sweet, green = most likely picked up too early.
The gender – a round watermelon (female) is sweeter than the oval ones (male).
If you bought a large watermelon and need an inspiration on what other ways there are to enjoy this fruit, I have a few watermelon recipes for you:
What to serve with watermelon feta salad
This salad is perfect for summer entertaining so serve it with any grilled meats at your next outdoor get-together.
You can also enjoy it on its own as a healthy lunch.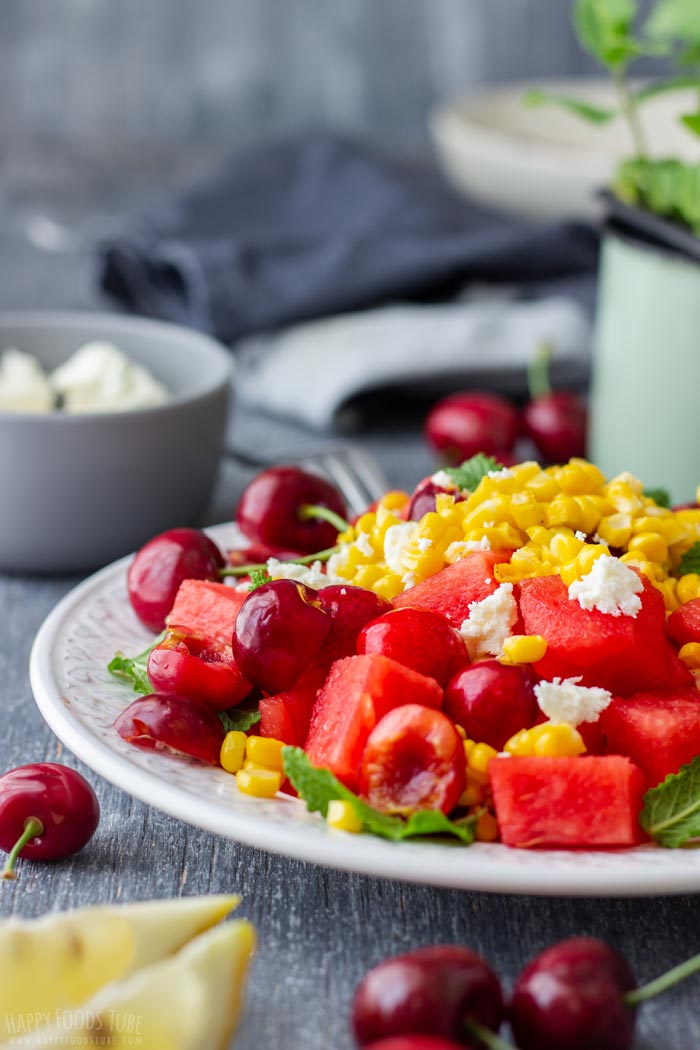 Tips for making watermelon feta salad
This recipe is great when you have a leftover corn on the cob. Roasting in the butter makes the kernels extra tasty and add an extra flavor to this refreshing salad. Now you can also use grilled corn, if you like.
Cherries can be omitted, if you don't have them on hand. If you decide to use them, make sure they are not gone off. The softer the cherry the higher chance it is off or will go off quickly.
This is one of the salads that don't need any dressing. However, if you have a favorite one that you think would work, go ahead and try.
For extra sweetness you can try drizzling some honey over.
This is an old post that has been updated with more photos and detailed instructions.
Watermelon Feta Salad with Cherries
Kick off summer entertaining with this watermelon feta salad! This easy recipe is perfect for picnics, BBQ parties or any kind of outdoor entertaining. Enjoy on its own or with grilled meats.
Ingredients
2

Ears

Corn on the Cob

10

ounces

Fresh Cherries

(280g)

4

pounds

Watermelon

(1.9kg)

3

tbsp

Butter

(50g)

Salt

to Taste

½

Lemon

, juice only

Fresh Mint

, see note 4

3.5

ounces

Feta Cheese

(100g)
Instructions
Husk the corn and remove the silky threads. Cook in boiling water for 10 minutes. When ready, use kitchen tongs to transfer the corn onto a plate. Let it cool down.

Meanwhile: Pit the cherries and cut watermelon into chunks. Put these into a serving bowl and mix.

When the corn is OK to touch, use a sharp knife to cut off the kernels. Transfer them into a pan with butter and pan-roast for about 5 minutes. Season with salt and drizzle with lemon juice.

Pour the pan-roasted kernels over the watermelon and cherries. Generously top with crumbled feta cheese and mint leaves.
Notes
You can use either salted or unsalted butter, just make sure to use the real deal and not butter substitutes.
The quantity of each ingredient can be easily adjusted to your liking.
Cherries can be omitted.
Fresh mint – use leaves only. Count with at least 10 of them.
If you chop the cherries and watermelon into small pieces, you can turn this salad into a tasty watermelon salsa.
For more tips or if in doubt, please read through the whole post.
Nutrition Facts
Watermelon Feta Salad with Cherries
Amount Per Serving
Calories 243
Calories from Fat 90
% Daily Value*
Fat 10g15%
Cholesterol 30mg10%
Sodium 243mg11%
Potassium 547mg16%
Carbohydrates 38g13%
Protein 6g12%
Vitamin A 2055IU41%
Vitamin C 34.7mg42%
Calcium 113mg11%
Iron 1.2mg7%
* Percent Daily Values are based on a 2000 calorie diet.
** Happy Foods Tube is a participant in the Amazon Services LLC Associates Program, an affiliate advertising program designed to provide a means for sites to earn advertising fees by advertising and links to Amazon.com.
LEAVE A COMMENT
RELATED POSTS