Looking for easy camping recipes? Try these easy campfire potatoes with onion, rosemary and Parmesan! They can be cooked in the ashes, on a grill or in the oven.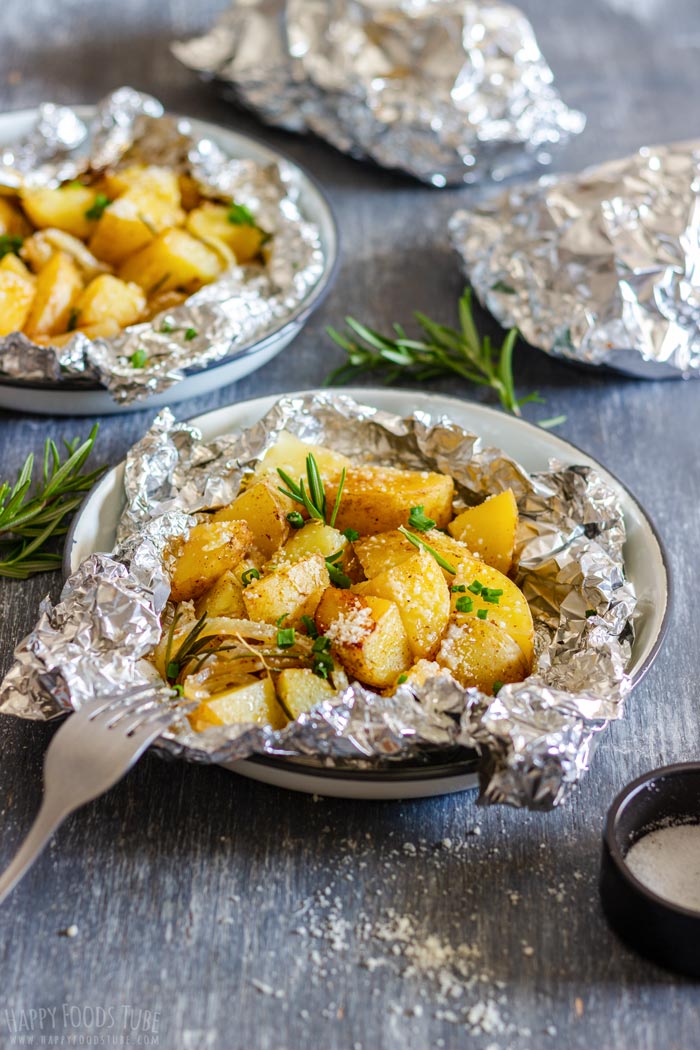 Campfire potatoes in foil are an easy side dish that can be easily turned into main when a protein is added. Try adding bacon or chicken!
By the way, they can be prepped ahead and stored in the fridge until you are ready to cook them.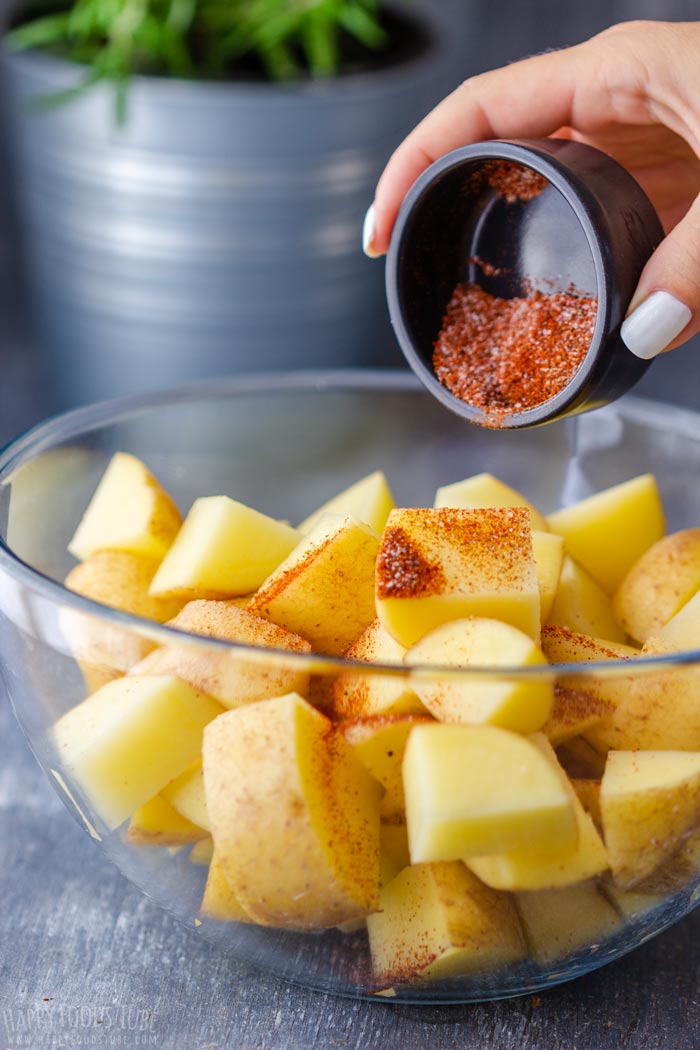 How to make campfire potatoes with Parmesan
Wash the potatoes well so there is no dirt residue left on them. Cut them into chunks and transfer them into a large bowl. It's important that the bowl is large enough to not only hold the potatoes but also to toss them.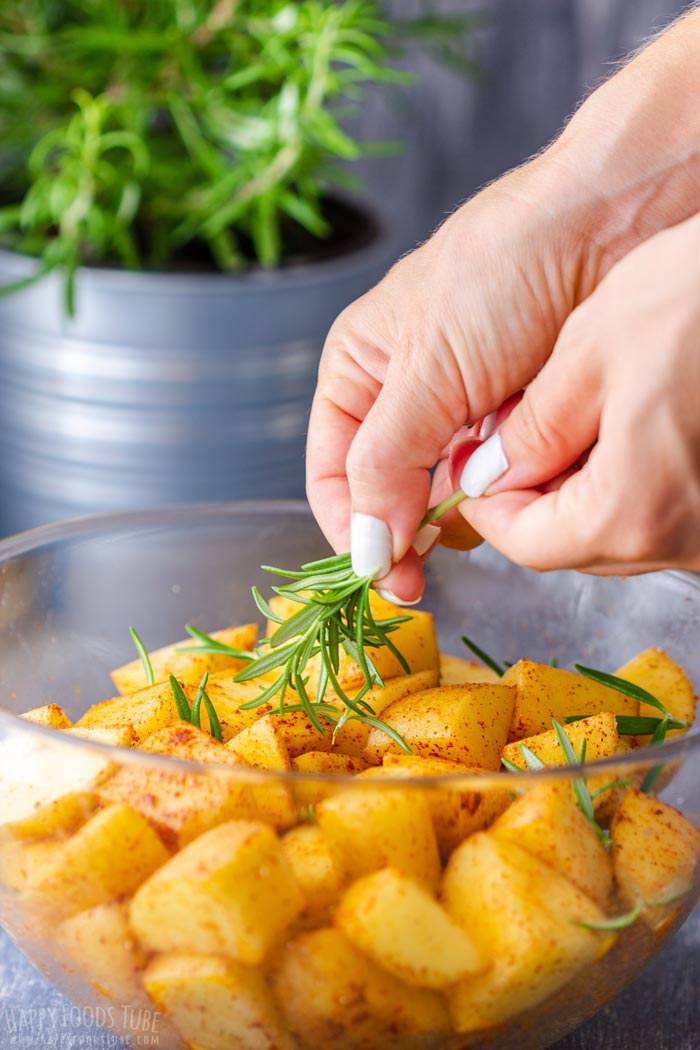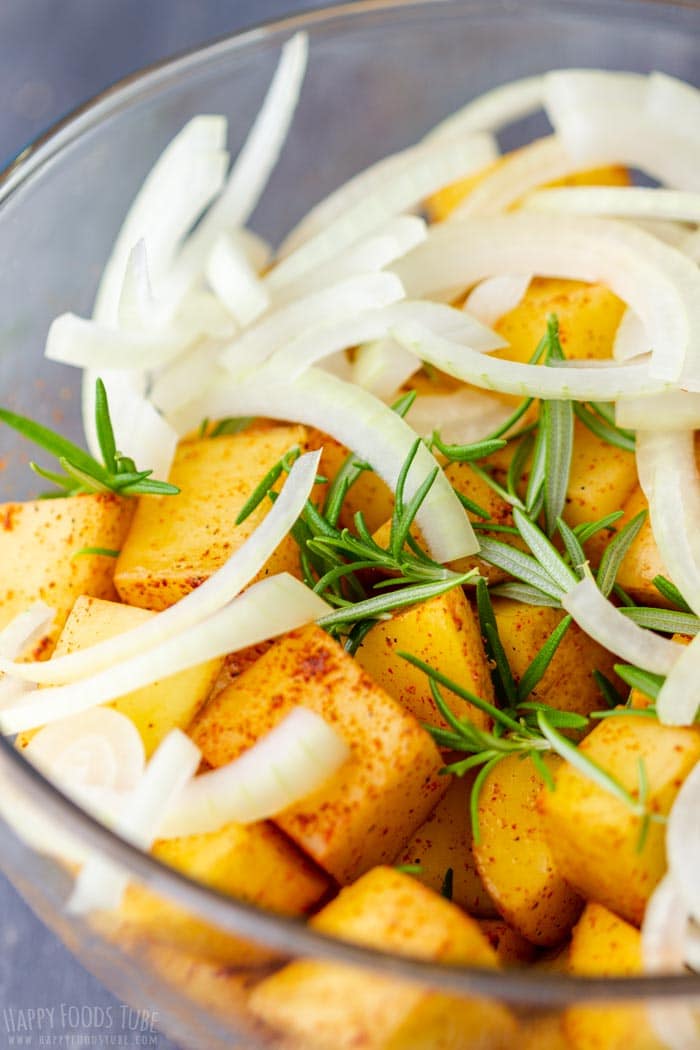 I usually add seasoning to potatoes, toss them so that they are all coated well with the seasoning and only after I add the onion rings (or half-rings) and rosemary. Then again, I mix them.
Campfire potatoes are then equally divided into 4 portions and wrapped in aluminum foil.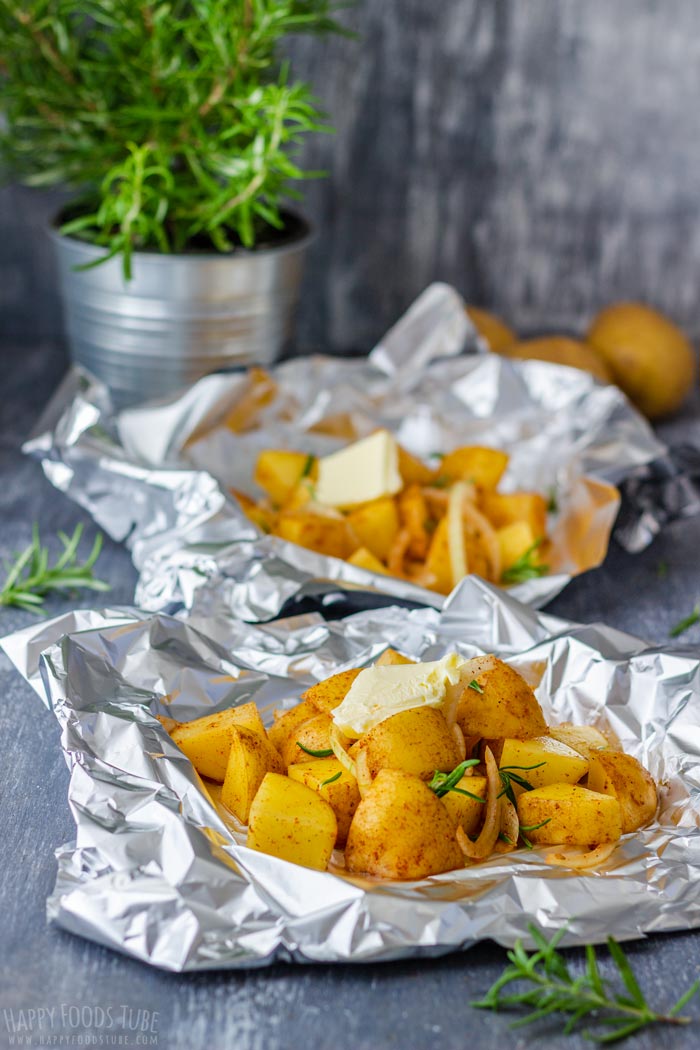 Now they will take some time to cook but this can also vary. Count with 25-40 minutes. To check if the campfire potatoes are done, simply open one (be careful as the steam is HOT) and have a look.
I personally like when all the juices have evaporated and the potatoes have some crust on them so when I see that there is still some juice left, I leave them to cook for longer.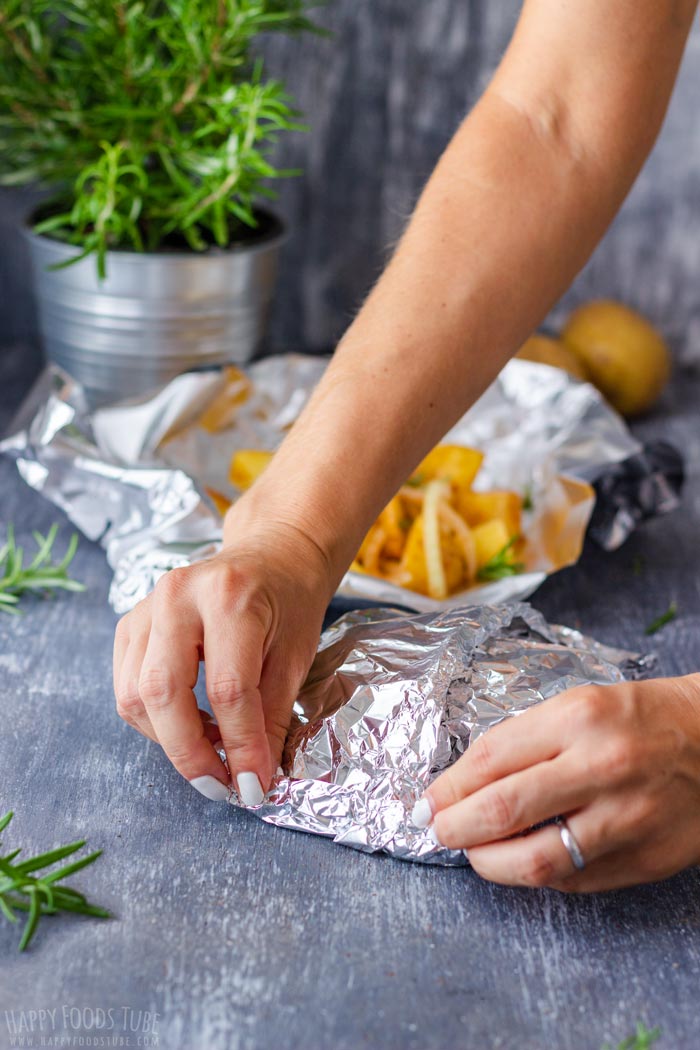 When they are ready, I carefully open each potato foil packet and sprinkle them with a generous amount of Parmesan.
Serve them warm with anything you like (what about Grilled Turkey Kabobs?)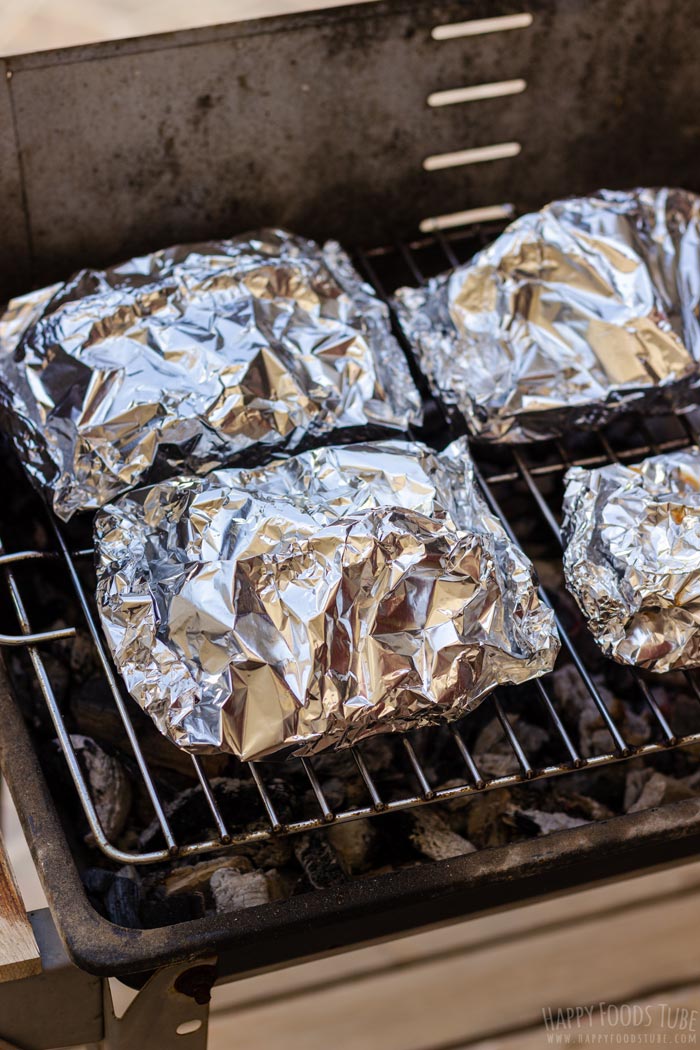 What can you cook on a campfire?
There are so many options, it only depends on what you and your family like.
If you can turn your fire pit into a barbecue pit, then I recommend making a Full Irish Breakfast. You can easily adjust the recipe to your liking. Add more or reduce or omit some of the ingredients or substitute with what you like. All you need is a skillet or a disposable aluminum tray to make it!
Skillet Chicken Fajitas are another tasty and more importantly quick meal.
Vegetable Foil Packets can be cooked either in the ashes or on a grill.
If you have a large family to feed and like spending time next to the fire pit, this Campfire Stew might be a great and tasty option for you.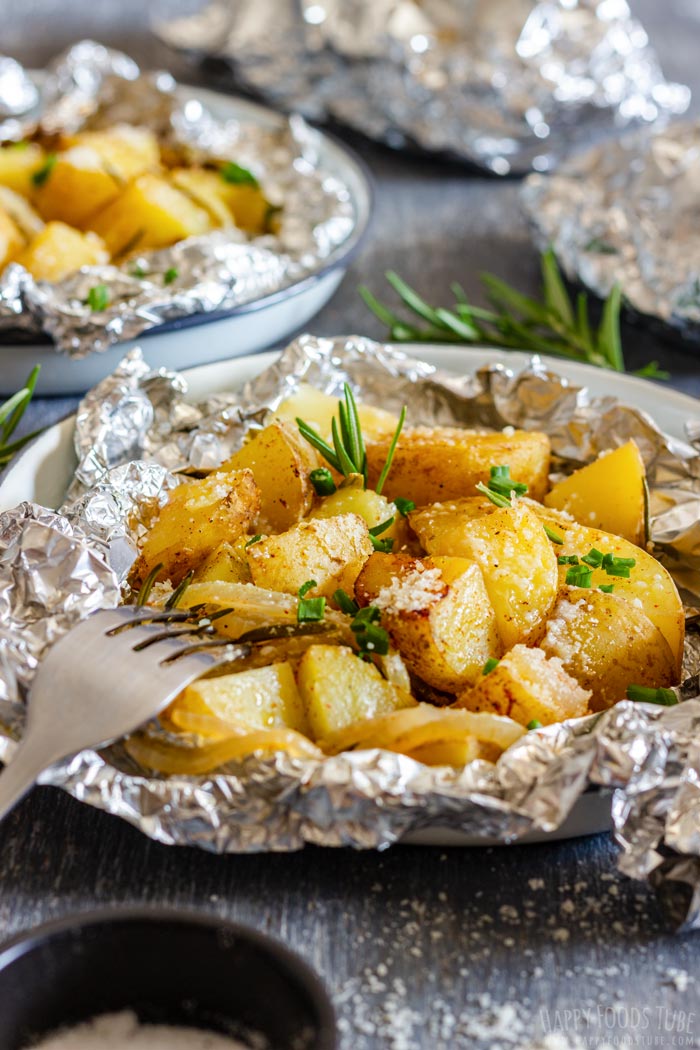 More potato recipes for you to try:
Easy Campfire Potatoes
Looking for easy camping recipes? Try these easy campfire potatoes with onion, rosemary and parmesan! They can be cooked in the ashes, on a grill or in the oven.
Ingredients
2

pounds

potatoes

(900 grams)
Other:
1

onion

2

fresh rosemary sprigs

4

tablespoons

butter

(60 grams)
Instructions
Wash the potatoes well under running water and cut them into chunks. Transfer them to a large bowl. Add the seasoning and toss the potatoes until all the potatoes are well coated.

Peel and cut the onion in half and cut each half into slices. Separate the slices and add them to the bowl altogether with rosemary (remove the stems). Mix.

Divide the potatoes between 4 sheets of aluminum foil. Top each portion with about a tablespoon of butter and wrap them in foil.

Cook in the ashes/on a grill for about 30-40 minutes or until they look to your liking.

When ready, carefully open the packets and sprinkle generously with Parmesan.
Notes
Onion – you can use red, white or yellow onion. Small or medium-sized onions will be plenty.
Paprika – use either sweet (classic) or smoked paprika.
I used unsalted butter. If using salted butter, you might need to reduce the amount of salt.
Note that the cooking time might vary depending on how hot the ashes are or the grill you are using.
Make sure the aluminum foil sheets are large enough to hold the potatoes. Mine were about 18 inches long and 10 inches wide (45×25 cm).
For more tips and information or if in doubt I recommend reading the whole post.
Nutrition Facts
Easy Campfire Potatoes
Amount per Serving
% Daily Value*
* Percent Daily Values are based on a 2000 calorie diet.
** As an Amazon Associate I earn from qualifying purchases.
LEAVE A COMMENT
RELATED POSTS