This apricot banana bundt cake is perfect for breakfast, afternoon snack, brunch or coffee break! Apricot puree and banana make it extra moist & add sweetness to it.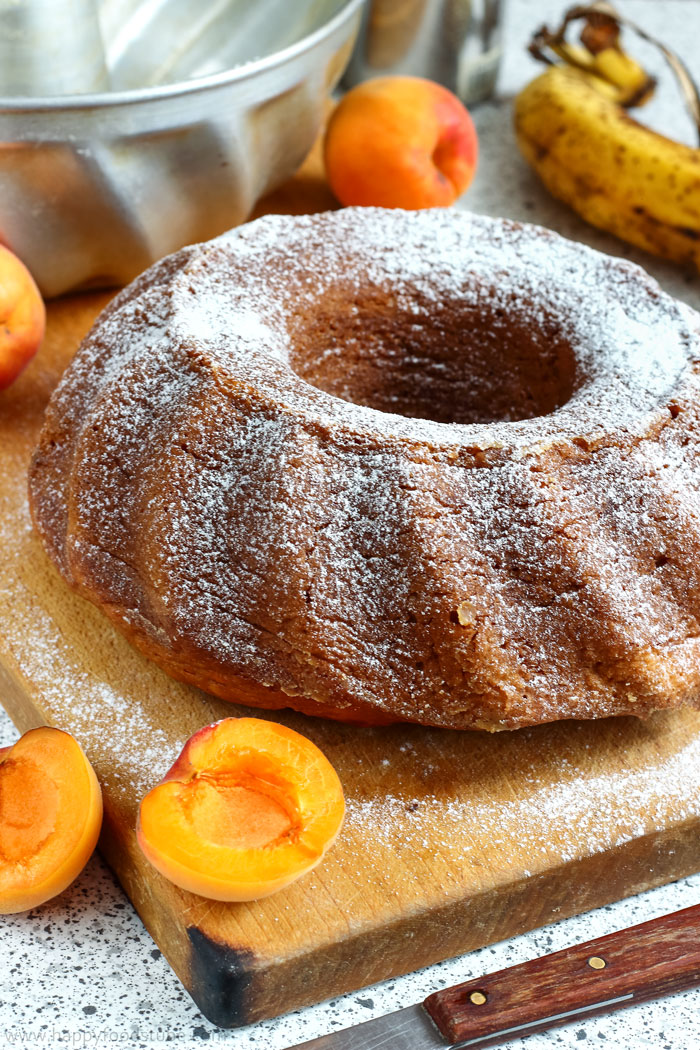 Guys if you love bundt cakes and quick breads you will enjoy this easy banana bundt cake recipe with fresh apricot puree! To make it I followed my Banana Bread Recipe.
Now I did not follow the recipe to a tee. I omitted butter and used pureed apricots instead of 2 bananas. You see I had way too many apricots on hand so I figured it would be a great way to use them. The final result was amazing! This homemade bundt cake is unbelievably moist thanks to the apricots and banana. The flavor combo is just perfect and I was over the moon with the way it turned out!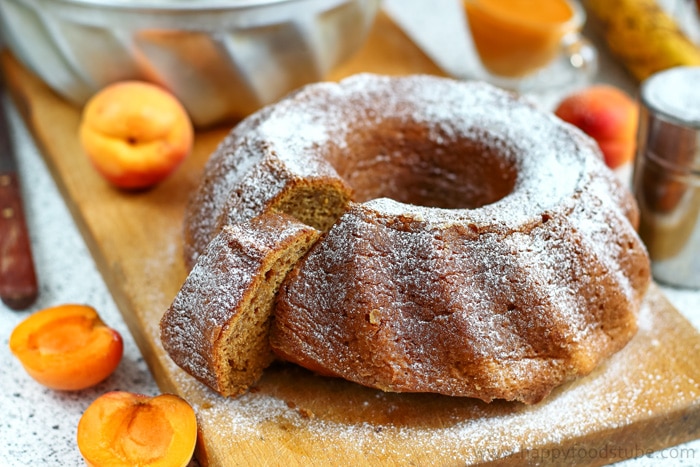 By the way, apricots are not only delicious but also have many health benefits. Some of you might be lucky enough to have an apricot tree (or two) in your garden. If you do or if you have a good neighbor who gives you a huge basket full of this fruit make something tasty out of them.
Banana bundt cake with apricots, Low Sugar Apricot Jam or Apricot Coconut Popsicles are excellent recipes for those who would love to turn apricots into something yummy.
How to make this apricot banana bundt cake extra delicious:
You know how it is. All the great things are simple. In this case it is simple apricot sauce. It's a sauce I made by combining leftover apricot puree with sugar, lemon and heavy cream. I brought it to a boil and simmered for about 5 minutes before turning off the heat.
Instead of pouring it over this apricot banana bundt cake as a whole I decided to pour it over each slice separately. That way each person gets more sauce.
Good to know:
Bake it in a 6-cup bundt cake pan.
If you don't have a bundt cake pan you can use a loaf tin instead (use at least a 2-pound tin).
Powdered sugar is completely optional but it make the cake look nicer.
If you would like to make this banana bundt cake but don't want to use apricots, try peaches or nectarines instead.
Guys, when I had my first bite of this bundt cake I knew right away it would be a hit. And it was! Every single family member (see 7 people) enjoyed both the bundt cake and the sauce very much. It was simply delicious.
So guys if you like homemade desserts you will love this one!
Want to see how to make Apricot Banana Bundt Cake? Watch the video!
Apricot Banana Bundt Cake
This apricot banana bundt cake is perfect for breakfast, afternoon snack, brunch or coffee break! Apricot puree and banana make it extra moist & add sweetness to it.
Servings:
12
Portions (1 Cake – 6-cup Bundt Pan)
Ingredients
For Apricot Sauce (optional):
½

cup

Heavy Cream

3

teaspoons

Granulated Sugar

½

cup

Pureed Apricots

1

tablespoon

Lemon Juice
Instructions
First puree the apricots if you haven't done so yet: rinse them, half them and remove the stones. Puree in a food processor until smooth.

In a large mixing bowl mash the banana. Add 1½ cup apricot puree and egg. Mix. Add sugar and mix again. Add vanilla essence, baking soda and give it a mix.

At last, sift in flour and mix until smooth using an electric mixer.

Pour the batter into a 6-cup bundt pan that has been greased and floured. Bake at 360°F/180°C for 60 minutes or until done.

When done, let it cool for 10 minutes before taking it out from the pan and placing it onto a wire rack.

Dust the cooled bundt cake with powdered sugar.

Serve on its own or make an apricot sauce by cooking heavy cream, sugar, pureed apricots and lemon juice for about 5 minutes. Pour this over for the extra apricot flavor!
Nutrition Facts
Apricot Banana Bundt Cake
Amount per Serving
% Daily Value*
* Percent Daily Values are based on a 2000 calorie diet.
** As an Amazon Associate I earn from qualifying purchases.
LEAVE A COMMENT
RELATED POSTS