This crispy Mediterranean green salad is easy to make & ready in 10 minutes. It's perfect for outdoor entertaining and grill parties!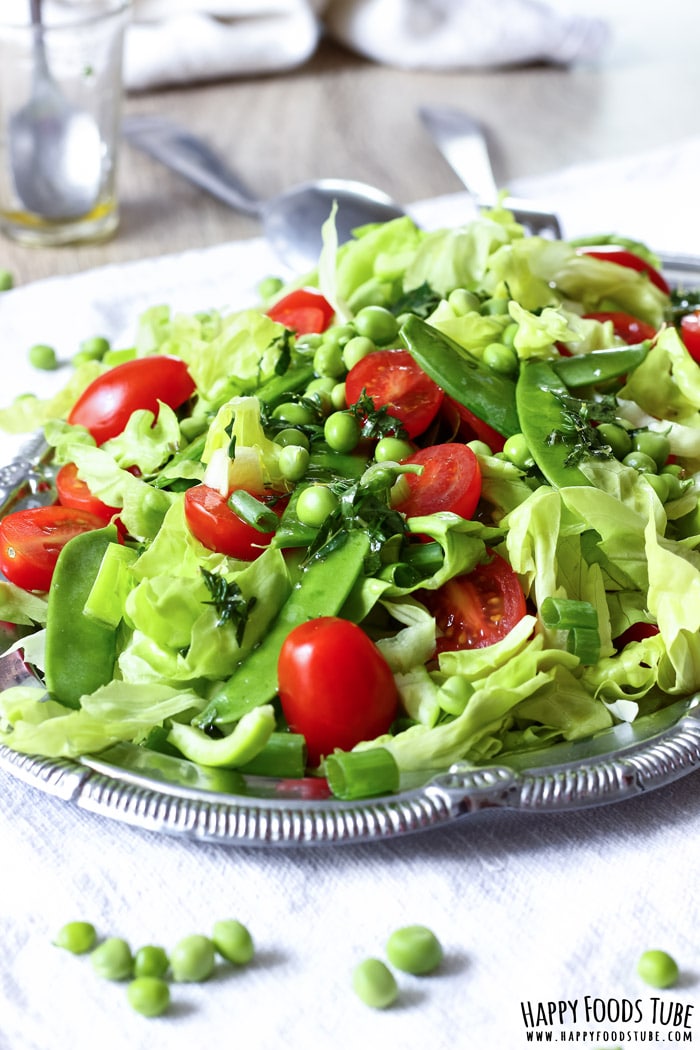 Guys, have I ever mentioned to you how I love grilling? Making delicious dishes outdoors with your friends or family sounds like perfection to me. Now when spending some time at my parents a few weeks ago we did a lot of grilling.
We grilled everything: meat, fish, veggies, cheese, bread – you name it we grilled it. I even tried grilling lettuce but to be completely honest with you I did not enjoy it much. Maybe I just did not do it right. Maybe next time it will be better coz I am willing to try it again.
Now when it comes to grilling I feel like a good salad is a must on the table. It lightens up the heavy meats we all love so much to grill and lettuce in particular helps our body with digestion (check out the benefits of lettuce).
This Mediterranean green salad is the newest addition to my Salad Recipes. It is perfect for summer and barbecues. To make it I used vegetables from my parents' garden.
Guys, they had so many butter lettuce heads growing in their garden that they had no idea what to do with all that produce. So I took matters into my own hands – well in this case lettuce into my own hands.
That was how this Mediterranean green salad was born. It's easy to make, quick to prepare and tasty. If you are looking for more quick and easy summer salads, have a look at these:
Mediterranean Green Salad Recipe Breakdown:
Wash all the veggies. Make sure to wash the lettuce well to get rid of any dirt that can be stuck in between the leaves. Now all you have to do is cut the lettuce, peppers, spring onions and cherry tomatoes.
To be honest, you don't really need to cut cherry tomatoes in halves but I always do. They look prettier.
Throw everything in a serving bowl (or arrange on a serving plate, tray) including mangetout and shelled fresh peas.
Let's prepare the dressing now: I went for thyme dressing this time which I made by combining olive oil, fresh thyme leaves, honey and lemon juice.
If you prefer eating salads without any dressing whatsoever then omit the dressing completely. You could also use olive oil only. It depends on what you like.
Good to know:
To keep this Mediterranean green salad as fresh as possible, pour thyme dressing over it just before serving.
If you don't like or can't get your hands on mangetout, simply omit it!
Ingredient substitution:
Butter Lettuce – iceberg lettuce will work just as well.
Spring Onions – you can use scallions or chives if you prefer a milder taste.
Mediterranean Green Salad
This crispy Mediterranean green salad is easy to make & ready in 10 minutes. It's perfect for outdoor entertaining and grill parties!
Ingredients
1

Butter Lettuce

2

cups

Fresh Sweet Peas

1

cup

Mangetout

1-2

Spring Onions

2

Green Peppers

1½

cup

Cherry Tomatoes
Instructions
Wash all the salad ingredients first. Cut lettuce into thin strips, shell peas and slice spring onions. Cut green peppers into thin strips (or dice). Half the tomatoes.
For the dressing:
Combine olive oil, lemon juice, honey and chopped mint leaves and pour over the salad right before serving.
Nutrition Facts
Mediterranean Green Salad
Amount per Serving
% Daily Value*
* Percent Daily Values are based on a 2000 calorie diet.
** As an Amazon Associate I earn from qualifying purchases.
LEAVE A COMMENT
RELATED POSTS