Looking for homemade healthy snack bars that taste delicious? Try no bake energy bars! These chewy & naturally sweet bars are made with dried dates & apricots.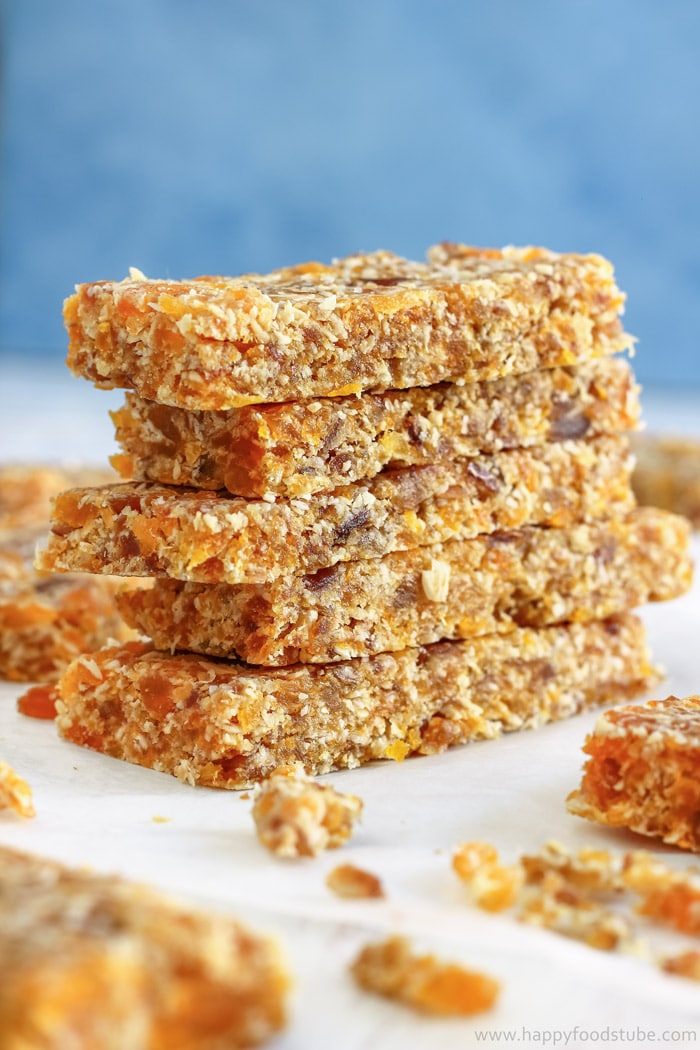 They are also vegan, gluten free & nut free!
I always look for quick snack recipes or foods that don't take long to make, are also nutritious and keep me going for a while when I am on the go. These no bake energy bars do the trick!
I take these with me when we go on cycling trips and I love them. Sometimes I grab one first thing in the morning when I know I would be having breakfast later than usually.
Speaking of breakfast, Banana Toast is one of my favorite breakfast foods but when blueberries are in season I love making Blueberry Smoothie with oats. Sometimes I crave something cooked like Breakfast Pizza or Breakfast Boat!
What about you guys? What type of breakfast do you like? Sweet? Savory? Cooked or quick?
Ok, let's talk homemade energy bars!
Did you know that they are very easy to make? Plus the ingredient list can be changed to your liking. Isn't that great? The main ingredients in these no bake energy bars are dried dates, apricots and oats.
What I love about these fruity energy bars?
Easy & fast preparation – if you are looking for a quick no bake energy bars recipe, this one is a great one to start with
Vegan & gluten free
Simple ingredients
6 ingredients yield 10 bars
Good source of energy (great for hiking, doing sports)
Freezer friendly – it's a great way to have these no bake energy bars on hand at all times!
How to make homemade no bake energy bars?
I used rolled oats that I simply processed in a food processor until I got flour-like texture = oatmeal. Then dates and apricots come in: I roughly chop them before adding them in a food processor as mine is not very powerful and it takes a lot of effort to get the crumble mix out of those dried fruits. There is no need for soaking the dates or apricots.
Tip: it will only take a several seconds to get the crumb-like texture so make sure to keep an eye on the food processor when processing both the dates and apricots. Otherwise they will turn into a thick paste.
This does not mean that you can't use it. You can, I just find working with the paste more challenging and also prefer some crunch to them.
Finely chopped fruits, oatmeal, melted coconut oil, desiccated coconut and ground flaxseed are all combined in a mixing bowl. Use your hands. You want to make sure that everything is mixed properly: all the ingredients should be well coated in coconut oil.
Now to turn this mixture into energy bars you need to get a square tin (rectangular one will work as well). Line it with baking parchment. All you have to do now is transfer this mixture in this tin and spread it around evenly.
Get a flat bottomed glass jar/mug or anything really to press down until it is firm. Take your time here. You don't want to end up with crumbly bars.
Freeze them. It takes somewhere between 15-30 minutes for them to stiffen. Then you can cut them into bars.
Where to keep these no bake energy bars and how long to keep them for?
The best way to store these quick energy bars is in the freezer. Cut them into individual portions (after they have been frozen) and wrap each in a cling film. Put all of them in a zip-lock bag and put back in your freezer. When you need one (or two) simply take it out and enjoy.
Note: The zip-lock bag is quite important. I use it for 2 reasons. First: the bars are easier to locate. Second: sometimes the freezer gives your frozen foods a particular odor which I try to eliminate by double-wrapping.
They should last for several weeks in your freezer especially when wrapped like I suggested. However, they never last even a week in my house. They are so good!
Can I eat them from frozen?
You can eat them from frozen! Yes. They hold their shape better and I like the slight coolness on my tongue. You won't find them too hard for your teeth so don't worry. Just try and you'll see. If you prefer soft and chewy texture, leave them at room temperature for about 15 minutes and you are good to go.
Guys, these no bake energy bites are perfect for anyone who needs a quick snack.
Want to see how to makeNo Bake Energy Bars? Watch the video!
Fruity No Bake Energy Bars
Looking for homemade healthy snack bars that taste delicious? Try no bake energy bars! These chewy & naturally sweet bars are made with dried dates & apricots.
Servings:
10
Bars (1.4 ounces/40 grams each)
Ingredients
1

cup

Rolled Oats

(90 grams)

1

cup

Dates

, pitted (180 grams)

1

cup

Dried Apricots

(190 grams)

5

tablespoons

Coconut Oil

, melted (75 ml)

2

tablespoons

Desiccated Coconut

(1 tablespoon = 5 grams = 10 grams total)

2

tablespoons

Ground Flaxseed
Instructions
In a food processor, process oats until flour like texture. Transfer this into a mixing bowl.

Now process dates and apricots until you get tiny pieces.

Transfer in the same bowl, add coconut, linseeds and combine. At last, pour in melted coconut oil. Make sure all the ingredients are well combined. You should get a sticky mixture.

Transfer this mix into a …… baking tin that has been lined with baking paper. Spread it around evenly and start pressing down. Use a flat bottomed glass/jar to press it down evenly. Take your time and make sure it is pressed down well. If it's not, the bars may be crumbly.

Place in the freezer until set.

Cut into bars. Wrap each one in a cling film and keep in the freezer. They are quite delicious eaten right after you've taken them from the freezer.
Nutrition Facts
Fruity No Bake Energy Bars
Amount Per Serving
Calories 179
Calories from Fat 72
% Daily Value*
Fat 8g12%
Sodium 3mg0%
Potassium 298mg9%
Carbohydrates 25g8%
Protein 2g4%
Vitamin A 470IU9%
Vitamin C 0.2mg0%
Calcium 22mg2%
Iron 1mg6%
* Percent Daily Values are based on a 2000 calorie diet.
** As an Amazon Associate I earn from qualifying purchases.
LEAVE A COMMENT
RELATED POSTS