This is an easy BBQ meatloaf recipe with delicious barbecue glaze on top. Tasty baked meatloaf that is moist, flavorful and ready on your table in less than 1 hour!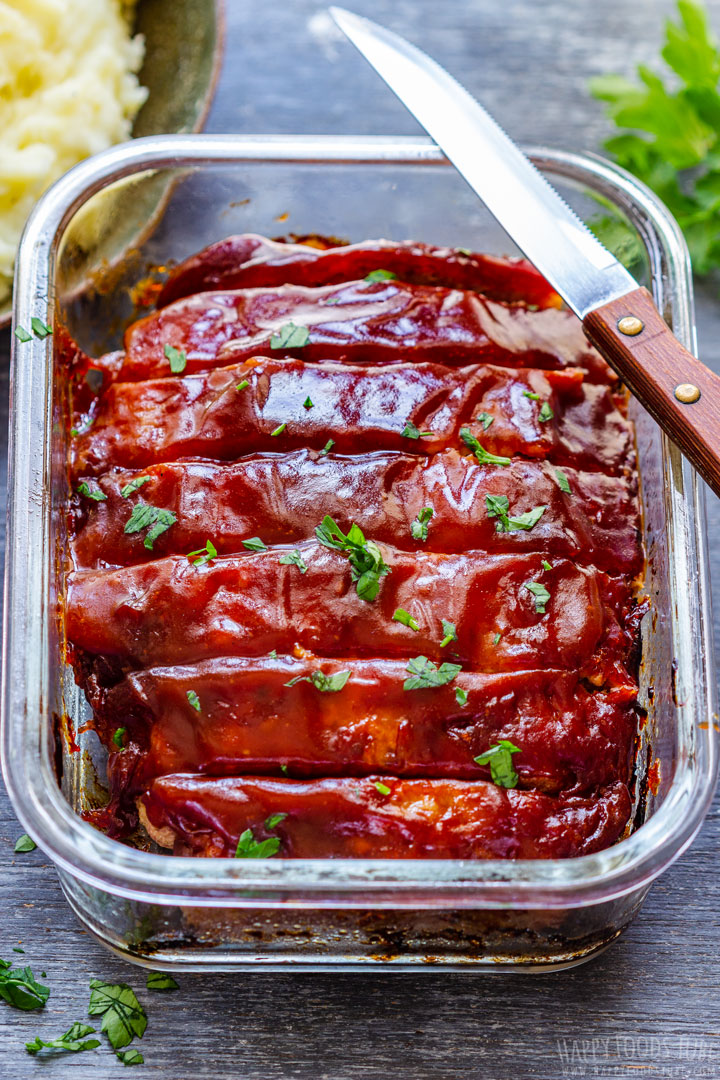 Making meatloaf from scratch is easy. In fact, it is one of the easiest recipes using ground beef or any kind of meat. However, to achieve the best meatloaf, there are some things to remember. Answers to FAQ's as well as tips and serving suggestions are below:
How to make meatloaf with BBQ sauce
Place all the ingredients into a mixing bowl and use your hand(s) to combine them. You don't want to over-mix them, but you need to make sure the seasoning and bread is distributed evenly.
Tip for beginners – You can use a separate container or bowl to mix salt, pepper, garlic powder, egg, basil, BBQ sauce and Worcestershire sauce. Then pour this over the ground beef and soaked bread and mix together.
Then, shape the mixture into a loaf and place it into a loaf tin or oval oven-proof dish. Either use a baking parchment or baking spray to avoid the meatloaf from sticking. Cover it with a mixture of ketchup, BBQ sauce and sugar, but make sure to keep some of it for later.
All you have to do now is bake until this easy BBQ meatloaf is ready.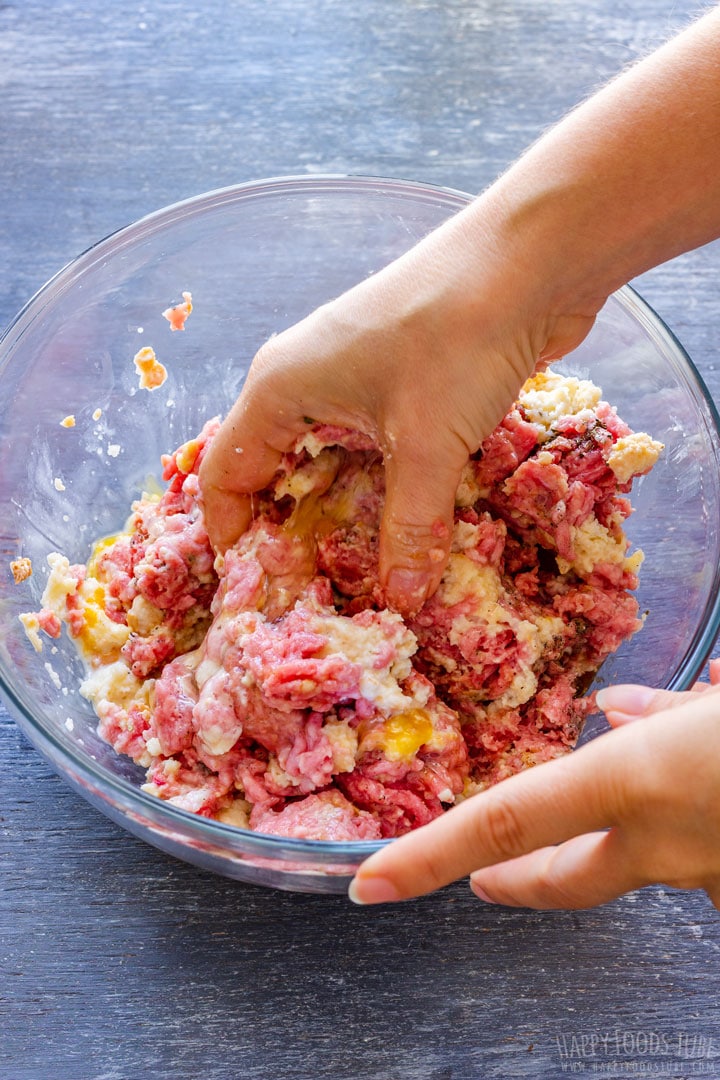 How long does it take to cook meatloaf at 350 degrees?
Please note that the cooking time will vary. This will depend on many factors – on the size of your meatloaf, on your oven, on your altitude as well as what you use to bake it in/on.
For this reason, it is always good to keep an eye on your meatloaf when you are baking it for the first time.
This is a one pound meatloaf that I bake for about 50 minutes in an oven-proof glass container, in the middle of the oven (N.B.: This BBQ meatloaf recipe was developed at a sea level).
Also, if not sure that your BBQ meatloaf is ready, use a food thermometer to check its internal temperature.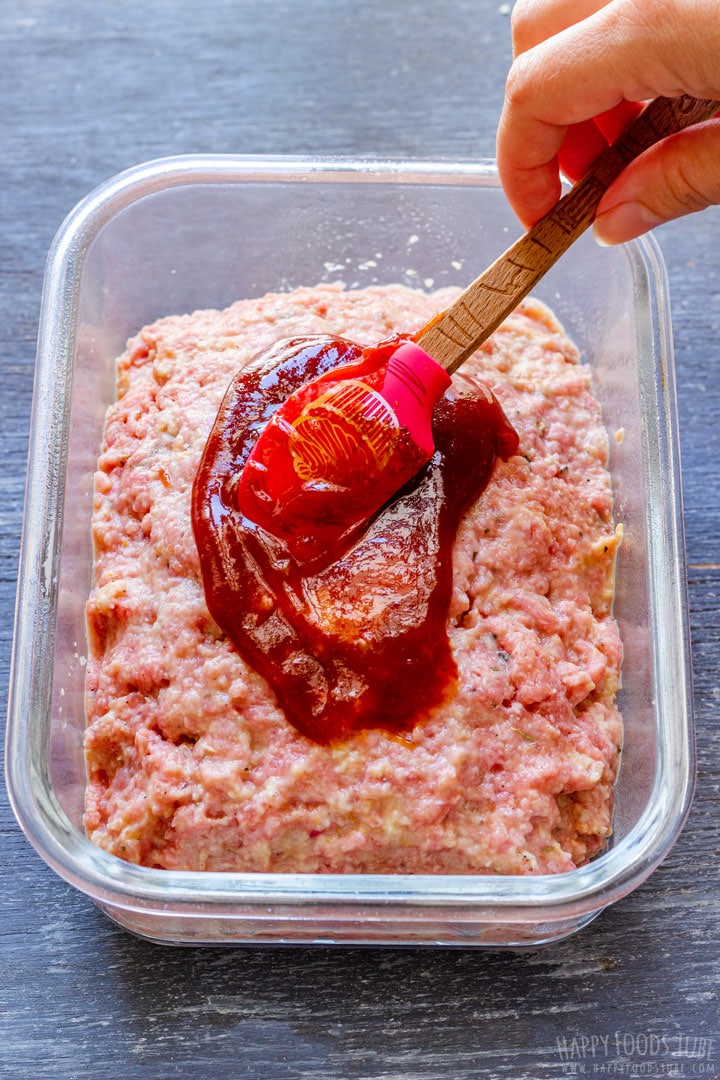 How do you keep meatloaf moist?
Covering your homemade meatloaf with glaze is the easiest way to do it.
Another important thing is using fresh ground meat, so avoid using meat that was previously frozen! The reason is simple: Thawed meat will release a lot of juices which will cause your meat loaf turn drier that you might like.
Meatloaf glaze:
My barbecue meatloaf recipe uses BBQ sauce that is sweetened with a little amount of brown sugar or honey (if you prefer it that way) and combined with ketchup. It's an easy meatloaf sauce that is tasty but is not over-powering.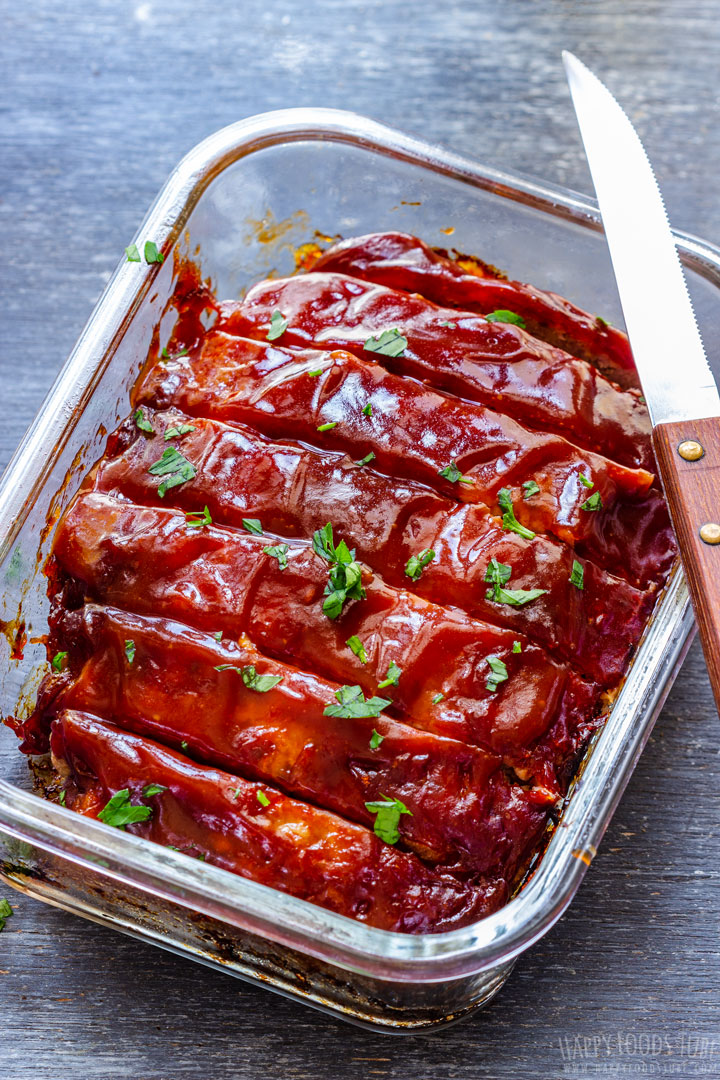 Serving suggestions:
Classic mashed potatoes go really well with barbecue meatloaf, but I also like it with cooked quinoa.
As a side, you have a ton of options. We like Beet Salad with Feta or Red Cabbage Coleslaw, but steamed vegetables are also a delicious option (Have you tried Instant Pot Broccoli?) and so is Pan-Fried Asparagus.
What is the best pan to cook meatloaf in?
In general, you can use a loaf tin (the kind you would use for baking banana bread or any kind of a quick bread) or you can also put it onto a baking sheet (lined with baking parchment).
I personally love using a glass food storage container that holds at least a 1 quart of liquid and is oven-proof. This is my favorite way of making meatloaf.
If you have a large family, double the recipe and simply divide the meat mixture into 2 containers and bake in the oven at the same time! Plus, any leftovers are just covered with a lid and stored in the fridge! It's easy and hassle-free.
Note: This BBQ meatloaf is perfect for the oven-proof dish or a loaf tin, but it should hold its shape well, so baking sheet can also be used. If for some reason you end up with a very soft meatloaf (more likely by using thawed meat or/and bread that was soaked way too long) you will have to use some kind of an oven dish to cook it in.
Tips for making the best meatloaf with barbecue glaze
Remember that making meatloaf from scratch is easy and you can't really go wrong here. If you traveled or searched the Internet, you would find different meatloaf recipes around the world. Some are stuffed, others glazed, some are dense while others not. So, if your homemade meatloaf does not look like the one that I made, it does not mean you did something wrong. As long as it tastes good, that's all it matters.
I like using a combination of ground beef and pork, but you can use any type of meat you prefer.
If you don't have bread on hand, you can use breadcrumbs instead. Croutons will work also, but they will need more time to soften. Fresh bread is also great – just pulse it in a blender to get smaller pieces.
The fresher the bread the shorter the soaking time! Avoid soaking it for too long. If you did, just try to squeeze out the excess liquid before mixing it with the rest of the ingredients.
More ground meat recipes:
BBQ Meatloaf
This is an easy BBQ meatloaf recipe with delicious barbecue glaze on top. Tasty baked meatloaf that is moist, flavorful and ready on your table in less than 1 hour!
Ingredients
For BBQ glaze:
1/4

cup

Ketchup

1/4

cup

BBQ Sauce

1

tablespoon

Brown Sugar
Instructions
Preheat oven to 350° Fahrenheit (180° Celsius).

Transfer diced bread into a bowl (soup bowl will do) and pour over the milk. Soak until soft, but don't wait until it turns mushy.

In a mixing bowl, mix together (with hand) the soaked bread with ground meat, egg, salt, pepper, garlic powder, basil, Worcestershire sauce and BBQ sauce. This will only take a minute or two. You want all the ingredients to be distributed evenly.

Form into a loaf and place into an oven-proof glass container (or loaf tin or baking sheet) sprayed with oil. Mix together ketchup, BBQ sauce and brown sugar and spread half of it over the meatloaf (see note 5).

Bake in the oven for 50 minutes or until ready (see note 6).

Let it sit for about 10 minutes before serving.

Enjoy!
Notes
Bread – stale will need more time to soften, while fresh will need less time. (I like using French baguette). 1 cup of breadcrumbs can also be used instead. Croutons are another option as well. You can also increase the quantity of bread up to 1.5 cups (don't use more than that).
You can use any kind of ground meat. I like using a combination of ground beef and pork. For best results use fresh ground meat, not thawed! Thawed will contain a lot of liquid that will be release during cooking. This can also dry out your meatloaf.
Basil can be substituted with oregano, marjoram or Italian seasoning.
Worcestershire sauce can be substituted with low sodium soy sauce.
BBQ glaze can be spread over the meatloaf several ways. You can use half before baking and the other about 20 minutes into cooking time. Or you can use half before cooking and spread the other half after it has been cooked. Or you can just spread all of it before cooking.
The cooking time can vary. This will depend on the size of your meatloaf, on the oven dish/tray you use as well as on the oven itself. I baked mine in an oven-proof glass container (slightly over 1-quart/1-liter) that is usually used for storing leftovers or meal prep.
For more tips, serving suggestions or if in doubt, please refer to the full post above this recipe card. It also contains process photos to help you with your cooking.
Nutrition Facts
BBQ Meatloaf
Amount per Serving
% Daily Value*
* Percent Daily Values are based on a 2000 calorie diet.
** As an Amazon Associate I earn from qualifying purchases.
LEAVE A COMMENT