Bacon fried rice is an easy side dish that is not only flavorful but also easy to make. Ready on your table in less than 25 minutes, this bacon egg fried rice is perfect for weeknight meals.
It is one of the easy leftover rice recipes and it's perfect for a meal prep. Bacon fried rice reheats well in a microwave and prep can be also divided into stages, if needed.
To make bacon egg fried rice you will need 9 ingredients that you more likely already have in the fridge or pantry, so why not elevate your meal with this tasty side.
This post includes more tips and serving suggestions to make sure your bacon fried rice turns out perfect as well as ideas how to reduce the cooking time!
How to make bacon fried rice with egg
There are a few ways you can prepare this tasty side dish. This is the way I do it:
First, cook bacon to your liking. Transfer it onto a plate. I like to line it with paper kitchen towel to get rid of any excess fat. Then, in the same pan/wok/skillet, cook carrots and peas. These will take the longest (about 10 minutes) and I cook them together, but you can add the peas later, if you like.
When ready, transfer them on the same plate with bacon (or use another bowl). Use the same pan to scramble the eggs. If it's dry, add a little bit of oil. Note: Instead of sesame oil, you can use fat from bacon to make this bacon fried rice).
Remove the eggs from the pan. Add the leftover sesame oil and cooked rice. Fry for a few minutes, then add soy sauce and pepper. Taste it and add salt, if needed.
Finally stir in the bacon, scrambled eggs and veggies and you are done!
What rice to use when making fried rice?
Any long-grain rice works great! Jasmine or basmati are good choices. You can also use either white or brown.
Optional extras/add-ons:
Spring onion (add it right before serving)
Chives
Onion (can be added to carrots and peas or substituted for one of them. If omitting carrots, you won't need to be adding water at all so you will save extra 5 minutes).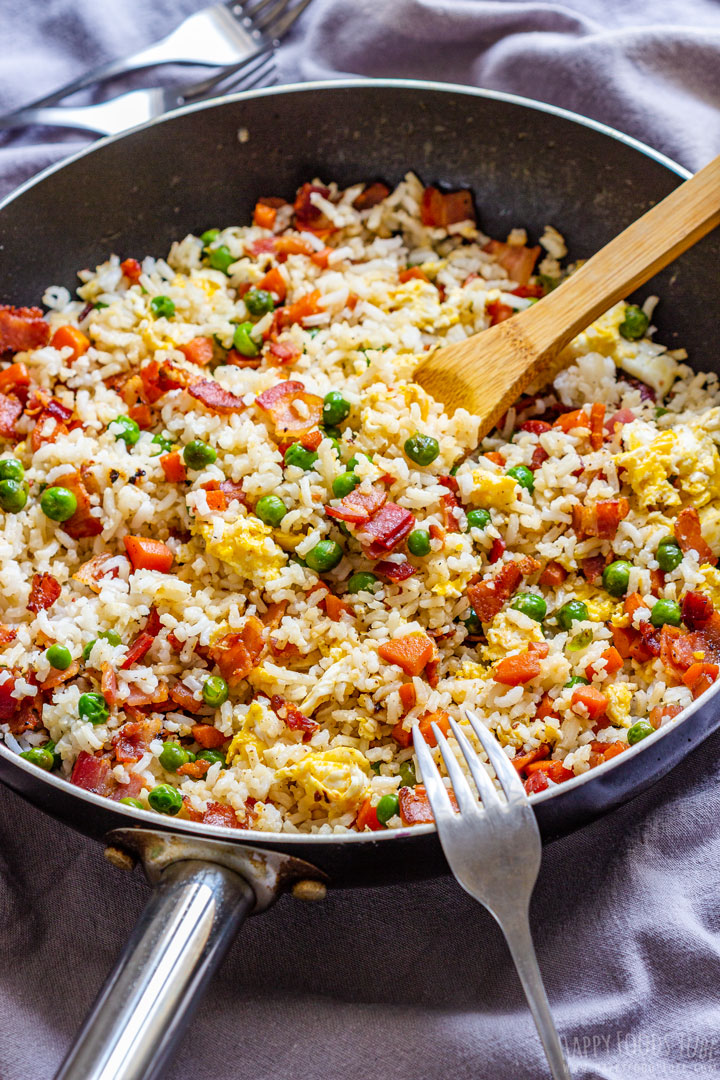 Serving Suggestions:
I like serving fried rice with chicken. My favorites are Grilled Boneless Chicken Thighs and Air Fryer Chicken Thighs, but a Whole Chicken is also a delicious choice.
Some kind of salad completes the meal, but it's optional. Creamy Red Coleslaw or Feta & Beet Salad are tasty choices, but you can make anything you like.
Now that being said, you can serve this bacon and egg fried rice with anything you like. I also enjoy it on its own, instead of a quick lunch.
For a complete meal, you can also add some cooked shrimp in, if you like!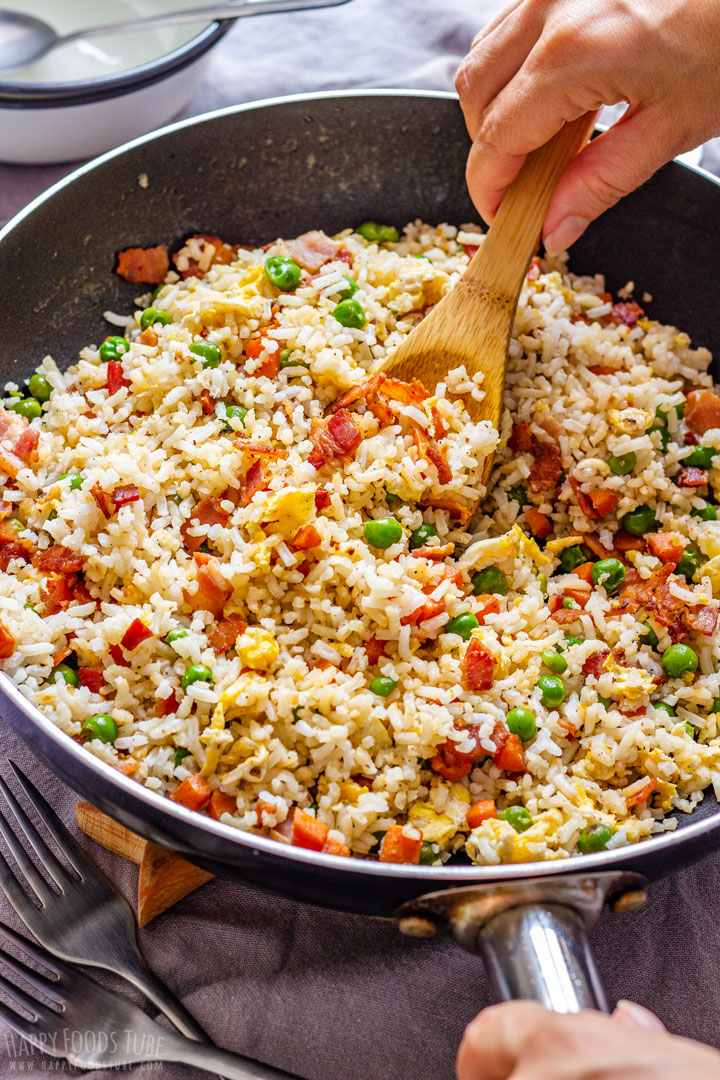 Tips for making the best bacon fried rice
If you have a small skillet, don't bother mixing everything in it. Just cook everything separately, like it is stated in the recipe, but instead of mixing all the ingredients in the same skillet or wok, you can simply transfer them into a large bowl and combine everything there.
The level of saltiness will be different for every single one of you. This will depend on how salty the bacon you are using is, how much salt you added to your rice and also what kind of soy sauce you use. For that reason, taste this bacon fried rice before you add the salt as it might not be needed at all!
It's important to finely dice the carrot. Large chunks will take way longer to cook which will cause overcooking the peas completely.
You can pre-cook carrots and peas in advance – say in the morning or the night before (steam them or boil them). This should reduce the cook time down to 8 minutes!
Eggs can be omitted if you don't want to or can't use them.
If you like this bacon fried rice, you might also like these easy fried rice recipes:
Bacon Fried Rice
Bacon fried rice is an easy side dish that is not only flavorful but also easy to make. Ready on your table in less than 25 minutes, this bacon egg fried rice is perfect for weeknight meals.
Servings:
4
– 5 Servings, as Side
Ingredients
4

ounces

Bacon

, diced, (140 grams), see note 1

2

tablespoons

Sesame Oil

½

cup

Carrot

, finely diced, see note 2

½

cup

Frozen Peas

2

Eggs

, any size

3

cups

Long Grain Rice

, cooked, chilled, see note 3

1

teaspoon

Low-Sodium Soy Sauce

, see note 4

black pepper

, a generous pinch

Salt

, to taste
Instructions
In a large skillet/wok/frying pan, cook bacon until nice and crispy (or to your liking). Transfer it onto a plate lined with paper kitchen towel. Remove any leftover fat from the pan and clean it using a paper kitchen towel (see note 5).

Pour about a tablespoon of sesame oil in and add finely diced carrot and frozen peas. Cook these for about 5 minutes, stirring from time to time. After 5 minutes, pour in ½ cup of water and let them cook until the water has evaporated, and the carrots are soft. When ready, remove from the pan.

In the same skillet/pan, scramble the eggs (use little oil, if needed). Transfer them to a bowl.

Add the remaining sesame oil as well as cooked rice. Fry for a few minutes before adding soy sauce and salt and pepper. Stir well. Add the rest of the ingredients and mix until well combined.

Serve with anything you like!
Notes
You can use bacon strips and cut them into small pieces or use pancetta cubes, if you like. Alternatively, you can also use ready-cooked bacon and omit step one.
Frozen carrot can be substituted for fresh carrot. If you use frozen carrots, you will probably need less time to cook them than fresh ones.
1 cup of uncooked long grain rice yields about 3 cups cooked rice. You can use basmati or jasmine rice, white or brown – anything you like.
Low-sodium soy sauce can be substituted with regular soy sauce or Worcestershire sauce, but keep in mind that you might only need a little salt or none at all to season the rice.
You can use the bacon fat later on for frying the veggies and rice, if you like. If you do, you won't need any sesame oil at all.
For more tips, serving suggestions and optional add-ons or if in doubt, I recommend reading the full post above this recipe card.
Nutrition Facts
Bacon Fried Rice
Amount per Serving
% Daily Value*
* Percent Daily Values are based on a 2000 calorie diet.
** As an Amazon Associate I earn from qualifying purchases.
LEAVE A COMMENT