Pan fried asparagus with Parmesan is a tasty side dish ready in minutes. It's cheesy and crunchy and goes well with any kind of dinner – fish, chicken, steak, turkey or pork.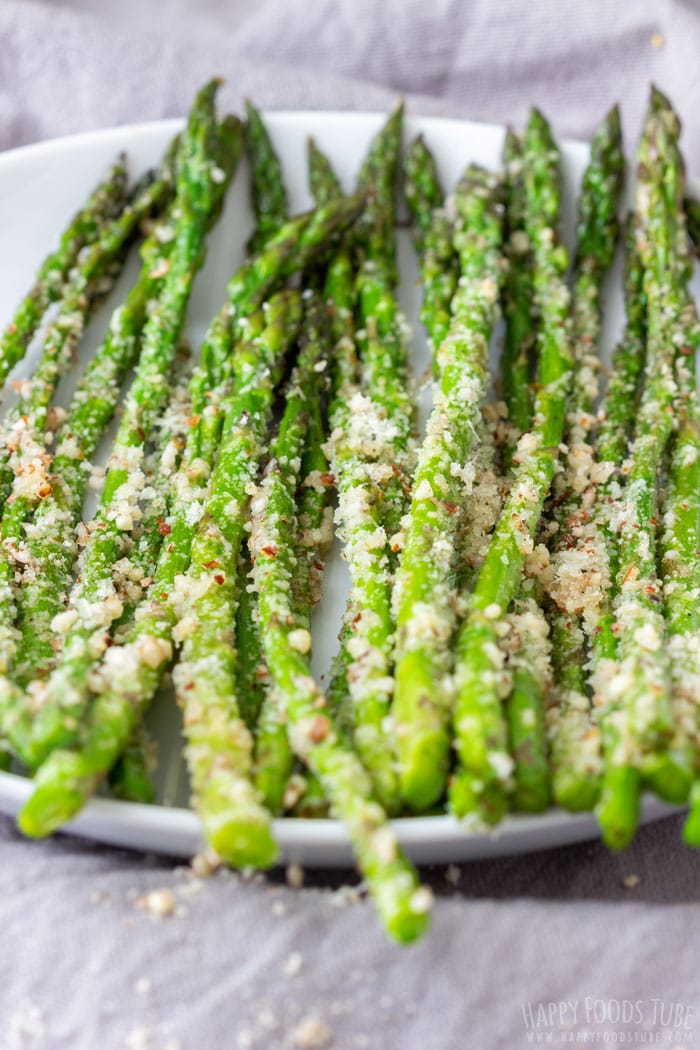 It's one of the easiest side dishes to make! Why not serve it altogether with Rosemary Parmesan Roasted Potatoes at your next family gathering?
What's the best way to cook asparagus?
Pan-frying is definitely best! It's the quickest and the easiest way to prepare this vegetable.
How do you pan fry asparagus?
Turn on your stove, put a skillet/frying pan on and add little oil. Wait until the oil is heated up and transfer the asparagus in.
Fry/roast for 1-3 minutes (depending on its thickness) and you are done! It's so easy.
Do you have to boil asparagus before frying?
No. There is absolutely no need to do this.
How to make pan fried asparagus with Parmesan?
First, rinse the asparagus under running water. Second thing to do is trim off the hard parts – the woody parts at the bottom.
Heat olive oil in a skillet/frying pan and once hot, put the asparagus in. Use a spatula, fork or anything that helps you spread the asparagus so each piece is touching the skillet/pan.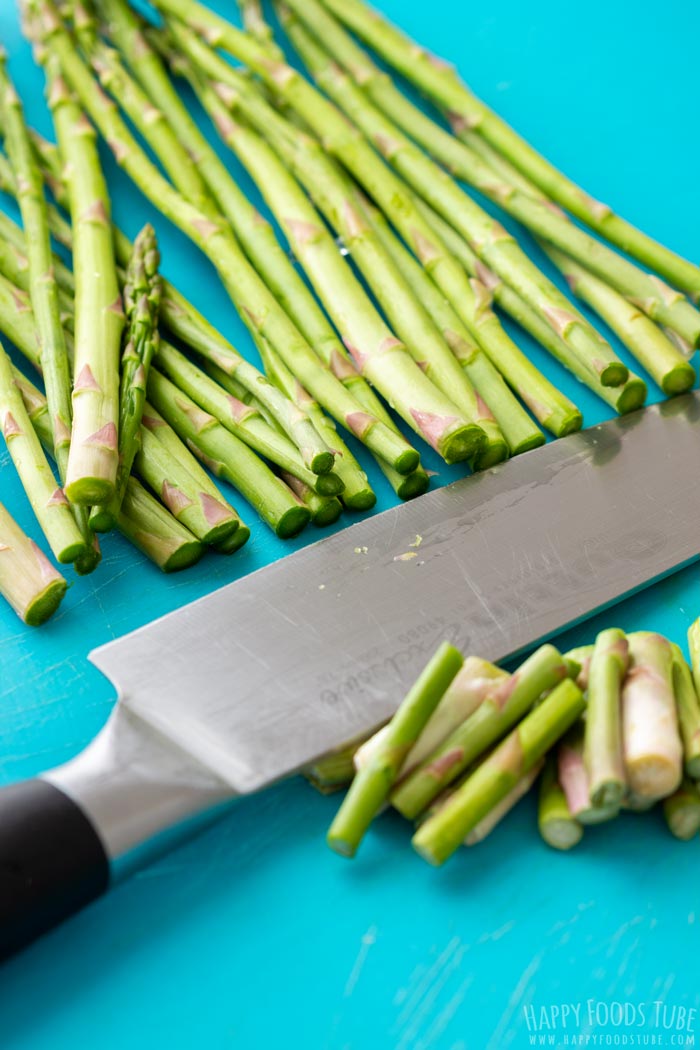 Let it fry for about 20-30 seconds before shaking the skillet. You want the asparagus turn and this is the easiest way. You can also season it with salt and pepper at this stage.
The asparagus spears I used were as thin as a pencil. It took about 1-1.5 minutes to cook them, while turning them regularly.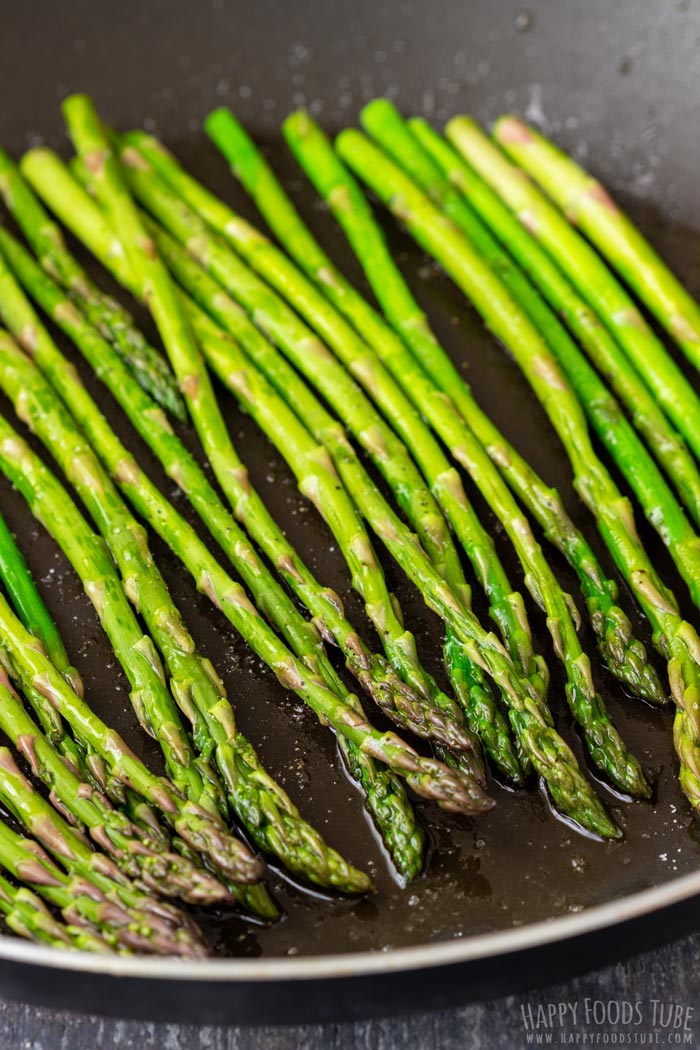 When ready, place them onto a clean baking sheet. Combine Parmesan and ground almonds together and generously sprinkle this over. Shake the baking sheet until you see all the spears are generously coated in the cheese mixture.
Now all you have to do is transfer these onto a serving plate and you are done!
Pan fried asparagus goes well with Oven Baked Salmon Fillets or steak. You can also add it to a salad. My Spanish Chorizo Potato Salad has beans in it. They can be easily substituted with asparagus.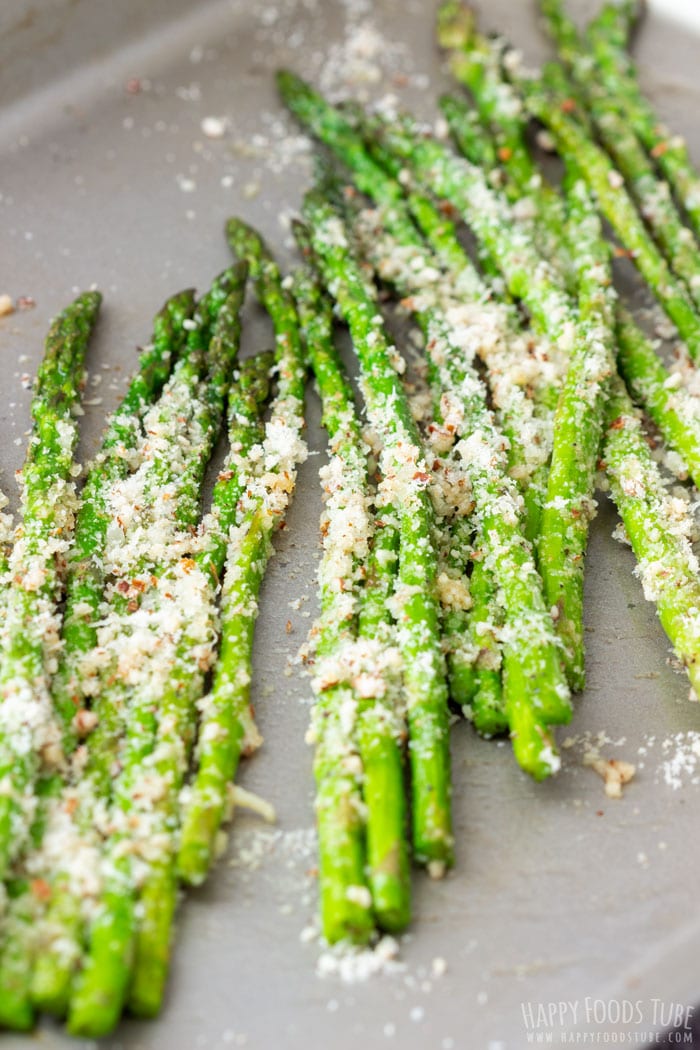 Can I make pan fried asparagus vegan?
Yes, you can. Just omit the Parmesan cheese and use ground almonds only.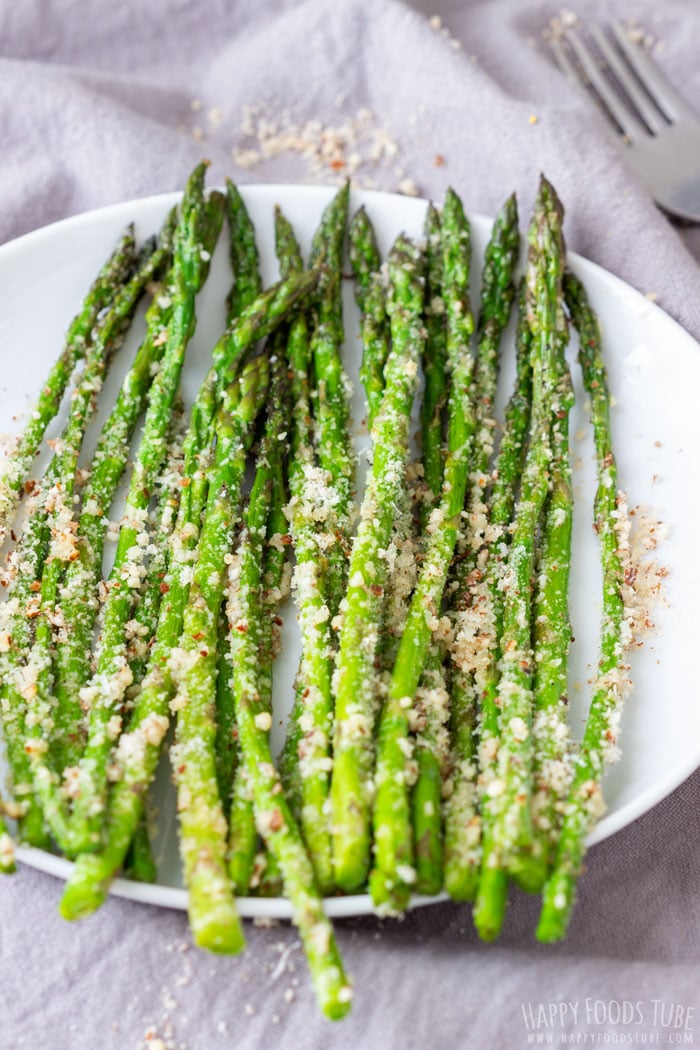 Useful tips for making pan fried asparagus
I highly recommend using olive oil (preferably extra virgin olive oil) and not substituting it with vegetable or sunflower oil. Even though you only need a little it definitely makes a difference!
If you are using Parmesan, you won't need as much salt as Parmesan is quite salty. If using almonds, you might need to season more (but always to your taste).
Parmesan can be easily substituted with Grana Padano or Pecorino. Pecorino is also quite salty so don't over-season the spears when using this cheese.
Pan Fried Asparagus with Parmesan
Pan fried asparagus with Parmesan is a tasty side dish ready in minutes. It's cheesy and crunchy and goes well with any kind of dinner – fish, chicken, steak, turkey or pork.
Ingredients
2

tbsp

olive oil

9

ounces

Asparagus Spears

(260g)

Salt and Pepper

to taste

2

tbsp

Parmesan

, finely grated

2

tbsp

Ground Almonds
Instructions
Rinse the asparagus spears under running water. Trim off the ends (the hard parts of the spears) – about 1-1.5 inch (2-3 cm).

Heat up the oil in a frying pan/skillet. Place the spears into the pan making sure each spear touches the pan. If your pan is not large enough, do it in batches.

Season with a pinch of salt and black pepper. Roast for 1-1.5 minute per batch, shaking the pan so that the spears turn and get fried evenly.

When done, transfer them onto a baking sheet. Combine grated Parmesan with ground almonds and sprinkle a generous amount over the spears. Shake the baking sheet to make sure they are coated evenly. Add more cheese mixture, if needed.
Notes
1. If you can't fit all the asparagus spears in the frying pan/skillet, I recommend doing it in 2 batches.
2. The cooking time might vary. This depends on the thickness of asparagus spears used and size of the pan – cooking it in more batches = more overall time needed. Asparagus that is pencil thin needs only 1-1.5 minute to cook. Thicker ones will need more than that. To be sure, taste one to see if it is to your liking.
3. Vegan option – omit the Parmesan and use ground almonds only!
4. If you don't have almonds on hand or you don't like them, omit them or use walnuts instead.
5. Using extra virgin olive oil or olive oil for cooking are the best choices here.
Nutrition Facts
Pan Fried Asparagus with Parmesan
Amount per Serving
% Daily Value*
* Percent Daily Values are based on a 2000 calorie diet.
** As an Amazon Associate I earn from qualifying purchases.
LEAVE A COMMENT
RELATED POSTS