A unique recipe for bratwurst casserole with simple pantry ingredients. Made from scratch, this easy casserole recipe is dairy-free and super simple to make!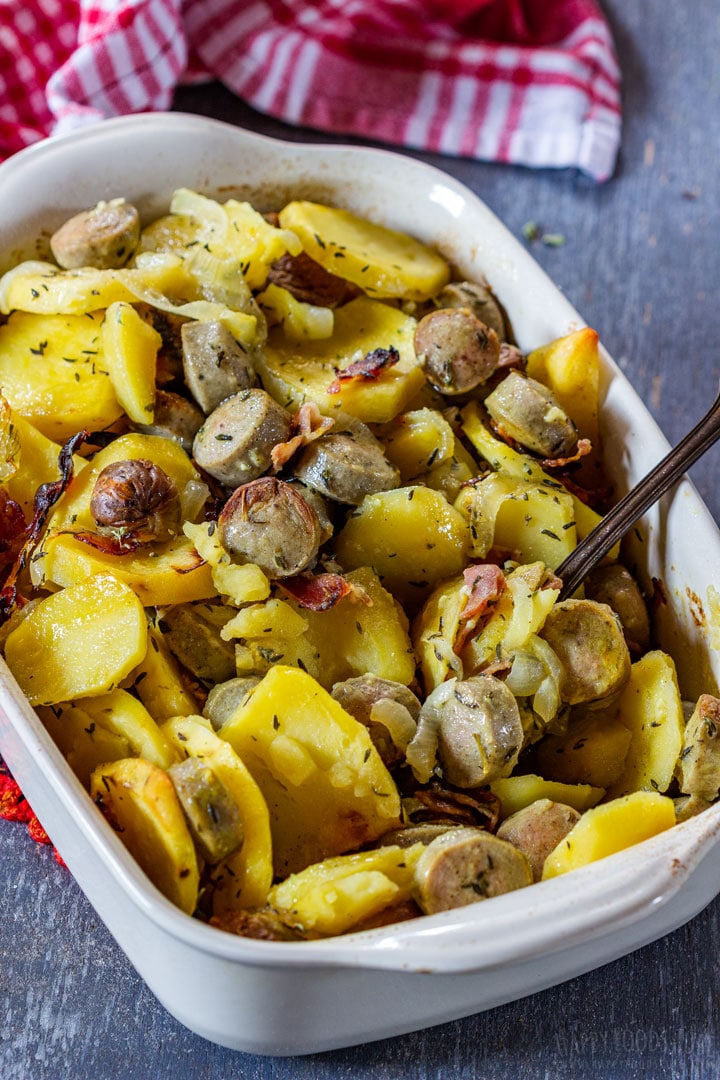 If you are looking for recipes with bratwurst and potatoes, you should try this one! It's customizable so why not add a few extras in?
Ingredients for bratwurst potato casserole
Pantry: olive oil, onion, garlic, potatoes
Fridge: bacon, bratwurst, mustard
Herbs, spices and seasoning: thyme, salt, black pepper
Other: water (or stock/broth)
Tools you will need for brats casserole with potatoes and bacon
Skillet/frying pan – this can be substituted with a Dutch oven. If you do, you can prepare everything without having to use another ovenproof dish.
Oven-proof pot/casserole/tray (at least a 9×13-inch/22×23-centimeter or larger or a Dutch oven that holds between 3.5-4-quarts (3.5-4 liters) of liquids.
Mixing bowl – a large one makes tossing potatoes in seasoning easier and allows for more even coating.
Chopping board and knife
Garlic press (or fine grater or finely mince garlic with a knife).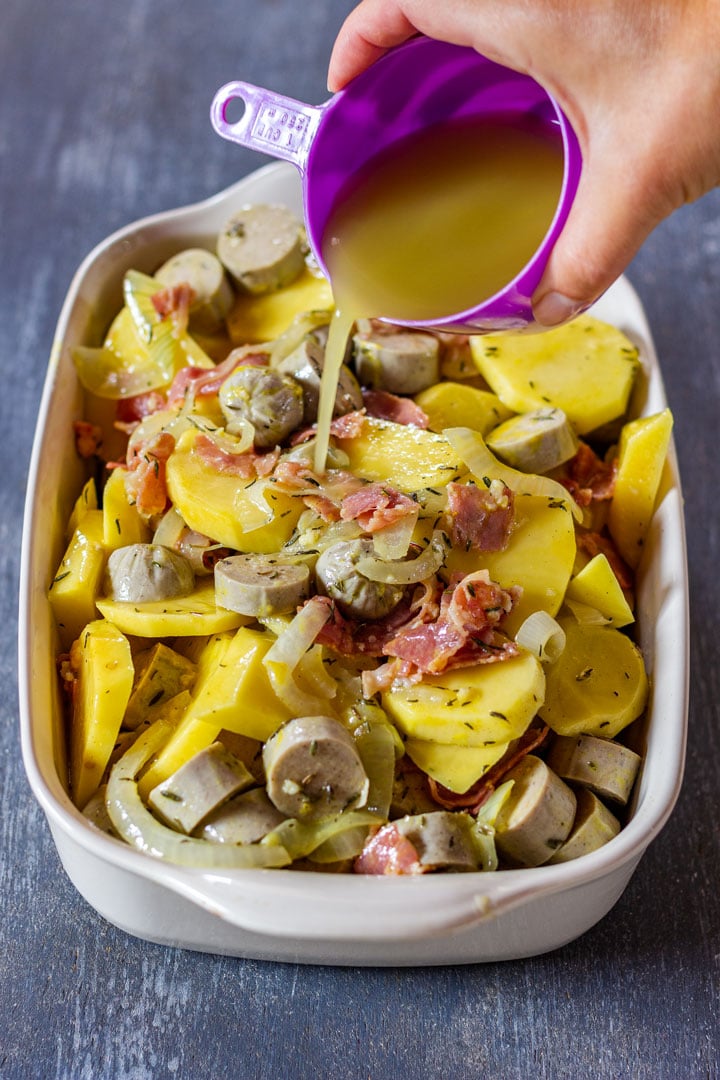 How to make bratwurst casserole
Heat oil in a skillet and saute onion and bacon together. Meanwhile, in a large mixing bowl combine sliced potatoes with olive oil, seasoning and mustard. Toss around until evenly coated. This is important so take your time. The more you toss them around the better the spices will distribute.
When the onion and bacon are ready, add garlic and stir for about a minute. Pour this mixture into the mixing bowl with potatoes. Add chopped bratwurst sausages and stir everything well.
Transfer into an oven-proof dish and cover with a tin foil (or lid if using Dutch oven). Bake covered for about 30 minutes, remove the lid, stir and cook uncovered until ready.
Serving suggestions:
This bratwurst casserole goes well with pickles of all sorts, horseradish or coleslaw.
Pro tips for making the best bratwurst casserole
Substitute olive oil with vegetable or sunflower oil, if preferred.
Either white, yellow or red onion works well, so use what you have on hand. Adding more than stated in this recipe will only add more flavor.
Sprinkle shredded cheddar or mozzarella over for an extra flavor.
Great substitutes for bratwurst sausage are Polish kielbasa, Frankfurters, Vienna sausages, German sausages or classic hot dogs.
This bratwurst casserole needs some liquid, so the ingredients won't stick to the pot. During cooking that liquid altogether with seasonings and the rest of the ingredients will create a tasty sauce. This poured over the sausage and potato casserole will only enhance the overall flavor. The casserole will continue soaking up the liquids while cooling down.
When trying this brat casserole recipe for the first time, it's good to keep in mind that substituting some ingredients (i.e. bacon, sausage, stock/broth) can lead to a different level of saltiness of the overall dish. If in doubt, use less salt and adjust seasoning at the very end.
It's better to use a larger casserole so you can give it a mix once or twice during cooking.
You can also add thinly sliced carrots!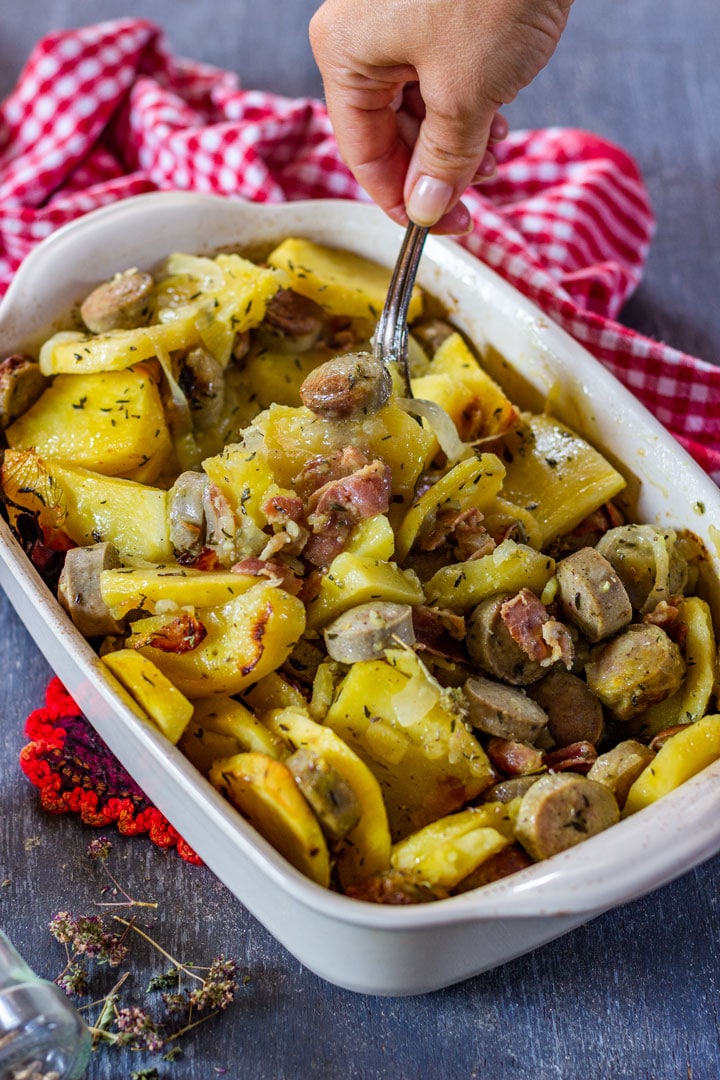 You will find more casserole recipes on this food blog. Here are a few of them:
Chicken Pasta Casserole – Perfect recipe to use up any leftover rotisserie chicken.
Potato Bacon Casserole – Enjoy this tasty meal as a side or main!
Spinach Potato Casserole – To save some time, it's possible to divide the prep into 2 days!
Bratwurst Casserole
A unique recipe for bratwurst casserole with simple pantry ingredients. Made from scratch, this easy casserole recipe is dairy-free and super simple to make!
Ingredients
2

tablespoons

olive oil

, see note 1

1

large

onion

, sliced

3

garlic cloves

, minced

6

bacon strips

, see note 2

2

pounds

potatoes

, peeled and sliced, (750 grams)

¾

teaspoon

salt

¼

teaspoon

black pepper

, or a generous pinch

2

teaspoons

dried thyme

bratwurst

, roughly sliced, see note

½

cup

vegetable broth

(120 milliliters)

2

tablespoons

classic French mustard

, or similar
Instructions
Preheat oven to 350° Fahrenheit (175° Celsius).

Heat 1 tablespoon oil in a skillet/frying pan and add sliced onion and bacon. Sauté for a few minutes (about 3) before adding minced garlic. Stir until garlic releases its flavor, about a minute. Turn off the heat.

In a mixing bowl, combine together sliced potatoes, remaining olive oil, salt, black pepper and thyme. Give everything a good toss to make sure the seasoning is evenly distributed.

Throw in sliced bratwurst and mustard. Add bacon and onions and mix well.

Place the seasoned potatoes in an oven-proof dish/casserole and pour broth over. Cover with aluminum foil or lid.

Place in a preheated oven and bake covered for 30 minutes. Remove lid and stir. Cook for a further 15-20 minutes or until the potatoes are cooked through.

Plate and spoon some of the juices over the casserole.

Enjoy warm!
Notes
Possible olive oil substitutions – vegetable or sunflower oil.
Use any bacon you like or is available in your local store – you can also add more, but perhaps reduce the quantity of salt used to avoid over-seasoning the whole bratwurst casserole. Italian Pancetta is a great option as well.
I used 4 bratwurst sausages – weighing in total about 1-pound. This amount can be adjusted to your liking.
Cooking time will vary. This depends on your oven (its size, type and performance) as well as on the oven-proof dish (its size and material) and also on potatoes (thicker ones will need longer than thinner ones, older take more to cook than fresh ones…). For this reason, please take the cooking time as a guide only.
Nutrition Facts
Bratwurst Casserole
Amount per Serving
% Daily Value*
* Percent Daily Values are based on a 2000 calorie diet.
** As an Amazon Associate I earn from qualifying purchases.
LEAVE A COMMENT