Let's pickle some cucumbers! This spicy sweet and sour dill pickles recipe is our favorite and never disappoints!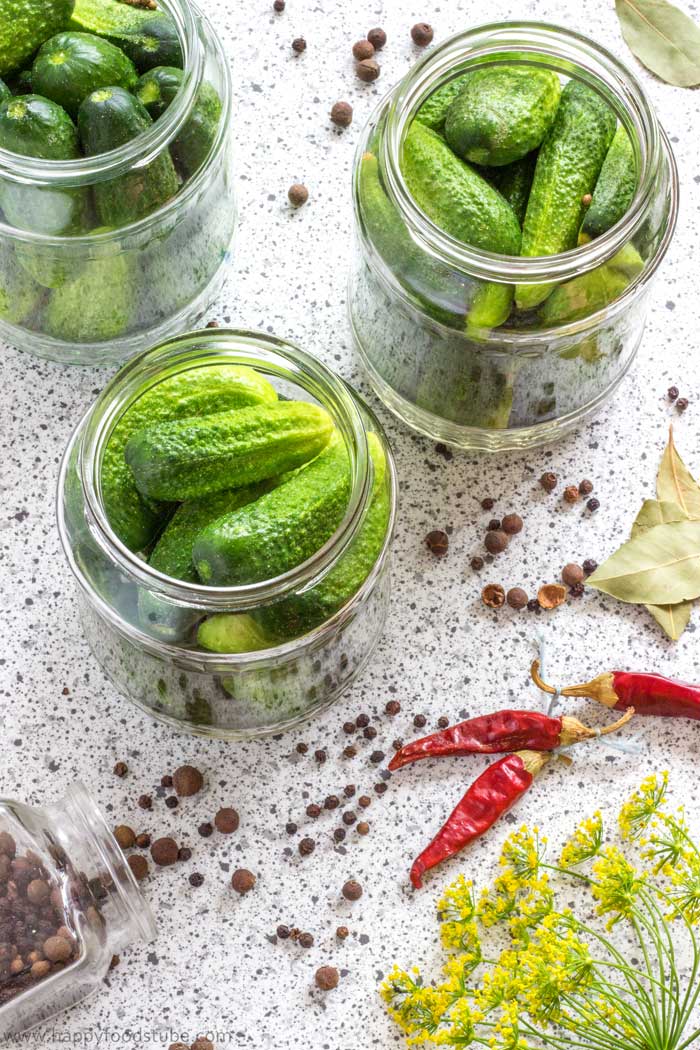 When I visited my parents in July all I saw were cucumbers! The garden was packed with them! The pantry as well!
Even though that this year's fruit and veg harvest has been significantly smaller than previous years'(thanks to the unexpected "touch" of frost in spring) cucumbers and zucchinis seemed to have no problem recovering and growing in such sizes (zucchinis) and numbers (zucchinis + cucumbers).
Apart from giving them away to family and friends, pickling seemed to be the main pastime in the house! I have always preferred my mom's dill pickles to other peoples' or shop bought version.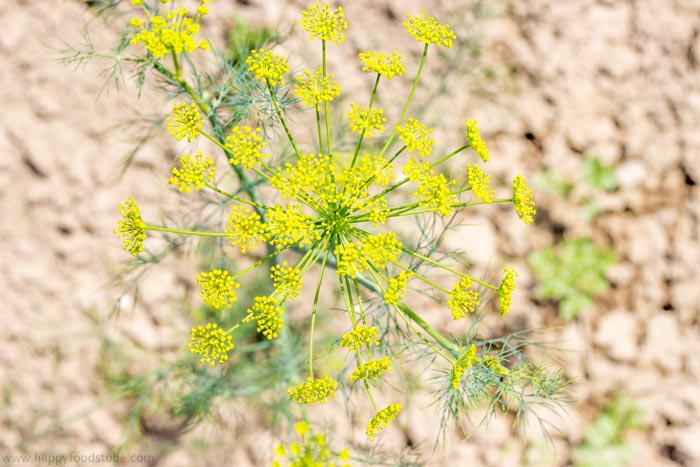 In fact my family has always been self-sufficient when it comes to cucumbers. I guess it's pretty obvious that if you have a lot of them you pickle them. That is why we wouldn't buy pickled cucumbers from a shop!
There was no need! It was only when I moved away, to a far faraway country that I started buying them from a supermarket. I've tried several brands and so far I like my mom's recipe.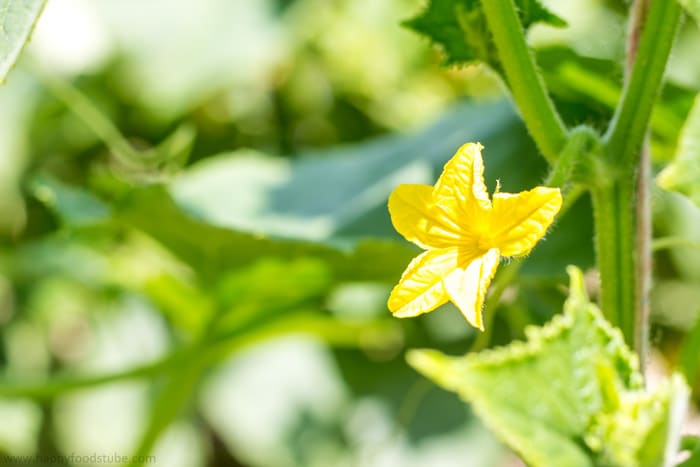 Her recipe for pickled cucumbers uses a combination of sugar & vinegar. This is the way she has been doing it for years and this is the way we all love it. Sometimes she puts other vegetables there as well (onion, carrots, …) and chili like this time.
This spicy sweet and sour dill pickle recipe requires cooking the jars but there is nothing difficult about that. It only takes 10 minutes.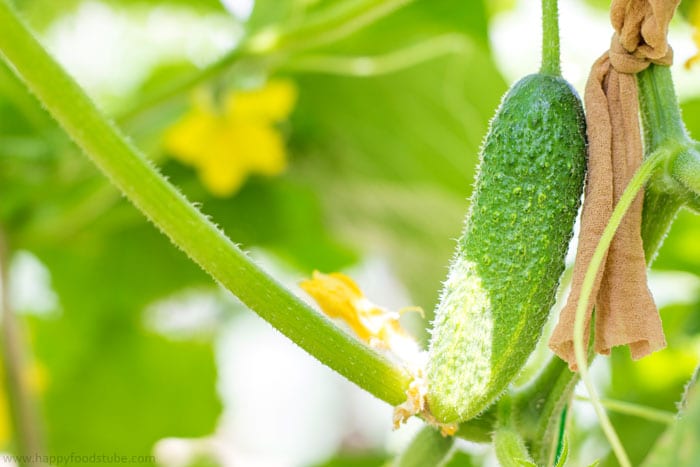 Also the longer you keep these pickled cucumbers in your pantry the better their flavor. For best results store in your pantry for at least 3 months before opening.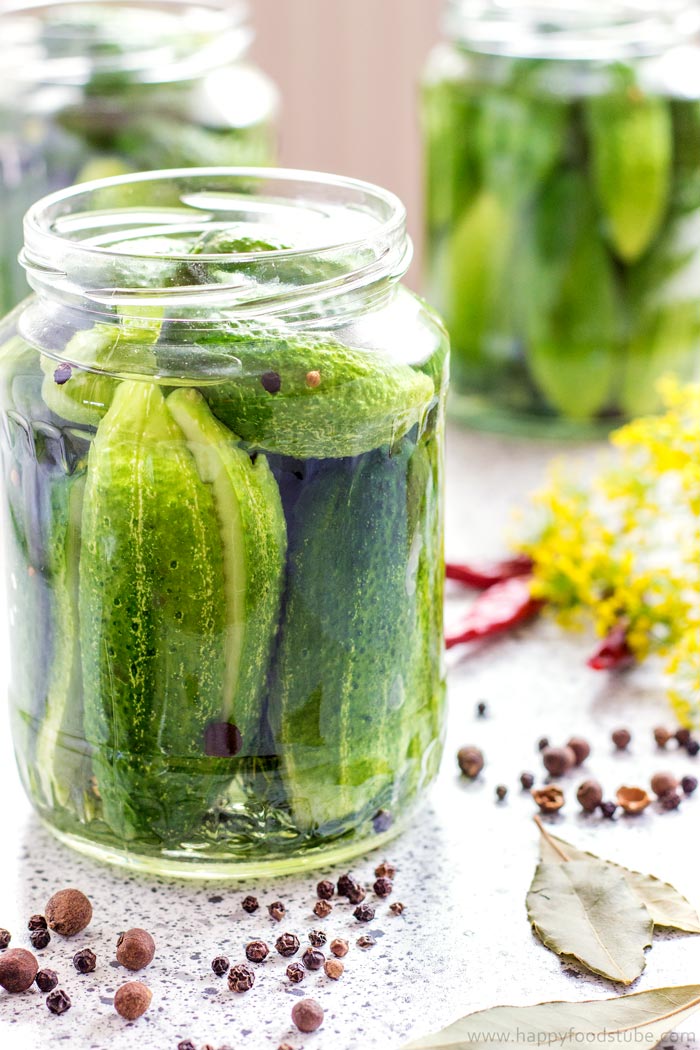 If you are after spicy sweet and sour dill pickles recipe, give this one a go! Dill pickles are a classic in the pickling world!
They are perfect with cold meats, hamburgers/cheeseburgers, in Creamy Potato Salad and Rice Crab Stick Salad as well as various cooked dishes!
If you are looking for more preserving and canning recipes, check these out:
Spicy Sweet and Sour Dill Pickles
Let's pickle some cucumbers! This spicy sweet and sour dill pickles recipe is our favorite and never disappoints.
Servings:
4
Jars (700ml/24fl oz)
Ingredients
4

cups

Water

(2l)

2.8

oz

Salt

(80g)

8.8

oz

Caster Sugar

(250g)

24

fl oz

Distilled Vinegar

(700ml)

Fresh Dill Flowers

2.6-3.3

lb

Pickling Cucumbers

(1.2-1.5kg)

12

Jamaican Peppercorns

4-8

Chili Peppers

of your Choice (optional)
Instructions
First things first:
Wash the cucumber thoroughly. Sterilize your jars and lids. I normally wash them in soapy water and boil for about 10-15 minutes in a large pot. Make sure all your jars are of the same size.
Make the sweet & sour pickling sauce:
Bring the water + salt + sugar to a boil. Cook until the sugar has dissolved. Turn off the heat. Add vinegar & stir.
The pickling:
Place at the bottom of each jar 1 dill flower, 2-3 Jamaican peppercorns/Allspice, 3 whole pepper corns, 2 bay leaves + optional: coriander seeds, cloves.

Then fill each jar with whole pickling cucumbers – fit in as many as possible (you could fit it about 400g/14oz) and 1-2 chilies, if you like them hot.

Pour over the sweet & sour pickling sauce leaving 1cm/0.5 inch headspace.

Close jars with sterilized lids and place them in a pot. Cover with water but make sure the lids are NOT under water (leave 1cm/0.5 inch space between lids and water).
Notes
You can use warm or cold sweet & sour pickling sauce. If you use cold one (you can prepare it day ahead) then use warm water fill the pot. If using warm one, then use warm water to fill the pot. Slowly bring to a boil and boil 10 minutes at 100

°

C/212

°

F. Take the jars out (use thongs) and place them onto a kitchen towel upside down until the next day. Check if each jar is airtight. If you find some jars are not, simply place them in the fridge and eat these first.
Nutrition Facts
Spicy Sweet and Sour Dill Pickles
Amount per Serving
% Daily Value*
* Percent Daily Values are based on a 2000 calorie diet.
** As an Amazon Associate I earn from qualifying purchases.
LEAVE A COMMENT
RELATED POSTS