This is a quick and easy recipe for creamy orzo pasta salad. Summer vegetables are combined with orzo pasta and creamy curried dressing is stirred in.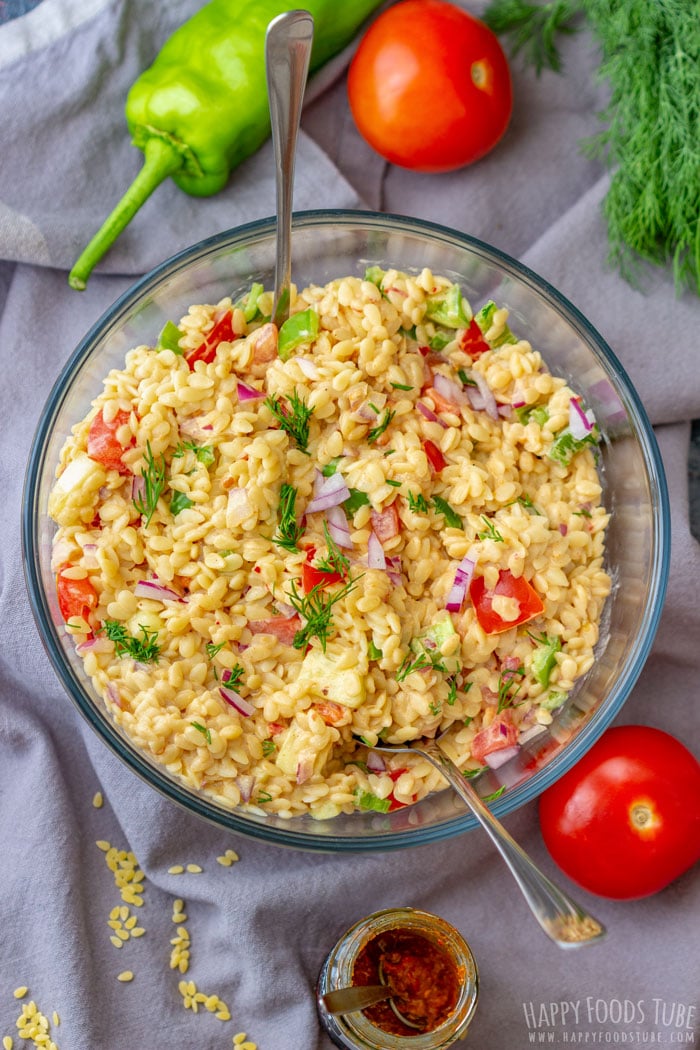 This creamy orzo pasta salad is full of summer flavors. It's the perfect side dish for outdoor entertaining. Enjoy it either warm or cold!
Summer usually means high temperatures and that means most of us is not interested in spending hours in the kitchen cooking. That is why I love making salads of all kinds this time of year. Vegetable Couscous Salad, Goat Cheese Salad or Strawberry Salad are one of the quick ones to make.
Now just so you know, this creamy orzo pasta salad can be enjoyed as a main as well. I have to say I like eating it for my lunch because it is so easy to make.
How to cook orzo pasta
Orzo pasta is cooked the same way as any other type of pasta. Just bring water to a boil, add salt and the tiny pasta. Cook until ready and drain.
Now orzo pasta can vary slightly from brand to brand so always follow the package instructions.
Is there gluten in orzo pasta?
Yes, there is. However, there are some brands that sell gluten-free option as well.
How to make creamy orzo pasta salad
The prep is easy peasy and so is the cooking part. Once you have cooked the orzo, you are done with cooking.
The rest of the prep consists of cutting the veggies and making the thick creamy dressing. This can be done while you are waiting for the orzo to be cooked.
The dressing is very easy to make yet it give a ton of flavor to this salad. In a bowl (use a cereal or soup bowl) combine Philadelphia cheese, curry paste, soy sauce and a pinch of salt and pepper. Mix this with a spoon until well combined and smooth.
This stirred into a warm orzo pasta salad is amazing! It melts and coats everything perfectly.
Tips for making creamy orzo pasta salad
You can easily adjust the amounts of the vegetables to your liking. Add more or less.
Cucumbers can go in peeled or unpeeled. The peel can sometimes taste bitter so I recommend you taste the cucumber first. If it tastes bitter, peel it off. It would spoil your salad.
Tomatoes – use any variety you like. Just make sure they are ripe.
Red onion has a milder taste and is perfect for salads. However, white or yellow can also be used.
I used only a little amount of the curry paste that was just enough to flavor the dressing and give it a mild spicy taste. You can add more, if you like.
Chopped fresh dill can be stirred into this salad or just used as a garnish on top. If you don't like it, omit it.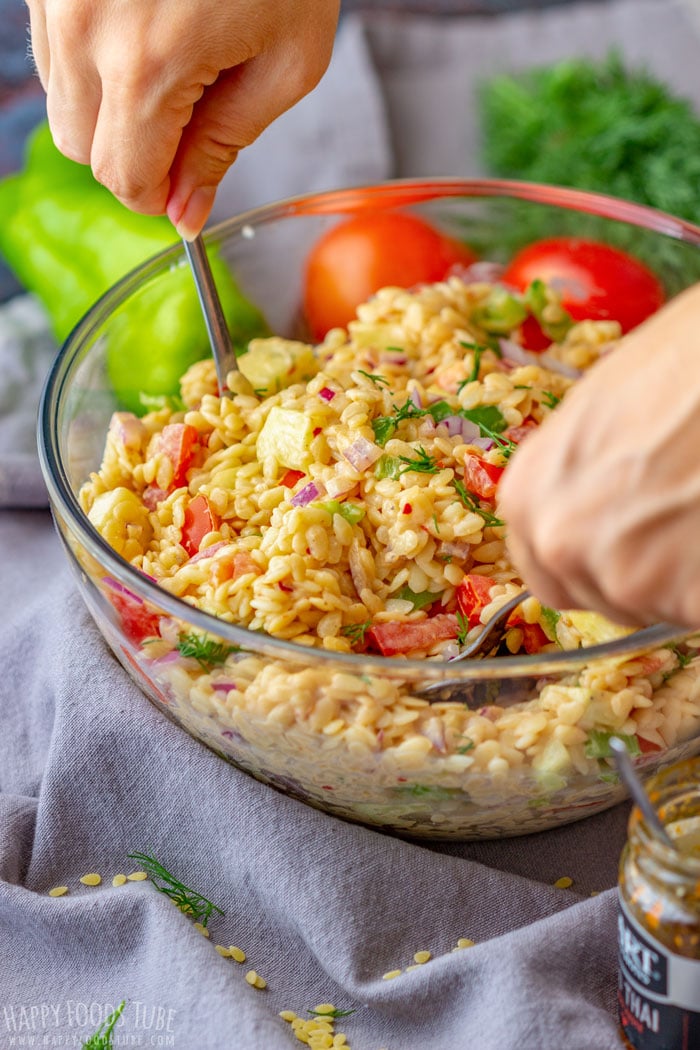 Guys, if you like pasta salads, you might also like Broccoli Tomato Pasta Salad. It is also easy to make so one of your weekday lunches/dinners could be easily sorted with this recipe.
Creamy Orzo Pasta Salad
This is a quick and easy recipe for creamy orzo pasta salad. Summer vegetables are combined with orzo pasta and creamy curried dressing is stirred in.
Servings:
5
Portions (as a side)
Ingredients
For the salad:
1½

cup

Orzo Pasta

1

Italian Green Pepper

2

Medium-Large

Tomatoes

1

Small

Red Onion

1

Garden Cucumber

(7oz/200g)

Salt and Pepper

to taste

Fresh Dill

, optional
Instructions
Cook the orzo pasta following the package instructions.

Meanwhile, cut the pepper, tomatoes, onion and cucumber into small pieces (it does not really matter what the pieces look like so don't worry about your cutting technique). Throw these into a serving bowl, season with salt and pepper and stir well.

Prepare the dressing by mixing all the dressing ingredients in a small bowl. Add this into the serving bowl altogether with the cooked and well drained orzo pasta.

Stir everything around until well combined and the creamy dressing covers all the pasta and veggies. Sprinkle with finely chopped dill.

Serve as a side or light lunch meal.
Notes
Cucumbers, tomatoes, red onion – you can use any variety you like. For best results choose the freshest ingredients.
The cucumbers can be used peeled or unpeeled. If you decide to use unpeeled cucumbers, make sure to taste them to see if the skin is bitter or not. If it is, you should peel it, unless you are OK with it.
Fresh dill can be finely chopped and stirred into this salad or used as a garnish.
Nutrition Facts
Creamy Orzo Pasta Salad
Amount per Serving
% Daily Value*
* Percent Daily Values are based on a 2000 calorie diet.
** As an Amazon Associate I earn from qualifying purchases.
LEAVE A COMMENT
RELATED POSTS