This is a basic recipe for crunchy granola that can be customized to your liking by adding more extras (ideas below). It's sweet, crunchy and good for you. Only 6 ingredients!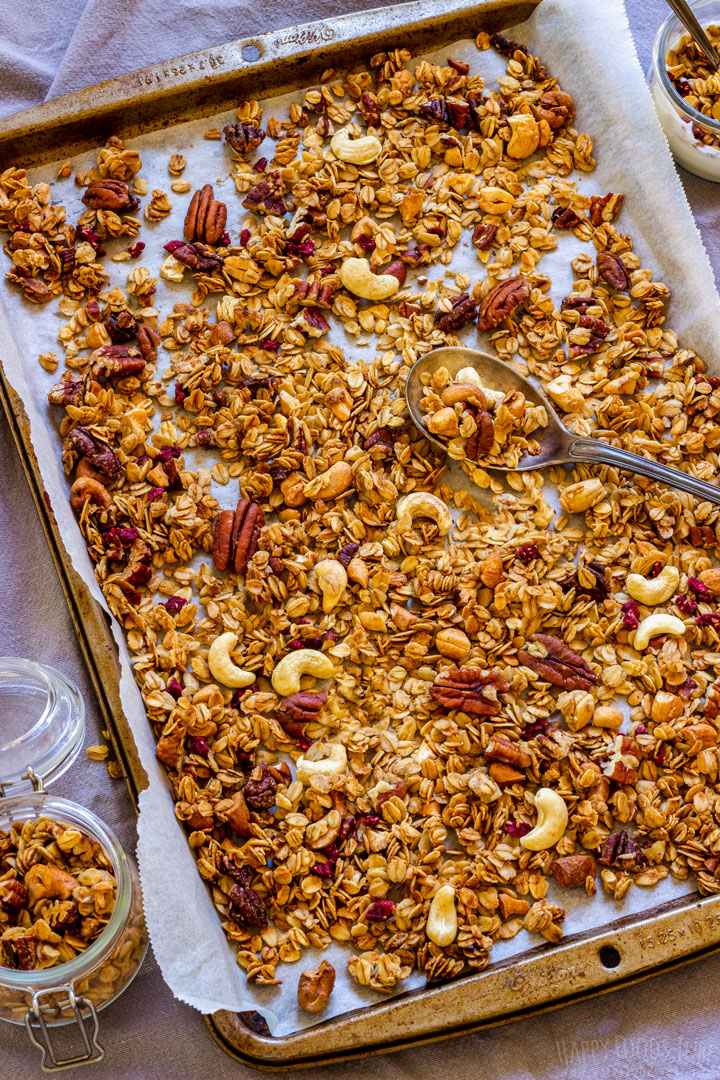 This homemade granola recipe is also suitable for vegans.
In this post, you will find a ton of information for beginners or anyone who is looking for more ideas for possible add-ons, serving suggestions as well as useful tips.
A full recipe card with instructions on how to make crunchy granola and a few process photos to help you visualize the process can be found at the bottom of this post.
When it comes to granola ingredients, this recipe calls for a handful of items only. It makes it affordable but still tasty, and it is easy to add extras to taste.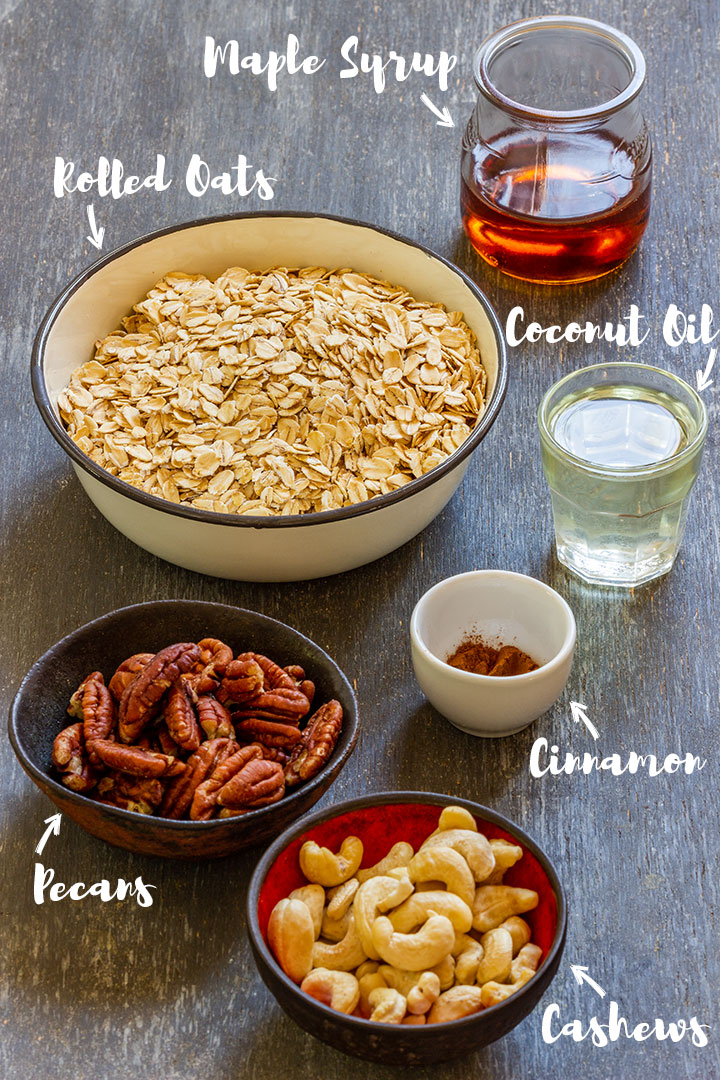 Optional add-ons:
There are many things you can add to this crunchy granola recipe. It will all depend on what you like or what you are willing to give a try. Here are a few ideas for you:
Prunes
Dates
Coconut flakes
Raisins
Chocolate chips
Chia seeds
Pumpkin or sunflower seeds
Freeze-dried berries
All these above-mentioned extras would be just added to your ready-made and cooled granola.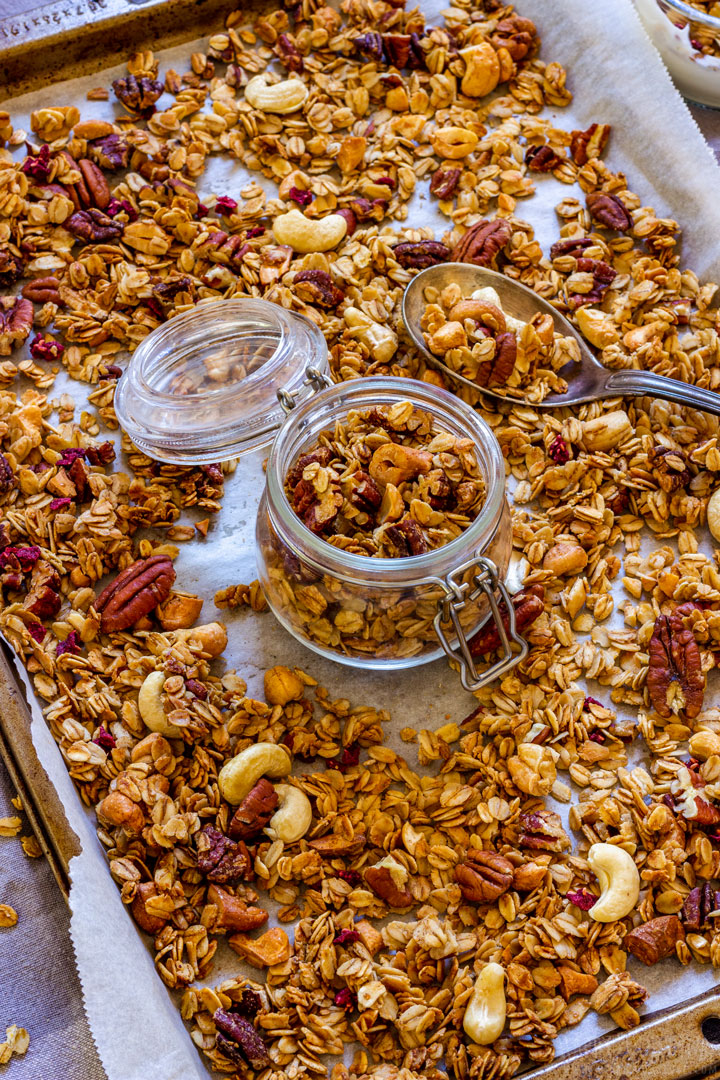 How to enjoy homemade crunchy granola:
With Greek yogurt for breakfast.
With milk of your choice or add a little to your cereal bowl.
On its own – as a quick and healthy snack.
As a topping for oatmeal with fresh berries or for smoothie bowl.
Use it to make parfaits.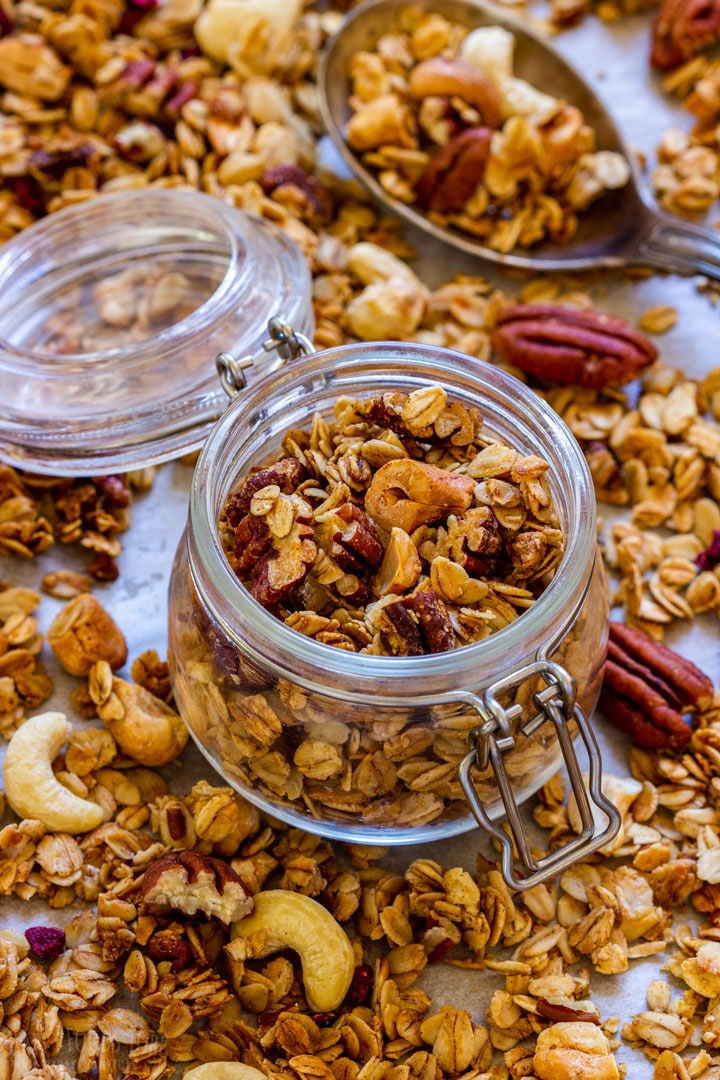 Tips for making the tastiest crunchy granola
If you like to achieve a cluster-like look, try using instant oats.
This is a basic recipe for homemade granola. You can add more/less spices, syrup, oil, but if you want to achieve the crunchy texture, syrup and oil are necessary.
You can use other nuts if you like. I used our favorite ones.
Coconut oil works best here but if you are looking for a possible substitution, use mild olive oil. This is a healthy granola recipe, so I don't recommend using other oils instead.
My recipe for crunchy granola does not contain salt. The reason is simple: I don't see a reason adding this as it is not needed. We already buy a ton of products that are high in sodium so why not regulate our intake if we can? Now, that being said, you can add some, if you like.
More homemade granola recipes you might like:
Check out our video for how to make crunchy granola:
Crunchy Granola
This is a basic recipe for crunchy granola that can be customized to your liking by adding more extras. It's sweet, crunchy and good for you. Only 6 ingredients!
Servings:
7
(3.5 cups, see note 8)
Ingredients
Basic granola recipe:
2

cups

rolled oats

(200 grams)

½

cup

pecans

, roughly chopped (50 grams)

½

cup

cashews

, roughly chopped (60 grams)

¼

teaspoon

cinnamon

¼

cup

coconut oil

, melted (50 milliliters)

¼

cup

maple syrup

(75 milliliters)
Instructions
Preheat oven to 300 Fahrenheit (150 Celsius).

In a mixing bowl, combine rolled oats, pecans, cashews and cinnamon. Mix well. Pour in melted coconut oil and maple syrup and stir well.

Transfer the mixture onto a baking tray lined with baking parchment and spread around evenly (by pressing down the mixture and limited stirring during cooking, clusters will form, if interested).

Bake at 300 Fahrenheit (150 Celsius) for about 25 minutes, stirring once or twice during cooking (see note 4).

When ready, take it out and let it cool down.

Enjoy any way you like!
Notes
The choice of nuts is entirely up to you. This is our favorite combo though.
Instead of maple syrup, honey can be used.
Please note that this is a basic granola recipe to which you can add more extras like dried dates, figs, raisins, coconut flakes,… These extras would be stirred to the already cooked and cooled granola.
Cooking time may vary depending on your oven and the position of the tray. I cook it on a bottom shelf for 25-28 minutes, stirring once as not to break the clusters much. Keep an eye on it, when cooking it for the first time or using the middle shelf as you might need less time.
Let the granola cool down completely before transferring it into an airtight container (or Ziploc bag). Store in a cool dry place. When stored properly, it should last for weeks, but it might lose its crunchiness and freshness over time. For that reason, I recommend making smaller batches.
This recipe can be easily doubled.
More tips and useful information as well as serving suggestions are to be found in the post above this recipe card.
The recipe yields 3.5-cups/350-grams/12-ounce of granola. Portion size may vary from ¼ cup to ½ cup per person, depending on what you use it. The nutritional information is based on ½ cup.
Nutrition Facts
Crunchy Granola
Amount per Serving
% Daily Value*
* Percent Daily Values are based on a 2000 calorie diet.
** As an Amazon Associate I earn from qualifying purchases.
LEAVE A COMMENT