This is an easy recipe for salmon tacos with pan-seared salmon fillets, a quick salsa and a simple yogurt-based sauce. Salmon can be prepared either on a grill or stove-top!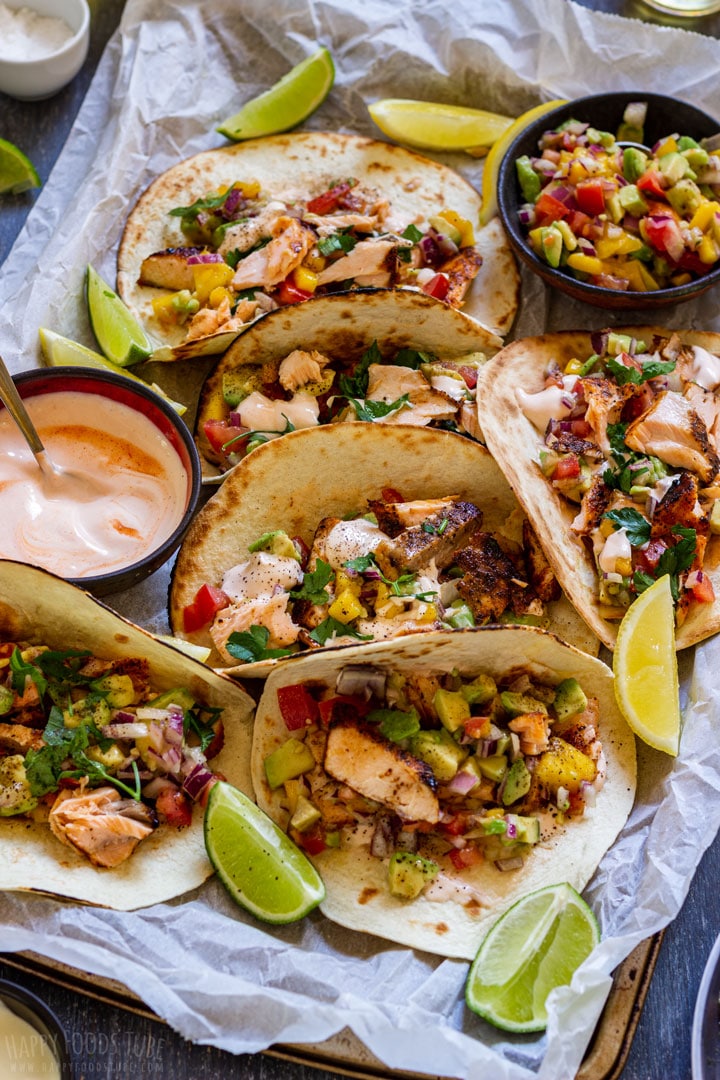 Simple fish seasoning, fresh ingredients and easy-to-make spicy sauce make these salmon tacos a delicious meal.
What are tacos?
A taco is a type of Mexican street food using small tortillas (made with either corn or wheat) as a base that is topped with various fillings and garnished with salsa, guacamole or other condiments. The finished taco is then folded in half.
You can make either pan-seared or grilled salmon tacos. Both delicious options, but the grilled version is more enjoyed in the summer months when tacos can be served with other grilled meats.
It's a great way to cater for a larger crowd, where not everyone might like the same.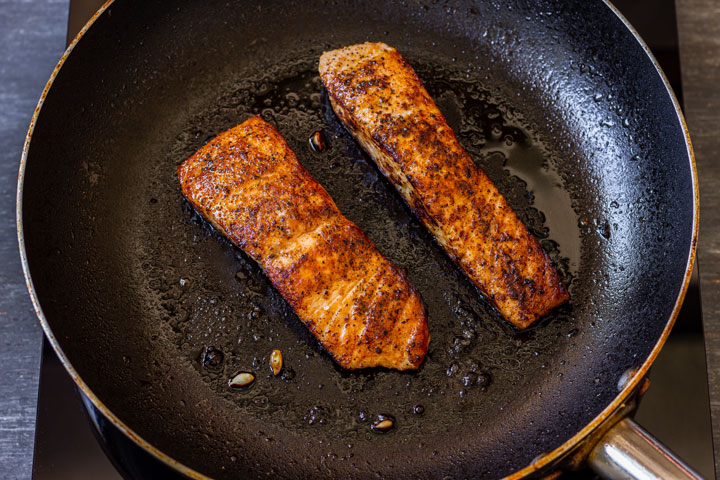 How to make salmon tacos
I recommend starting with salsa – choose any type you like. In this recipe, I went for a simple taco salsa – a mix of tomatoes, red onion, avocado and mango, a splash of olive oil, lemon or lime juice and some fresh parsley or cilantro, mixed together.
Another tasty option is pomegranate salsa but feel free to mix up anything you like.
Preparing salmon for your salmon tacos is simple. Season it well with salt, pepper, paprika, ginger and a pinch of cayenne pepper and cook in a skillet/pan with a little olive oil until ready.
Then, flake the flesh with 2 forks – it will easily separate.
Next to make is some kind of a sauce that will go well with salmon tacos. I like homemade aioli or a quick yogurt-based sauce.
What salmon should I use to make salmon tacos?
Fresh or frozen fillets are the best choices. They can be with or without skin. If you choose with skin, make sure to remove it before you flake the cooked fish.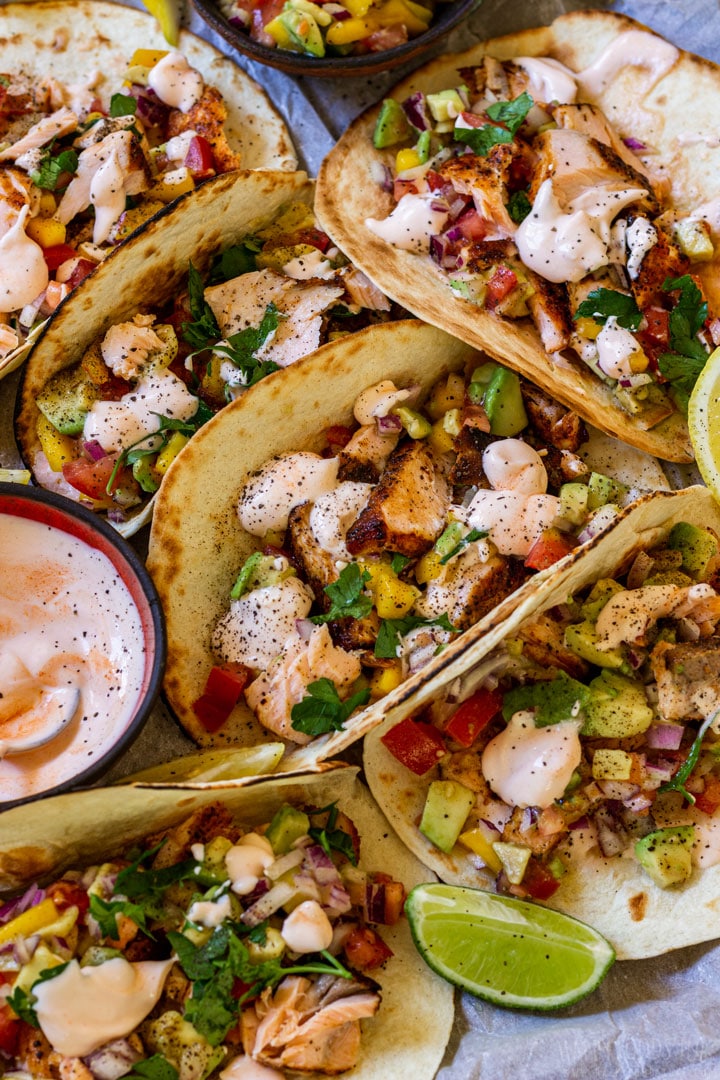 Tips for making the best salmon tacos
Cooking salmon too long will result in a dried-out fish, so it is good to keep an eye on it. The cooking time will depend on the thickness of your fillets as well as the heat and pan used.
An easy indicator for a perfectly cooked salmon is flakiness – take 2 forks and try to split open the fillet. If it goes easily and also if the color is light pink without any dark pink areas, your fish should be ready.
If not sure, it's good to use a food thermometer – it should read 145 Fahrenheit (63 Celsius) in the thickest part.
You can also use the same seasoning for any white fish of your choice.
Always double-check if the fish you are using is free of any bones.
If you love tasting new taco recipes, why not try our chicken tacos or ground beef tacos?
Salmon lovers might like to try some of these salmon recipes:
Salmon Tacos
This is an easy recipe for salmon tacos with pan-seared salmon fillets, a quick salsa and simple yogurt-based sauce. Salmon can be prepared either on a grill or stove-top!
Ingredients
For salsa:
½

mango

½

small

onion

1

large

roma tomato

1

small

avocado

1

tablespoon

olive oil

lemon juice

, from ½ lemon or to taste

fresh

flat leaf parsley

, finely chopped

salt & pepper

, to taste
For spicy sauce:
4

tablespoons

greek yogurt

4

tablespoons

mayonnaise

1

tablespoon

ketchup

hot sauce

, to taste

lemon juice

, to taste (about 1 tablespoon)
For tacos:
6

small

tortillas

, see note 3
Instructions
Salsa: In a mixing bowl, combine together all the ingredients. Taste and adjust seasoning to your liking. Chill in the fridge.

Salmon fillets: Season the fillets on both sides with salt (to taste), a generous amount of black pepper, ginger, paprika and cayenne pepper (to taste). Heat oil in a skillet/frying pan and cook the fillets over medium heat until ready, about 4 minutes per side (see note 4).

Spicy sauce: In a small bowl, combine together all the ingredients and mix until smooth. Taste it and add more hot sauce or lemon juice, if you like. Set aside.

Warm tacos (if you like) and top them with salmon, salsa and spicy sauce.
Notes
To be as time-efficient as possible, prepare salsa first. While cooking salmon, prepare the sauce. Warming tortillas is optional and this can be done in the oven or on a stove-top (without any oil).
Either fresh or frozen fillets (thawed) can be used. With or without skin. Make sure to remove the skin before serving tacos.
Use either corn or flour tortillas the size of your palm.
Cooking time will vary. This will depend on the thickness of the fillets as well as your pan and heat. I recommend using medium heat and a food thermometer, if in doubt.
This recipe yields at least 6-8 tacos, but it can be easily doubled.
For more tips and useful information or if in doubt, please read the post above this recipe card.
Nutrition Facts
Salmon Tacos
Amount per Serving
% Daily Value*
* Percent Daily Values are based on a 2000 calorie diet.
** As an Amazon Associate I earn from qualifying purchases.
LEAVE A COMMENT