Want some chocolate for breakfast? Make this 5 ingredient dark chocolate granola! This healthy breakfast or snack option is also gluten free & nut free!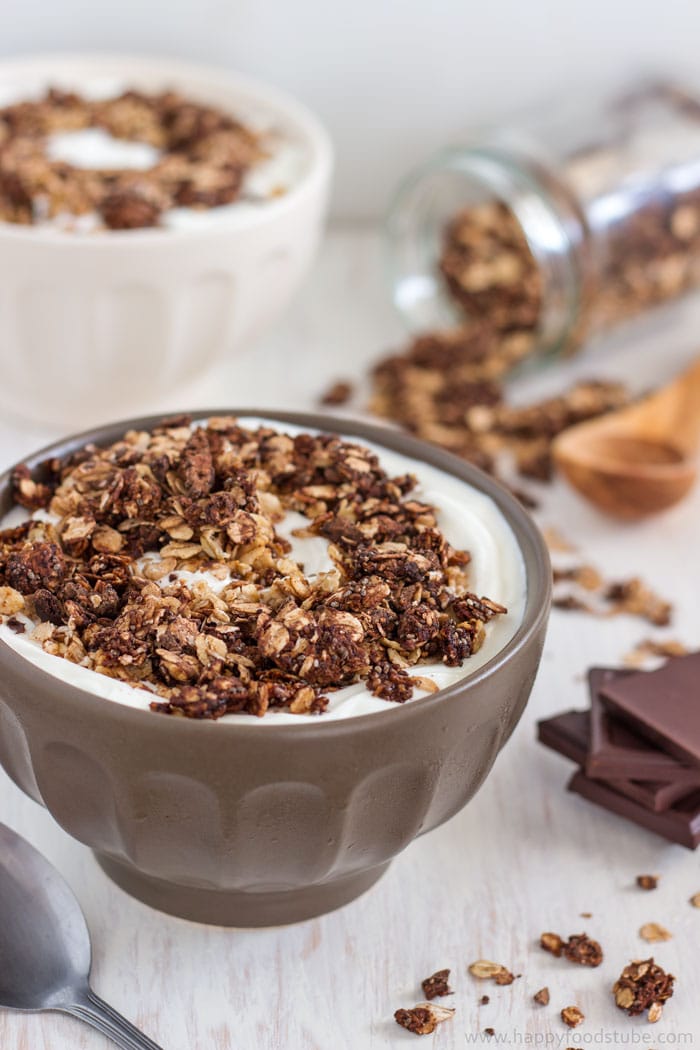 Guys! Do you love granola as much as I do? Since discovering the whole homemade granola world about a year ago I just can't get enough of it! It is a fast breakfast option and a pretty healthy one too!
The best part about homemade granola is that you can control what you put in and how much you put in! I mean the possibilities are endless, aren't they?
And those who are not granola fans I urge you guys to try make it at home before you completely write it off! Seriously! Trust me on this one! You WILL love it!
What I like about this dark chocolate granola recipe:
Only 5 simple ingredients.
Quick preparation.
Nut free – If you are not a fan of nuts then this nut free granola recipe is for you! There is not even one nut used here!
Healthy & filling breakfast or snack option.
Gluten free granola – yes, it is gluten free.
Homemade!
What exactly is granola you ask?
Now granola is a breakfast food but it is a very popular snack food as well. Rolled oats, nuts, sweeteners and dried fruits are baked in the oven until toasted and nice golden brown.
You can enjoy a bowl of granola with yogurt, honey, maple syrup, fruits, milk or as topping on desserts (i.e. crisp). You can make it into bars and take it with you to school, work or hiking, camping, or anywhere really!
How to make Homemade Dark Chocolate Granola:
Step 1
First thing you should do is preheat the oven. The prep will take you about 5 minutes so there is no need to waste time waiting for the oven to be hot enough. After you've done this, line a baking tray will baking paper.
Step 2
Now apart from measuring your ingredients all you have to do is finely chop the chocolate and mix all the ingredients together before spreading the mixture onto the baking tray. Nothing difficult here either.
Step 3
25 minutes in the oven is all it takes. Don't forget to stir the mixture around several times during baking. I usually stir it 3 times.
The oats will turn crispy and golden brown, chocolate will melt and partially coat the oats. The chocolate aroma will fill your home and it will become pretty hard not to taste this dark chocolate granola while still piping hot!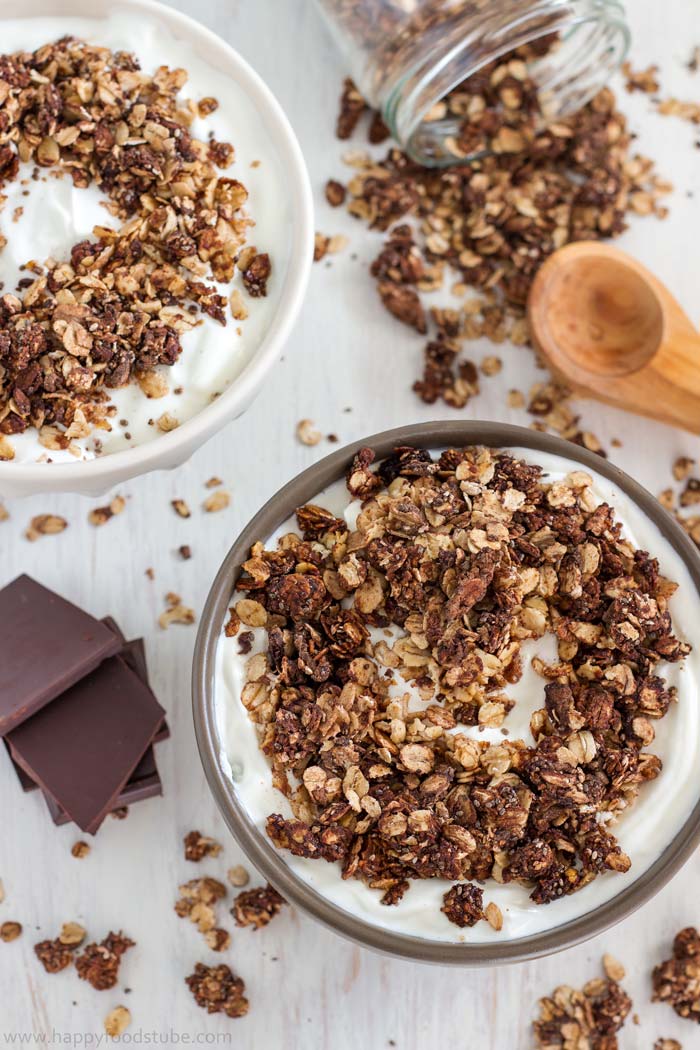 Serving information:
This homemade granola recipe will give you about 275 grams/9.7 oz of deliciousness. Now when I buy a box of cereals (300g/10.5 oz) from a supermarket it shows that it is 12 servings. I suppose they take 30g as a portion. Now just to let you know that when we fill our bowls with cereals (the 2 of us) it lasts us 2 days!
So I am not sure how many portions of my homemade granola this is. Also it will depend on what you eat it with (e.g. you would use more granola with milk than with yogurt).
When eaten with milk it serves 3-4.
A few last words:
This homemade dark chocolate granola contains no nuts at all. However, if you like nuts you should check out this Healthy Homemade Granola Recipe with hazelnuts, almonds and lots of other goodies such as dried dates, figs and coconut oil. It's packed with nutrients and tastes divine!
Check out this 5 ingredient dark chocolate granola recipe and let me know if you gave it a go
5 Ingredient Dark Chocolate Granola
Want some chocolate for breakfast? Make this 5 ingredient dark chocolate granola. This healthy breakfast or snack option is also gluten free & nut free.
Servings:
8
Portions (10 ounces/275 grams)
Instructions
Preheat the oven to 320F/160C and line a large baking tray with baking paper.

Finely chop dark chocolate.

In a large mixing bowl combine dry ingredients. At last add honey and stir until the honey is distributed evenly. Spread the mixture onto the baking tray.

Bake for 25 minutes or until ready. Make sure to stir the mixture around so it bakes evenly. Do this 3-4 times.

Once ready, let it cool before transferring into an air-tight container.

Enjoy with yogurt, milk, fruit or on its own!
Nutrition Facts
5 Ingredient Dark Chocolate Granola
Amount per Serving
% Daily Value*
* Percent Daily Values are based on a 2000 calorie diet.
** As an Amazon Associate I earn from qualifying purchases.
LEAVE A COMMENT
RELATED POSTS