This is a recipe for instant pot yogurt using cold start method without thermometer. It is a simple method of making homemade yogurt in a pressure cooker. This recipe can be easily turned into homemade Greek yogurt.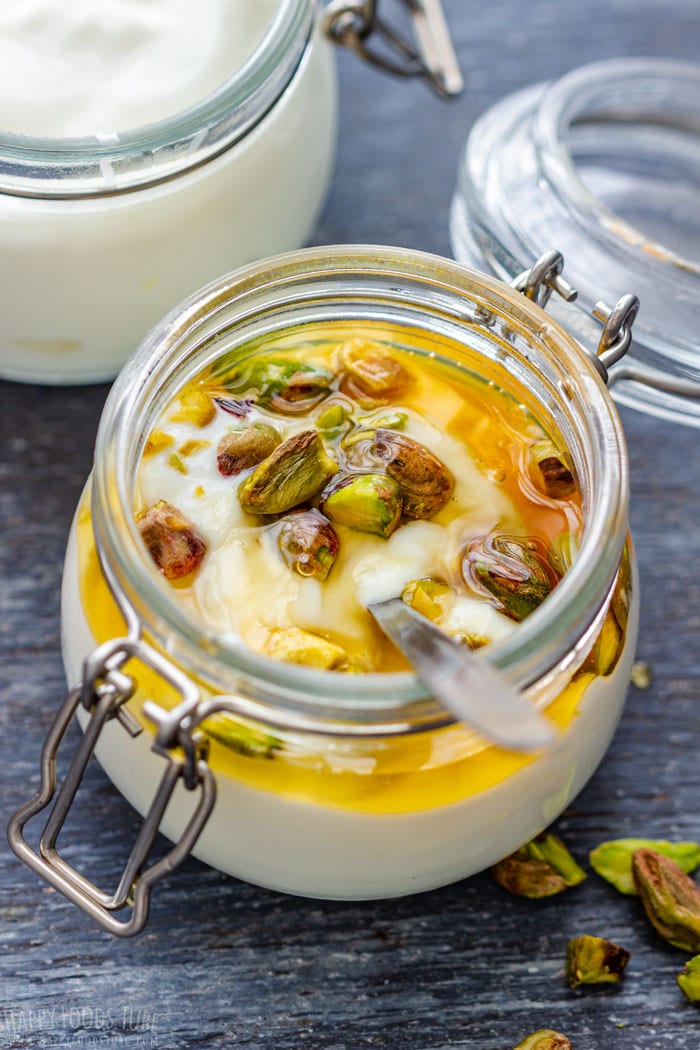 This cold start instant pot yogurt recipe uses only 2 simple ingredients and yields natural homemade yogurt that is creamy, but still runny. It is a basic recipe for yogurt, so you can enjoy it as is, or add a sweetener of your choice (more info below).
I like thick yogurt, so I strain mine and often use it to make Greek Yogurt Breakfast Bowl or smoothies (Mango & Kale Smoothie might sound like a weird flavor combo to you, but if the flavors are balanced, you will get a tasty and nutritious drink).
If made way too much yogurt, you can use it to make Mango Yogurt Popsicles or Yogurt Marinated Grilled Chicken.
Or if you like Blue Cheese Salad Dressing, try making it from scratch and substitute it for sour cream.
What is the difference between Greek yogurt and natural yogurt?
Greek yogurt is thicker than natural yogurt.
How to make Instant Pot Greek Yogurt out of this recipe?
All you have to do is strain it to get rid of whey.
3 cups of this homemade pressure cooker yogurt (which would be about 1/2 of this cold start instant pot yogurt recipe) will give you 1 cup of homemade Greek yogurt (after 2 hours of straining), so you can see that the yield is significantly lower. In fact, the longer you let it strain, the more whey will come out which means you will end up with thick yogurt, but you might get only a little out of it.
If planning to making a large batch of homemade Greek yogurt in pressure cooker, I recommend doubling the recipe.
What is cold start yogurt?
It's a simple, hassle-free method for making instant pot yogurt without having to bring milk to a certain temperature. It also means there is no need to check its temperature with thermometer or babysit it.
Dump, mix, set the timer and return back when the homemade yogurt is ready!
Tip: If you ended up with a large quantity of Instant Pot yogurt and think that you cannot consume all of it, then I recommend straining it – it's the easiest way to lower the quantity.
Storage: This homemade yogurt will last for several days (up to 7) when stored properly. I recommend using a jar with a lid (both sterilized to avoid possible contamination of your Instant pot yogurt).
Good to know:
I've tried this cold start yogurt making method using milk alternatives several times, but it did not work for me. If it does for you, please let our readers know! They will appreciate it.
The higher the fat content in the milk you use the thicker the yogurt.
Don't stir! The yogurt literally needs peace and quiet in order to set.
If you want to make yogurt with this cold start method, you need to use ultra-pasteurized milk (UHT), which does not contain any bacteria that need to be killed by heating it up at it has been already done for you. Do not substitute this milk for the regular one.
This recipe yields about 6-7 cups of natural yogurt. If you like the consistency of your yogurt, then you don't need to do anything with it. Just transfer it into sterilized jars. If you prefer a thicker yogurt, then you will need to strain it.
How to sweeten my homemade instant pot yogurt?
Here are a few options. You can ether stir them in or just drizzle over the yogurt.
Instant Pot Yogurt
This is a recipe for instant pot yogurt using cold start method without thermometer. It is a simple method of making homemade yogurt in a pressure cooker.
Servings:
6
Cups of Yogurt. See note 3
Ingredients
52

ounces

Ultra Pasteurized Milk

(1,5 liters), see note 1

2

tablespoons

Natural Yogurt

, see note 2
Instructions
Pour the milk into the inner pot of your instant pot pressure cooker.

Add natural yogurt and stir until well combined (use a whisk for best results).

Take a plate that is larger than your instant pot and cover it with clean kitchen towel. Cover the instant pot with it (check photos for better understanding). The towel will catch any moisture that creates so it does not drip back to the yogurt.

Press YOGURT setting and set the timer to 8 hours (or more if you prefer a stronger – pungent taste). The timer will count from zero up until it reaches the desired time. Then it will beep.

When the yogurt is ready, transfer the inner pot including the "plate lid" to the fridge and let it set for 8 hours (or overnight).

After this time, you can either enjoy it as is or you can turn it into a Greek yogurt (thicker yogurt) by straining it for several hours. See note 3 for more info. Either way, make sure to keep it in sterilized jars, sealed with lids (see note 4).

To strain: Place a fine mesh strainer over a bowl or sauce pan. Cover it with either 2 paper kitchen towels (make sure to use brand that does not contain any possible harmful additives. If not sure, use cheese cloth only) or a layer of cheese cloth followed by 1 sheet of paper kitchen towel. Pour the yogurt over and transfer to the fridge. The yogurt will turn thicker already after 2 hours.
Notes
Milk – This is a cold start yogurt making method so make sure to use ultra-pasteurized milk (UHT). Do not substitute it for fresh milk as it would have to be heated up to a certain temperature to kill any bacteria before you start making yogurt. I've also tried using milk alternatives, but it did not work for me, so I don't recommend doing it.
Yogurt – it must be natural – it must contain live cultures for the milk to turn into homemade yogurt. For this reason, check the label before buying it. I usually use natural Greek yogurt, but you can use any natural yogurt as long as it has live cultures in it. Do not use any flavored or sweetened yogurts.
Yield – you can get more or less yogurt. Note, that if you want to achieve a thicker consistency – or if you want to turn this into a Greek yogurt, you will need to strain it. This will also mean that your yield will reduce (the longer the straining = the thicker the yogurt = the smaller the yield).
Storage: This homemade yogurt will last for several days when stored properly (I recommend consuming it within 7 days). I recommend using jars with lids. Make sure to sterilize all these first (e.g. with a 10-minute water bath).
For more information or if in doubt, please read the full post above this recipe card.
Nutrition Facts
Instant Pot Yogurt
Amount per Serving
% Daily Value*
* Percent Daily Values are based on a 2000 calorie diet.
** As an Amazon Associate I earn from qualifying purchases.
LEAVE A COMMENT
RELATED POSTS