Sausage rolls are one of the must-try Irish snacks when visiting Ireland. Pork sausage meat wrapped in puff pastry and baked in the oven to perfection!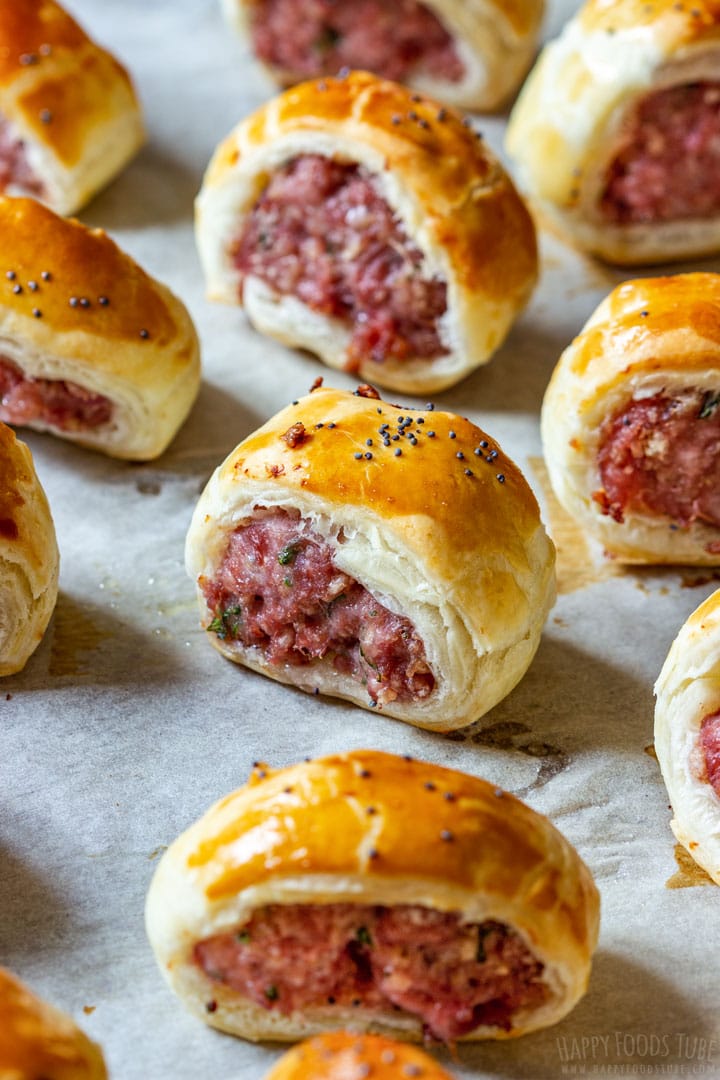 If you are looking for Irish foods to enjoy on Saint Patrick's Day, puff pastry sausage rolls are great Irish appetizers for the occasion.
They come in a few sizes – regular, jumbo and mini. Their mini version together with chicken wings and potato wedges are one of the most popular Irish pub finger foods.
What sausages to use for sausage rolls recipe?
In this recipe, I am using Spanish sausages, but you can use any sausages (Italian sausages) you like and for the authentic experience Irish sausages would be the best.
However, keep in mind that sausages vary from brand to brand and so does their flavor, color, texture which will affect the overall taste and look of your sausage roll.
How to make sausage rolls from scratch
The process is easy. You mix the sausage meat with breadcrumbs, parsley and garlic.
Next thing you divide your pastry sheet into 2 or 3 strips (depending on its size) and lay the sausage mixture in a raw alongside the middle of each sheet. Roll the pastry into a log and cut it into bite-size pieces.
Now there is another approach also, you could simply wrap the individual sausages in the pastry and cut (or leave them whole) if you like. Same as when you are making pigs in a blanket.
Baking time may vary but count with about 20 minutes. I like baking them on the bottom rack.
If you use less filling, you will get more. An 11-ounce (300-grams) of sausage meat should be plenty for a ½-pound of puff pastry but for extra thick or if your pastry is larger, feel free to use more.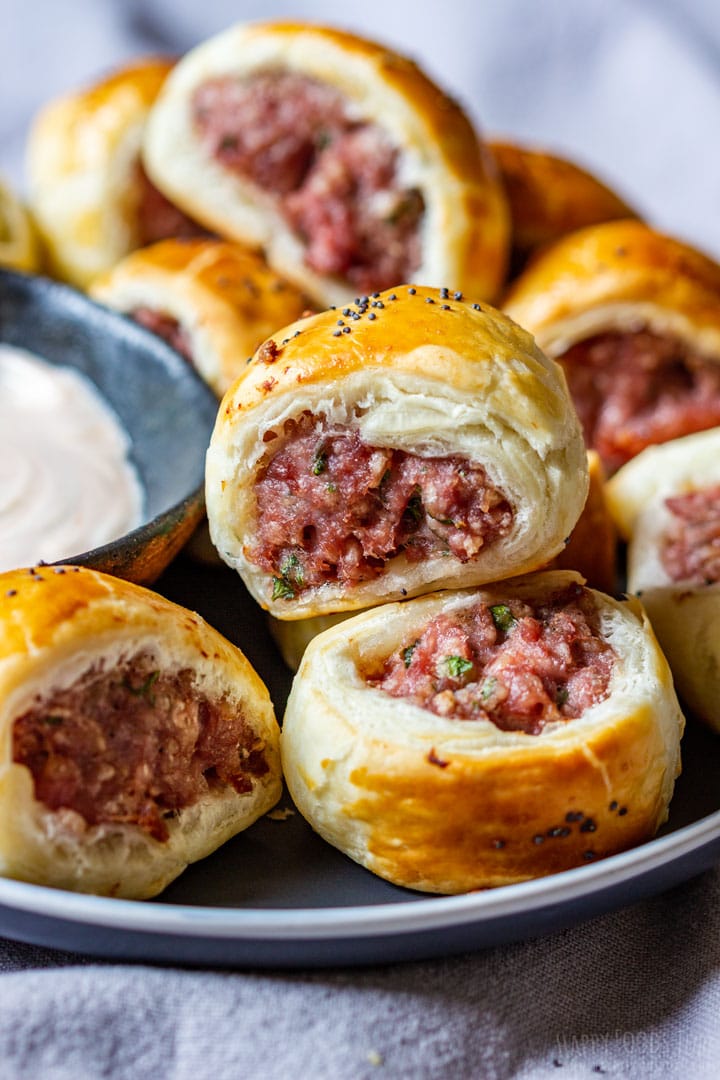 Serving suggestions:
Dips – just ketchup or a ketchup+mayo+garlic combo are the easiest options!
Spicy potato wedges and chicken wings are very typical pub snacks in Ireland so why not add some of these to your party menu!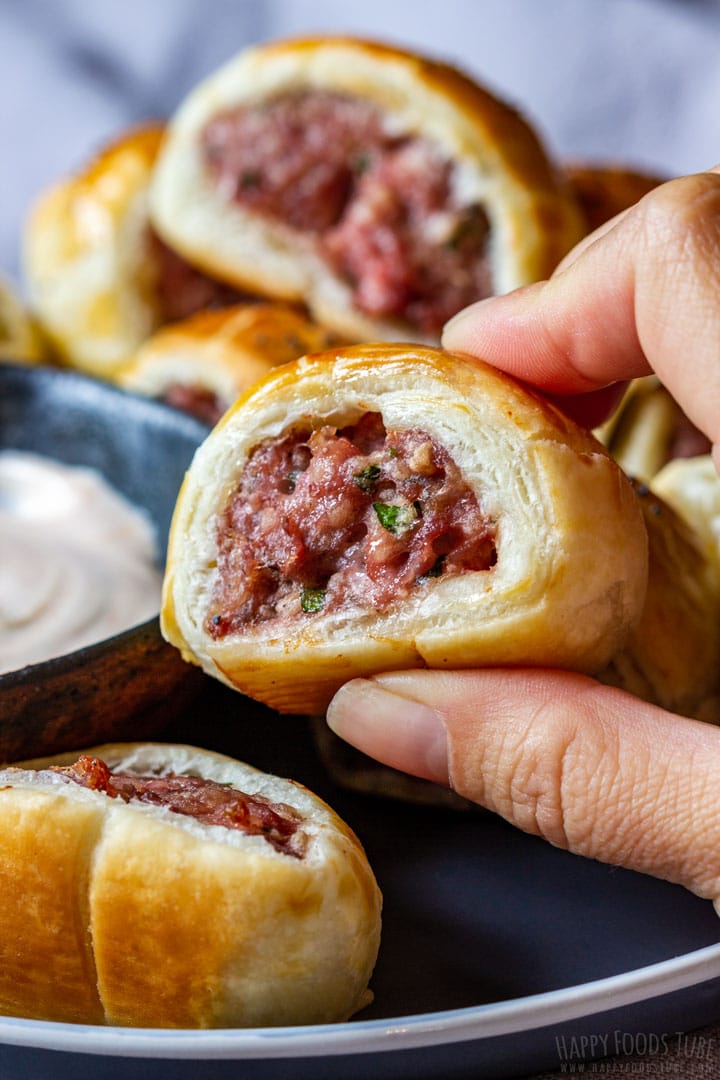 Useful tips
Homemade Irish sausage rolls are best enjoyed warm, but you can also eat them cold if you like.
Puff pastry should be nicely puffed and golden brown. If it is not puffed, leave it in the oven longer.
If not sure that the filling is cooked through, use a food thermometer. It should read at least 160 Fahrenheit (71 Celsius) and the center should not be pink anymore.
Other puff pastry appetizers you might like:
Sausage Rolls
Sausage rolls are one of the must try Irish snacks when visiting Ireland. Pork sausage meat wrapped in puff pastry and baked in the oven to perfection!
Servings:
16
pieces, see note
Ingredients
pork sausages

, see note 1

¼

cup

breadcrumbs

1

garlic clove

, pressed

1

tablespoon

parsley

, finely chopped

½

pound

fresh puff pastry

, see note 1

1

egg

, beaten (small is plenty)

¼

teaspoon

poppy seeds

, optional
Instructions
Preheat oven to 400 Fahrenheit (200 Celsius).

Remove the casings from sausages and place them in a medium mixing bowl.

Add breadcrumbs, pressed garlic and finely chopped parsley.

Using your hand (a plastic glove is very handy here), mix until well combined.

Unroll/unfold the puff pastry and cut in half (or thirds if too long). Top the center of each pastry sheet lengthwise with sausage filling. Brush one of the long edges with egg wash.

Wrap the other edge over the meat and roll over the brushed edge. Roll a few times to seal the edge. Repeat with the remaining pieces of pastry.

Cut into bite-size pieces and place onto a baking tray lined with baking parchment.

Brush with egg wash and sprinkle with poppy seeds (optional).

Bake in a pre-heated oven at 400 Fahrenheit (200 Celsius) for 20 minutes or until the filling is cooked and pastry puffed and golden brown.

Enjoy warm with ketchup or any dip you like!
Notes
Use any sausages you can get or you like – Irish, Spanish, Italian,… You will need between 11 to 14-ounce (300-400-grams) of sausage meat.
I used fresh puff pastry, but you can use frozen (thawed) if you prefer. Make sure to roll it out thin – about 1/8-inch (4-millimeters), if not using ready-rolled one.
Poppy seeds are completely optional. Sesame seeds can be used instead as well.
The quantity of mini sausage rolls will depend on their size.
Nutrition Facts
Sausage Rolls
Amount per Serving
% Daily Value*
* Percent Daily Values are based on a 2000 calorie diet.
** As an Amazon Associate I earn from qualifying purchases.
LEAVE A COMMENT
You may also like: