These vegetarian fresh spring rolls with peanut butter dipping sauce are packed with fresh vegetables! Salty Feta cheese complements the raw vegetables and gives these rice paper rolls a great flavor! They are light, refreshing and tasty!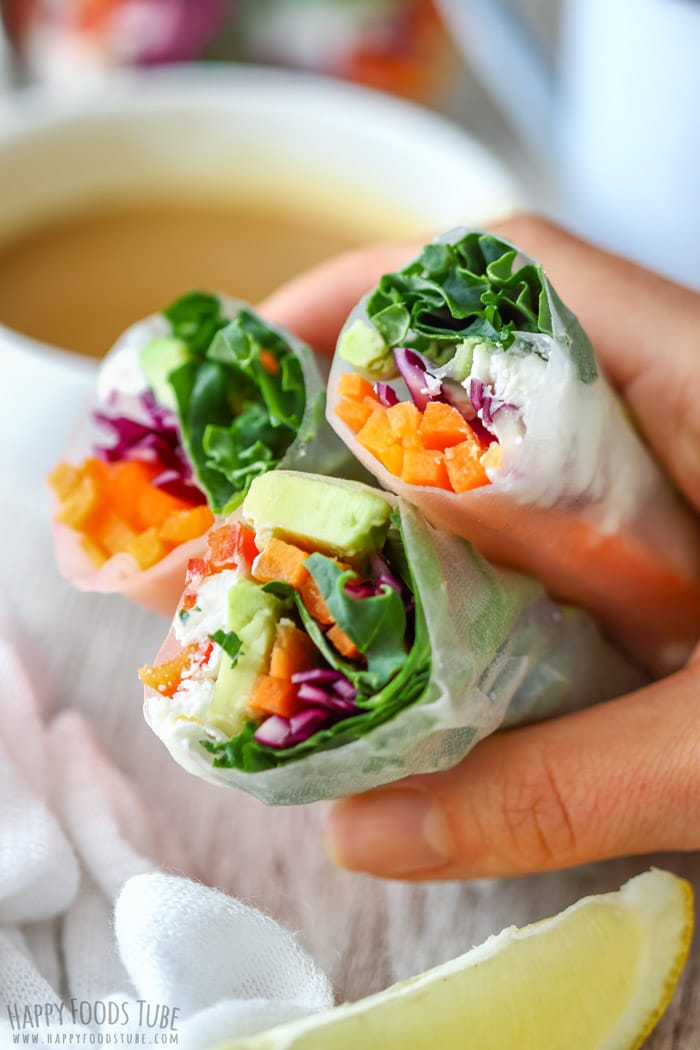 If you are looking for ways to add more veggies to your diet, these vegetarian fresh spring rolls are it!
Just so you know making vegetarian fresh spring rolls is super easy. First, there is no cooking required. No baking needed, no lengthy preparation! All you need is a bit of practice.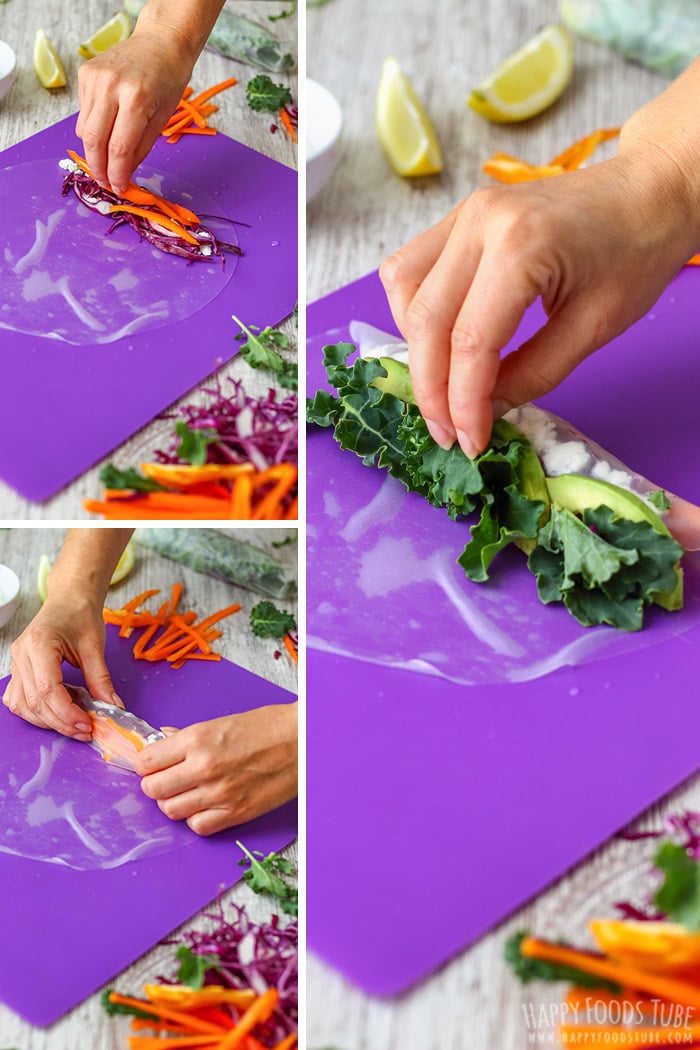 How to make fresh spring rolls
Make sure you rinse your veggies well first. Then you need to cut each of them thinly. Cutting them into matchstick shapes is the best. Shred or thinly slice the purple cabbage. If you feel that some of the cabbage pieces are way too large or of weird shapes, simply cut them smaller with a knife.
Divide the avocado in half, remove the stone and scoop out the flesh. Now cut each half into thin slices.
As for the kale, I recommend using baby kale leaves. They are more tender and pliable. I usually remove the hard stems so they don't pierce the rice paper.
Once you are done with the veggie prep, clean your worktop or get a damp cloth onto which you will place the rice papers ready for filling and rolling.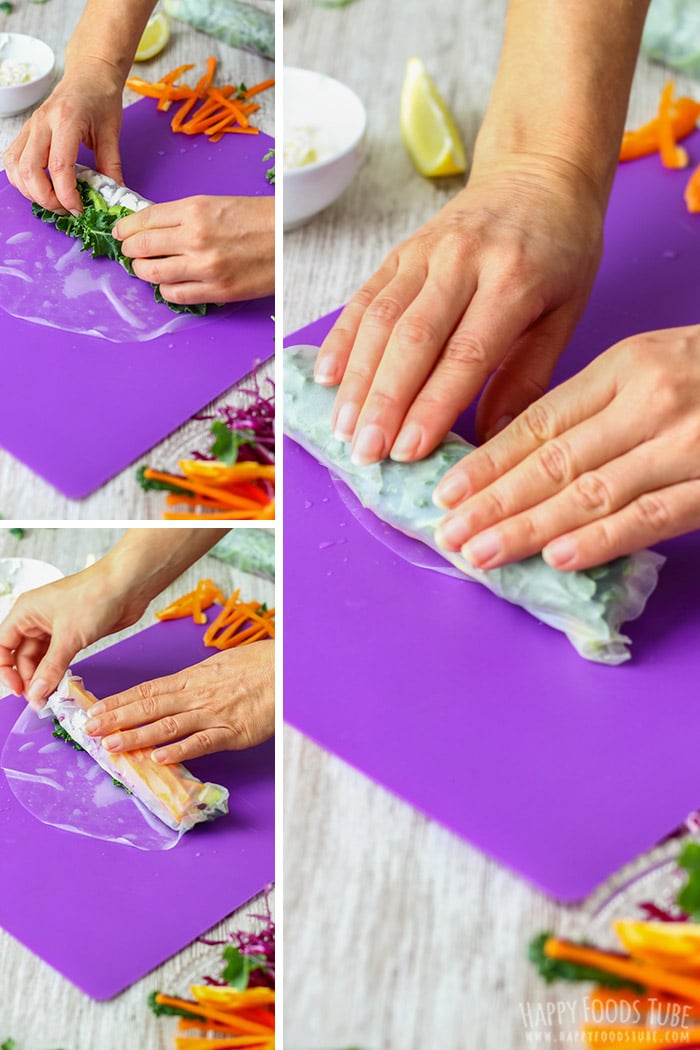 How do you soften spring roll wrappers?
The process is simple. You just submerge them in warm water, let them sit for a few seconds and once you feel they are soft you are good to go.
Just make sure to soften them one by one. Not all of them at once. Also the longer you leave them in water the softer they turn. Some instructions tell you that 10-15 seconds is needed, other say 5-10. Now the time will depend on the temperature of the water.
If the paper sits way too long in water, it gets way too soft and you might have trouble working with it. Just note it all takes some practice but by the time you roll your third or fourth vegetarian fresh spring roll you will get the hang of it for sure!
By the way, do you know how the rice paper (wrapper) is made? There are several ways and this video shows one of them: Making rice paper.
How to wrap a spring roll?
There are several ways – techniques how to make spring rolls. Now I did try 2 different ways and the one I am showing you on the pictures is the one that worked for me.
Have a look at the step-by-step photos to see how I rolled and wrapped these vegetarian fresh spring rolls. It's easy: Start at one "edge" where you place a selection of your ingredients. I start with Feta first and top it with carrot, pepper and cabbage.
Then roll the paper over, try to squeeze the veggies so you form a tight roll. But make sure to roll just enough to cover all the veggies with the rice paper. Then add second batch of vegetables. In this case it is avocado and baby kale leaves.
At this stage close the left and right corners by folding them in. If you do so you can finish the rolling until you end up with a nice Vietnamese-style spring roll.
Easy dipping sauce for spring rolls
You can make any kind of sauce you like. The only important thing is to make sure it is not bland. I made quick sauce by combining peanut butter, honey, lemon, water and soy sauce. You might omit the soy sauce if you find it too salty (or use low-sodium soy sauce).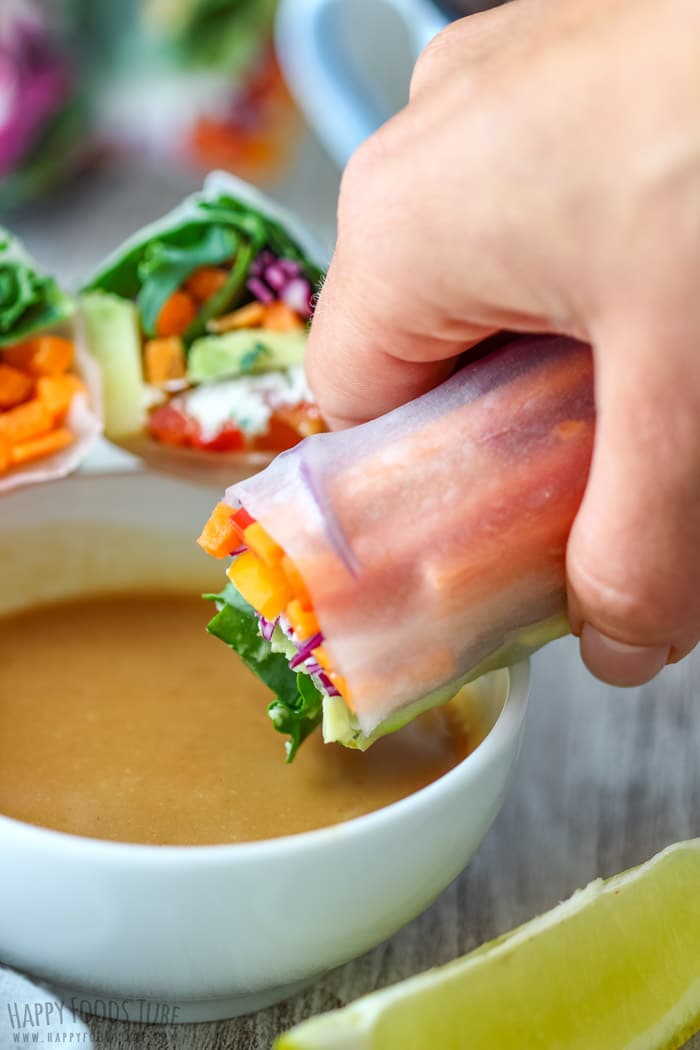 Useful Tips
Use frying pan filled with warm water to dip the rice paper in. I found this works better than any bowl. You could also use a wide-bottom pot.
If you can't find baby kale leaves, use spinach leaves instead.
To prevent spring rolls from sticking together, make sure there are gaps in between them when serving.
The amounts of vegetables can be changed or adjusted.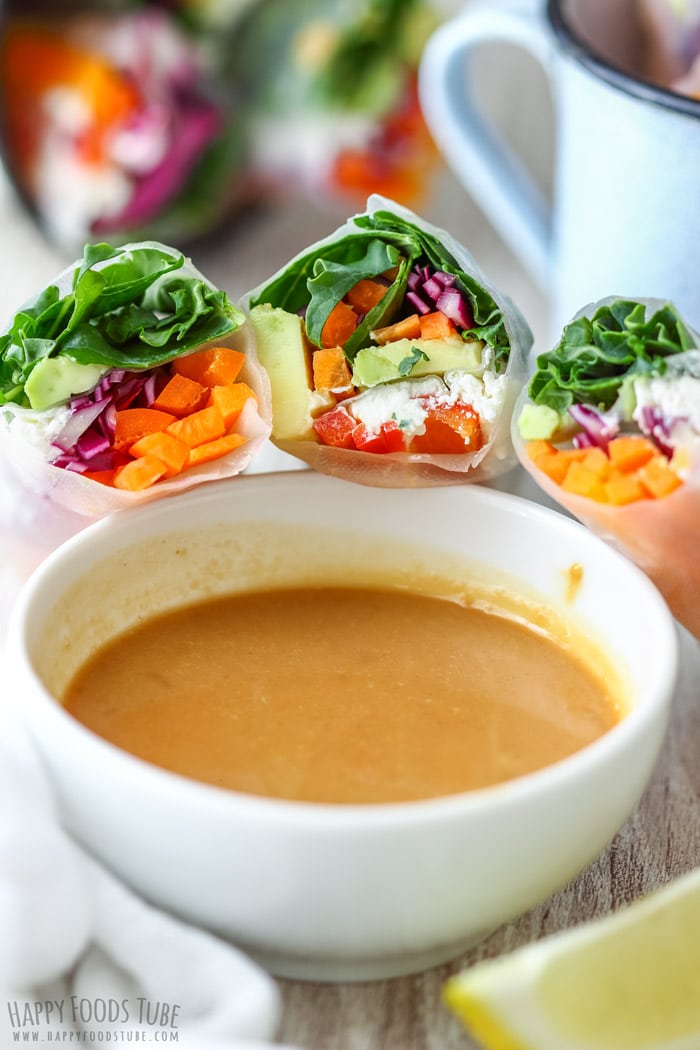 If you are looking for more meat-free recipes, here are some for your:
Vegetarian Fresh Spring Rolls with Peanut Sauce
These Vegetarian Fresh Spring Rolls with Peanut Butter Dipping Sauce are packed with fresh vegetables! Salty Feta cheese complements the raw vegetables and gives these rice paper rolls a great flavor! They are light, refreshing and tasty!
Servings:
4
(as appetizers)
Ingredients
1

large

Yellow/Red Bell Pepper

2

medium

Carrots

2

cups

Baby Kale Leaves

¼

Head

Purple Cabbage

6

Rice Paper Sheets

2

medium

Avocados

Feta Cheese
Instructions
Prep the veggies: Cut the pepper and carrots into matchsticks. Slice avocados and cabbage as thinly as possible. Remove any hard stems from baby kale leaves.

Get a large frying pan and fill it with warm water. Soak one rice paper in water until it becomes soft (the time will vary depending on how warm your water is. It can be somewhere between 7-20 seconds). When you see the rice paper is soft and does not feel hard to touch take it out.

Place the soften paper onto a clean work top or damp towel. Now to add the fillings start at the bottom ⅓ of the paper (the part that is closer to you). Crumble some Feta cheese over, then add some peppers, carrots and cabbage.

Now it's time to roll these fillings in the paper. Like when you are making a wrap. However, you only need to roll enough to close the first batch of fillings. Once you have done this, add more fillings – the avocado and kale. At this stage you can also add more peppers or cabbage, if you feel like you have not stuffed the roll enough.

Hold the fillings with your hands and at the same time roll the roll away from you while tucking the fillings in (under the wrapper).

Now close both edges by folding the wrapper (rice paper) in and finish the rolling. Keep pressing the roll to make sure it the fillings are not very loose.

For the peanut butter dipping sauce: Combine all the ingredients until smooth. (Place the peanut butter in your microwave to soften it a bit, if needed).

Best served right away.
Notes
If you don't have a bowl large enough to soak the wrappers, use a frying pan!
Baby spinach leaves can be used instead of kale.
When serving the rolls, make sure to leave gaps in between them to prevent them from sticking to each other.
The amount of veggies can be easily adjusted to your liking.
The serving is 1½ roll per person (as an appetizer). Adjust this to your needs.
For the peanut butter sauce – you don't need to use soy sauce. I use water to make this sauce thinner but if you prefer thicker, don't add any. I like this dipping sauce with a lemon kick but feel free to reduce the amount of lemon.
You will get about ½ cup dipping sauce. The amounts can be easily doubled or halved.
Nutrition Facts
Vegetarian Fresh Spring Rolls with Peanut Sauce
Amount per Serving
% Daily Value*
* Percent Daily Values are based on a 2000 calorie diet.
** As an Amazon Associate I earn from qualifying purchases.
LEAVE A COMMENT
RELATED POSTS