Looking for recipes using rotisserie chicken? Buffalo chicken tacos are the way to go! This easy and quick recipe is customizable so feel free to experiment with fillings.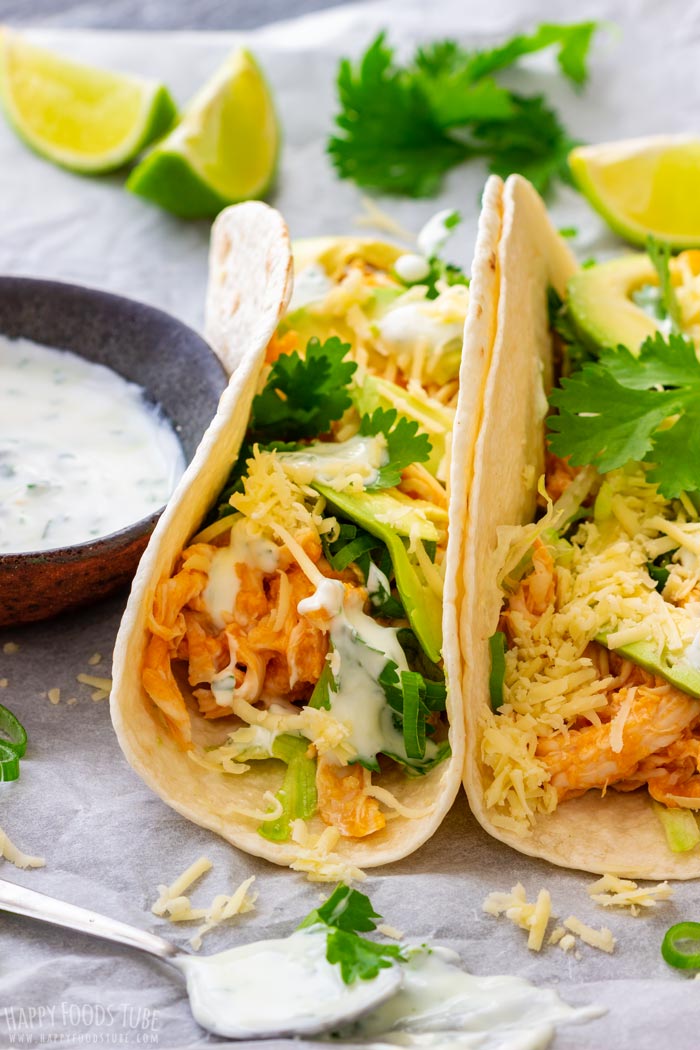 Why should you try buffalo chicken tacos?
Great way to use any leftover chicken (if you have some on hand).
Perfect for quick lunch/dinner/snack.
Topping can be easily adjusted to your liking.
To make these buffalo chicken tacos, I used shredded chicken that I cooked in my pressure cooker (recipe coming soon) but you feel free to get it in your local store.
How to make buffalo chicken tacos
Combine shredded chicken with buffalo sauce. I also added about a tablespoon of honey and mixed everything well.
Because I used homemade Buffalo sauce (from this Baked Buffalo Chicken Wings Recipe) I knew that the amount would be enough for 2 cups (packed) of shredded chicken. If you use a store-bought sauce, please add this to your liking (always start with less rather then more).
Then, move onto prepping the veggies or anything that you want to add to these buffalo chicken tacos.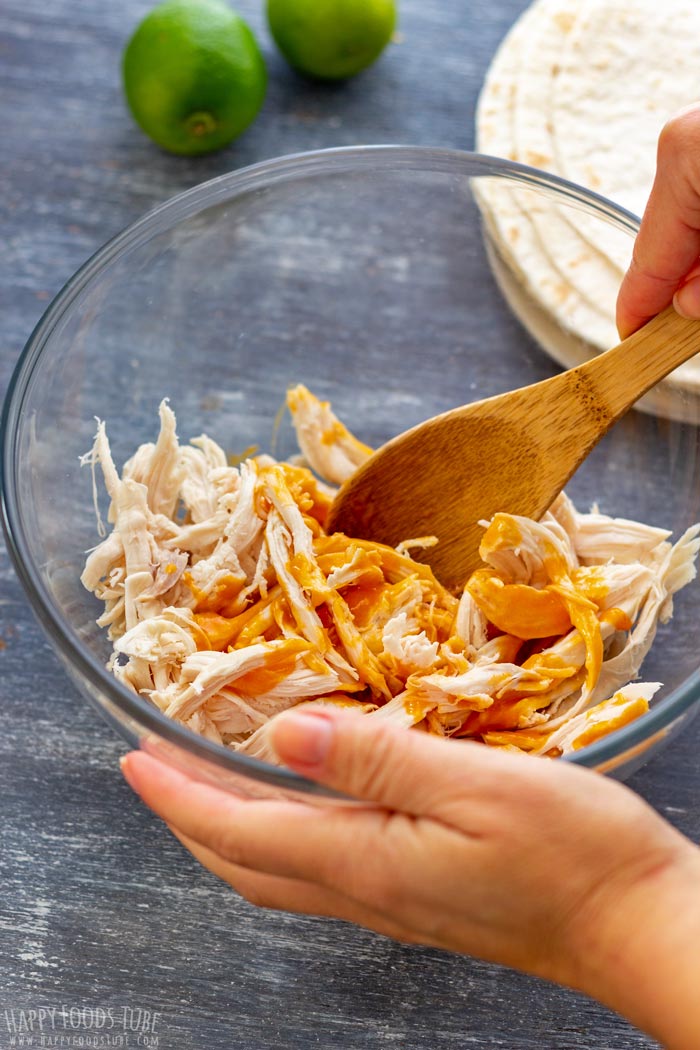 In this recipe I used: avocado, spring onions, fresh cilantro, lime wedges, iceberg lettuce and yogurt cilantro dressing/sauce + a sprinkle of cheese. For the sauce, I combined Greek yogurt with lime juice, honey and fresh finely chopped cilantro.
When filling small tortillas, remember that you will only need a little of each ingredient so you can easily fold and eat them without losing most of their filling.
The portions are only estimated so you might need more or less of each of the ingredients. This will depend on your preference.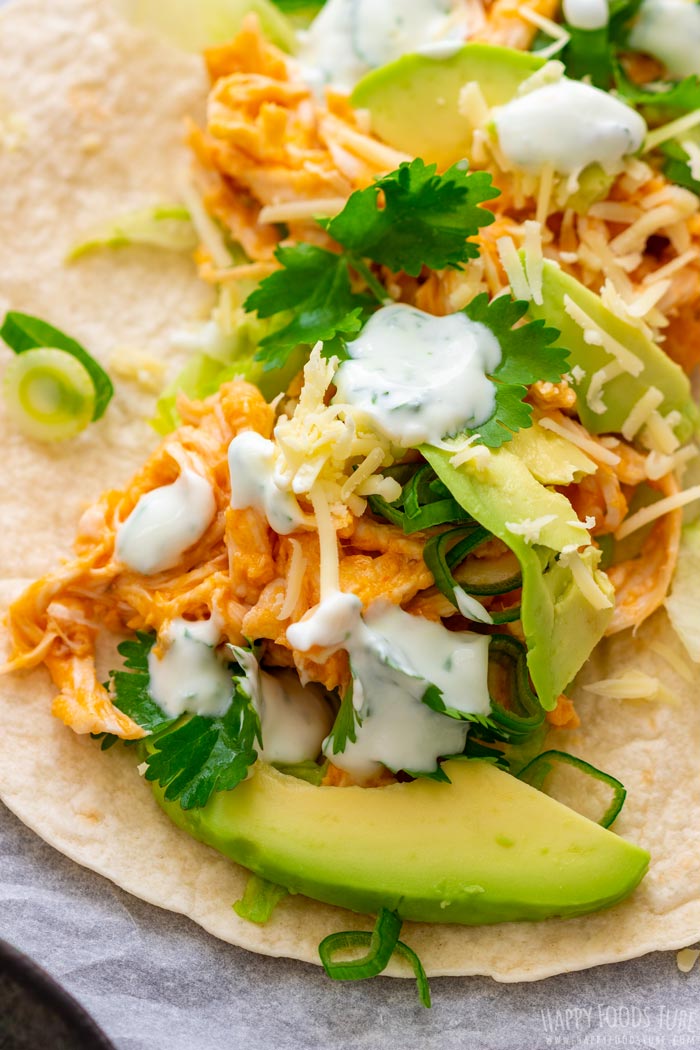 What do you put in a taco?
Well, you can fill tacos with anything you like. There are so many options. To make these Buffalo chicken tacos I mainly used green ingredients and we loved the flavor combo.
However, it depends on what your favorite meats/veggies/sauces are.
Meats – beef (my favorites are Curry Beef Tacos) / pork (I have a recipe for Instant Pot Pulled Pork that would be perfect for tacos!) / chicken/seafood, ….
Vegetables – onions (red, white, spring), avocados, radish ….
Spicy kick – fresh or pickled jalapenos, serrano or any chili pepper of your choice (when making Buffalo chicken tacos I did not use any as the Buffalo sauce was pretty spicy and there was no need).
Herbs – cilantro or parsley.
Crunchy lettuce – iceberg or romaine are the best choices.
Other – cheese, lime wedges, sweetcorn, …
Dressing/salsa – spicy, yogurt-based (the best for Buffalo chicken tacos!), guacamole …
Note that real Mexican street tacos are quite simple and not packed with a ton of ingredients. Flavorful meat, onion, cilantro & salsa is all it takes to make them (in many places that is).
Tips for making Buffalo Chicken Tacos
Because these Buffalo chicken tacos are quite spicy, topping them with yogurt-based dressing helps reduce the spiciness.
I used cheddar cheese here but you can use any cheese you like.
You don't have to make the buffalo sauce from scratch. If you have a favorite brand that you like, then use it.
Tortillas – if you have a dilemma which ones to use (corn vs flour), I recommend the ones you prefer more. Enjoy them either heated or cold. You can heat them up on a grill, skillet or in the oven.
Also, when using small tortillas, don't over-fill them. Whatever fillings you are using, think about balance – like using the yogurt-based dressing to balance out the spiciness of the buffalo sauce.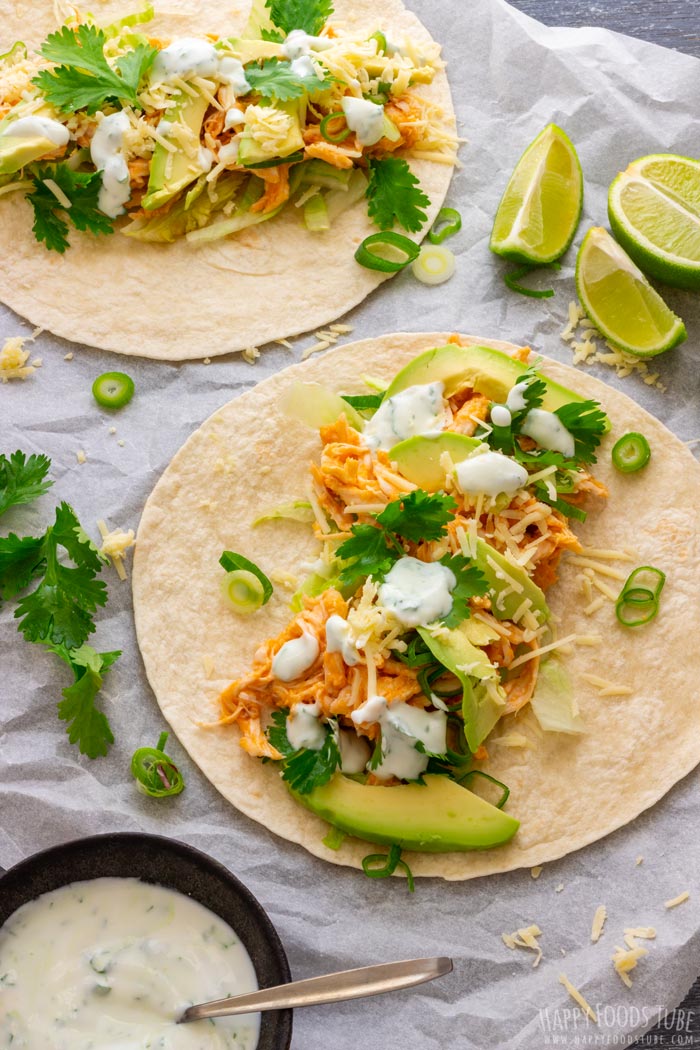 Buffalo Chicken Tacos
Looking for recipes using rotisserie chicken? Buffalo chicken tacos are the way to go! This easy and quick recipe is customizable so feel free to experiment with fillings.
Servings:
4
Portions (See note 6)
Ingredients
Cilantro Sauce:
1

cup

Greek Yogurt

2

tbsp

honey

3

tbsp

Cilantro

, finely chopped (see note 3)

2

Limes

, juice only (see note 4)
Toppings:
2

Ripe

Medium Avocados

, sliced

½

Head

Iceberg Lettuce

, shredded

2-3

Spring Onions

, sliced (optional)

Lime Wedges

(optional)

Fresh Cilantro

(optional)

Grated Cheese

to your Taste (optional)
Instructions
In a small sauce pan, bring the hot sauce to a boil. Reduce the heat to low and simmer for about a minute, stirring constantly. Remove from the heat and stir in honey and butter until melted.

In a mixing bowl, combine the sauce with shredded chicken.

For cilantro sauce: In a small bowl/jar, mix all the ingredients until well combined.

Place the tortillas onto a tray and top each one with shredded lettuce, buffalo chicken, avocado slices, spring onions, a few cilantro leaves and sprinkle with cheese. Generously drizzle each taco with cilantro sauce.

Best served right away!
Notes
2 cups (packed) of shredded chicken weights about ½ pound (225 g).
I made homemade buffalo sauce but if you have your favorite store-bought brand, feel free to use it.
Use fresh cilantro only!
You can use as much lime juice as you like. Also, the more you add the thinner the sauce.
I used white cheddar cheese but feel free to use any cheese you like.
This recipe can serve more/less people, depending on how hungry your diners are or how much fillings you put in.
Nutrition Facts
Buffalo Chicken Tacos
Amount per Serving
% Daily Value*
* Percent Daily Values are based on a 2000 calorie diet.
** As an Amazon Associate I earn from qualifying purchases.
LEAVE A COMMENT
RELATED POSTS