These smoked salmon summer rolls are made from scratch, using vermicelli noodles, smoked salmon, avocado and cucumber as filling. They are fresh, tasty and healthy and can be enjoyed as a snack or light lunch!
Also known as fresh spring rolls, they are best served with a dipping sauce. You can choose anything you like, but I have included some summer roll dipping sauce recipe ideas in this post, so you have some idea.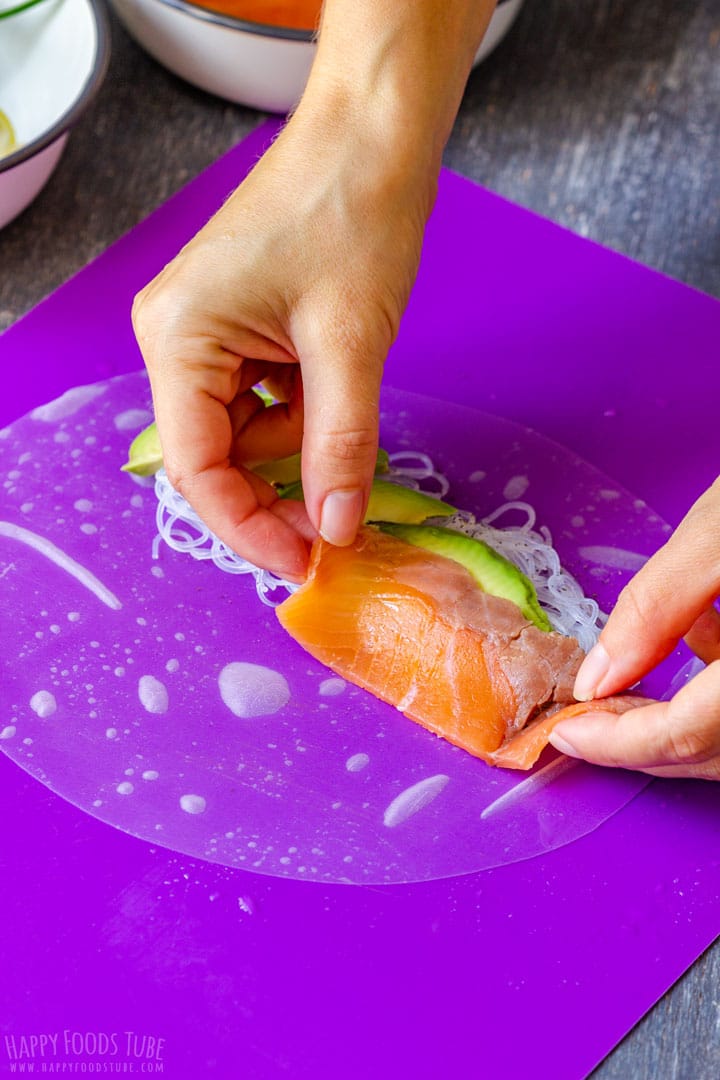 How to make summer rolls with smoked salmon and avocado
First, prepare all the fillings you are going to use: thinly slice cucumber, cook vermicelli noodles (if you haven't done so already), slice salmon and avocado and rinse and roughly chop fresh dill. Now that you have everything ready, you can move onto the next step – which is wrapping your prepped items into rolls using rice paper.
Making rice paper rolls from scratch is easy and if you follow my tips, you should not have any problem assembling them.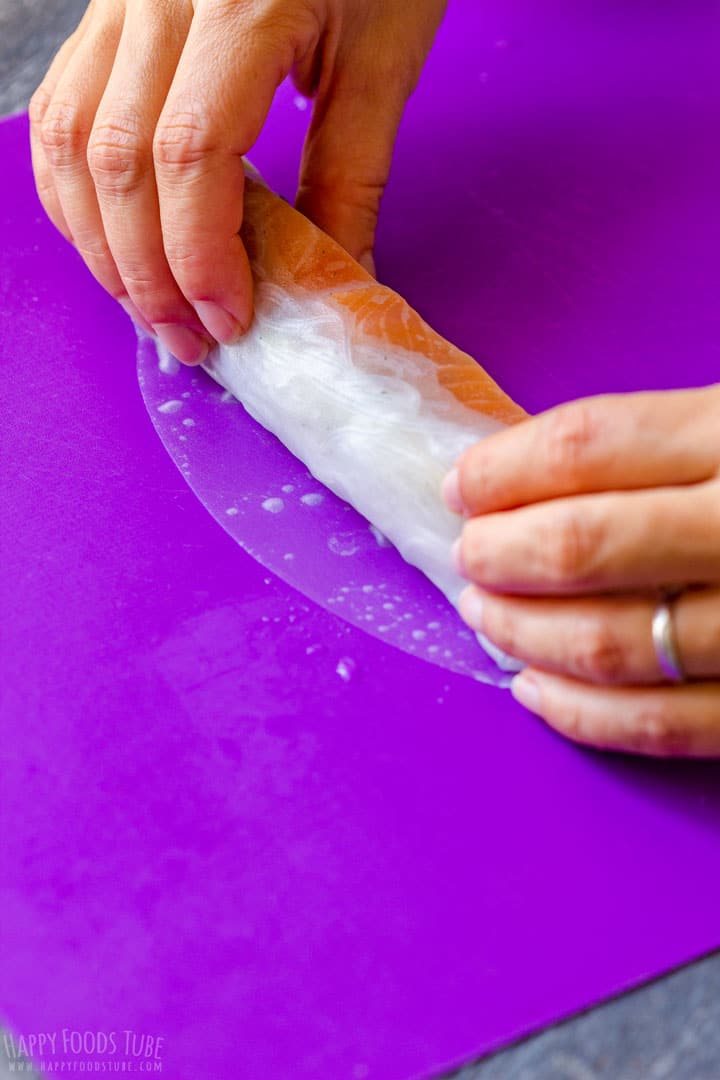 Tips for making best smoked salmon summer rolls
You need to place rice paper in warm water so it softens. It is literally impossible to tell how long for, because this will depend on how warm your water is. If too hot, you only need a few seconds, of colder they will need longer time (perhaps 30 seconds) to re-hydrate.
If you want these smoked salmon summer rolls look pretty, assemble them the way it is shown on my photos – first noodles, then avocado, salmon and cucumber. Make sure not to overfill/underfill them. You need just the right amount of filling and for this you need some practice. Also, leave enough space on both sides (left and right) so that you can fold the paper in – this is important as it will create a pocket and the veggies won't come out.
For re-hydrating rice papers you can use either a skillet/frying pan, baking sheet, or a large bowl, pot … It does not really matter. Also, every packaging has instructions on how to prep the, so don't worry. All you need is turn them from hard and crispy to completely soft – like wet paper.
Are you wondering what to do with leftover rice paper wrappers? Why not use them to make rice paper sushi? It's an easy way to enjoy this traditional Japanese food, especially if you are not a nori fan (or perhaps you don't have them on hand).
How to store summer rolls?
I like storing them in an air-tight container (like you can see on the pictures) and they keep well for several hours (up to 4 hours) without drying out. I have not kept these smoked salmon summer rolls in the fridge for longer, so not sure how well they do after that.
You also don't need to keep free spaces between them. They will stick to each other, but they will be easy to grab, so don't worry.
What to put in summer rolls?
Summer rolls use fresh ingredients, so any veggies you like are great: carrots, avocados, cucumber, fresh cilantro, parsley, sweet pepper, purple cabbage, …
Protein – cooked shrimp/prawns or smoked salmon work really well here. You can also used grilled chicken, if you like.
Other – vermicelli noodles, cheese like feta (if you are not after traditional Vietnamese summer rolls recipe), sesame seeds.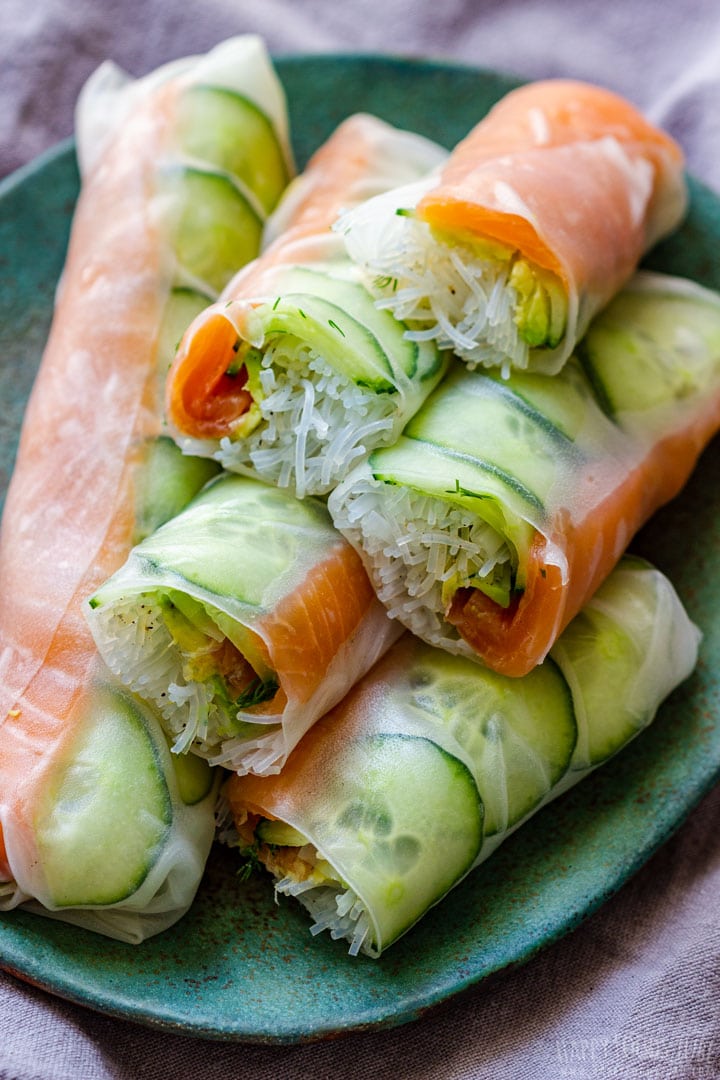 How to eat summer rolls?
Once the rolls are assembled and cut in half, just grab one and dip the open side into a sauce of your choice.
If you are going to share these with others, I recommend serving the dipping sauce in individual bowls to avoid double dipping.
Dipping sauce for summer rolls
You can use anything you like. My preferred choices are:
Sweet chili sauce
Peanut sauce (My recipe for Spring Rolls has also instructions on how to make this sauce).
Or, I also like to mix Greek Yogurt with honey, little sesame oil, lemon juice and soy sauce. I don't measure any ingredients as I just combine these and taste.
Quick lunch recipe ideas:
Smoked Salmon Summer Rolls
These smoked salmon summer rolls are made from scratch, using vermicelli noodles, smoked salmon, avocado and cucumber as filling.
Ingredients
1.5

ounces

Vermicelli Noodles

(50 grams)

1.5

ounces

Smoked Salmon

(50 grams)

½

English Cucumber

1

Medium

Avocado

Fresh Dill

Fresh Lemon

juice only

4

Rice Paper Wrappers
Instructions
First, prep all the fillings: Cook noodles following the package instructions and drain the water. Cut smoked salmon into strips, finely slice cucumber and avocado. Roughly chop/tear fresh dill. Set aside.

Pour warm water into a pan/pot/skillet/baking sheet or anything that is wide enough to fit a rice paper you are using. Submerge the rice paper in the water and let it sit for a while (time will vary depending on the temperature of water, it can be somewhere from 4 seconds up to a a minute, so keep an eye on it).

Take out the rehydrated rice paper and place it onto a clean worktop (or a silicone mat) and place some of the noodles in the centre of the paper, in a row. Make sure to leave both left and right side free. Then add a few avocado slices, salmon sliced and cucumber slices. Sprinkle some fresh dill over and drizzle with lemon juice.

To wrap: Fold the left and right edge inside towards the filling. Then, lift the paper that is closer to you and fold it over the filling. Now, start rolling the roll making sure the filling is not very loose inside (please check the process photos, if in doubt). Repeat with the rest of the rolls.

Best served right away or within 3-4 hours!

Serve with sweet chili sauce, peanut sauce or any sauce you like.
Notes
Please take the quantities as a guide. You can adjust the quantity of each ingredient to your liking.
4 rolls can feed 2 people (2 rolls per person) as a light lunch or 4 as a snack.
The nutritional information are calculated for 1 roll.
For more tips, process photos and FAQ's please read the full post above this recipe card.
I used 8-inch (20-cm) wrappers.
Nutrition Facts
Smoked Salmon Summer Rolls
Amount per Serving
% Daily Value*
* Percent Daily Values are based on a 2000 calorie diet.
** As an Amazon Associate I earn from qualifying purchases.
LEAVE A COMMENT
RELATED POSTS