Homemade hot chocolate sticks wrapped in cellophane will make a great edible gift not only for Christmas! Stir it in steamed milk and enjoy!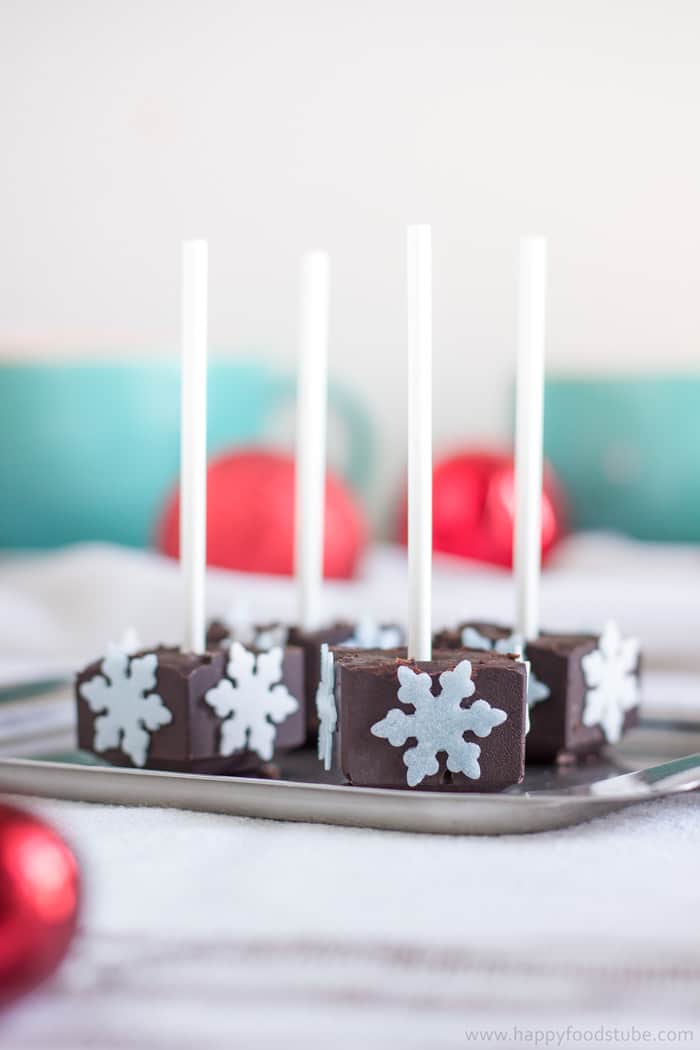 Guys, I made this post over a year ago. Since then a lot has changed! Especially my photography skills which were basically non-existent at that time! So here is an updated post with better photos and better instructions (I hope).
How to make hot chocolate sticks
The preparation is quite simple and pretty fast. You'll be done in about 10 minutes!
The mold: Now when I made this post last year I used a plastic lid from eggs. I found the holes pretty cool and a good size. Not too big not too small! Have a look at the video to see step-by-step instructions! However, you can use chocolate mold or ice cube tray (which I used this year).
The chocolate mixture: I used dark chocolate because that's what we normally buy. Because I like my hot chocolate sweet, I added sugar to it. This chocolate mix is pretty thick. It won't be liquidy. It is better for 2 reasons: First you don't need a heatproof mold as the mix won't be piping hot. Second, the cake pop sticks will stay in the chocolate because it's thick.
I don't have cake pop sticks? Can I still make hot chocolate sticks?
Yes! Be creative! I use anything I have on hand! Craft sticks, burger skewers, wooden spoons, paper straws .…
Filling the molds with chocolate mixture:
The mixture will be thick so you will need to be a bit patient. I normally use 2 teaspoons to fill each mold. You could also use a piping bag. Either way, make sure to push down the chocolate mixture! You don't want any air bubbles – a.k.a. empty spaces there!
Now what do you think guys? Are you hot chocolate drinkers? Do you know anyone who would like to get such edible present? If yes, then give it a go!
Homemade Hot Chocolate Sticks
Homemade hot chocolate sticks wrapped in cellophane will make a great edible gift not only for Christmas! Stir it in steamed milk and enjoy!
Instructions
Melt the chocolate over double boiler or in a microwave (make sure not to burn the chocolate). Remove from the heat and stir in the sugar & cocoa powder.

Mix until all well blended. At this point the chocolate mix will be pretty thick. This is OK. Using 2 spoons, fill each mold with chocolate. Make sure there are no air bubbles by pressing down especially around the edges.

To get an even look on the surface, dip your spoon in hot water and with the back of the spoon smoothen the chocolate.

Insert the sticks and transfer in the fridge. Let it chill for several hours (best overnight).

Optional: to make these hot chocolate sticks more festive, glue tiny wafer snowflakes onto each side. Glue it with some melted chocolate and put it back in the fridge until set.

Pop it into a cup of hot milk. Let it be for 2 minutes before stirring until it has melted completely.

Enjoy!
Nutrition Facts
Homemade Hot Chocolate Sticks
Amount per Serving
% Daily Value*
* Percent Daily Values are based on a 2000 calorie diet.
** As an Amazon Associate I earn from qualifying purchases.
LEAVE A COMMENT
RELATED POSTS