Are you looking for homemade edible Christmas gifts? These sweet treats wrapped in festive packaging make great gifts for your family & friends!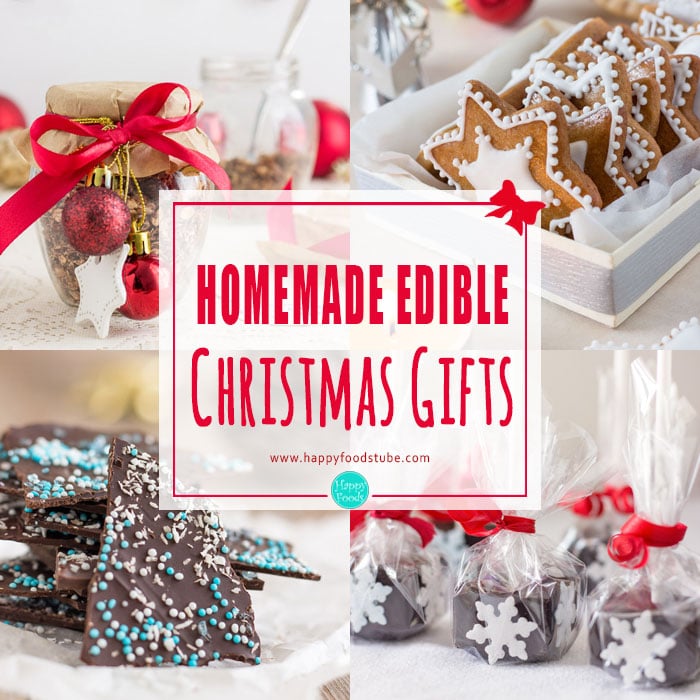 Guys, do you like giving handmade Christmas gifts to your friends and family? If yes, then I have some easy DIY Christmas gift projects for you! Your loved ones will definitely love them!
So let's have a look at these homemade edible holiday gift ideas!
Homemade Granola
What you'll need:
A recipe for granola. Have a look at this Dark Chocolate Granola or Homemade Granola recipes.
Glass jars, red (green, gold, silver…) ribbon, some tiny Christmas baubles or other Christmas ornaments to make the jars look a bit more festive + a tag of your choice where you can write what it is + the ingredients & for whom it is. I used a snowman cookie cutter to outline the shape for my tag. I also cut out a circle a bit larger than the jar lid. For this I used a piece of brown paper (the paper was originally used as box filler – I kind of recycled it).
Christmas Chocolate Bark
What you'll need to make this edible Christmas gift:
A recipe for Chocolate Bark.
Gift wrap:
A nice box or a bag to put the chocolate bark in. Cellophane bags are also great for homemade Christmas gifts! I like these Cellophane Bags.
Christmas Cookies/Gingerbread Cookies
What you'll need:
Gingerbread Cookie Dough to make the cookies and royal icing to decorate them.
Gift wrap ideas:
I used a wooden box. Around this box I wrapped a silver tape to add a festive look to it. You can make a box out of paper or buy cellophane bags. I also liked this Washi Tape Christmas Tree Gift Bag from Foods, Crafts and Family blog. It's easy to make and you can get creative with Washi tape. If you like a challenge, have a look at this Reindeer Gift Bag over at Tinyme blog. It's so cute! However, check for the size, if it's suitable for your cookies! OK. One last paper gift bag idea. A pretty simple bag, that looks so lovely. I like simple things and this paper bag from The Beautydojo is perfect to me!
Homemade Gingerbread Spice Mix
This homemade Gingerbread Spice Mix is perfect for pancakes, muffins, quick breads or cookies.
Christmas Baubles Cupcakes
What you'll need:
Cupcakes, icing, fondant + some tools. Watch this simple tutorial Christmas Baubles Cupcakes for more details.
Gift wrap:
Buy some Cupcake Boxes or make your own!
Hot Chocolate on a Stick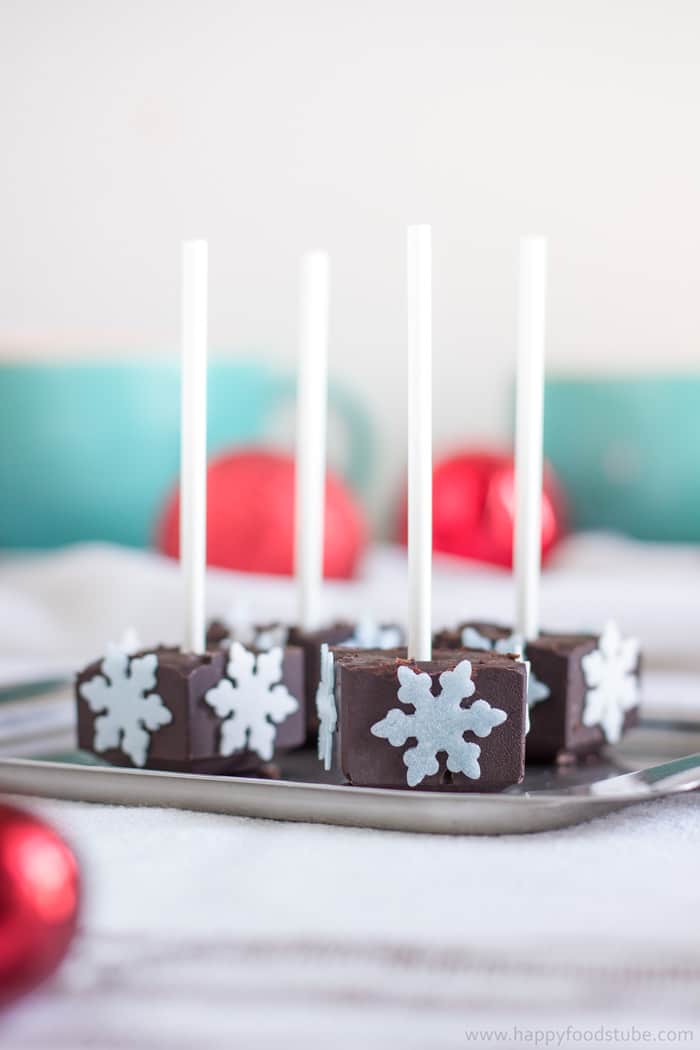 What you'll need:
Chocolate. Cake pop sticks or other sticks. A chocolate mould (or an ice cube tray). The full recipe and video is here – Homemade Hot Chocolate Sticks.
Gift wrap:
Wrap each Chocolate on a stick in cellophane (circle – 15 cm/6-inch in diameter), tie it with a ribbon of your choice. I used a paper ribbon and I also glued some wafer snowflakes onto 4 sides of the chocolate cube – just to give it a winter look.
I hope you have found some inspiration here and you will try to make some homemade presents for Christmas!