This Creamy Dulce de Leche hot chocolate is your go to drink this winter! It's rich, creamy and delicious!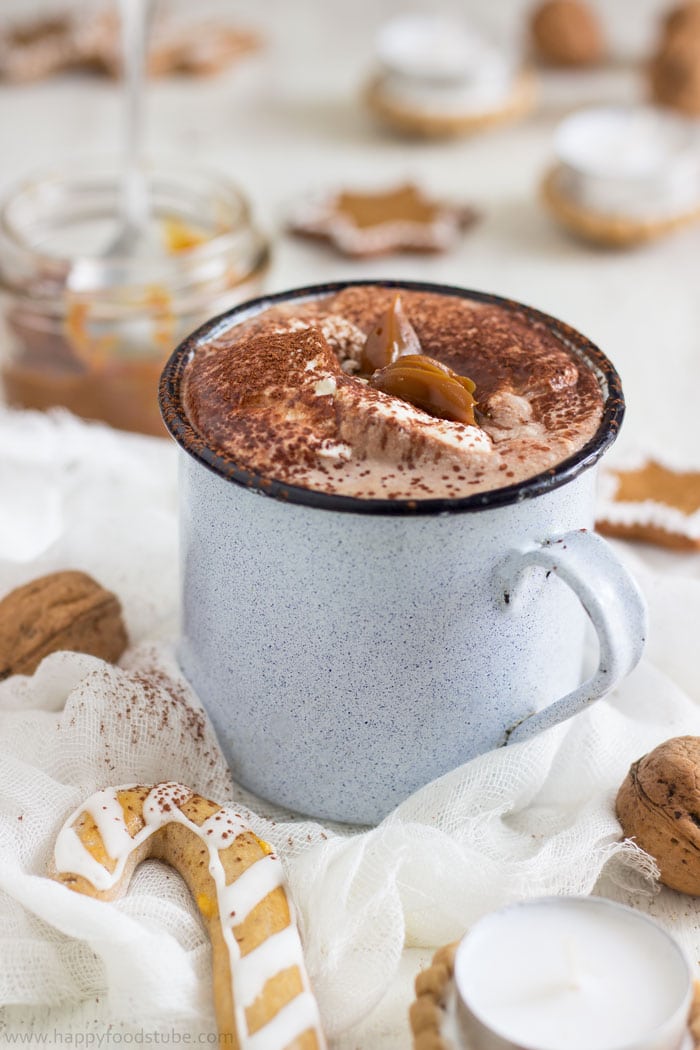 Are there any hot chocolate lovers out there reading this? If yes, then you are in for a treat!
I must admit, hot chocolate is my go to drink in winter! I drink it a lot and I love it! So you won't be surprised when I tell you that I experiment with ingredients and try to find interesting flavor combination!
Now first I think you can't go wrong with a cup of hot chocolate no matter what you do. In my eyes, you can only make it better! Creamier! Thicker! Richer! Sweeter! Basically what I want to say is that it will become more delicious with every ingredient you add. Well, as long as you don't add something really weird. Haha!
A bit off-topic: So Christmas is coming fast and I am excited about Christmas baking. Well, every year I get super excited about baking! Gingerbread Cookies and Gingerbread Advent Wreath, as well as Gingerbread Tree, are Christmas "projects" I usually start with.
Then it depends where I spend my Christmas. When I travel home I am not in charge of baking much as
1. All the baking is already done by the time I get home.
2. My mom and grandmother are the main bakers there so I am more like the finishing touches kind of person (like dip this in chocolate, slice this, decorate that, etc …).
If I don't travel home, I do all the baking and I enjoy it. I love the smell of various spices and flavors that are coming from the kitchen.
What about you? What do you bake? Do you bake gingerbread cookies? What else do you bake?
OK, let's get back to my hot chocolate recipe!
How to prepare hot chocolate:
The preparation is easy. I feel like I've been saying this quite a lot lately but I the truth is it is easy. And fast! And I like easy and fast recipes!
So once you have gathered all the ingredients (see milk, heavy cream, Dulce de Leche, and cocoa powder) you are ready to go! Get a saucepan! Heat the milk first – bring it to a boil. And then simply add the rest of the ingredients.
I use a whisk to combine all the goodies that are in this sauce pan. Once all of them are well combined you are done!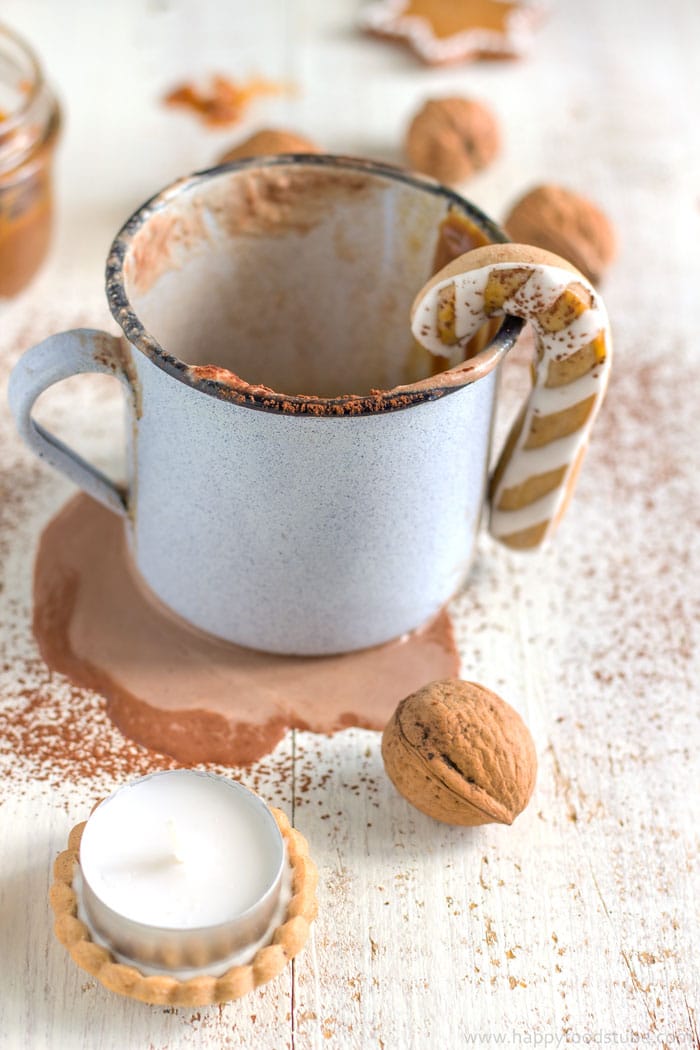 Little extras for your hot chocolate:
Now at this stage, the hot chocolate is rich, creamy, and sweet. However, if you are after an extra sweetness (because we all need to sweeten up our lives, don't we?) whip up some cream and pipe/spoon it over. Melted chocolate is also a good idea as well as marshmallows or some caramel sauce (or Dulce de Leche).
Adult hot chocolate recipe:
Those of you who like some alcoholic beverage in their hot chocolate try this Creamy Limoncello Hot Chocolate or Spiked Hot Chocolate and let me know what you think!
Creamy Dulce de Leche Hot Chocolate
This Creamy Dulce de Leche hot chocolate is your go to drink this winter! It's rich, creamy and delicious!
Ingredients
For the whipped cream (optional)
Instructions
In a sauce pan, bring milk to a boil. Reduce the heat and add heavy cream, cocoa powder and Dulce de Leche. Whisk until smooth. Turn off the heat.

Optional: whip the cream and sugar until stiff.

Pour into mugs and decorate with whipped cream or marshmallows.

Serve warm!
Nutrition Facts
Creamy Dulce de Leche Hot Chocolate
Amount per Serving
% Daily Value*
* Percent Daily Values are based on a 2000 calorie diet.
** As an Amazon Associate I earn from qualifying purchases.
LEAVE A COMMENT
RELATED POSTS