Healthy almond milk hot cocoa. 5 minutes & 4 ingredients is all what it takes to enjoy a cup of this guilt-free deliciousness. And it's vegan & dairy-free!
You people, if you love hot cocoa or hot chocolate but right now you are seeking for a lighter, healthier option this almond milk hot cocoa is the deal! Give it a go and let me know what you think!
It's fast, simple, healthy, nutritious and perfect for cold winter days!
Like I've mentioned already it is also vegan and dairy free so those of you who can't or don't want to drink normal milk or eat animal products you are good to go too!
When I bought the almond milk to make this Almond Raspberry Smoothie I was thinking of other ways to use it. It didn't take long to figure it out! Hot cocoa was the way to go, especially because I was craving something hot. Something that would heat up my body from the inside as well as satisfy my taste buds!
I have to admit that I was a bit apprehensive about making hot cocoa with almond milk. You see, I like my full fat milk too much! But this drink exceeded my expectations big time!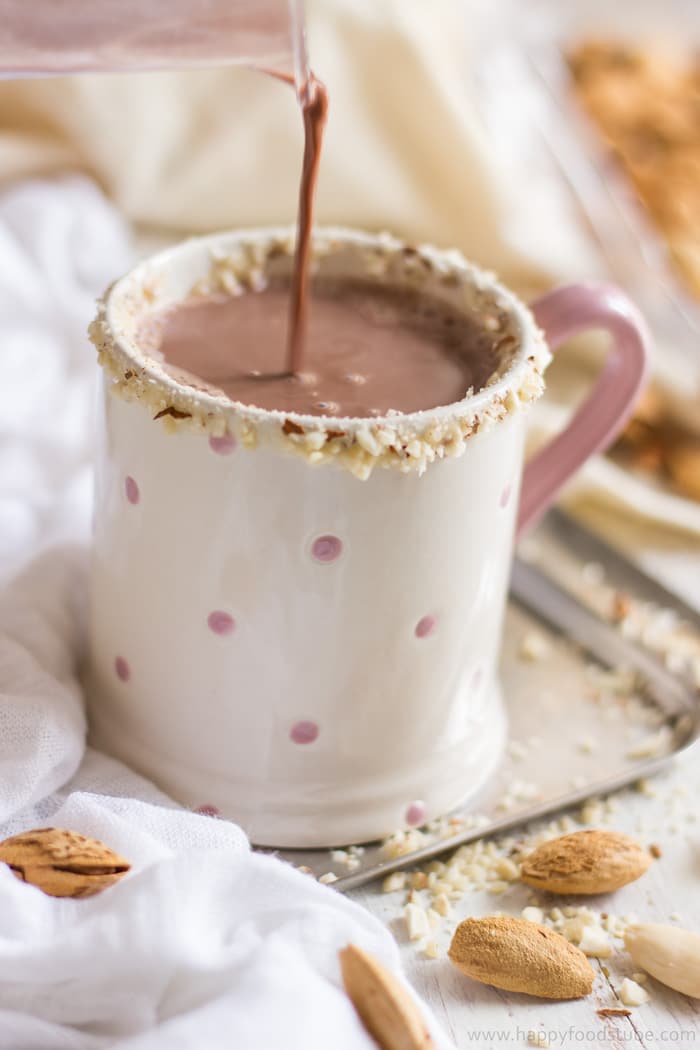 Almond milk hot cocoa recipe break down:
The prep takes probably about a minute and cooking time which is actually not cooking but slowly heating the milk is about 4 minutes.
So basically all you need is almond milk and cocoa powder! But I made this extra almond-y so I added almond butter and topped it with chopped almond because I was also after some extra protein and antioxidants!
You can add the cocoa at the same time as almond milk or you can wait until the milk is hot enough and then stir in the cocoa. I usually stir in the cocoa right away, so I can clean up the kitchen while waiting for the milk to heat up. However, it doesn't really matter what way you make this almond milk hot cocoa. Either way it will taste delish! As for the almond butter, I stir this n at last – basically right before the hot cocoa is ready to be served.
There is no other sweetener used apart from almond butter as there is no need for it. However, you can use honey or stevia, if preferred. I just like using the butter, if I have it on hand. And it is perfect for this almond hot cocoa.
Finely chopped almonds are sprinkled over the chocolate to give it some crunch but also to make it extra almond rich and extra healthy.
Finishing touches
Decorate the rim of your mug with finely chopped almonds if you feel like it! I dipped my finger in almond butter and run it around the rim. Then dipped the mug in finely chopped almonds and tadaah!
By the way, if you have any of the following questions, read on:
Is hot chocolate good for you? Is it a healthy hot cocoa recipe?
Absolutely! What makes it healthy is the fact that you are not adding any extras such as marshmallows, milk chocolate, white chocolate, heavy or whipping cream.
This almond milk hot chocolate contains only the good stuff such as protein, antioxidants and minerals! Isn't it great? It's a perfect choice for those ones who would like to live a healthier lifestyle or those who are allergic to cow's milk or anyone who likes almond milk!
What is good about this almond milk hot chocolate:
Dairy free – This is a dairy free hot cocoa recipe so if you can't drink cow's milk or try not to, this recipe is great for you.
Good source of protein – Thanks to almonds, cocoa and almond butter.
Suitable for vegans – Yes! This is also a vegan hot cocoa recipe!
Healthy hot cocoa recipe – This hot beverage is a good source of nutrients.
Did you know that I rarely say no to a cup of hot chocolate? I am a hot chocolate/hot cocoa lover for sure! If you are like me, then have a look at this Turmeric Hot Chocolate or this Dulce de Leche Hot Chocolate!
Want to see how to make Almond Milk Hot Cocoa? Watch the video!
Healthy Almond Milk Hot Cocoa (Vegan, Dairy-Free)
Healthy almond milk hot cocoa. 5 minutes & 4 ingredients is all what it takes to enjoy a cup of this guilt-free deliciousness. And it's vegan & dairy-free!
Instructions
Get a sauce pan. Pour in almond milk and add cocoa powder. Slowly heat up the cocoa while whisking until smooth (you don't have to be stirring it constantly. Just make sure the cocoa has melted before pouring into mugs).

Turn off the heat and stir in almond butter.

Finely chop almonds. Pour the cocoa into glasses and top with almonds.

Enjoy while warm!
Notes
Optional: Dip your finger in almond butter and run it along the rim of your mug. Dip the mug in chopped almonds and you are done!
Nutrition Facts
Healthy Almond Milk Hot Cocoa (Vegan, Dairy-Free)
Amount Per Serving
Calories 207
Calories from Fat 153
% Daily Value*
Fat 17g26%
Carbohydrates 10g3%
Protein 8g16%
Calcium 391mg39%
Iron 2mg11%
* Percent Daily Values are based on a 2000 calorie diet.
** As an Amazon Associate I earn from qualifying purchases.
LEAVE A COMMENT
RELATED POSTS