Instant pot artichokes is an easy recipe for tasty appetizer made in a pressure cooker. Served with jalapeno dip these tender artichokes are all you need for your next party!
You don't really need much for cooking Instant Pot artichokes. Water and some seasoning are the main.
I also drizzle them with olive oil and squeeze a generous amount of lemon juice over making sure the juice goes inside. It adds a light lemony flavor to the leaves.
By the way, Artichoke Tart and Artichoke Heart Dip are also great party food ideas!
For those who have any doubts on how to cook artichokes or how to prepare them for cooking might want to have a look at the photos or find some questions answered below.
How do you prepare an artichoke for cooking?
First off rinse them thoroughly. Then trim the stem off leaving maybe a quarter of an inch on. This is usually not important when using other cooking methods but leaving some stem will help the artichokes stay in their place on the steaming rack.
Next thing to do is cut off the top of each artichoke. Now turn them over and remove the small leaves around the stem. I usually remove about 6-8 leaves.
Once you have done this you are basically finished with the prep. There is no need for you to cut the tops of each leaf with scissors.
The photos should help you see how to prepare artichokes for cooking, if you need a visual help.
How do you cook artichokes in an Instant Pot pressure cooker?
Pour water in the inner pot. Insert the steaming rack and place the prepped artichokes onto the rack so that the stem fits in between the gaps. The artichokes should nicely sit there.
The amount of artichokes you fit in the pot depends on their size. I normally fit 4 medium-sized in.
To make these Instant Pot artichokes I squeezed some lemon over, drizzled them with olive oil and season with salt and pepper. I also sprinkled some dried rosemary over.
What do you eat an artichoke with?
There are various delicious dips you can serve these Instant Pot artichokes with. My favorite ones are jalapeno dip and garlic dip that I also serve with Oven Roasted Artichokes. They both add a spicy kick to this easy appetizer. But the choice of the sauce/dip is entirely up to you.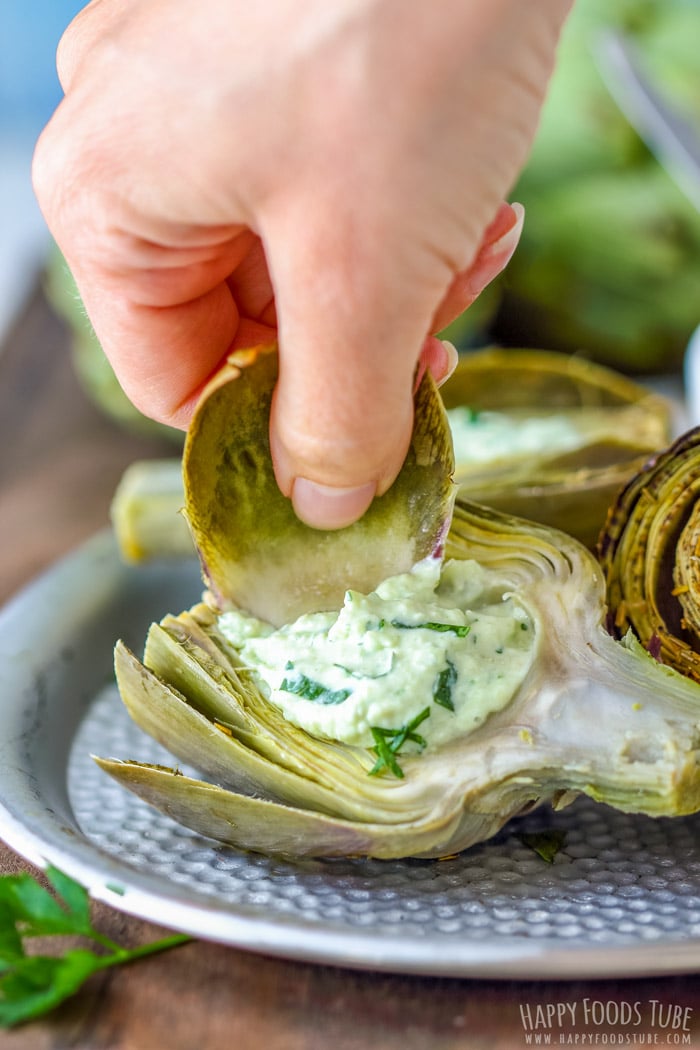 How long does it take to cook artichokes in Instant Pot pressure cooker?
To cook medium sized artichokes takes 10 minutes. Large ones might need more time to cook so I would increase the cooking time to 15 minutes just to be safe.
Guys, making pressure cooker artichokes is easy and I highly recommend using this cooking method. Now this does not mean that you can't make them in the oven or steam them.
If you have another preferred way how to cook them, let me know in comments. However, you can still try to make the jalapeno dip.
I have a collection of Easy Instant Pot Recipes on the blog in case you are looking for electric pressure cooker recipe inspiration.
Want to see how to make Instant Pot Artichokes with Jalapeno Dip? Watch the video!
Instant Pot Artichokes with Jalapeno Dip
Instant Pot Artichokes is an easy recipe for tasty appetizer made in a pressure cooker. Served with jalapeno dip these tender artichokes are all you need for your next party!
Instructions
Rinse the artichokes. Trim off the stems, leaving about ½ inch (1 cm) on. Remove about 6-8 outer leaves. Cut the top of each artichoke off.

Pour water into the inner pot of the electric pressure cooker. Place in a steaming rack. Place each artichoke on the rack the top side up, making sure the stem fits in between the gaps of the rack. This will help the artichokes to stay in place when cooking.

Now drizzle each one with olive oil, squeeze lemon juice over (the more juice gets between the leaves the more flavorful the artichokes). Season with rosemary, salt and pepper.

Lock the lid in its place, turn the steam release valve to SEALING and press MANUAL (pressure cooking). Adjust time to 10 minutes.

When the cooking is finished, wait another 10 minutes before releasing the pressure manually.

Serve with any dipping sauce you like (check recipe notes to see how to make jalapeno dip)!
Notes
1. This recipe was developed for a 6-quart/6-liter Instant Pot.
2. The amount of artichokes can be increased or decreased.
3. The cooking time does not include time needed for the pot to come to pressure and release its pressure. Count with extra 15-20 minutes.
4. You can omit the seasoning and rosemary.
5. If you don't have extra virgin olive oil, use normal olive oil or omit it. Don't substitute with vegetable or sunflower oils.
6. The cooking time might vary depending on the size of the artichokes you are using. For large-extra large I recommend increasing the cooking time to 13-15 minutes.
7. Jalapeno Dip – in a food processor combine ½ cup drained jalapenos with ½ cup cream cheese and ½ cup Greek yogurt. The amount of each ingredient can be adjusted to your liking.
Nutrition Facts
Instant Pot Artichokes with Jalapeno Dip
Amount Per Serving
Calories 97
Calories from Fat 27
% Daily Value*
Fat 3g5%
Sodium 125mg5%
Potassium 492mg14%
Carbohydrates 15g5%
Protein 4g8%
Vitamin A 40IU1%
Vitamin C 22.6mg27%
Calcium 73mg7%
Iron 2mg11%
* Percent Daily Values are based on a 2000 calorie diet.
** As an Amazon Associate I earn from qualifying purchases.
LEAVE A COMMENT
RELATED POSTS